As I traveled through Lesotho on assignment, I was struck by the resilience, innovation and hospitality of its people despite the land-locked kingdom being affected badly by the Covid-19 pandemic. 
Travel is something of a luxury in life, more so during the pandemic – and while as a journalist and photographer, I was fortunate to be in the field for most of the lockdowns, I did feel very privileged leaving Johannesburg to Lesotho by road at 5AM last Monday, for what would be my first cross-border trip in over a year.  
 
If you haven't been to Lesotho, here's a travel brochure summary; it's a small kingdom with a population of some two million, entirely surrounded by some of the most beautiful mountainous scenery in this world and to both its benefit and detriment, South Africa.  
Populated primarily by the Basotho people, anyone familiar with South Africa would find themselves very much at home, but also notice subtle differences.  
 
Crossing the border is a painless but expensive process. Entering Lesotho requires a negative PCR test, which costs around $60, and is valid for 72 hours. I was in the country for a few days and required another test before leaving. 
 
Once through the Maseru bridge border post, you are greeted with the capital city itself, a bustling, vibrant town reminiscent of the provincial capitals in South Africa. Street vendors ply their wares, taxis overtake at speed but with a friendly wave, and none of the traffic lights are functional, which made for a perilous drive to my accommodation.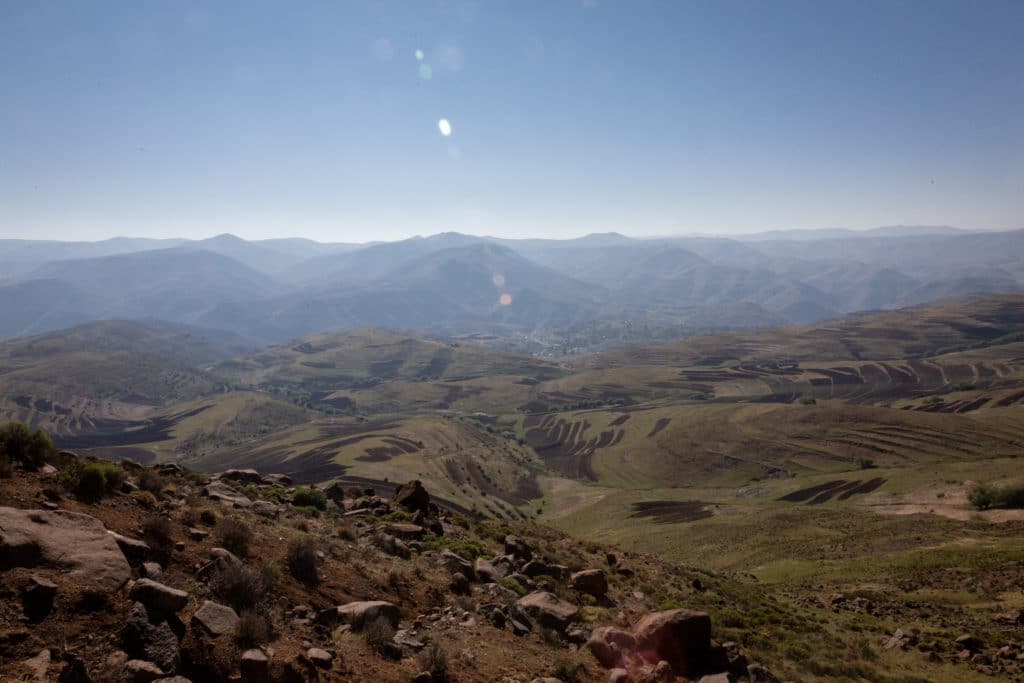 "It's been a hard year," said Khethisa, a security guard who works at the Avani Hotel, in which I stayed during my time in the capital. "Covid has taken away many jobs. Things are getting a bit better now." 
 
As with almost everywhere else in the world, the lockdowns aimed at preventing the spread of Covid-19 had an incredibly detrimental impact on Lesotho's economy, with its most recently reported unemployment rate at 23.9% as of 2019. Data isn't readily available from during the pandemic, but it can be readily assumed to be much worse. 
 
Despite this, the welcome in Lesotho is always warm and friendly. Humanist approaches to business appear to merge seamlessly with hustle; in a stationery store in Pioneer Mall in Maseru, a person is employed to sanitize and check the temperature of everyone on entry. Another person is employed to check receipts for sales theft or errors. Sales personnel abound. Despite wages not being high and many of these jobs being easily automated, Lesotho seems to have a high reliance on people, not machines, to provide many functions – and with each of these comes a wage. 
 
Wandering through the nearby central market, everything from second-hand clothing to illicit cigarettes are on sale, and every vendor is pushing their wares. Groups of people play a musical game in the sun around the taxi rank where money is thrown at a speaker while music plays – each participant then dances closer to the money. If you are touching the money when the music stops, the pot is yours. In none of those hours of walking or photographing was there any sense of unsafety – markedly different from Johannesburg.  
 
Moving out of the city and into the Lesotho highlands you are greeted by arresting panoramic views – rolling hills, now green since the end of a brutal drought in 2016. Sheep graze on the steppes, while herdsmen in traditional blankets and balaclavas on foot or on horseback stand watchfully, reminiscent of my last trip into the country, where I covered the traditional horseraces in Semonkong. 
 
This journey into the mountains and a chance meeting in Maseru also led to another story of innovation and rejuvenation in this small nation, battered by Covid-19.  
A company called MG Health, a medical cannabis manufacturer, has become the first country in Africa to obtain a Good Manufacturing Practice (GMP) license from Germany, allowing the export of their product into that country.  
 
The licensing is a massive task, and the growery itself, nestled in one of the quietest parts of the mountains, is looking to expand its production massively. Making use of cutting-edge technological advancements, and building the business hand in hand with the community, Director Andre Bothma is pioneering in both the literal and economic sense in the remotest part of Lesotho, providing community infrastructure and employment in a region that sorely needs it. 
 
"My vision here is that we are going to create thousands of jobs. We have the potential of making a difference to the country here," says Bothma. 
 
I'd say more on this, but it's a story in its own right and one for another day, but I think these vignettes accurately reflect the hospitality, resilience and warmth of Lesotho and its people. There was a sense of loss on the drive back toward the border, and I would have loved to have had the time to explore the relationships and stories that seemed to lurk on every street corner. 
 
On arriving at South African Customs and Immigration, I was confronted with the usual confusion of where to go and what process to follow. As my passport was stamped, I do wish I'd stayed on in Lesotho.