Through their retail tech platform, Natasha Buchler and Annie Rudnick are also shining a light on Africa's unsung, talented artists.
IF YOU WANT TO change the world, start with Africa. While that seems to be the prevailing mantra for the new world, it was what Natasha Buchler wanted too – to impact lives on the continent whilst also promoting homegrown talent.
In 2016, she was working as a senior director at K2 Intelligence, when she planned the launch of her new charity, Bella Teaching Foundation, an initiative to provide free skills training to unemployed youth in Ghana.
At the time, the dream to start a movement that would empower 43 designers and impact the lives of over 8,000 people across the African continent was unfathomable. Fast forward a few years and that is exactly what she has achieved with her co-founder Annie Rudnick, with the launch of Akojo Market, a platform in the United Kingdom selling handmade accessories, homeware, gifts, and fashion.
"Akojo means 'collective' or 'a collection' in Yoruba. For us, it really encompasses what we want to create, which is a community and a collection of beautiful handmade and artisanal products across Africa. Ninety percent of our designers are in sub-Saharan Africa," says Buchler to FORBES AFRICA.
When they launched in April 2019, they only had 10 designers and since then, the platform has garnered interest, growing to 43 designers, with between five and 15 products per brand. Buchler met Rudnick, originally from Zimbabwe, when they were both in school, and years later, their complementary experiences are what has made Akojo Market what it is today.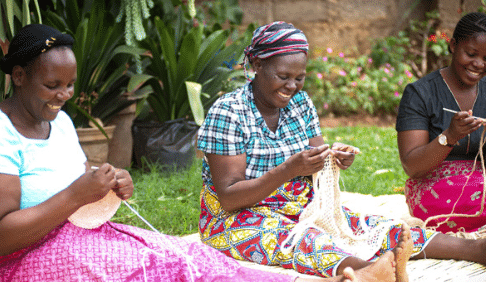 Rudnick, with a background in the history of art and communications for major international art galleries, brings the curation and representation-of-artists element to the brand with an overview of product selection as well as the website's aesthetics, while Buchler, having had a brief stint in business intelligence where she was responsible for working on behalf of financial institutions, international partners and high networth individuals, handles the due diligence, ethics and compliance components of the business. At the core of the company is its vision to be a leading platform for talented artisans and designers to sell their products internationally.
"We really wanted to work with brands that were doing amazing things in terms of people and planet and working with the supply chain to make sure that the artists and artisans are more than paid and they don't have to leave villages to take up degrading work in urban areas," says Buchler.
Over the years, traditional craft, which is the lifeline for most rural communities across Africa, has been gradually dying out and is not as lucrative as it once was. So Buchler and Rudnick came up with a plan to become a third-party tech enabler to help indigenous artisans
continue supporting their families and communities through the Akojo platform.
"We have identified that there are some serious problems in the retail supply chain not only across the world but in sub-Saharan Africa and there is exploitation, cultural appropriation and mistreatment of workers and that is from both a people and environmental perspective."
When these vices are left unchecked, Buchler believes talented designers find it difficult to generate income. What subsequently happens is that these artists are forced into a system of exploitation.
To combat this, the duo has made sustainability and compliance an imperative component of the platform.
"We do not dilute this because our customers really trust the brands we are selling and believe in our ethics and sustainability credentials and also shine a light on talented artists in Africa. We are super passionate about that because there is so much work to be done and brilliant creativity to bring to the fore," says Buchler.
Part of this ethical and sustainability focus means that Akojo ensures artisans are paid a minimum wage or above and there is a focus on long- term work for the brands they represent. The platform also operates
a dropshipping model so provides a continuous flow of orders for the brands they represent.
"We look at things like human rights being upheld in the supply chain and a lot of communication about safety in their workshops and freedom of speech and general respect for people and what they need or may not need; the sustainability aspect like 'are they using recycled materials or packaging, are they minimizing the use of chemical dyes, are they considerate about transporting products from A to B, and how can we help them do that?' We as a company offset our carbon footprint and do that by working with a company called Nula Carbon, which has Kenyan origins, and we calculate our carbon footprint and carbon dioxide emissions."
Akojo's revenue model is also transparent, they add. The company charges a commission of 25% as well as a minimal joining fee to cover getting their brands' products on the platform. They provide brand consultancy work as well as marketing and PR in addition to what the platform offers as a basic service. The major challenge is finding a cost- effective way of delivering products globally.
"Our main challenge is logistics. It is very expensive to ship products to and from Africa. We work with DHL and they have been very helpful and have a huge drive to support e-commerce in sub-Saharan Africa but it's still expensive. The second challenge is to help businesses scale but still retain the ethical and sustainable component of their supply chain; making sure that they produce more products and they can still source the fabrics and they don't have to import it from China," says Buchler.
With the current brands, Akojo is working with 800 to 1,000 artisans across their supply chains, bringing long-term incomes to their families. After two years of trading, the company is committed to go against the grain of the wholesale model where fashion retailers pick up products inexpensively in Africa and mark it up significantly for the international market.