In recent years, he has dominated Africa's rich lists as the continent's youngest billionaire. Mohammed Dewji, the shrewd entrepreneur and CEO of MeTL Group in Tanzania, has previously been on two FORBES AFRICA covers – in 2013 and 2015. In this new decade, he is eyeing a much bigger chunk of African business.
JUST BACK IN DUBAI AFTER A WHIRLWIND trip dropping off his 18-year-old daughter at the School of Foreign Service at his alma mater, Georgetown University in Washington DC, the 46-year-old Tanzanian businessman, known in the hallowed corridors of the continent's elite as "Africa's youngest billionaire", is more emotional than jet-lagged.
"I had to let go of her, you know, but I'm going to visit DC more often," says Mohammed Dewji.
He could be speaking for himself too. In FORBES AFRICA's July 2013 cover, he had said he puts in 100 hours a week growing MeTL into a pan-African conglomerate.
Today, he admits to slowing down "a little bit" – after his headline-grabbing kidnapping incident in 2018 that gave him a new lease on life and made him veer towards philanthropy and impact investing a lot more than before, he says.
But this has in no way decelerated his ambitions to conquer more markets and more milestones.
The astute, hard-nosed businessman running Tanzania's MeTL Group, operating in areas as diverse as food, agriculture, textiles, trading, energy, financial services, real estate, logistics, and distribution, has a vision for his company that covers every commerce and commodity on the African map.
"My problem is my mind, it runs like a train. I'm trying to slow it down. But I'm not working 100 hours a week anymore; I work 80 hours a week," he laughs. "I'm still passionate about work, I just cannot have an idle mind."
The entire MeTL Group, he says, is on course for a targeted revenue this year of about $2 billion.
The group had its genesis in the early 1970s as a modest trading house; his father Gulam Dewji, in a few years, turned it into a flourishing import-export business.
Today, the younger Dewji is talking about buying an island with a landing strip "very soon" and venturing into the hospitality business. A half-hour interview with Dewji and he has touched every business there is: his renewed investments in tea, carbonated drinks, macadamia, cashews, textiles… the list is endless.
But there is the reason for him to feel bullish. With the country's new President, Samia Suluhu Hassan, taking over early this year following the death of President John Magufuli, Tanzania is waking up to a new vision and positive outlook, hoping to join the continent's economic giants Nigeria, South Africa, Kenya, and Ghana.
"The new president is so business-friendly, investment-friendly, and FDI-friendly, she is doing good for Tanzania," says Dewji.
"I have promised her that in the next five years, I'll employ 100,000. Tanzania is one of the fastest-growing countries in Africa. I am going to continue investing more into the country and of course, in the region."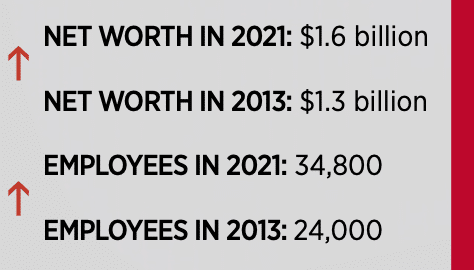 Dewji has his ear to the ground and is well-attuned to the purchasing power of consumers in his target markets in East and Central Africa.
"When I got out of university in Georgetown in 1998-1999, the per capita income in Tanzania was $300. So I was like, 'okay, how do I become a rich man?' Today, the per capita income is over $1,000. From the time you wake up in the morning, to the time you sleep, I need to dig deep into your pockets to at least take 70% of your purchasing power, right?" he explains simply.
"So you wake up in the morning, there is tea, sugar, maize flour, carbonated drinks, water; there's a bicycle, there's a motorcycle, there's garments etc etc, So I have been able to just fight to enter. And I've been competing with Unilever and Procter & Gamble, and Coca-Cola. I believe that in the next maybe four or five years, my carbonated drinks business, which I am expanding, will be at least over a billion dollars in terms of valuation in East and Central Africa."
Dewji has big plans in Rwanda.
"I told President Paul Kagame that I was going to invest $50 million. And I'm going to put in an edible oil refinery and a soap plant, I'm going to put in wheat milling, I'm going to put in maize milling, I am going to put petroleum, we're putting carbonated soft drinks. And they have been amazing. They are punching above their weight.
You are welcomed like a king in Rwanda," says the man, also known to his family and friends as 'Mo'.
Agriculture is a mainstay business, and in 2022, Dewji says he will be the single largest sisal producer in the world. In addition, he is converting his tea business to organic tea.
"I'm going to invest another $50 million into planting a couple of thousand hectares of new hybrid tea that I can export, and also make more tea locally. I am looking at macadamia in a big way; we've invested in Mozambique in the maize milling business, in the cashew processing business. And
in textiles, you know that I am one of the largest. If you were to visit my factory, it's 3,800 people spinning, weaving, processing, dyeing, printing… For now, I want to also go into denim. We need to create more jobs," he reels off breathlessly.
Dewji was in Iraq too recently and found a big gap in FMCG – "businesses that I know already".
In the last few years, he has also found the time to part-own a football club, Simba SC, and is channeling more funds into it.
"And now, we [are among] the top 15 clubs in Africa. We have had back-to-back leagues, and I have invested $20 million. It's just like having a plane or a yacht; you bleed money. But I just love the club and am so emotional about it."
In 2015, Dewji also created his eponymous foundation educating underprivileged children right up to the university level in Tanzania, he says. As Tanzania's only billionaire, he also signed the Giving Pledge in 2016, promising to donate at least half his fortune to philanthropic causes.
"Bill Gates convinced me and I signed the Giving Pledge and it has been amazing. And then, of course, the worst
the part was my kidnapping in 2018."
Kidnapped at gunpoint in Dar es Salaam, the Tanzanian capital, in October 2018, outside his gym
at 5 AM, Dewji was released after nine days.
"I went through a near-death experience; they basically stripped me and blindfolded me, and I was in a room with two people, without moving for all those days," he recalls.
It gave him a new life-altering perspective.
"I think by the age of 50, I want my kids to get a little older, and I just want to step down and do philanthropy, because it gives me a lot of satisfaction. When we run businesses, we invest and we want the maximum per dollar, right? So I look at philanthropy the same way; that you spend that dollar or the $100 or $100 million that you want to put to have maximum impact, and I'm going to focus on that!"