The beauty industry is growing by leaps and bounds, and as data says, so also the demand for minimally invasive aesthetic treatments in the Middle East and Africa.
This has been good news for Dr Wedu Tose Somolekae, who has become a sought-after expert in Botswana in the field of aesthetic medicine.
And to think this was not her initial plan.
"When I started medical school in 2011, I dreamed of eventually becoming a pediatrician," Tose Somolekae says to FORBES AFRICA. "Aesthetic medicine and entrepreneurship were the furthest thing on my mind. Little did I know that a weekend trip to Johannesburg with my friends would change all of that!"
After visiting a clinic in bustling Johannesburg, South Africa, Tose Somolekae immediately began her research on the concept of aesthetics and medicine. Like any millennial, the good doctor took to Instagram to directly speak to other medical aesthetic doctors in the field.
After many obstacles (being stuck in the small village of Masunga, Covid-19 and not enough fees to pay for her dream), Tose Somolekae took the plunge in the beginning of 2021 and resigned from her position as a medical officer in Masunga with a severance package of P50,000 ($380,000).
A move that led to Medi-Glow Aesthetics, the first full-time Medical Aesthetic Practice in Botswana.
"Watching me grow has definitely inspired those around me to chase their dreams and reach for the stars," Tose Somolekae adds. "The tenacity and determination to introduce something new to the medical and beauty in.
---
2023 Forbes Under 30 Summit Africa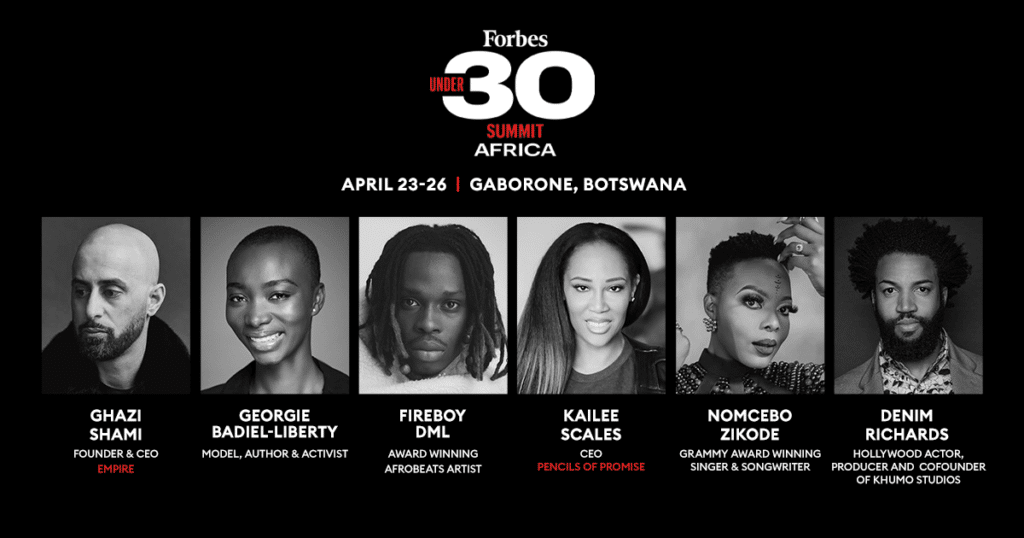 In April 2023, the Under 30 Summit will return to the world's greatest growth market, Africa. Following the first-ever Forbes Under 30 Summit Africa held in April 2022, the world's most elite young entrepreneurs and game-changers will again convene in one of the world's most beautiful countries, Botswana.
Across four days in the country's capital, Gaborone, we'll harness the power of entrepreneurial capitalism amid the continent whose growth will help define the 21st century. As with every Under 30 Summit, the social and cultural opportunities will be world-class. You'll hear from government, venture capital and business role models, providing inspiration for the newest—and next—generation of leaders. We will welcome local performers, chefs and entrepreneurs, allowing us to experience the sounds, cuisine and staples of local culture while engaging in unbeatable networking and pitching opportunities.