Blood and bruises, sweat and fury. Mixed martial arts is gaining popularity in South Africa with home-grown talent fighting to find their place in the continent and beyond.
By Paula Slier
Additional reporting by Khaka Ngcofe
For many people, cage-fighting throws up images of gladiators tearing into one another with spears and other weapons. Branded 'the ultimate fight', it brings together a range of martial arts.
Introduced to Africa 18 years ago by South African Brad Bloch, fondly referred to as the Godfather of MMA (Mixed Martial Arts), this no-holds-barred is a full-contact combat sport. It involves much more than just stepping into a cage.
"People have different skill-sets," says Bloch, "whether it's kung fu, karate, boxing, kickboxing, jiu-jitsu, wrestling, sunbi, or whatever. You can't just have one skill-set in order to fight this fight".
Dating back to the ancient Greeks, when unarmed combat was first introduced into the Olympic Games in 648 BCE, cage-fighting has always been regarded as the most extreme combat sport. It recently resurfaced in the early 2000s in the United States when an American reality television series, The Ultimate Fighter, gained huge popularity. The show featured daily preparations of fighters and their interactions with each other while they lived under the same roof. It was instrumental to the survival and
expansion of the sport into mainstream.
However, for all those who support MMA, there are just as many critics who argue the sport gives fighters much more liberty than professional boxers or judoka. And that's despite the fact that it has been scientifically proven that a cage is safer than a boxing ring.
"If you're fighting and get taken down to the ground, the cage supports you," points out Bloch.
"Your head drops down correctly and rolls down on the surface of the cage. Whereas if you're in a boxing ring and your head hits the ground, it can sometimes bounce and cause great whiplash. In a cage, you also fall onto the canvas and there's no chance you can fall outside the cage. In a boxing ring, many
people have fallen out of the ring and that's extremely unsafe."
Today, MMA is legal in almost all countries around the globe but still some African, European and Asian countries prohibit it.
It remains a hot topic of debate.
"We introduced the sport into Africa through South Africa and had to meet certain conditions to legalize it," explains Bloch.
"We had to have a big brother company overseas. Since then the growth has been exponential, not only on a professional, but also on an amateur level. Fighters can compete, get their provincial colors and represent their country at the world championship."
Considered the fastest-growing sport in the world with an estimated 449 million followers, according to International Mixed Martial Arts Federation (IMMF), the global body for MMA, there are only 19 African countries who have legalized it. They include, amongst others, Algeria, Angola, Cameroon, Egypt, Ghana, Morocco, Tunisia and Zambia.
Audiences are very diverse, often made up of women, men and families.
"I actually think the women shout louder than the men," laughs Bloch.
"The number of female competitors is growing at a rapid rate globally and is becoming the big thing right now. Women are already referees so there's no reason why they can't also fight."
South African-born Cassandra Le Roux, 25, is a case in point. A six-time undefeated South African champion, she was the All African Champion in 2018 and came third at the world championships in the same year.
A full-time MMA coach and trainer, she was a dancer for a few years before transitioning into the world of
MMA.
"I fell in love with the technical side of things. It's basically educated violence in a nutshell. Although I got into it for self-defence, it didn't take long before I wanted to experience it as a sport."
Bloch coached her, encouraging her from an early age to turn competitive.
"At first my mom was like 'no', and Brad was like 'there's a fight this weekend, you can join'. I was like 'yeah, but you're telling my mom'… Only after she saw me locked in the cage was she like 'you can defend yourself and it makes you happy, so go for it'!" Le Roux was around 14 years old at the time – "super
young", she admits – and because there were so few girls competing, she remembers "it wasn't a very long fight".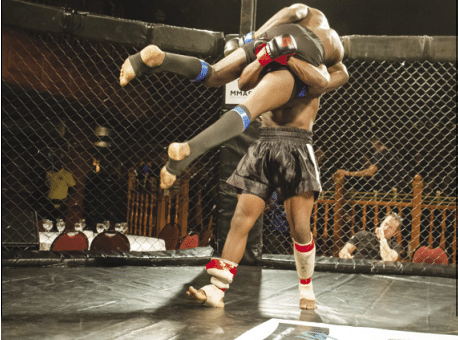 "Most people ask me 'did you feel that shot?' And I'm like, 'no, not really'. Sometimes we go in with some sort of injury and don't feel like being there at all. But while you're fighting, and for maybe like an hour afterwards, your adrenaline is so high, it feels like you're on another planet. At the same time, you're so calm."
Le Roux trains a lot with men who she says appreciate and encourage the women fighters. But still, fewer females sign up compared to men.
"Every time you look, there are new people in the gym who want to compete or just train. Sometimes they train and then they fall in love with the sport and they end up competing. Most females start the training but use it more for self-defence than to compete."
For Le Roux, her sights are firmly on the international stage.
"As long as my body can keep up with my mind, because my mind powers my body to be honest. I hope my body will hold out because I've had some injuries over the years."
Le Roux's mother, Deidre, has come a long way since her initial misgivings about the sport. She's now her daughter's greatest supporter, promoting not only her and other fighters, but also arranging fights across South Africa.
"We try and put on a fight every two months. We've got a lot of athletes from Africa who come and fight with us. So the caliber is really high," she says.
"There's a lot that goes on behind the scenes – the venue, the cage, the medics, doctor, ambulance, two helicopters on standby, medals, paperwork, that kind of thing. It can take six, seven weeks to organize one event. Since Covid ended, there's been such a response from fighters that we're having to turn a lot of them away. We can't have more than 20 fights at an event."
Most of the fighters call Deidre "Mama D" for her dedication in ensuring that their weight is on track and that they fight only against people in the same weight category. "We have protocols through which we match fighters. They have to be exactly the same weight and you cannot put a development fighter who has never fought anyone before, against somebody who's had eight fights. The safety precautions are hectic and the rules are the rules.
Before a fight, we have a briefing where all the fighters and coaches go through the rules again. We are extra careful – a fighter's safety comes first. If a fighter doesn't know the rules, he or she will not be allowed to fight."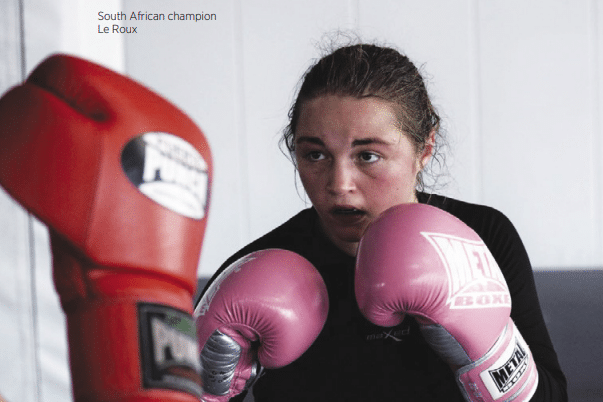 Her soft spot is for the women and children.
"We start the babies from five years old until 17. But the five-year-olds, I just want to eat them up because they tear my heart strings apart. I would so like to see their numbers triple. MMA makes people very humble and respectful. Of course you get the odd diva here and there but they're soon put in their place. I would encourage this sport for parents because it teaches children good values," adds Deidre.
For founder Bloch, the dream is for cage-fighting to grow exponentially in Africa and for homegrown talent to find its place on the continent.
"I specifically mention Africa because a lot of our champions leave to go fight in America," he says.
"Africa right now doesn't have the facilities to train fighters properly and our standards are not high enough for them to compete at a world level. But we have the potential and I predict that soon the sport will explode in Africa."