Where previously weddings were all about opulence and chandelier, crystal and champagne to celebrate happy couples, the fancy frills have been stripped to pared-down versions in these pandemic times. The sentiments are the same, but the splurging isn't. And catering to the newly-austere is a reimagined wedding industry getting more creative to still make it a meaningful business to be in. 
DR NOXOLO KHANYILE KNEW IT WAS NOT going to be an easy undertaking, by any means.
"Both my partner and I are Zulu," says Khanyile, who married her husband, Silo, in a traditional ceremony in South Africa in March this year.
"One needs to understand that it is a process [when you get married], it's not just one celebration, it's numerous celebrations. Multiple customs need to be followed.
"Every little girl, or at least most girls have this idea of what they want their wedding to look like, how they would want their dress to look, how the décor should be…. So, I think at the back of my mind, I already knew how it should be."
Although Covid-19 "condensed" a lot of her plans, including the couple's white wedding that took place at the end of July, Khanyile offers a glimpse of the color, culture, pomp, revelry and regalia that typically go into the making of The Great African Wedding.
"It's celebrating this love; it's celebrating this culture. That's what makes an African wedding so unique," says Khanyile.
Except that in recent times, Covid-19 has played party pooper and forcefully pared down the dreamy blockbuster wedding for most couples.
Uzair Essack and Samira Patel-Essack too had to make a choice and opt for less opulence for their middle-of-the-pandemic nuptials, also honoring Muslim customs.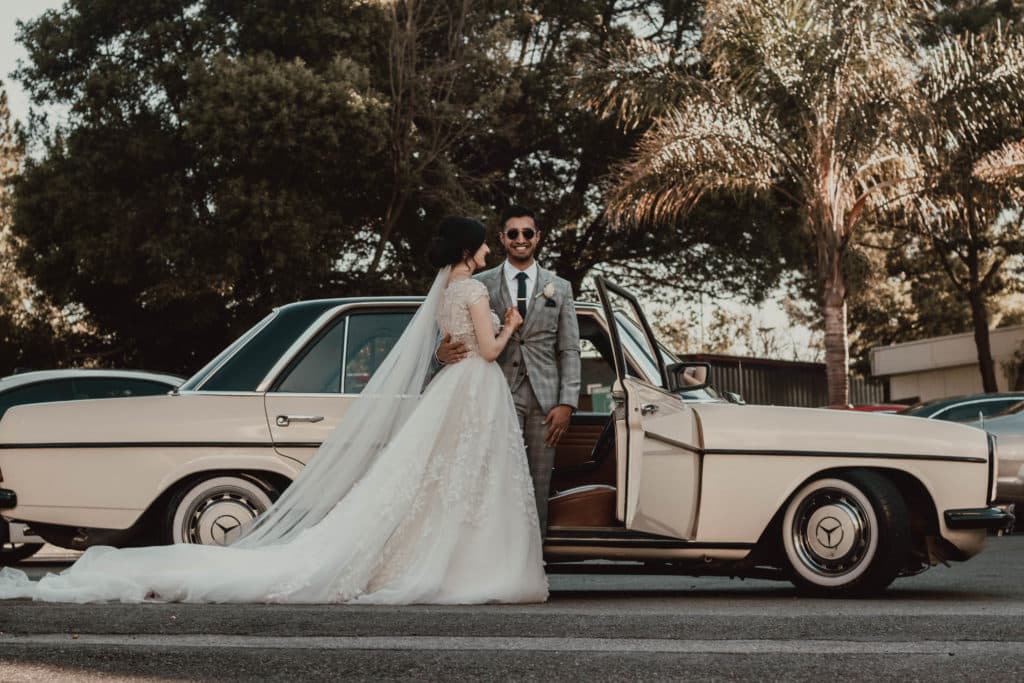 They became a couple when Essack started sending DMs (direct messages) to Patel. "He immediately said in the message 'I am going to marry you one day'," Patel giggles looking at her husband now. And marry they did.
"At first I wanted luxury and wanted to go all out," Essack explains. "But Samira is very humble and her family wanted a simpler affair and we had to [make] a lot of compromises which now that I [look] back at, am glad about."
Essack and Patel were engaged just before Covid-19 struck in March 2020 and got married at the height of the lockdown in South Africa in December that year, with multiple restrictions in place.
"We first had 200 guests on our list," says Essack. "Then we dropped it to 100… and yes at first I was sad that some friends could not join us but then I thought about the safety of some of my family
members who needed to be there."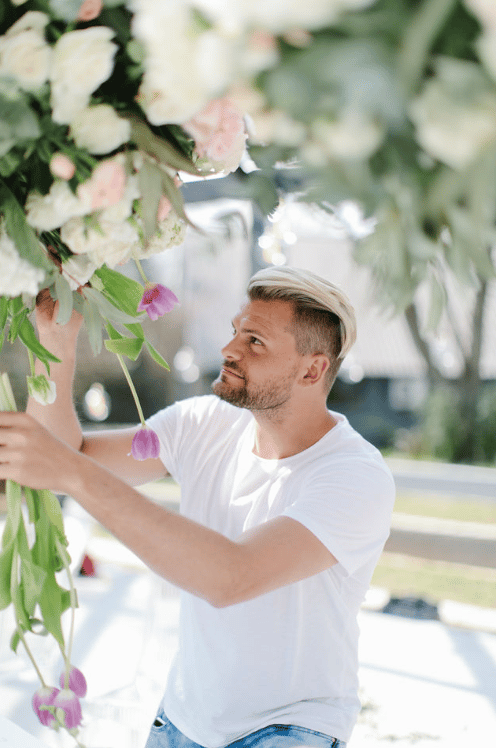 Covid-19 certainly stalled or limited the flamboyance of African weddings, and continues to reset the events sector, but the army of planners, suppliers and professionals dominating the wedding industry still believe the wedding day is worth a splash and spectacle. Luxury is still lucrative business, and swishy dos are not really passé, they say.
Zavion Kotze and his husband, John, own a venue in one of South Africa's most popular wedding destinations – Muldersdrift, located in Gauteng province.
Pre-pandemic, this duo had busy days, moving from one mega wedding project to another.
From the moment they launched their business, Inimitable Wedding Venue, in 2018, they had overflowing diaries.
"We opened for viewings in February 2018. And that first month, we booked 36 weddings which was incredible and daunting at the same time," Kotze tells FORBES AFRICA. "We started doing weddings in October 2018. We had an unbelievable financial year in 2019; it was incredible. I think we did 147 weddings that year."
Kotze's planning and design company outside of Inimitable Wedding Venue, called the Zavion Kotze Events Company, also organized some of South Africa's biggest celebrity ceremonies.
Notably, this included the wedding of Miss Universe 2017 DemiLeigh Nel-Peters to her American footballer-husband Tim Tebow in Cape Town which was quickly followed by media personality, Somizi Mhlongo's and his now ex-husband Mohale Motaung's nuptials.
---
Zavion Kotze designed the wedding of Former Miss Universe Demi-Leigh Tebow and American footballer, Tim Tebow in January 2020.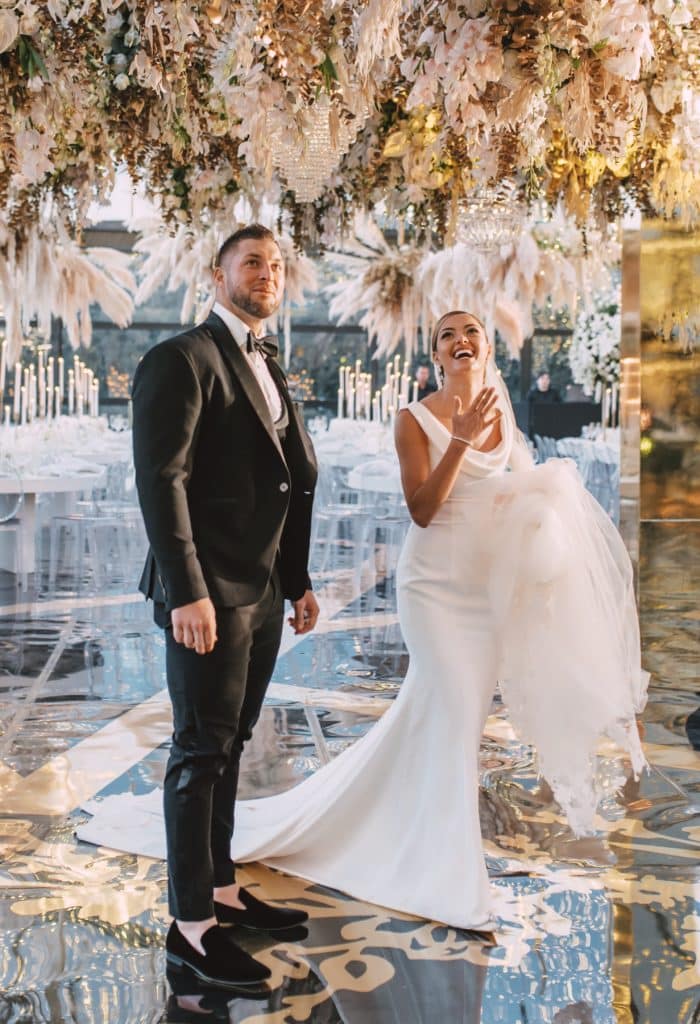 ---
Both were opulent January 2020 weddings. But the economic catastrophe that Covid-19 was when it hit in March did not spare Kotze and his team, or anyone in the events business.
"We had 76 postponements that year (2020), which we had to manage in terms of new dates. And financially, it was a very difficult time. With weddings and with wedding venues, you have one date; if someone cancels their wedding or postpones their wedding three months before, the chances of booking that date out, again, are very slim. Most people don't like to plan a wedding in three months."
With 86 employers on the ground and in the business, they were advised to liquidate the business and retrench all their staff. However, Kotze and John refused to believe that this was the only way forward.
"We kept everyone on salaries the whole year. We didn't have events for about 13 months. And in hindsight, it was the best decision we ever made. Because the moment we could start doing weddings again, our staff were there for us!"
SUPPORTING BLACK-OWNED BUSINESSES
Itumeleng Phosa got married to "the love of her life", Marothi Phosa, in April 2021, when the world was still in the throes of Covid-19. Planning her white wedding, she always had a vision board of what it would look like. Unfortunately, hiring a wedding planner was not on the cards as it was prohibitively expensive.
"It was very tough to plan because I planned everything myself," Phosa tells FORBES AFRICA. And there were some crucial learnings.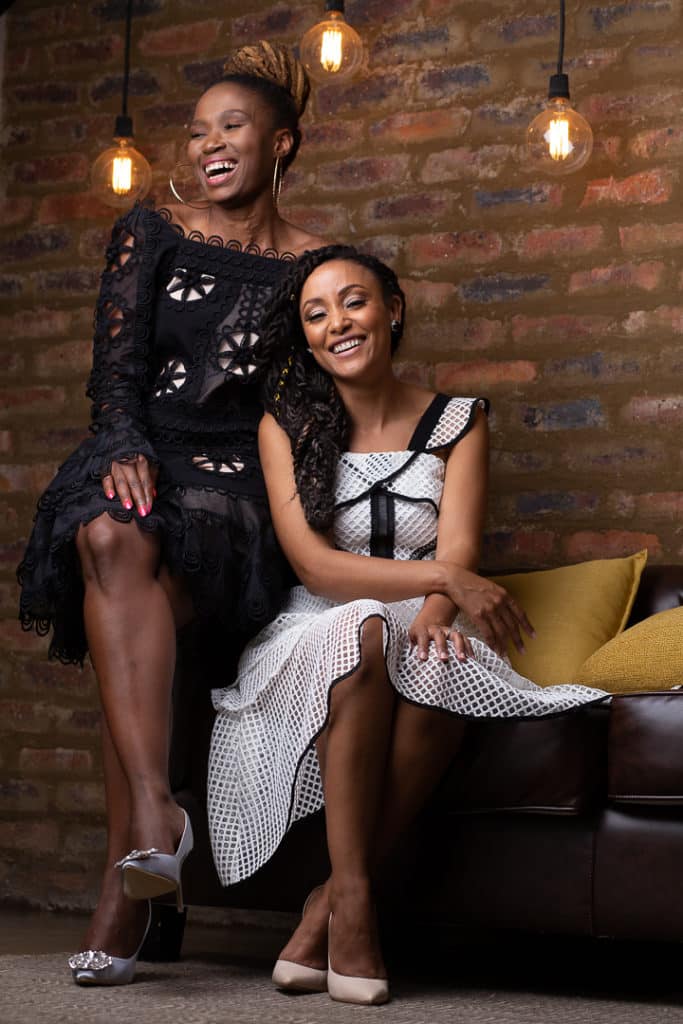 One of them being that black suppliers were not in high demand. In an industry as lucrative as this, many a time, suppliers bear the biggest brunt of economic decline, be it because of a pandemic or a bad recession. Compounding this problem for black suppliers was bad representation.
This is why entrepreneurs Dr Anna Di Donato and Unathi Mbonambi wanted to ensure that doing business with people of color is promoted and celebrated, rather than scrutinized and stereotyped.
"When we started planning our wedding, I wanted to use only black suppliers," Phosa explains. "Because I feel black suppliers have services, especially when it comes to weddings, that are so excellent and so professional and so great, but not a lot of people know about that."
"I'm very big on supporting black-owned businesses," Khanyile agrees. "Not only black-owned businesses, but blackowned businesses based in KwaZulu-Natal [her home province]. I believe in finding what you need at home, before branching out and looking elsewhere."
---
TO DO OR NOT TO DO
According to a recent report by StatsSA, marriages are becoming less common in South Africa. The Marriages and Divorce 2020 report states that the total number of people getting married has fallen steadily from 2011 to 2020. Besides the steep decline in 2020 that may have resulted from the restrictions on gatherings that year, the number of civil marriages has been consistently on the downward incline.
Civil marriages fell by 22.5% between 2011 and 2019 and declined by a further 31.1% in 2020. Furthermore, customary marriages (negotiated, celebrated, or concluded according to any of the systems of indigenous African customary law which exist in South Africa, and exclude marriages concluded per Hindu, Muslim, or other religious rites) also saw a decline.
In 2020, 1,585 customary marriages were registered at the Department of Home Affairs, indicating a decrease of 43.2% from the 2,789 customary marriages registered in 2019. From 2011 to 2019, these marriages declined by 45.1%
---
Di Donato, a medical doctor who left the world of medicine to follow her passion for fashion, started Zodwa Bridal in 2015 and found the wedding industry in South Africa lacked representation when it came to black-owned businesses.
"We were struggling to sort of get traction because there is a stereotype of black wedding suppliers being unprofessional, that we deliver subpar services and subpar quality. This was incredibly difficult and far from the truth," says Di Donato.
This is what led Di Donato and Mbonambi, a wedding photographer experiencing the same challenges, to together launch Mzansi Bride as a platform to showcase black wedding professionals.
"It got so frustrating because I have been in this industry for a while and I would go to a high-profile wedding to work at and you'd find that you are the only black wedding supplier there," Mbonambi says.
"It was frustrating because you know of amazing black wedding suppliers that can deliver amazing things from designers to décor to makeup to even jewelry but they were nowhere to be found in these spaces."
"I know of a wedding hub that has been established and has been around for a long time, but they didn't even have a single black supplier on there. So, I think it's a great opportunity to provide support and to put the black supplier services out there," Phosa says, having used Mzansi Bride herself to plan for her big day.
One of the suppliers promoted by Mzansi Bride is Tebogo Ntsoane, the owner of Cake Bliss Artistry.
What's a wedding without cake?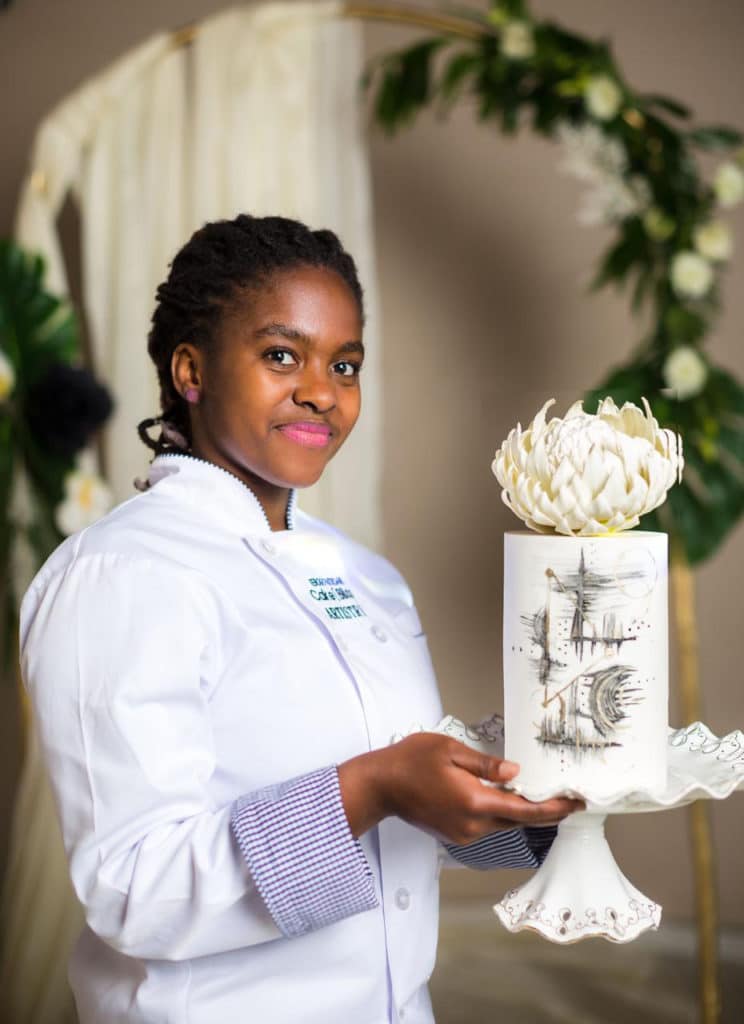 An architect-turned-wedding cake designer, Ntsoane says that sometimes people can't fathom how long it takes to create every single cake.
"The hours alone… sometimes I don't sleep because wedding cakes are a lot of planning. It's not just a part of that week of the wedding; we make the wedding cakes and prepare the ingredients I would say three months in advance if I'm given sufficient time and it [takes] long hours to [do] that."
Interestingly enough, it was during Covid-19 that Ntsoane launched herself into the industry and honed her talent as a wedding cake artist. Having worked in an architectural firm for a couple of years, in her spare time, she would bake, and those were the times that she felt the most fulfilled.
"And then in 2019, I was quite miserable in my job, and decided to bite the bullet. I resigned with no plan in mind. All I knew was that I was very passionate about baking." Fast forward to 2022 where her three- to four-tier cakes are dubbed "masterpieces of edible art birthed from concepts of art, fashion, architecture, and tell narratives of your journey".
Her top-sellers? Sugar flowers, ganache, strawberry and caramel compote that are all made from scratch. And she is a one-woman team.
"I currently work alone because I am very pedantic about the way I work. And so it's very tricky. It's been hard for me to find somebody I can trust and also find somebody who is as efficient as I have become. But I'm in the process of looking for someone like-minded that I can train…
But this makes no difference to Ntsoane's clients as the reviews so far have been complimentary.
And her prices are aligned with that demand.
"The most expensive cake I've made to date cost R32,000 ($1,905)," says Ntsonane. "They wanted the cake to be a statement piece. Therefore, they will pay that much money." Di Donato, on the other hand, offers different packages and price points for her wedding apparel catering to brides with varying budgets.
And the bridal dresses can be rented out too.
"I start rentals from R5,000 ($298) to R10,000 ($595); then the second range comes from R10,000 ($595) to R25,000 ($1,490). Then from R25,000 ($1,490) upwards; the sky's the limit, because we design all our dresses in-house."
As for the lensman capturing it all, it's a package deal.
"It's an entire day's shoot, so my prices depend on what people are looking for. I start from R25,000 ($1,490) and that covers everything leading up to the day where that person's looking for pre-wedding
images or images with the invites and so on," Mbonambi offers.
WEDDING INSURANCE?
Luxury trappings come with hefty price tags. Those wanting dainty 10-feet rose and protea garlands (proteas are $0.42 to $1.93 a stem), and rose gold and ivory Tiffany chairs for their guests, must be willing to fork out big bucks for them. A wedding day with all the frills could cost anything from R300,000 ($17, 867) to R10 million ($59,557).
But having been in the business long enough to know, Kotze warns that anything could go wrong and your money could go to waste. "Before I had my [own] venue, we used to do weddings at different venues and we literally would be told about venues that would go up in flames, or maybe the bride's expensive dress is ruined," Kotze adds.
When you would happily pay insurance for your cars, why not the same for your wedding, he asks. To this end, Kotze saw meaning in diversifying within the industry and developing an 'I Do Insure' policy covering an array of categories: from cancellations to reschedulings, through to wedding attire, suppliers, and even transport.
"This is a product that has been developed by someone who has been in the industry for 10 years, knowing what goes wrong and knowing what are the possible events that need to be covered. It [didn't] just get structured in an office," Kotze explains.
From an immaculate window glass tent to rolling acres of lush greenery overlooking the river and canapé areas from where to view the sunset as the couple finally says "I do", the venue is designed to individual tastes.
An average wedding at Inimitable costs anywhere between R300,000 ($17, 867) and R2 million ($119,114). Kotze adds: "So, on top of that, people would then add floral decor, lighting, and services in terms of planning or event management."
In the end, the Essacks spent an estimated R100,000 ($5,955) for their wedding whereas Phosa's expenses came to twice that.
The Khanyiles spent almost R140,000 ($8,338) for just their traditional ceremony and for their white wedding, they say they could have spent another $10,000.
"African weddings are expensive, because of the sense of community that we have – [it's] not just your family but your neighbors, extended family, friends of neighbors… like it all becomes such a big spectacle," says Khanyile.
And none can dispute the beauty of such a wedding.
"I would have to say that it all comes down to the soul, whether it's a Greek, Portuguese or African wedding. In South Africa, there is a certain amount of soul; no one knows how to party like a South African," Kotze says.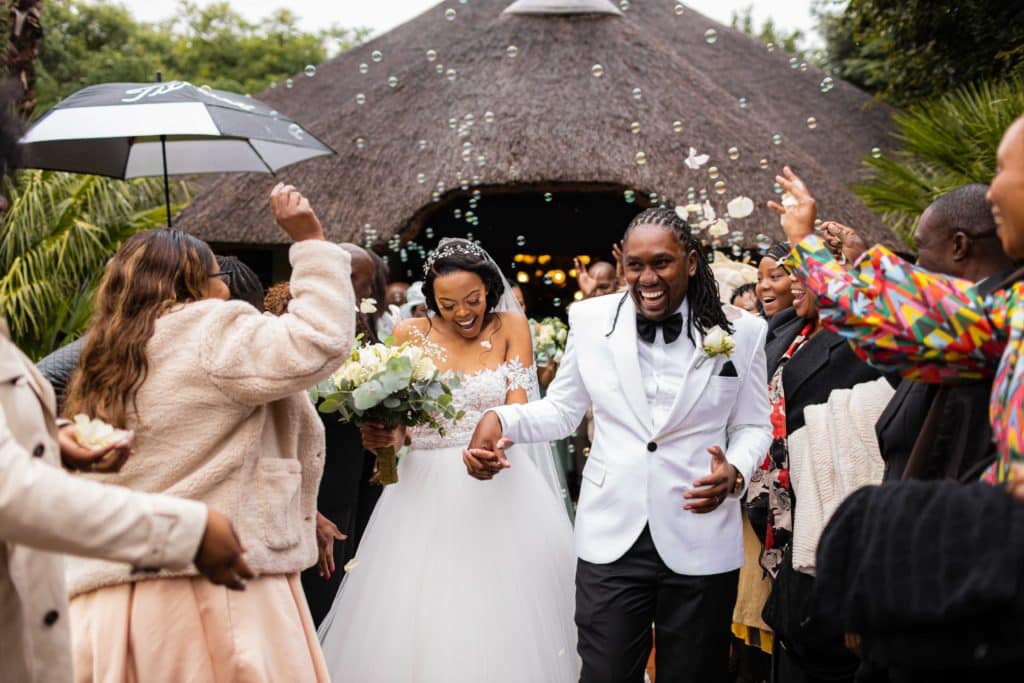 "I think [it's] the diversity of South Africa. We had Indian-Muslim people there, we had white people there, we had African people there. And it's a coming together of cultures on a specific day," Essack agrees.
"There's this misconception in the global market; people look at our continent, and they don't acknowledge the quality of weddings that we can achieve," Kotze explains further to conclude. "We have a massive international group of people that are getting married on our continent every single year, and they come here for a reason. It's affordable. And it's an experience second to none!"