Rwandan cinema is coming of age, with a new wave of artistes and filmmakers bent on reiterating the country's indomitable creative spirit and putting its movies on the international map.
By Ridhima Shukla
The first feature film to ever come out of Rwanda was in 2001 titled 100 Days, a love story set against
the backdrop of the brutal genocide against the Tutsi of 1994 directed by British filmmaker Nick Hughes.
In the years since, there have been more movies made in the tiny East African nation, although this has been a journey of risk and resilience in nabbing the top honors on the big screen .
Still busy building itself from scratch since the horrific events of 1994 that saw almost a million dead, as also building the capacity and infrastructure for large-scale movie production in tande with other development projects, Rwanda had not had a prevailing cinema culture in general.
Mazimpaka Jones Kennedy, a veteran of the African film industry, says to FORBES AFRICA: "Rwandans did not have the culture of buying a ticket and going to the cinema, but things are changing. There is so much talent in the country and everyone loves films; we have come a long way!"
With the spurt of growth and development in Rwanda, the nation's artistes and creatives are exploring the myriad possibilities.
The creative sector has changed its narrative and today, Rwandans are being recognized for their work in international projects; their faces are on big budget films and their names are being played up across Over-The-Top (OTT) streaming platforms.
But this story began with the pioneers in the early 2000s.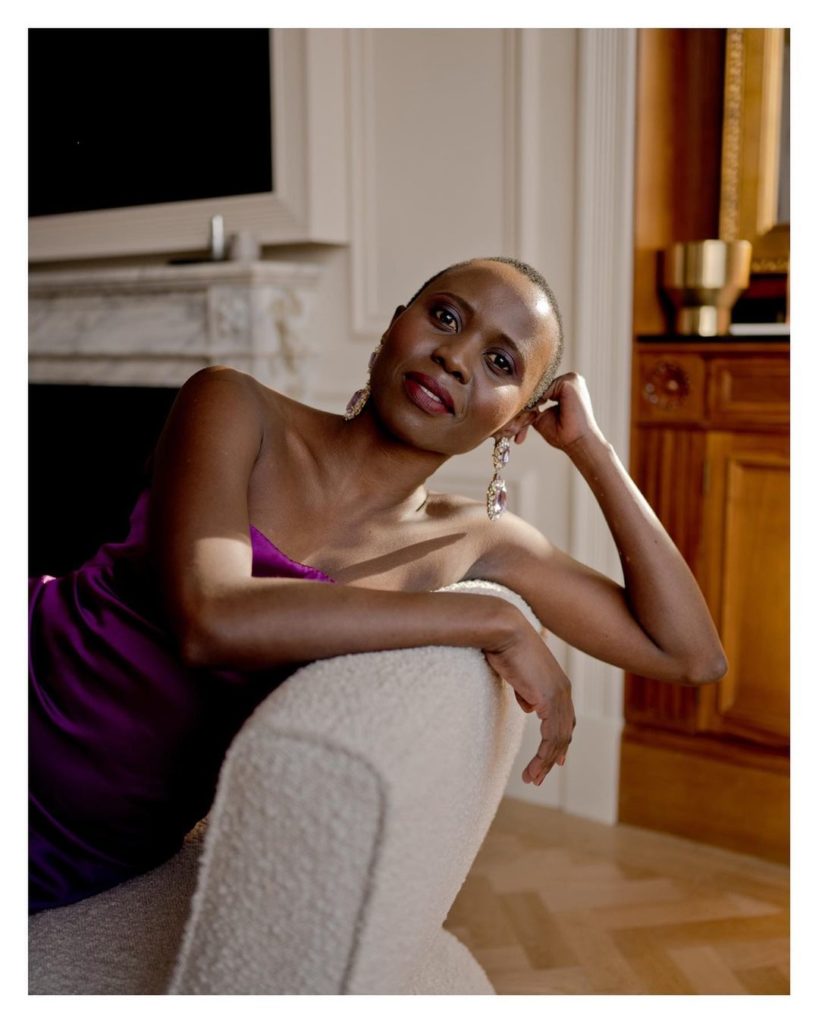 In 2004, Eric Kabera, a name synonymous with the Rwandan film industry, established the Rwanda Cinema Centre for training local talent and providing a launchpad for future filmmakers. He is focused on telling a new tale of hope and resilience in Africa.
At the same time, a larger influx of foreign producers, directors, actors and film crews made their way into Rwanda, instigating a passion for filmmaking among Rwandans and leading to the rise of a new wave of creatives who see cinema as a tool to tell their story and assist in the healing of the country's people.
"We started by telling stories around the genocide. Because it was important for healing, and commemorating the lives that were lost," says Eliane Umuhire, an award-winning Rwandan actress known for her role in the BAFTA-nominated Bazigaga.
Whilst Rwandans were beginning to take an interest in cinematography, and the passion for the craft was becoming more prevalent, the industry still lacked the necessary skills needed to create full feature films.
Authentic and compelling stories were being written but with a massive skills gap, the industry was struggling to scale up and become more lucrative.
Christopher Marler, who founded the Africa Digital Media Academy in Rwanda in 2014 to bridge the necessary gaps in the industry, says: "The industry is still young and does not have a lot of money. On the other hand, how can the industry make more money if it does not have the skilled workers it needs? There are plenty of people that have the vision for film, but making it happen… that's another story."
He says his graduates are doing well.
"It's a bit old now, but in 2018, we did a tracer survey and discovered that we had a 91% employment rate amongst our graduates, not just because of their technical skills, but because they also know how to be professionals."
But even before the inception of such institutes, Umuhire, the protagonist of Trees of Peace, paved the way with the help of likeminded and passionate artists, a tremendous testimony to Rwanda's creative spirit.
"I started in theater and there was no cinema industry as such, even theater was in the early stages. There were two theater companies both led by women. They are the ones who walked me on [my] artistic journey," says Umuhire from her film set in an international production studio in London where she is shooting her yet-to-be-announced next project.
"I want to share my story to inspire others that anything is possible. By working in international productions I can say that I can be black, with no hair, short and not the normal standard of beauty, yet make an impact on someone… all these people are testimony to that. We can tell our own stories."
The story of the African people told by African people is becoming the norm and Rwanda has a major role to play in it. Today, the land of a thousand hills is a shining beacon of political and economic stability – and its cinema landscape is a reflection of a modern society embracing its past and channeling it into unity, growth and development.
Cinema has taken up the role as a medium for Rwandans to own their story and change the perception of the world about Rwanda.
Umuhire shares what it has meant for her to work on a story that does not simply focus on the chaos and brutality of the past but also bring to light the humanity of the continent's people.
"I played a character in a short film that played at the BAFTA, about a Rwandan shaman, a traditional healer who saved 200 Tutsi people. It's beautiful to tell a story like that, about people who were the light in the deep dark history of Rwanda and who did good. Without this story, no one would have known. It portrays an African woman not as a victim but as a winner, saving lives."
By being the compass and propellers of the African narrative, Rwanda is looking to create more buzz globally and within the continent with bigger productions portraying a new, fast-growing and changing Africa.
This ambition has opened doors for OTT content to thrive.
Moving hand in hand with improved access to mobile devices and the internet, OTT films and series are the new trend in East Africa; one that is here to stay and grow exponentially. Wilson Misago, the Founder and CEO of Zacu TV, a production and distribution house in Rwanda, says: "According to a report by Africa Business Communities, the OTT market in East Africa is projected to grow by 17% annually, reaching a value of $392 million by 2025."
The rise of OTT has compensated for the lack of distribution avenues in the region by serving as a valuable distribution channel for local content creators, who are able to reach wider audiences and monetize their content through ad-supported or subscription-based models. "In Rwanda, there is a growing interest in locally-produced content, particularly in the Kinyarwanda language. Viewers are interested in stories that are relevant to their culture and experiences, including dramas, comedies and documentaries that address social issues," adds Misago.
"Rwanda, by itself, is a small market. Now we have, through Canal+ and other efforts, a way to distribute and promote films to all of Africa. This, in turn, makes it more interesting for investors to finance production. The other big change is that we are finally getting some international attention. Distribution plus exposure equals the funding of productions," concurs Marler.
In a matter of 20 years, the country has gone from having not a single movie theater to having several, and from having no homegrown productions to a thriving movie industry with the potential to grow into one of the biggest sectors of the economy.
In contrast to the past when actors were hired from other parts of Africa to play Rwandans, today, many Rwandans work in international projects as actors. Actor Arthur Nkusi considers it a natural progression. He played a supporting role in the film Fight Like A Girl with Rwandan actress, Malaika Uwamahoro.
"Rwandan actors have grown in terms of the experience of participating on international sets; today, the chances of being cast are much higher," says Nkusi to FORBES AFRICA. Beyond acting, Rwanda's directors
are also shaking up the international market despite budget constraints.
This growth and recognition has not gone unnoticed by the government of Rwanda which has identified films as an important medium to strengthen its identity globally and also to enhance film tourism in the country.
Clare Akamanzi, CEO of the Rwanda Development Board (RDB), says: "We have set up the Rwanda Film Office; the idea is to reduce the cost for producers who come to shoot in our country.
This package includes tax incentives, and we have also built an audio visual studio at the ICT Innovation Centre to enable talent and quality in production, under the Rwanda Tourism Board."
This move by the government is a strategic step towards creating the right atmosphere for filmmakers and other creative talent to spend more time in the nation, and assist directly or indirectly in raising the standard of the craft among local talent while building niche skillsets to aid the sector's growth in the years to come.
Keeping an eye on the future of Rwandan cinema, in 2022, the Rwanda Film Office commissioned RWF184 million ($170,000) to support the development and production of 33 films/series.
Pioneers of the industry are ecstatic at the prospect of such initiatives as it paves the way for the strengthening the sector.
"The Rwanda Film Office under the RDB will support the ecosystem to grow. The film festivals such as the Mashariki African Film Festival, Rwanda Film Festival, Urusaro International Women Film Festival, the Rwanda International Movie Awards etc are putting the Rwandan film industry on the map," says Misago. Umuhire is ecstatic: "Everywhere I go and tell people I am from Rwanda they tell me they have eyes on Rwanda. I feel there is no limitation in life as Africans. We can fly to the moon and dance with the stars, and still stay authentic to our true selves!"
Hollywood, here they come