Momoko Harada is turning macadamia nuts in Rwanda's verdant, virgin fields into valuable export currency, in turn also helping the farmers and protecting the environment.
WORDS AND PHOTOS BY RIDHIMA SHUKLA
AT A FACTORY farm, about a 45-minute drive east of the Kigali city center in Rwanda, is a modern facility where the world's most expensive edible nut – macadamia – is being laboriously processed.
The delightfully round nuts dangle off dainty trees – some the height of a Sports Utility Vehicle – overlooking the valley and are picked by the farmers as they drop to the ground.
Momoko Harada, the 41-year- old Managing Director of the Rwanda Nut Company, is often among the farmers, overseeing their rich, daily pickings.
The mother of two with a keen eye for detail turns around and points out to us: "It takes 15 years for a macadamia tree to grow to this puny size, it takes a lot of patience and discipline in the farmer to not pluck them right off the branch."
Native to Australia, the macadamia nut's demand has grown consistently among the world's richest and discerning consumer markets. Kenya and South Africa are among the top exporters of the golden nut. Rwanda too has now joined the race for growing and exporting this prized natural commodity.
This is in line with the land- locked country's strategy to diversify its crop exports beyond coffee and tea in ways that are sustainable and expandable.
Unlike other nations in the race, Rwanda's weather conditions favor macadamia farming, allowing yields around the year as compared to only seasonal harvests. This realization led to the introduction of the crop to farmers of all scales by the leadership of the nation along with NGOs and the World Bank in 2004.
It was only in 2012 that the first matured nuts started falling to the ground. But in the absence of processing units, they were not ready for the world's markets that only consumed it in its processed form.
This is when Rwanda began working towards the future. Funded by multiple investors from Japan, the Rwanda Nut Company was established in 2013.
The company has grown significantly whilst holding on tightly to its values and aspirations under the leadership of Harada who came down from Japan to kick-start this infant
industry almost a decade ago and has not looked back since.
However, her history with Africa predates her relationship with macadamia nuts.
She fondly reminisces her first time on the continent at the age of 19, on holiday with her mother; a single woman who she commends for her commitment and dedication to giving Harada all the opportunities she never had.
Harada says: "I had seen poverty before, I knew poverty! But, what I saw in East Africa was more than that. Despite being impoverished, the people of East Africa were full of aspiration and with the desire for changing things."
She traveled around East Africa and decided she would learn more about the region and return to develop a deeper relationship with this land rich with friendly people and ripe with untapped opportunities.
After completing a degree in law and spending three years working in the human resources department of a company in Tokyo, she went on to study economics at the School of Oriental and African Studies in London.
"I always wanted to learn about East Africa. People are aging in Japan and are very protective of their ways. In East Africa, people have open minds and the readiness to take risks," she says.
As the woman behind setting up one of the first macadamia processing plants, establishing an export market for fine quality organic Rwandan produce and running a company of 350 employees, Harada has come a long way from when the Rwanda Nut Company was all but a few farmers and consultants.
Today, the company works with over 1,200 farmers with farms as big as a hectare to those that have a single tree in their backyard. Harada says the company's policy is to promote inclusivity and growth in the agriculture community – something she feels strongly about, having had a taste of struggle in her early years in Japan.
"I have first-hand experience of having less; we lived in a 10/10 house and shared a community shower. The idea was never to invest simply for monetary gains but to make an impact by creating a sustainable business and providing a living through jobs."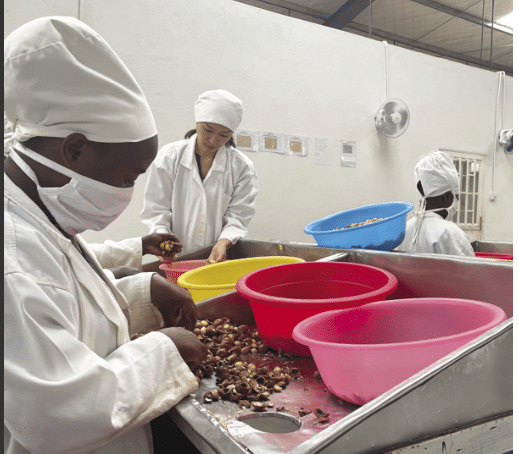 The global demand for macadamia nuts outweighs the supply which makes Rwanda's move to upgrade its export crop list with the nut promising.
However, the country's lateness to the market marks another challenge for producers like Harada.
In 2021, Rwanda exported around 600 tonnes of macadamia, which reportedly takes Kenya only two days to produce, package and sell and South Africa less than six hours.
China is planting the nut at a massive rate and within the next decade, could likely become one of the biggest suppliers of
macadamia, posing an even bigger challenge to smaller producers. The United States, China, Japan and Germany are the biggest
buyers of the nut and so far, the Rwanda Nut Company only supplies to North American markets.
But despite the low volumes, Harada says her company is working with agronomists and quality controllers, and has developed a personal rapport with the farmers to ensure a specialty product for wealthy consumers around the world.
"There is no international grading system for macadamia; every producer sells their product under their own brand definition without strict quality control. The grading system in coffee and cocoa has allowed producers to capture markets and sustain long periods because of set expectations among buyers," says Harada.
She is inclined to replicate a grading system for the industry, based on the produce's oil content, moisture and freshness.
She asserts that her factory not only complies with the North American processed food standards but controls the quality of production across its entire value chain.
The company is currently expanding its processing facility to build capacity.
"We are growing; even in the face of the pandemic and a competitive market, the demand is still high. We are looking to rebrand our product as specialty food grown in the virgin fields of Rwanda with only organic practices, farmed under fair trade laws, and exceptional quality control for our refined consumer," attests Harada.
The efforts are also ecological-friendly.
"We are working towards being zero waste and are fully circular in our business. Our husk is used by farmers as a fertilizer; the shell is used in our kilns for its caloric value and later turned into charcoal for farmers to take back to their village."
The global macadamia nut market was valued at $1.31 billion in 2020 and is expected to grow up to $3 billion by 2030 (Grand View Research).
Although a small part of the pie, Rwanda is aiming for the highest hanging fruit in this sector, going by the long-term vision and commitment of its female business leaders such as Harada.