As FORBES AFRICA celebrates a landmark 10th year, we look back on our stellar collection of compelling cover stories and innovative features, coming up with a star cast of powerful personalities, from business behemoths to captains of industry and exceptional leaders in politics, art, and civil society. On these pages that follow are their thoughts, triumphs and testimonials, not just for the magazine but for Africa's continued growth as we transition together into the future.
By Renuka Methil, Peace Hyde, Yeshiel Panchia & Chanel Retief
ALIKO DANGOTE, the Founder and President/Chief Executive of Dangote Group has been on the cover of FORBES AFRICA six times, including this edition. And for the 10th year in a row, Dangote is also Africa's richest person with a real-time networth of $12.1 billion, according to Forbes, up by $2 billion from last year's list "thanks to a roughly 30% rise in the share price of Dangote Cement, by far his most valuable asset".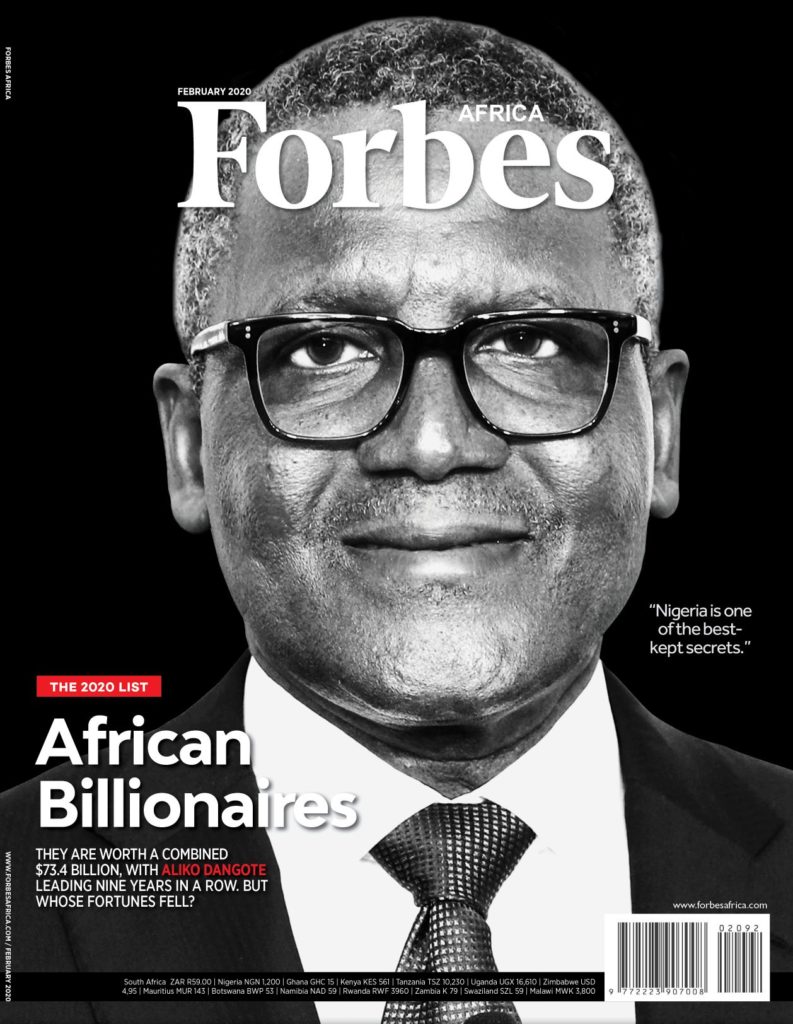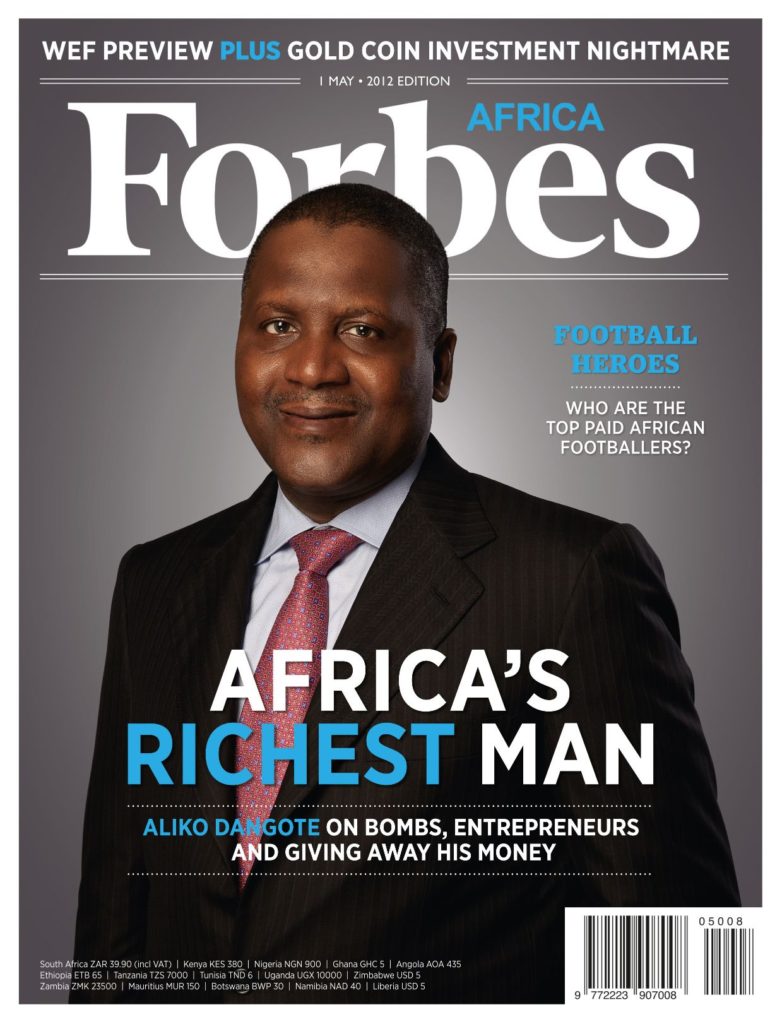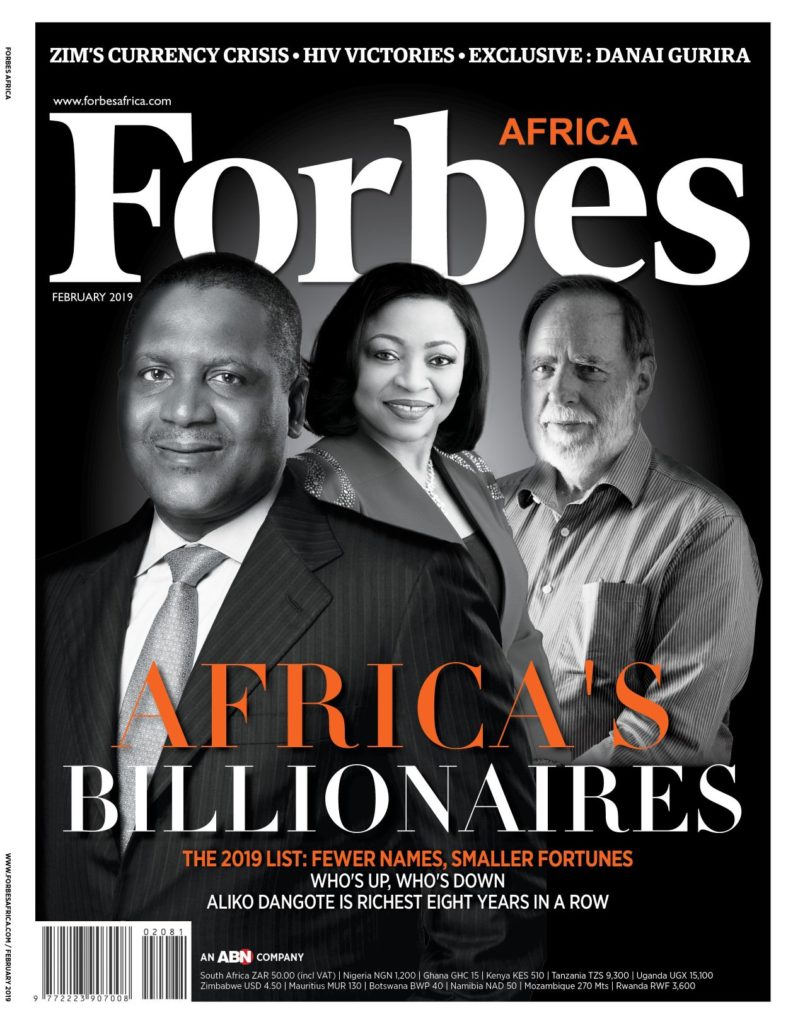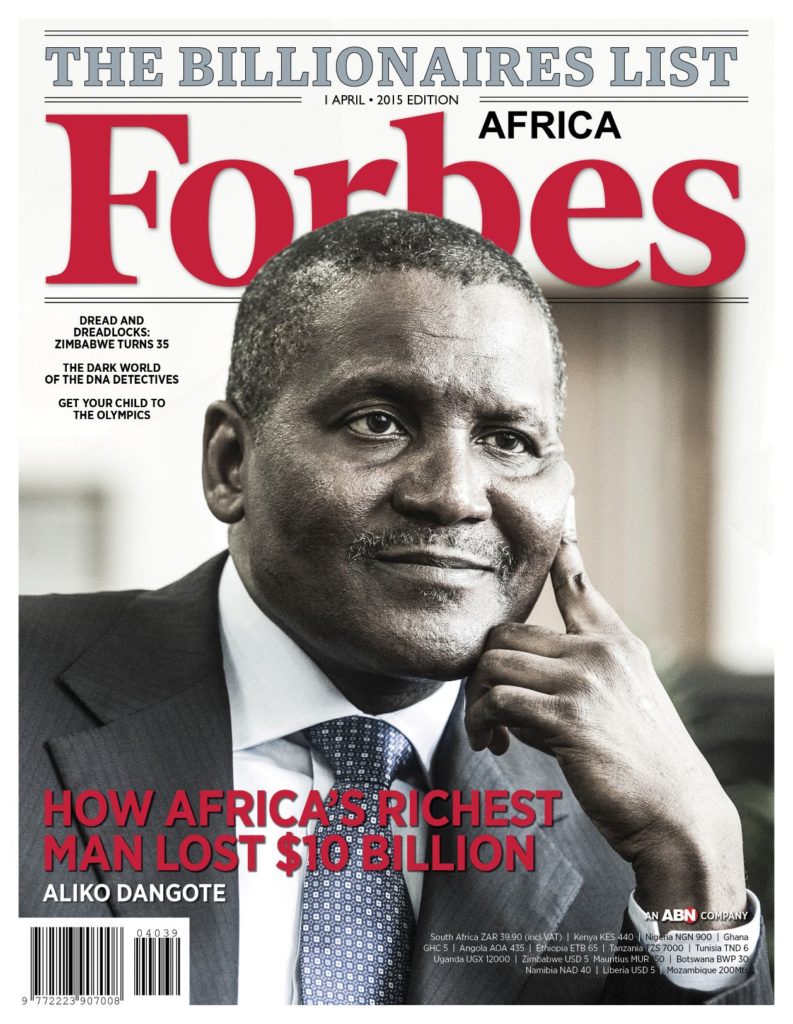 The largest conglomerate in West Africa with a presence in 17 African countries and a market leader in cement on the continent, the Dangote Group has diversified into other sectors of the Nigerian economy including agriculture, and is currently constructing the largest petroleum refinery, petrochemical plant, and fertilizer complex in Africa.
Over the last decade, FORBES AFRICA has tracked and applauded his entrepreneurial spirit.
"I would like to congratulate FORBES AFRICA on accomplishing 10 years of impactful and transformational journalism," the 63-year-old self-made African entrepreneur and role model to many conveys his "goodwill message".
"Over the past decade, you played a major role in changing the African narrative where you displayed the continent as a market for the present and future, and in the process grew investors' interest in Africa. You also created a veritable platform for the African entrepreneur to connect to the rest of the world and show that Africa is open for business. In the last 10 years, your publication has consistently highlighted African ingenuity, best practices in development and most recently, its resilience in the business space occasioned by the Covid-19 pandemic. FORBES AFRICA continues to be a cherished partner of the Dangote Group, as we strive to build a self-sufficient Africa. Once again, I would like to wish FORBES AFRICA many more years as you continue to champion the African story."
Rwanda's President Paul Kagame, who graced the cover of the December 2018-January 2019 issue of FORBES AFRICA as African of the Year, shares his thoughts on transformation and the African story.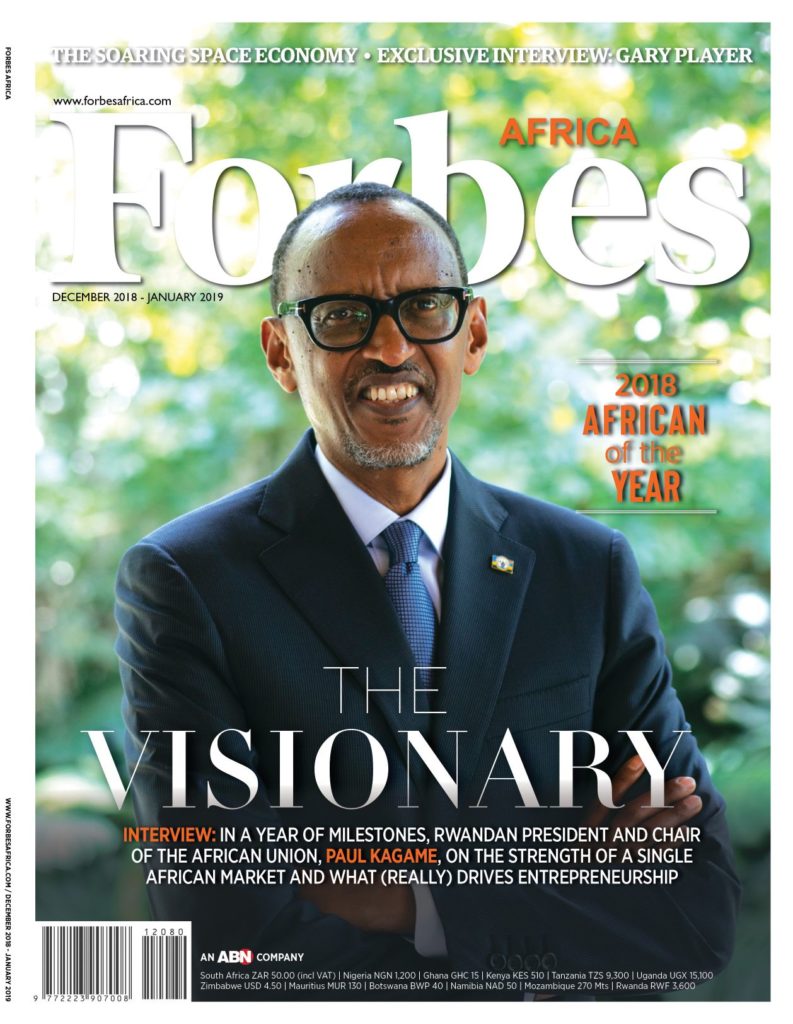 Q. What would your advice be for Africa's young entrepreneurs on the continent's recovery path post-Covid?
A. Challenges like Covid-19 inherently also present an opportunity. The opportunity to learn from mistakes, to move away from doing 'business as usual' and to use innovation to leap forward.
Through the African Continental Free Trade Area, this generation of young African entrepreneurs is living in a new political and economic reality on the continent. From African workers adding value in Africa to services offered by African professionals using the latest technologies and manufactured goods that are 'Made in Africa', there is no limit to the value that can be created.
This pandemic has proven, once again, the resilience of our continent. The most important aspect to making transformation achievable will be the mindset. Young Africans must believe that they are as capable as anyone else in this world and that our shared future and prosperity is in our hands.
Q. What is your message to FORBES AFRICA on its 10th anniversary?
A. FORBES AFRICA does an important job bringing the voice of Africa's business community to the world. Its content is relevant because it challenges stereotypes and tells the African story from an African perspective. Africa and the wider world need more of those success stories from business leaders and successful entrepreneurs across the continent to inspire our young generation of leaders. I congratulate you and wish you a happy 10th anniversary.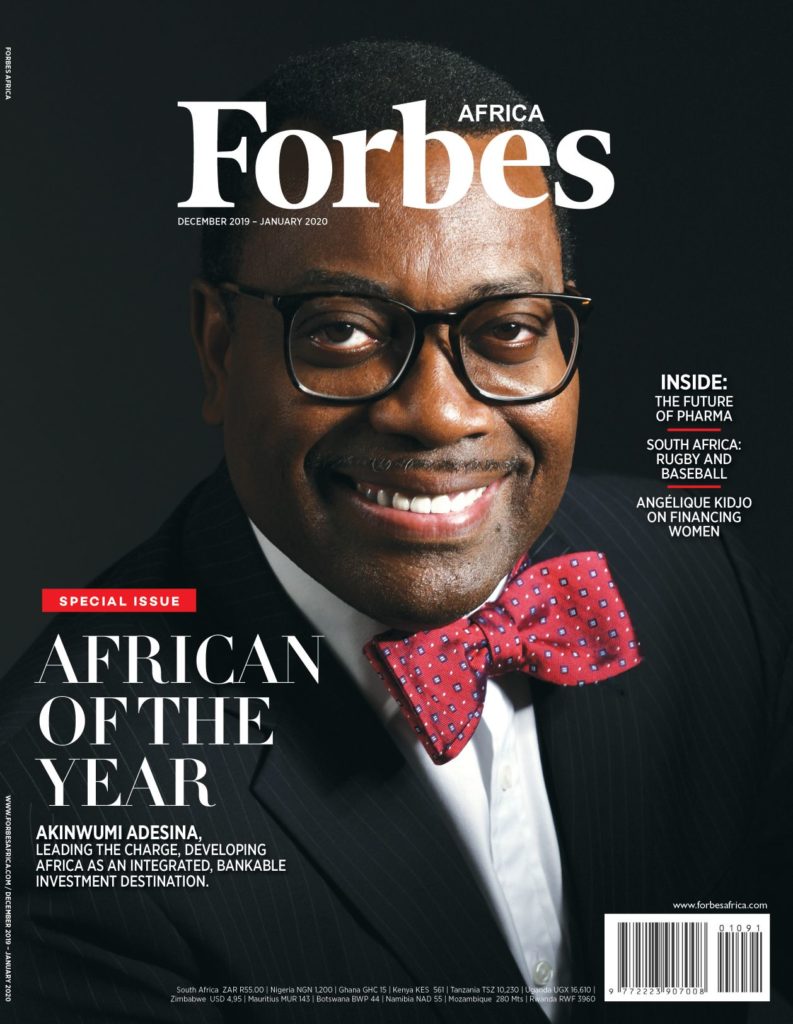 I wish to congratulate FORBES AFRICA on the occasion of its 10th anniversary. FORBES AFRICA has become the continent's foremost magazine promoting leadership in business, public sector, entrepreneurship and wealth creation across Africa. FORBES AFRICA inspires, supports and projects the best of Africa. Its FORBES AFRICA Person of the Year Award, which I am greatly honored to have won in 2013, and the FORBES AFRICA African of the Year Award, which I won in 2019, are two of the foremost celebrated awards in Africa. I commend its Founder and Publisher, Rakesh Wahi, and all the FORBES AFRICA team for their vision, passion and unalloyed commitment to Africa. You have all made FORBES AFRICA a gold standard for excellence in Africa."
– Dr Akinwumi A. Adesina, President, African Development Bank Group, who was on the cover of the October 2018 and December 2019-January 2020 issues of FORBES AFRICA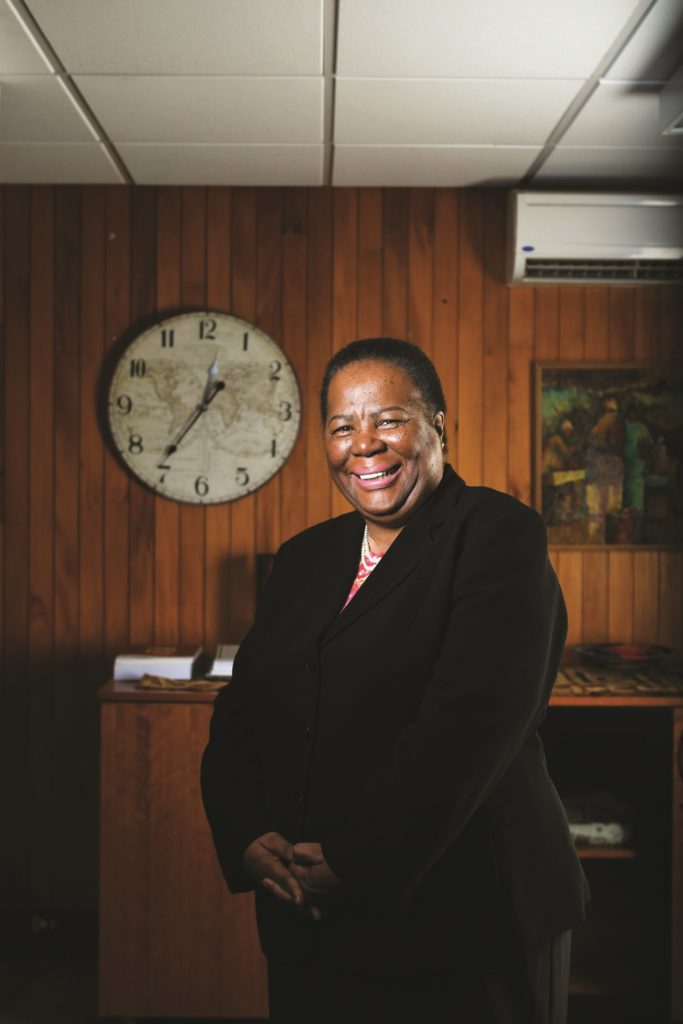 Over the past decade, we have seen inspiring progress and growth all across the continent. Even when hit with a global pandemic, Africa has stepped up to avert some of the worst-case scenarios. Sharing stories of success and optimism shows us that progress is possible and the future for Africa looks bright. I believe this magazine's (FORBES AFRICA's) 10th anniversary is a great opportunity to celebrate these successes, learn from them, and use our knowledge to help accelerate progress on critical issues like gender inequality, health, hunger, and climate change, and help get the world back on track to meet the United Nation's Global Goals.


– Melinda French Gates, philanthropist, businesswoman, global advocate for women and girls and co-chair of the Bill & Melinda Gates Foundation (read her interview with FORBES AFRICA on page 20).
I wish FORBES AFRICA the most joyful and exciting 10th anniversary celebrations. I was a bit surprised that the magazine has been in existence for only 10 years as it seems to have been part of our lives for much longer. This is because of the quality and impactful journalism that the magazine has produced over this period. I know this because I have had the honor of being featured on its cover and was also invited to one of its flagship events, the FORBES WOMAN AFRICA Leading Women Summit in 2020, a platform that brought together a unique collection of female leaders and trail-blazers from across Africa and the world. FORBES AFRICA has made an important contribution to profiling leading women in Africa and their contributions to the continent and the globe. Happy 10th-anniversary FORBES AFRICA! May your excellent standards of journalism continue for many years to come."

– Dr Naledi Pandor, South Africa's Minister of International Relations and Cooperation, who was on the cover of the June- August 2018 issue of FORBES WOMAN AFRICA
Arunma Oteh, Chairperson, Royal African Society & Member, Global Leadership Council, Said Business School, University of Oxford. Oteh was on the cover of the June-July 2014 issue of FORBES WOMAN AFRICA, as also named in FORBES AFRICA's list of 'Africa's 50 Most Powerful Women' in 2020:
"A hearty congratulations to FORBES AFRICA for 10 years of your positive impact on Africa. You have pioneered well-researched stories about African business leaders, entrepreneurs, innovators and disruptors. You uniquely present business success in Africa in a way that enables an understanding of the stellar opportunities that Africa has to offer and presents lessons on how icons in various sectors have enjoyed success and huge returns by smartly navigating what others perceive as risks that are difficult to manage. Your awards and recognition are most well-regarded because of the first-class process involved in the decisions.
FORBES AFRICA is number one in its genre because it seeks out and showcases protagonists as enablers of business, ground-breaking entrepreneurs, thinkers, influential creatives, imaginative business owners, innovative techies, gifted sports stars, and other extraordinary talents. FORBES AFRICA always presents unparalleled in-depth insights on the global operating environment for business as well as useful sectoral analysis such as the review of the benefits of the African Continental Free Trade Area and Africa's fintech revolution. Each magazine is a timeless masterpiece because of timeless lessons on businesses and careers.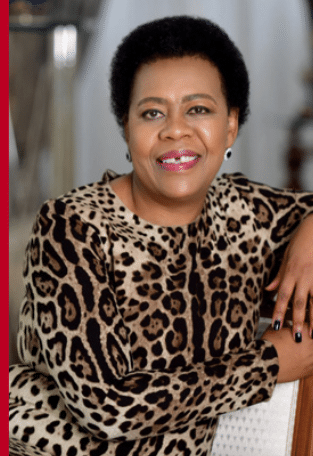 It is also because of the quality of the writing, and the design of the spread. FORBES AFRICA magazines are in a class of their own. What the founder, Rakesh Wahi, and his team have done is be the example for all the sister publications of FORBES AFRICA through providing authentic perspectives on Africa that is appreciated by a global audience."
One of South Africa's most accomplished leaders in business, Louisa Mojela is the Group CEO and co-founder of Wiphold or the Women Investment Portfolio Holdings, one of the country's best-known first-generation empowerment companies owned and led by women. Founded just weeks before a free South Africa was emerging from the dark shadows of apartheid in 1994, Wiphold gave financial power to grassroots black South African women, driving broad-based economic empowerment, and among other milestones, it also became the first women-only empowerment company to list on the Johannesburg Stock Exchange in 1999.
Mojela, who graced the cover of the April-May issue of FORBES WOMAN AFRICA in 2014, tells us: "Congratulations to all the FORBES AFRICA team that made it possible 10 years ago to launch this formidable and informative business magazine to showcase Africa's best entrepreneurs. It is through FORBES AFRICA that the world at large has been able to learn about the best businessmen and women that Africa prides itself with. As one of the recipients, having been featured in FORBES AFRICA, I have nothing but praise to the team and their professionalism. Once again, may FORBES AFRICA grow stronger and reach every entrepreneur in this beautiful continent of ours."
ATEDO PETERSIDE, the Founder and Chairman of Anap Jets and Anap Foundation in Nigeria, is also a former FORBES AFRICA cover star, featuring in the June 2014 issue. Here, he dwells on the state of the aviation sector and his current business philosophy: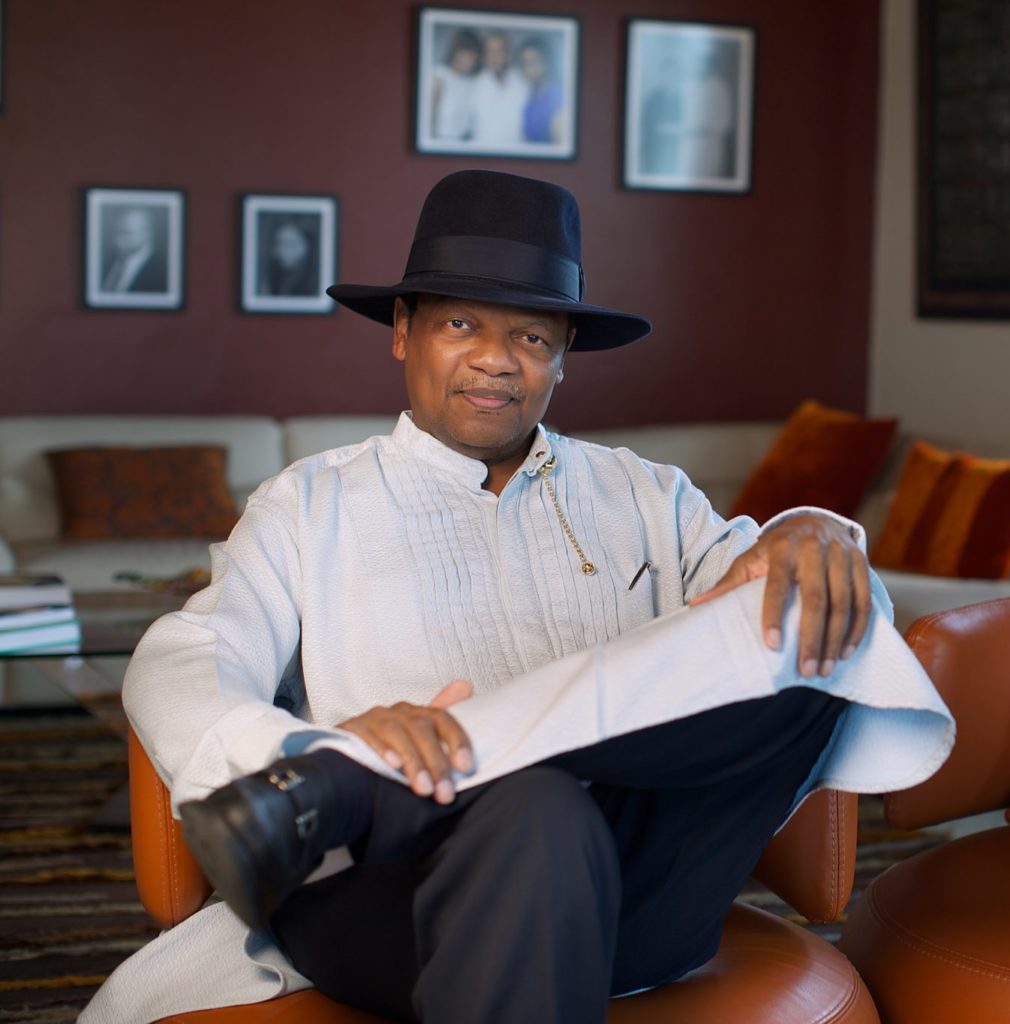 Effect of Covid-19 on business
"Anap Jets was growing steadily until Covid struck Nigeria, [which] joined the list of countries that opted to halt aviation completely. It was supposed to be a temporary measure, but lasted far longer than I thought was necessary. In the end, I was amongst those canvassing for a balance between lives and livelihoods. It would suffice to say that we were thankful when domestic travel resumed in July 2020, to be followed by the resumption of partial international travel in September 2020. I think last year was a year to forget for the aviation and hospitality industries globally."
How his company overcame the pandemic
"I believe official data shows that domestic aircraft movement in Nigeria slumped by 28.5% in 2020. This was after steady annual increases between 2017 and 2019. The industry can however take solace in the fact that 2021 should be a big improvement over a disastrous 2020. We overcame the setback by knuckling down and re-engineering various processes. We never sent staff home without pay though, because we are a family. We also decided to slightly diversify our portfolio of products and to market items like empty legs more aggressively in order to improve efficiency and achieve better asset utilization."
Future plans
"Back to slow and steady growth. An important constraint is skilled personnel. We are now competing to recruit and retain skilled Nigerians with Canada and a few other rich countries. We cannot compromise on skills because safety is our priority."
Ameenah Gurib- Fakim, biodiversity scientist, entrepreneur and the first female President of Mauritius – a post she held from 2015 to 2018 – was the cover of FORBES WOMAN AFRICA in June 2017. In this interview in September, she dwells on what lies ahead for her and the country of Mauritius:
Q. Mauritius is one of the most biodiverse hotspots with a multi-ethnic population. And we always hear about permaculture and organic farming and the country's great talent for agriculture. How are you dabbling with plants now?
A. I'm still singing about the virtues of plants, and I keep on publishing many books to speak to the younger people and the general public… But beyond this, we have seen, for example, last year, when the president of Madagascar came and spoke about the benefits of artemisinin, which is an antiviral in the treatment of Covid. It's only [recently] I'm seeing that the WHO is going back to the drawing board and saying that, 'we need to go back to artemisinin'. I think, personally, this has been a year lost because we could have done, in parallel, research into traditional knowledge. China has done it so well. And in fact, we have started preparing many of the traditional Chinese medicines… Asia has had its fair share of pandemics, they have had SARS too, so there is a certain degree of preparedness. But in Africa, this is language we need to bring to the table: how much do we value our plant resources, how much do we value our traditional knowledge, and how do we translate this into products, which make sense to the people because at the end of the day, it's an acceptable form of remedy, and in many countries is the only form of remedy.
So have we done enough? Are our universities doing enough? Is the private sector doing enough? What is the dialogue between the public and the private sectors to see that these kinds of recipes get translated into products? So this is an area where we link up agriculture to help. And we're bringing it back to the gender component because at the end of the day, it's the women who are the prime agriculturalists on the continent.
Q. Agriculture is one area, but any other new pillars of growth in Mauritius?
A. By sheer virtue of our size, we have to look at niche areas. In the past, we've had successive governments that have [seen] opportunities, for example, the textile sector emerging and invested in it; we saw the tourism sector, of course, tourism has been grounded and has wiped away over 30% of our GDP. So now, we have to go back to the drawing board and see where we can make a difference, where we can actually bring the talent of what we have done so far, be it in agriculture, green energy, or financial services; how we can act as a bridge between emerging continents like Asia, and of course, be the bridge with Africa. We have to keep on playing our role in Europe. In the past, we have been described as the star of the Indian Ocean. And I think there, we have a key strategic role to play. So we have to go into niche areas, for example, renewable energy. We have the ocean, which is a tremendous source of opportunities, provided, of course, we get our act together and start investing in that space. There's so much to be done. But we need to look at the investment, we need to look at our bank of talent. I just hope the leadership will address this because time is running out on our side too.
Q. Do you have any parting words for our readers?
A. FORBES AFRICA has done a tremendous job because it has showcased emerging talent, women, and what's going on in the continent. I think it has been a very important pillar in communication. Keep up the good work, showcasing talent, because this is where you make a difference. All the best also to the creators of FORBES AFRICA. Hats off!
FORBES WOMAN AFRICA first spoke to Ela Gandhi in 2014 for a feature on her in its August-September 2014 issue. It was also the year that marked a hundred years since Mahatma Gandhi left South Africa for India. We met Ela, Gandhi's granddaughter, in Durban, at her modest 13th-floor apartment in the hilly Glenwood area that had glass showcases filled with sepia photographs and Gandhi memorabilia.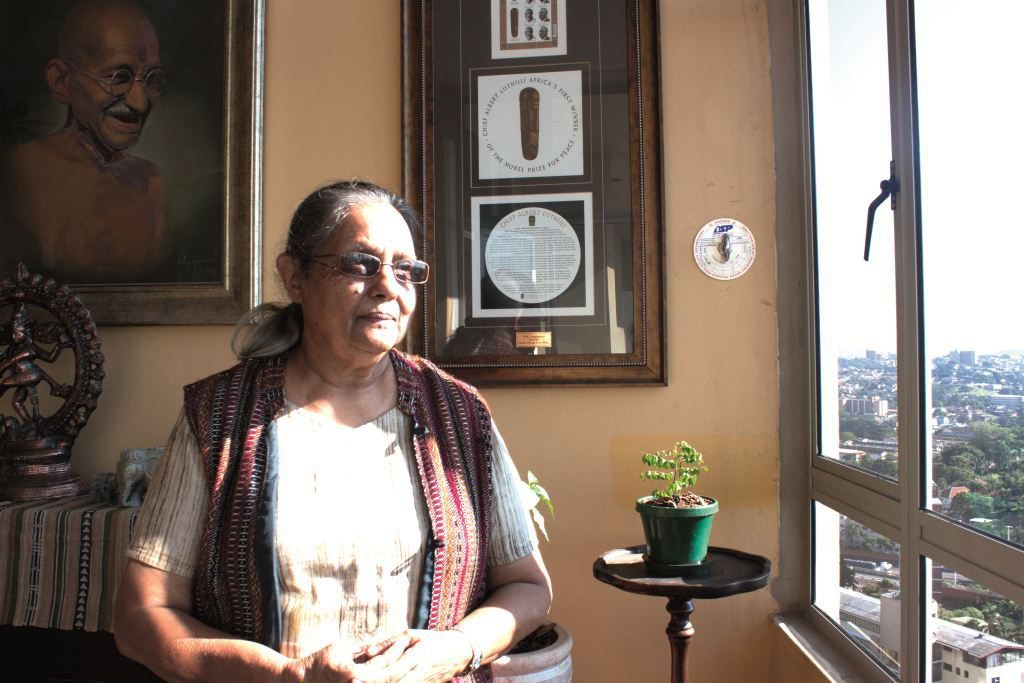 She also drove us to the Phoenix settlement, recounting many a nostalgic adventure and Gandhi's philosophies of satyagraha. Phoenix is where Ela was born in 1940, living here the first six years of her life. After Mahatma Gandhi's return to India in 1914, it was Ela's father Manilal Gandhi, who came back to Phoenix in 1917 to run the Gujarati-English newspaper Indian Opinion and continue his father's legacy here.
In 2020, Ela also joined us on the FORBES WOMAN AFRICA Leading Women Summit stage as a speaker.
"May I acknowledge the work done by FORBES AFRICA and in particular, its focus on women to build Africa's women power. Congratulations on your 10th anniversary," she wishes us.
Environment conservation, pollution and food security are all issues still close to her heart.
"Congratulations also on your focus on the most important element at present – that of environmental awareness. The youth have raised the alarm on the degradation of our environment caused by human negligence particularly in conserving the scarce resources of the world… Food security is one of the major issues of concern especially to women, at the present time, as our continent suffers major problems of scarcity of water, soil erosion, poverty, and hunger," notes Ela.
"Seeing food security as a major issue, women are coming together to grow vegetables and develop food gardens on little plots of land that they can find. Women are beginning to learn about biodiversity and how it can help
in nutritious food production. More attention is being paid to nutrition and health issues as the Covid-19 pandemic proliferates… May FORBES WOMAN AFRICA continue to take the message of hope and encouragement to all corners of our continent."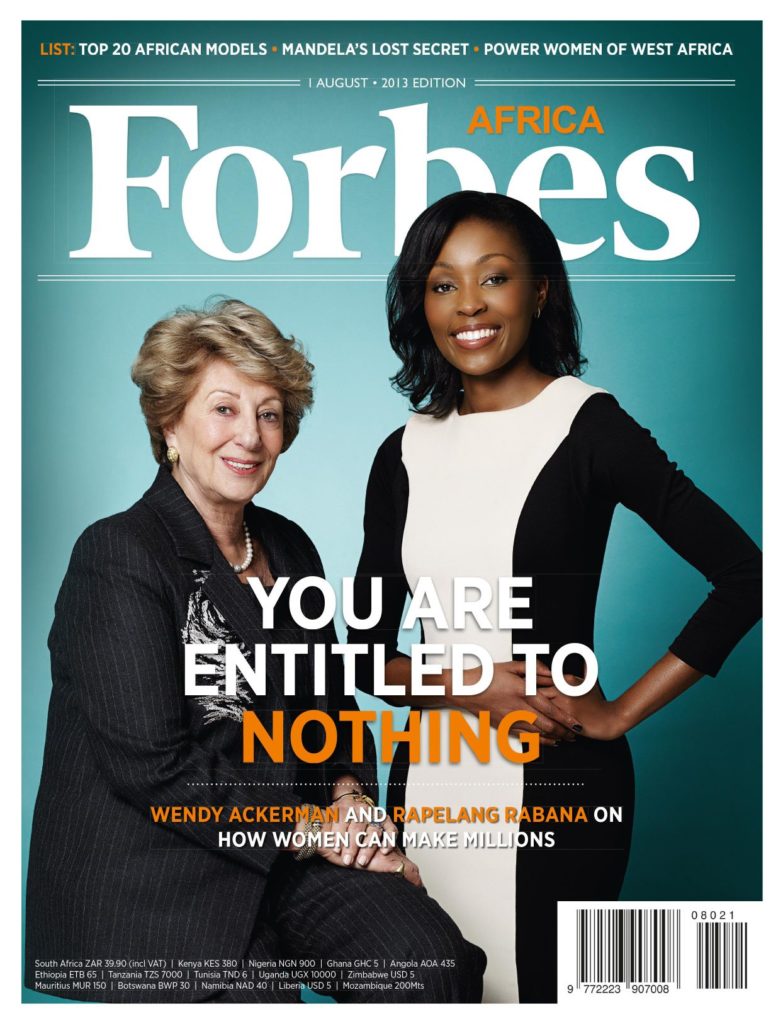 WENDY ACKERMAN last sat down with FORBES AFRICA in August 2013 for an interview for a cover feature. Then, she was the Non-Executive Director of Pick n Pay Holdings Limited. Although she retired from the board
in 2010, Ackerman, along with her husband Raymond, remained involved in the business as Honorary Life Presidents. Ackerman conveyed more in a recent interview to FORBES AFRICA:
Q: How has your company grown and in what way?
A: Our stores have grown to over 2,000. So we are now in eight countries, including South Africa, of course; our turnover has gone from R55 billion ($3.7 billion) to R93 billion ($6.3 billion), we employ over 90,000 people. And in the last, this also includes our franchise stores. And over the last four years, we've employed 15,000 more people, so we're very proud of our record.
Q. What is your message to FORBES AFRICA on its 10th anniversary?
A: Keep focusing on and believing in the brilliant things happening on the continent. Africa is a very exciting place. And to read about what's happening in various parts of Africa is wonderful and exciting. Africa's got vibrancy. And you hear it in the music, you see it in the clothes. No matter how poor or affluent they are, there is a warmth and a reaching out among the people of Africa. I've seen it all over. Obviously, there are a lot of negatives. But to look at the positives, it's for you to see these positives and keep building on them. I've been very impressed by what has been coming out in the media on Africa.