In a world where the millennial/Gen Z notion of 'nepotism babies' has gained currency, the concept of 'self-made' has acquired new meaning and respect. These young achievers are starting from scratch to build businesses and brands that are totally solutions-oriented. For this coveted ninth annual edition of the FORBES AFRICA 30 Under 30 list, our newest class of multi-tasking multi-hyphenate entrepreneurs, innovators and leaders show how they will grow human capital, put a dent in issues and lead Africa's future – on their own terms.
Words and Curation: Chanel Retief
Art Director: Lucy Nkosi Additional
Research & Reporting: Lillian Roberts
Photographer: Katlego Mokubyane| Photography Assistant: Sbusiso Sigidi | Photography Assistant: Sbusiso Sigidi
Styling: Bontlefeela Mogoye | Outfits supplied by: Wanda Wear;Markhams; Kworks_design; BailebyB
Hair & Makeup: SnehhOnline Beauty
Nine years.
Nine years of uncovering Africa's youngest and brightest change-makers for the 30 Under 30 list.
Nine years of knowing that because of them, there is hope, that there is a chance tomorrow will be better.
That because of them, there is promise that atleast some of the continent's biggest problems will be resolved, come pests, petulance or pandemic; unemployment, energy crises, or broken economies.
The 30 Under 30 class of 2023 know what they have signed up for. They know.
Selected through a careful vetting process by the FORBES AFRICA editorial research team, an eminent panel of external judges and a knowledge partner, all of who sifted through more than a thousand applications that poured into our inboxes these last few months, the well-distilled final 30 are a subset of the potential, prowess and possibilities of Africa's youth.
Because of them, Africa is the planet's youngest continent – as in 2022, around 40% of the population was aged 15 years and younger (as per StatsSA), compared to a global average of 25%; although the median age on the continent has been increasing annually, it remains low at around 20 years.
These are the founders, leaders and tomorrow's titans creating a new world order, putting in place effective solutions for Africa's problems such as poverty, hunger, disease and joblessness.
According to the World Economic Forum, the Covid-19 pandemic led to an unprecedented increase in poverty with about 32 million people living extremely affected by it. It also deepened existing problems of inequality. Unemployment continues to be on the rise in Africa, especially for young people as StatsSA reports; for example, it's highest in South Africa (29.95% for 15- to 34-year-olds).
So it's all the more credible when achievers younger than 30 try to change the narrative, creating and offering opportunities where none exist.
From most of sub-Saharan Africa including South Africa, Mauritius, Lesotho, Botswana, Namibia, Kenya, Rwanda, Nigeria, Cameroon and more, the class of 2023 have not only proven that there can be synergies in creating solutions for their companies, communities, countries and the continent but that they are also, in the process, redefining the idea of what it means to be self-made and relentless.
Methodology
The nomination process began late 2022, as over a thousand applications came through. Part of the rigorous reporting and vetting process also involved going through social media profiles, police clearance reports, reference letters from financial institutions and testimonials from the colleagues, collaborators and business partners of short-listed nominees. Background checks were conducted on the potential listers, which included going through documentation to ensure they had no criminal record, troubling lawsuits/bankruptcies and allegations of crime, misconduct, sexual harassment/abuse or fraud charges against them.
For the 2023 list, FORBES AFRICA partnered once again with audit firm SNG Grant Thornton to assess company financials from losses to growth margins to overall revenue and profits since incorporation.
FORBES AFRICA depended on a panel of high-profile judges and independent subject-matter experts in ensuring that only Africa's most merit-worthy make it to the final list. However, for 2023, instead of having only one adjudicator per category (Business, Technology, Health/Science, Creatives and Sports), we also sought the help of past list-makers, our illustrious 30 Under 30 alumni, to judge potential finalists.
This list is only but a small indication of the wealth of young talent that exists on the continent and they will no doubt be unraveled on these pages in the months and years to come.
---
External judges: The category experts whose role was to survey all the finalists of the 2023 30 Under 30 list, rank them and provide commentary on each candidate.
Delphine Govender has over 24 years' experience in financial services, of which the past 18 years have been spent directly in investment management. She co-founded Perpetua in 2012 after having spent almost 11 years at Allan Gray Limited, where she held positions of Portfolio Manager and Executive Director. She is a qualified CA (SA) and CFA charter holder. She is Perpetua's Chief Investment Officer and accordingly has portfolio management responsibilities over all asset classes.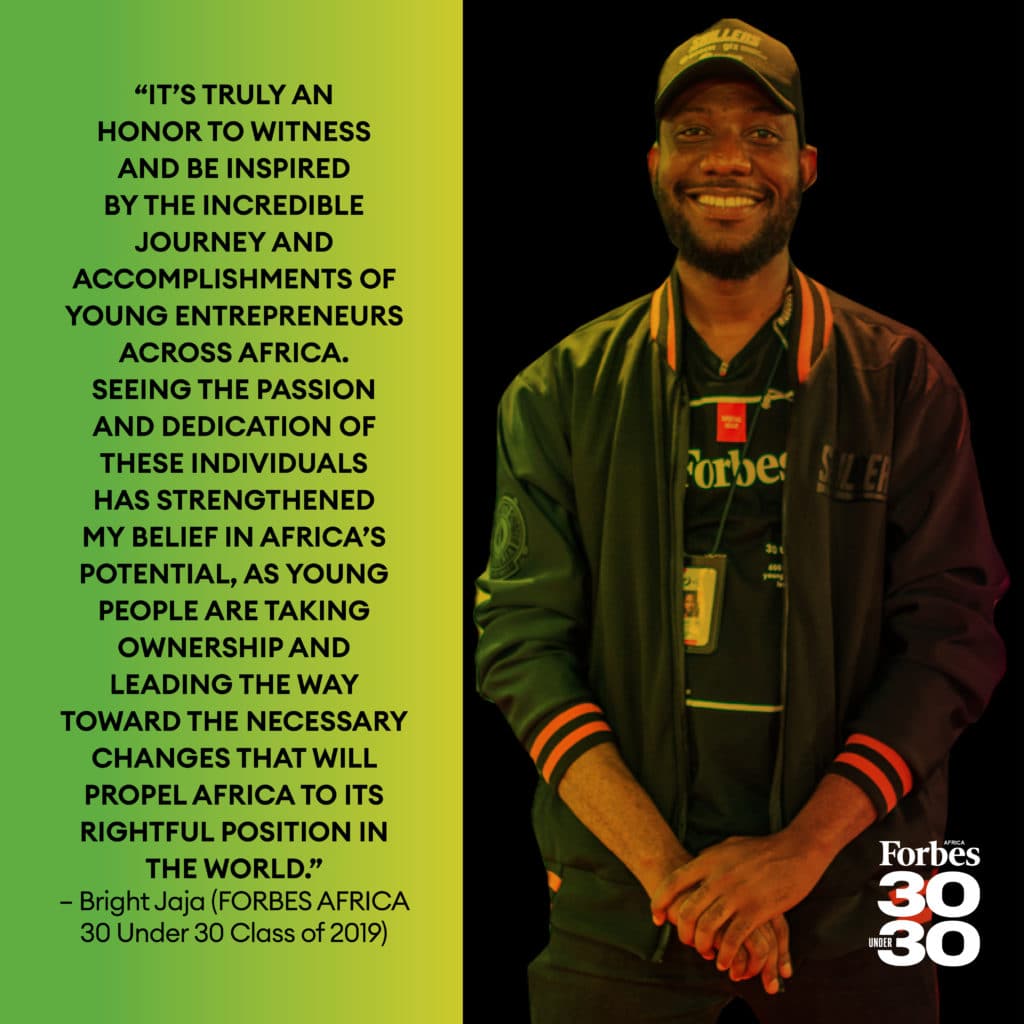 Bright Jaja (FORBES AFRICA 30 Under 30 Class of 2019) is the CEO and Founder iCreate Africa and Skillers. He considers himself a visionary social entrepreneur passionate about driving growth and impact to elevate Africa. He is a firm believer in empowering young people with technical skills to enable them to create opportunities for themselves and their communities. His dedication to this cause earned him global recognition, including FORBES AFRICA's Under 30 listing in 2019, and he has collaborated with several organizations and countries to build Africa's largest skills network.
Professor Quarraisha Abdool Karim is an infectious diseases epidemiologist and co-founder and Associate Scientific Director of CAPRISA. She is Professor in Clinical Epidemiology, Columbia University, New York and Pro-Vice Chancellor for African Health, University of KwaZulu-Natal, South Africa. Abdool Karim is the President of The World Academy of Sciences (TWAS) and the UNAIDS Special Ambassador for Adolescents and HIV. She is an Executive Group Member of the Steering Committees for the WHO Covid-19 Solidarity Therapeutics Trial, the WHO Covid-19 Solidarity Vaccines Trial and the WHO Ebola Vaccine Trial. She co-chairs the United Nations 10 Member Group Technology Facilitation Mechanism (TFM) that focuses on the use of Science, Technology and Innovation to accelerate the achievement of the Sustainable Development Goals; is a member of the PEPFAR Scientific Advisory Board and on the Board of Directors of Friends of the Global Fight Against AIDS, Tuberculosis and Malaria.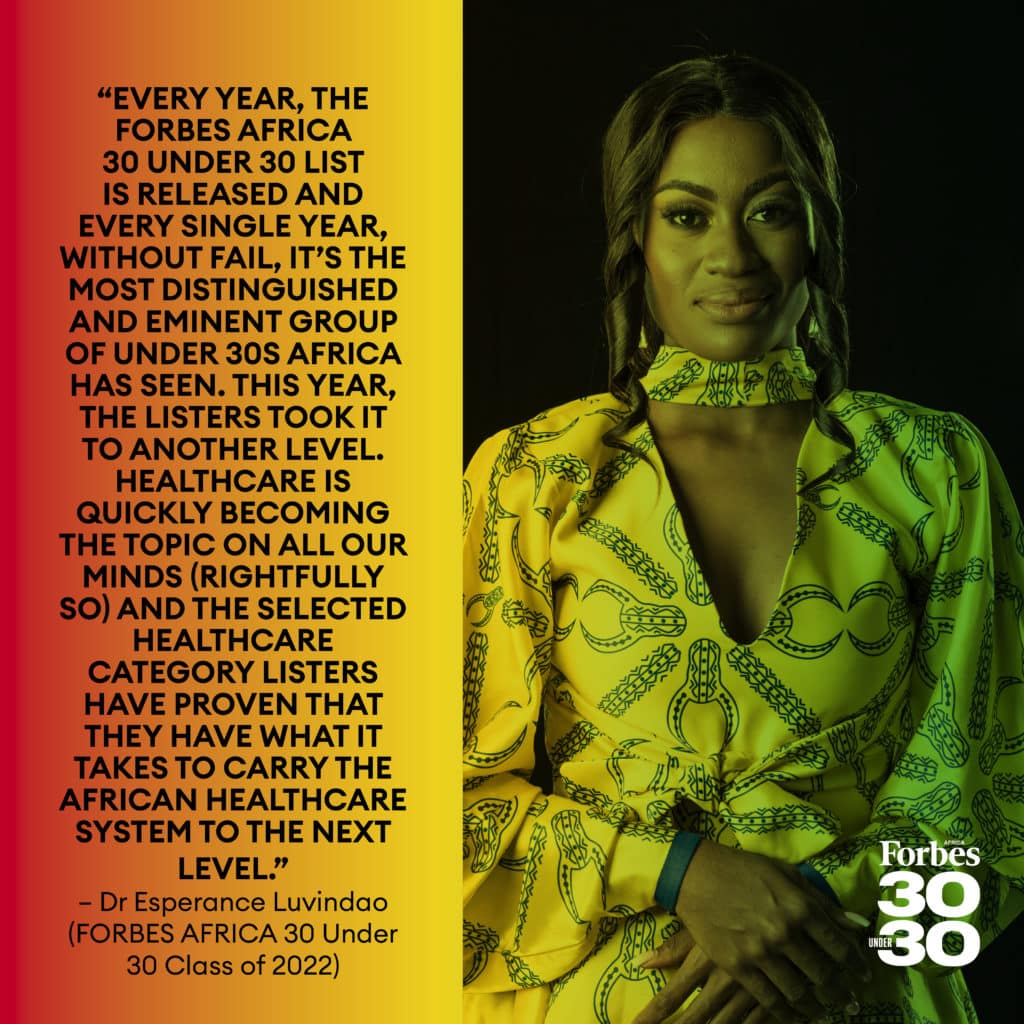 Dr Esperance Luvindao (FORBES AFRICA 30 Under 30 Class of 2022) is a Namibian medical doctor, health advocate and humanitarian, and holds an MBA in Healthcare Management from the University of South Africa. She received the Queen's Point of Light Award in 2022 for her role in healthcare.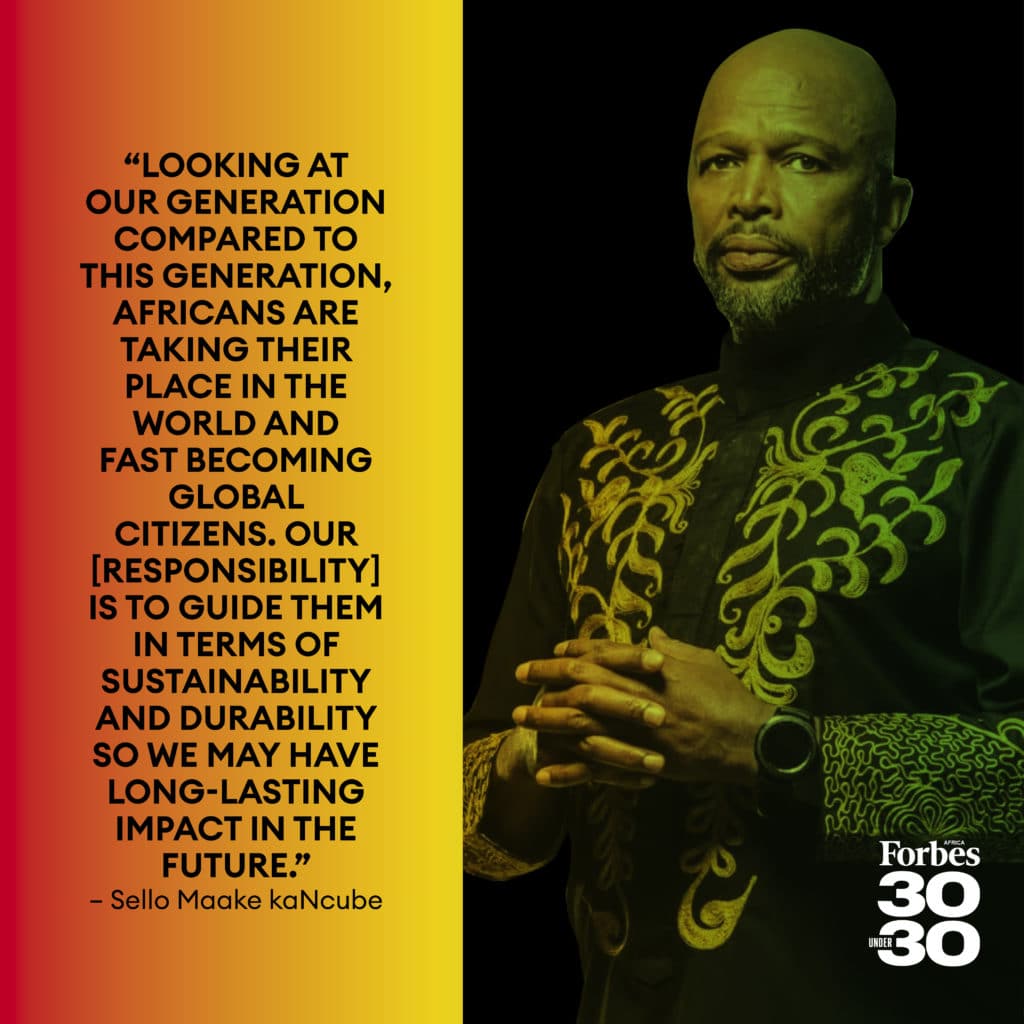 Sello Maake kaNcube is one of South Africa's most esteemed actors and voice actors, having performed in countless theater, film and television productions both in his home country, as well as in the United States, Britain, Canada and Europe. His career spans over 40 years in the entertainment industry and he is famous for touring The Lion King as Mufasa and leading a ground-breaking all-African cast in Generations. He has won multiple awards for his contribution to Africa's creative industry.
Rich Fumani Mnisi (FORBES AFRICA 30 Under 30 Class of 2019) is one of Africa's most-prolific creative multi-hyphenates. The creative director and fashion designer grew up obsessed with pop culture, with strong cultural roots of his own as a proud member of South Africa's Tsonga tribe and as a member of a family with inspiring matriarchs. This background has served as a key inspiration in his ever-contemporary work, from fashion collections worn by Beyoncé, Ciara and Naomi Campbell, to a furniture design collection that was recently showcased at design fair, Design Miami.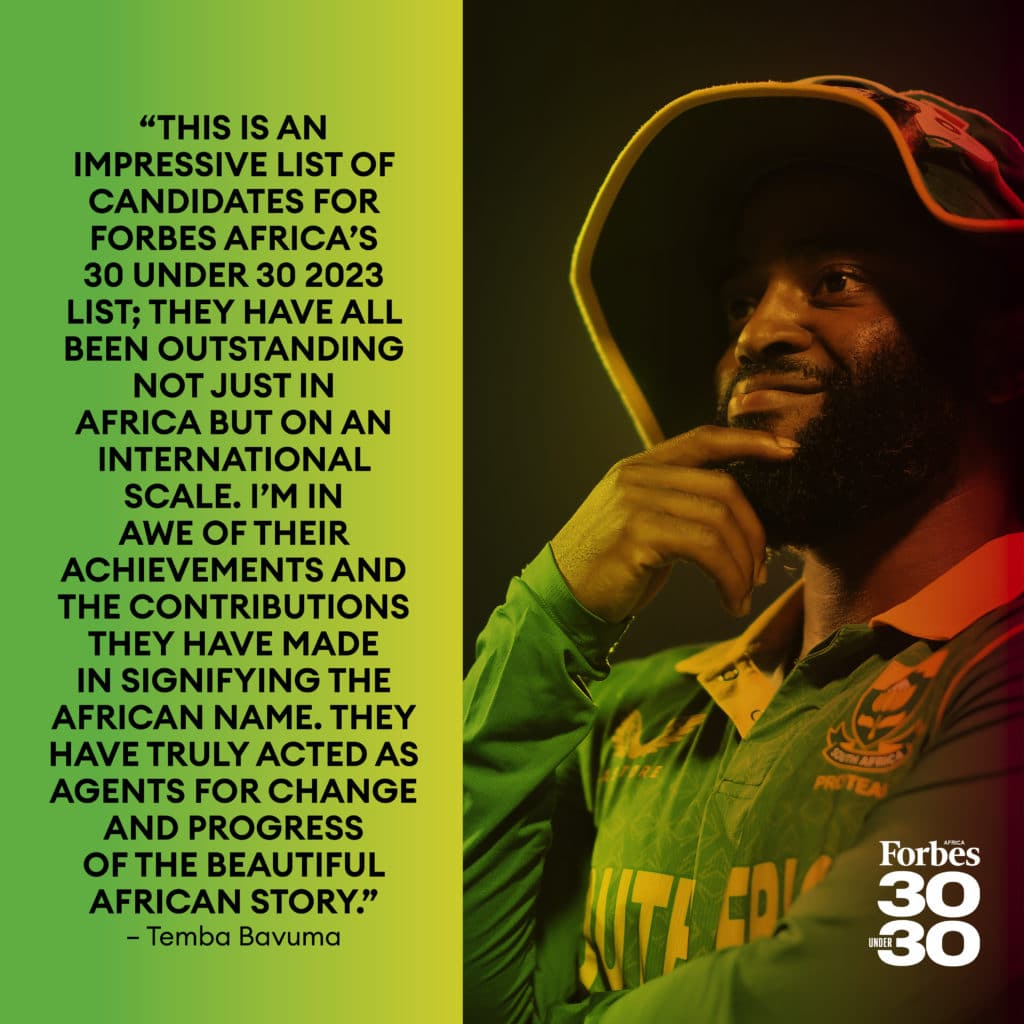 Temba Bavuma is a South African cricket player who currently captains the Proteas' One-Day International (ODI) and Test teams (the country's national team). He broke cricket's glass ceiling by making history in 2016 when he became the first black African batsmen to score a Test century for the Protea. In March 2023, he recorded his highest Test score of 172. His rise to the peak of his game has seen him continue to create a path for the next generation of an elitist sport. He established the Temba Bavuma Foundation in 2016, with a view of making a meaningful difference to the lives of scholars from previously disadvantaged backgrounds through education and cricket.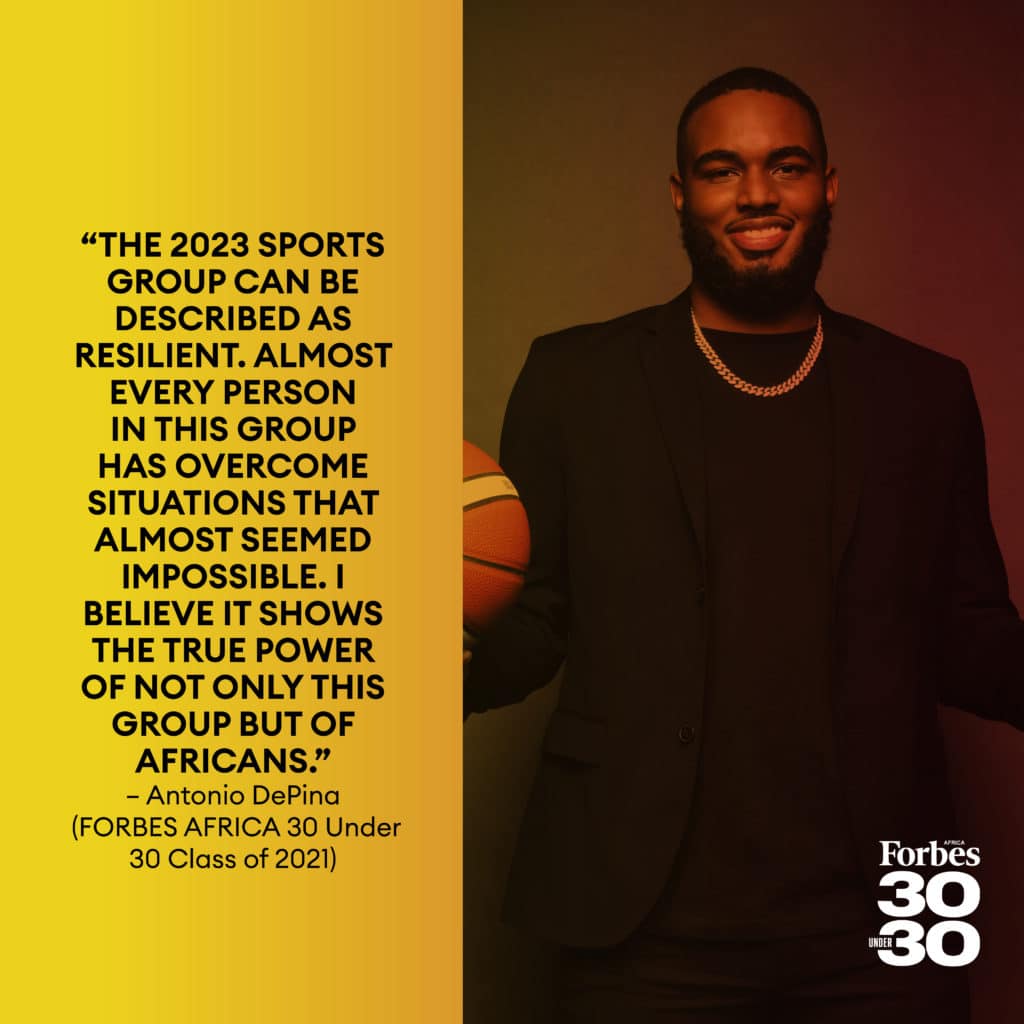 Antonio DePina (FORBES AFRICA 30 Under 30 Class of 2021) is the Cape Verdean/Liberian founder and CEO of Scoutz App that connects athletes to pro teams worldwide and the Cape Verde Basketball League, a pro basketball league in Cape Verde. A basketball player, he was also one of the protagonists on Netflix' reality TV show The Circle Season 1.
---
Editor's note: The list follows no particular order
"I am super thankful for the opportunity I have for people to hear my work on a global scale."
This is a name that has been on everyone's mind after she gained global recognition for her singles, Mr Rebel and Try Me, as well as her feature on Wizkid's Essence became instant hits.
In an exclusive interview with FORBES AFRICA in August 2022, the songstress said that she did not think her life would change after Try Me.
"Every day since then is like a dream and I am super thankful for the opportunity I have for people to hear my work on a global scale," Openiyi said.
The biggest buzz this year on social media was in February when Tems won a Grammy in the Best Melodic Rap Performance category for her contribution to the hit song Wait for U – a collaboration with musicians Future and Drake. This win has made her the second female artist from Nigeria to win the award.
"I feel like it's just the beginning," Openiyi said to Billboard Magazine after her win. "And I am so glad that I get to colzlaborate with some of the biggest and best people in the world."
Another big and notable collaboration that earned her a Golden Globe nomination this year was Lift Me Up, a song she co-wrote with billionaire Rihanna for the Black Panther: Wakanda Forever soundtrack.
To think all this started with her love for writing poems as an escape route.
"I would just sit and write about how I was feeling and the things I was going through. It could be about anything and it just came out in a poetic way. That is when I found out I had a passion for music and soon those poems became lyrics."
Dr Wedu Tose Somolekae, 29, Botswana Founder, Medi-Glow Aesthetics Industry: Aesthetic medicine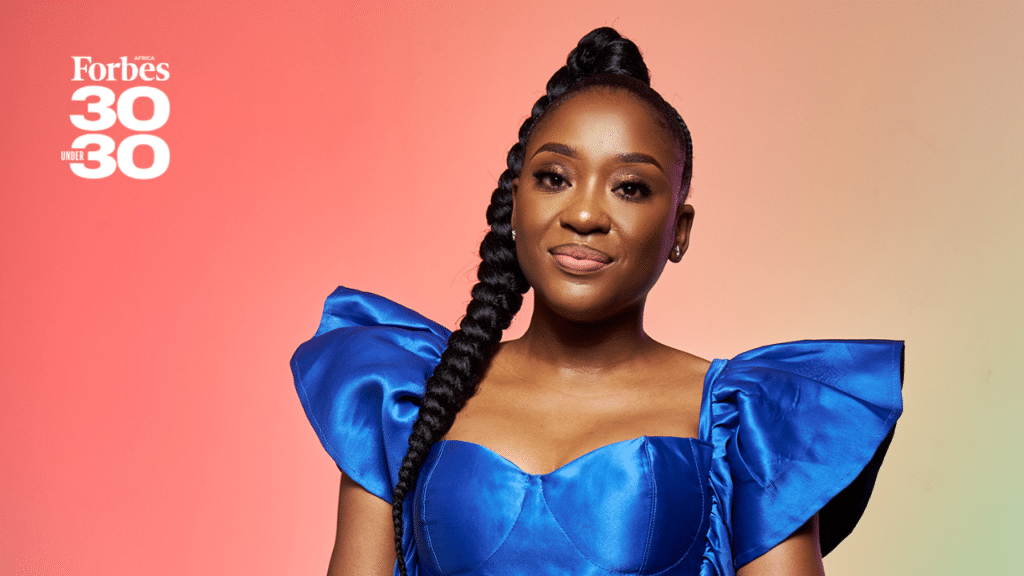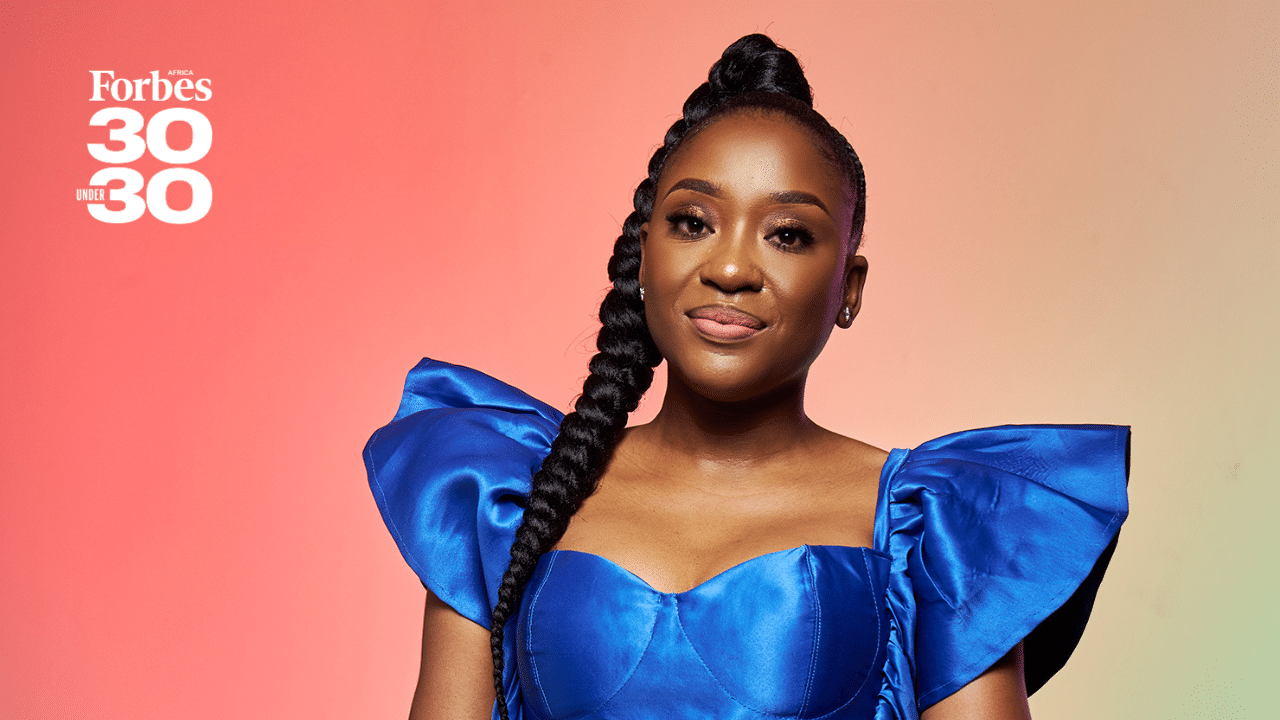 The beauty industry is growing by leaps and bounds, and as data says, so also the demand for minimally invasive aesthetic treatments in the Middle East and Africa.
This has been good news for Dr Wedu Tose Somolekae, who has become a sought-after expert in Botswana in the field of aesthetic medicine.
And to think this was not her initial plan.
"When I started medical school in 2011, I dreamed of eventually becoming a pediatrician," Tose Somolekae says to FORBES AFRICA. "Aesthetic medicine and entrepreneurship were the furthest thing on my mind. Little did I know that a weekend trip to Johannesburg with my friends would change all of that!"
After visiting a clinic in bustling Johannesburg, South Africa, Tose Somolekae immediately began her research on the concept of aesthetics and medicine. Like any millennial, the good doctor took to Instagram to directly speak to other medical aesthetic doctors in the field.
After many obstacles (being stuck in the small village of Masunga, Covid-19 and not enough fees to pay for her dream), Tose Somolekae took the plunge in the beginning of 2021 and resigned from her position as a medical officer in Masunga with a severance package of P50,000 ($380,000).
A move that led to Medi-Glow Aesthetics, the first full-time Medical Aesthetic Practice in Botswana.
"Watching me grow has definitely inspired those around me to chase their dreams and reach for the stars," Tose Somolekae adds. "The tenacity and determination to introduce something new to the medical and beauty industry despite skepticism and sometimes criticism has shown many that anything is possible."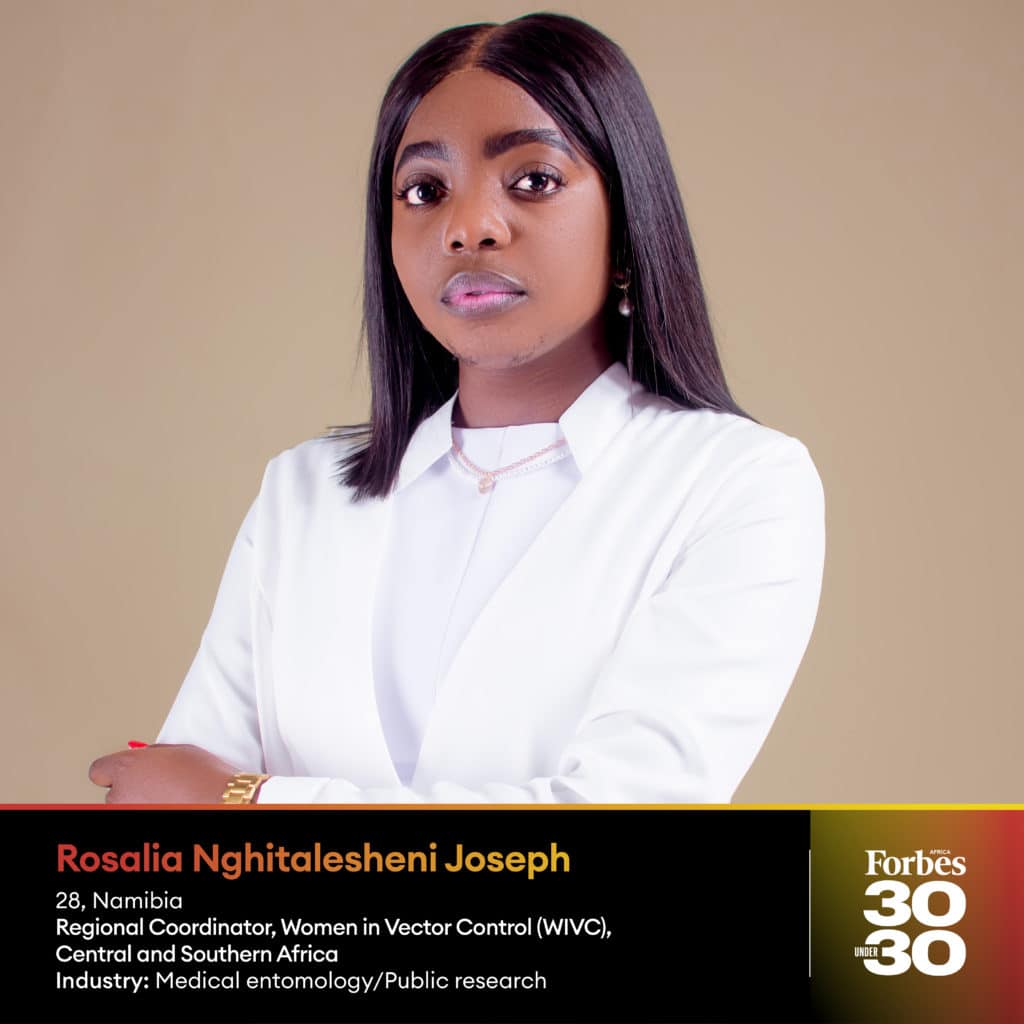 What is the deadliest creature on earth?
Rosalia Nghitalesheni Joseph, regarded as Namibia's first female entomologist, will surprise you with an answer you already know but wouldn't easily acknowledge.
"It is no secret that the mosquito is the deadliest on earth. Malaria mosquitoes cause over 600,000 deaths per annum and over 200 million cases worldwide with the African continent accounting for 95% of either. Of these cases, 80% are children under five years of age, who we lose every two minutes every day," Nghitalesheni Joseph says.
Which is why she has adopted the 'prevention is better than cure' mantra in dedicating her life to controlling the transmission of malaria, as evidenced in the various studies she has co-led.
"The results from these studies contributed to a change in the malaria mosquito control policy of the Ministry of Health, to mitigate against insecticide resistance in mosquitoes and further malaria transmission," she adds. "Over 500,000 people who live in the malaria regions of Namibia benefitted from the studies that have been carried out with the ministry."
Khethokuhle 'Kay Yarms' Ngonyama, 29, South Africa Beauty Influencer Industry: Content creation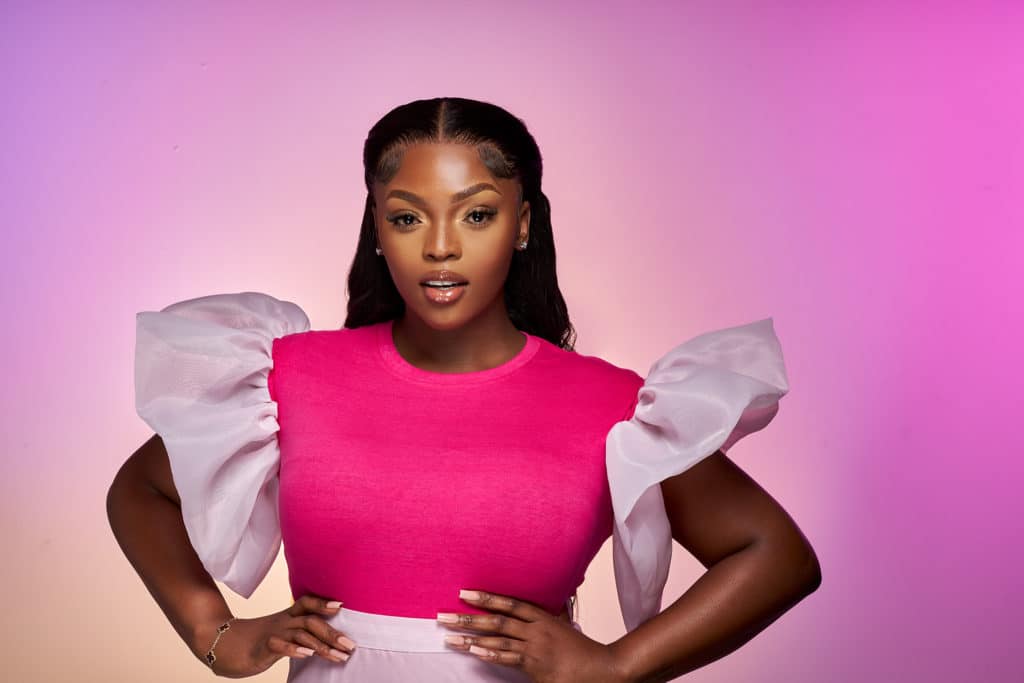 She has unmistakable style as she struts into the studio in Johannesburg for the FORBES AFRICA 30 Under 30 cover shoot.
"What's it like to trend every week on Twitter?" we ask.
Khethokuhle Ngonyama, popularly known as 'Kay Yarms', laughs: "You know, I mostly trend for my work. So, it is really affirming. I have never really been good at anything, or rather I have never considered myself good at anything, just good enough. But when people speak about it and speak about how good I am at it, I am actually emotional. It just makes me feel like 'wow I never thought I would be good at anything'."
Originally from the idyllic city of Durban in South Africa's KwaZulu-Natal province, Ngonyama says she has always found herself in major cities; she has lived in Johannesburg and now is based in Mother City, Cape Town.
"I think moving around has allowed me to really get to know and connect with my audience as well as the country I reside in."
Unlike a number of brands and businesses where the need for capital is essential for launch, Ngonyama says she did not have that problem as her business was providing a service.
"I started out as a makeup artist providing services for everyone and sharing tutorials, tips and tricks on my online platform," she adds. "I found that I reached a wider audience and so I eventually stopped doing private makeup and moved into teaching to do makeup in the form of tutorials, both online and offline."
And although power on social media means social capital these days, there is also the dark side to it.
"The biggest challenge is probably having to grow a thick skin; sometimes, social media isn't pleasant and sometimes the negativity can affect you. Also becoming a public figure – I've always been pretty reserved and introverted and coming out of my shell has been a bit challenging for me."
But she is convinced her popularity and growth will keep going upwards.
"I think we are just growing, especially in Africa," Ngonyama says. "I didn't know about [other influencers] in other African countries but the power of social media has allowed me to feel more connected to them and to know them."
Koaile Monaheng, 29, Lesotho Associate Director and Shareholder, Khantša Energy Industry: Renewable Energy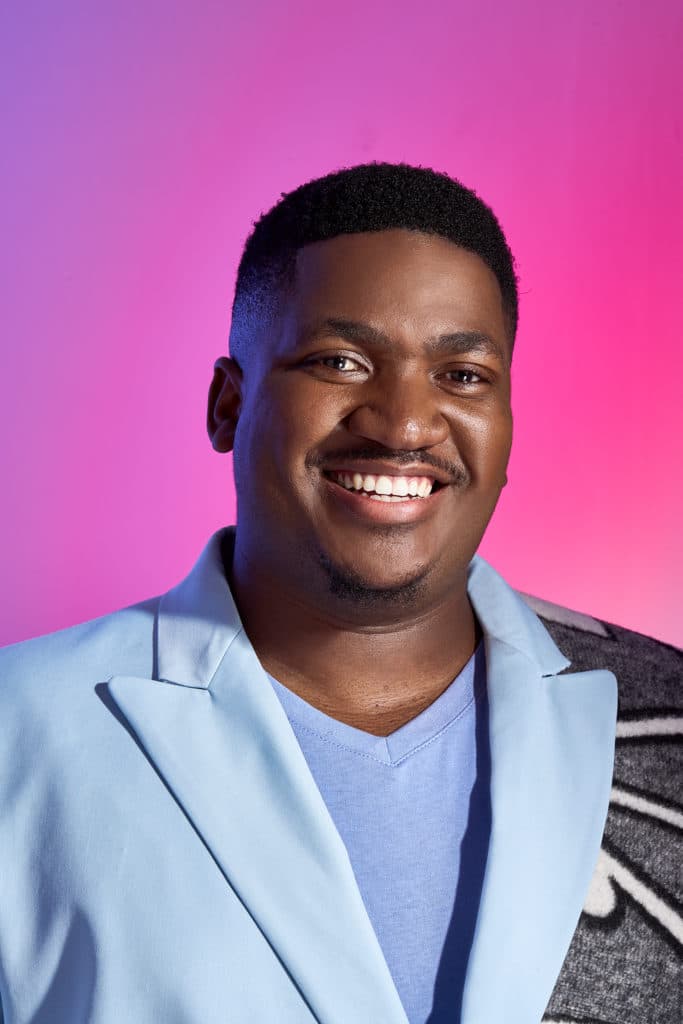 Very rarely do we receive 30 Under 30 nominations from Lesotho, and even more rarely, finalists from the small landlocked southern African country.
Monaheng is passionate about the energy space and doles out numbers easily.
According to an African Development Bank report, "over 640 million Africans have no access to energy, corresponding to an electricity access rate for African countries at just over 40%, the lowest in the world".
In West Africa and Central Africa, the situation is dire as only three countries are on track to give every one of their people access to electricity by 2030, reports the World Bank.
"At this slow pace, 263 million people in the region will be left without electricity in ten years," the report highlights.
Monaheng is trying to ensure that people know about these staggering numbers through Khantša Energy, which tackles the issues of energy access in Lesotho.
He also wants to do so for Africa.
"I found it very interesting to say 'how can we use adaptation from a subordinate level to combat some of these issues' and these are also colonial powers. Because fundamentally what we are speaking about is how do we view Africa and as Africans how can we make a difference in this sector."
The Lesotho-based Khantša Energy provides mobile solar power to rural communities in Lesotho and has been operating in the districts of Roma, Thaba-Tseka, Qacha and Mokhotlong since 2018.
"Our work was born out of connecting with the villagers and hearing about their everyday stories regarding their dire need for electrification," Monaheng says.
Khantša spent its initial investment of about $8,000 on two years of research and development, learning about the communities in his country whilst also traveling the world to find appropriate solutions that were affordable and accessible in the "pursuit of equality, dignity, and equal opportunity to achieve a better life for all Basotho".
"We imagined what the realties on the ground look like, having to structure entire days and orientate activities on the availability of light… Khantša which means 'light up' was a very symbolic name, as we looked to tackle the issue of energy access in Lesotho."
Oluwabusayo Victoria Abiri, 29, Nigeria Founder and CEO, Koko By Khloe Industry: Beauty and Skincare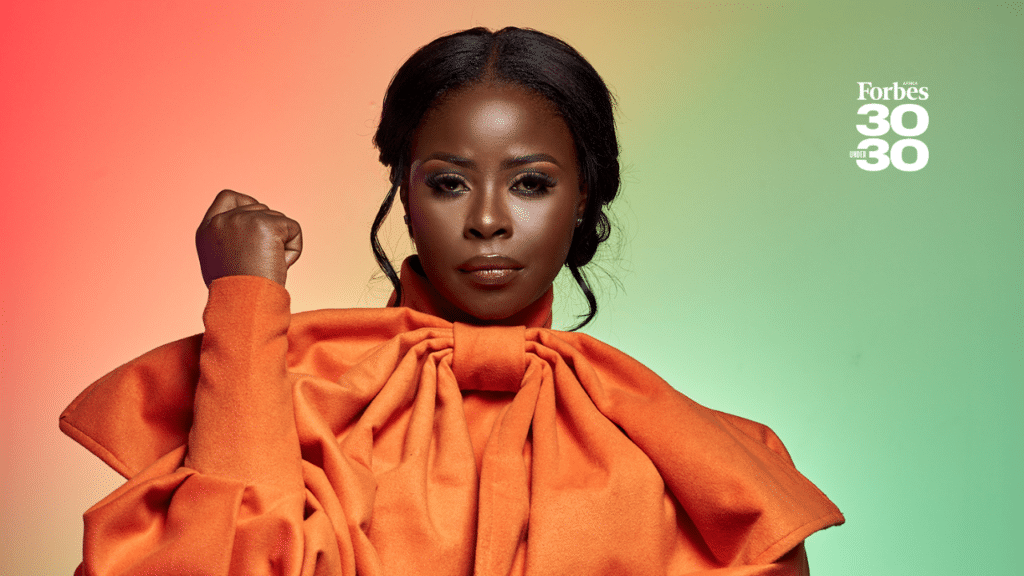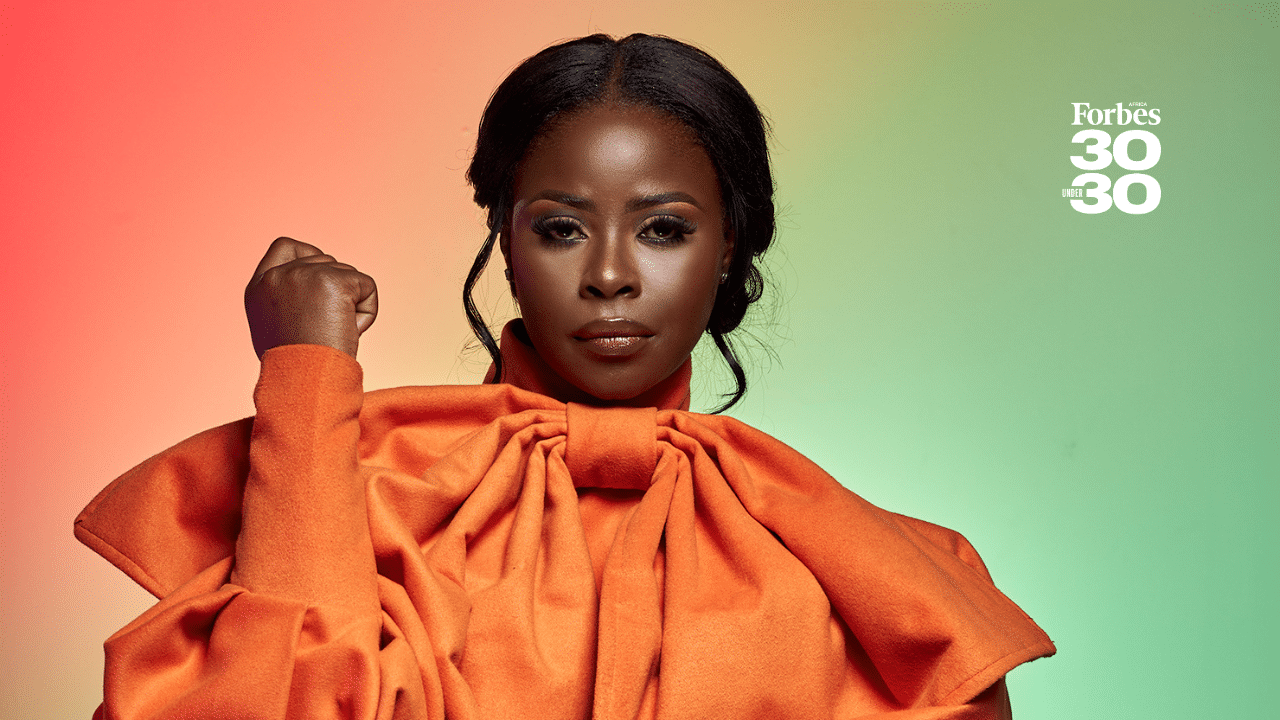 This is a business that started with two things.
"$150 and resilience!"
"I call myself the jack of all trades and muscle [to mean strength] of everything," Oluwabusayo Victoria Abiri says to FORBES AFRICA. "My business is all about making sure that all black women feel comfortable in their own skin."
Abiri's energy came through in her bright dress at the FORBES AFRICA 30 Under 30 photo shoot in Johannesburg.
"I started Koko By Khloe Beauty as a response to limited quality skincare products in Africa. Unfortunately, there [are too many] hazardous skincare products in the African market. I wanted to go against the status quo and launch a cosmetics line that embraces different skin types and shades, providing them with well-trusted and patented products that nourish and promote healthy glowing skin."
However, starting a business in the beauty industry as a woman from Nigeria did not come without its challenges.
"Being an entrepreneur in Nigeria in general is hard," Abiri explains. "Already, there are a lot of stigmas about doing business with Nigerians, and there is a lot of competition that comes with it."
Through her business, Abiri has been able to amass over 1.5 million followers on Instagram and over 200,000 daily Snapchat viewers. With that viewership, she has been able to mobilize conversations with her audience around the age-old standards of beauty across Africa and how they are changing.
"The beauty industry is highly competitive, and local brands face a significant challenge competing with global giants," says Bright Jaja. "However, I am impressed with Victoria's success in breaking into the industry and making a significant impact in a short period. By leveraging her Instagram following, she has managed to create a community of people who appreciate and purchase her product."
Oyinkansola Sarah Aderibigbe / 'Ayra Starr', 20, Benin/Nigeria Singer Industry: Music and Entertainment
Having collectively amassed over 221,148,288 views on YouTube, this Benin-born says that being raised between beach city, Cotonou, and the cultural hub of Lagos, Nigeria, the mix of cultures inspired her approach to music, art and life.
According to Billboard Magazine, Oyinkansola Sarah Aderibigbe, also known as Ayra Starr, rose to stardom in 2019 when she uploaded videos of herself singing and that captivated the attention of record executive Don Jazzy, who then signed the 20-year-old to one of the most influential labels in Nigeria, Mavin Records.
"Growing up, I knew I was going to be a musician," Aderibigbe said to Spotify. "Since I was six [or] seven, I used to argue in church with choir when they say I can't take the lead role. I'd say, 'When I become a superstar, you're not going to tell me that'.
"I've learned that to be a great artist and a great human being, you have to be very intentional with everything you do," she told Billboard Magazine. "You have to wake up and decide, because it's very easy to not be good. That's the easy part. There's a lot of things that can make you not be a good person."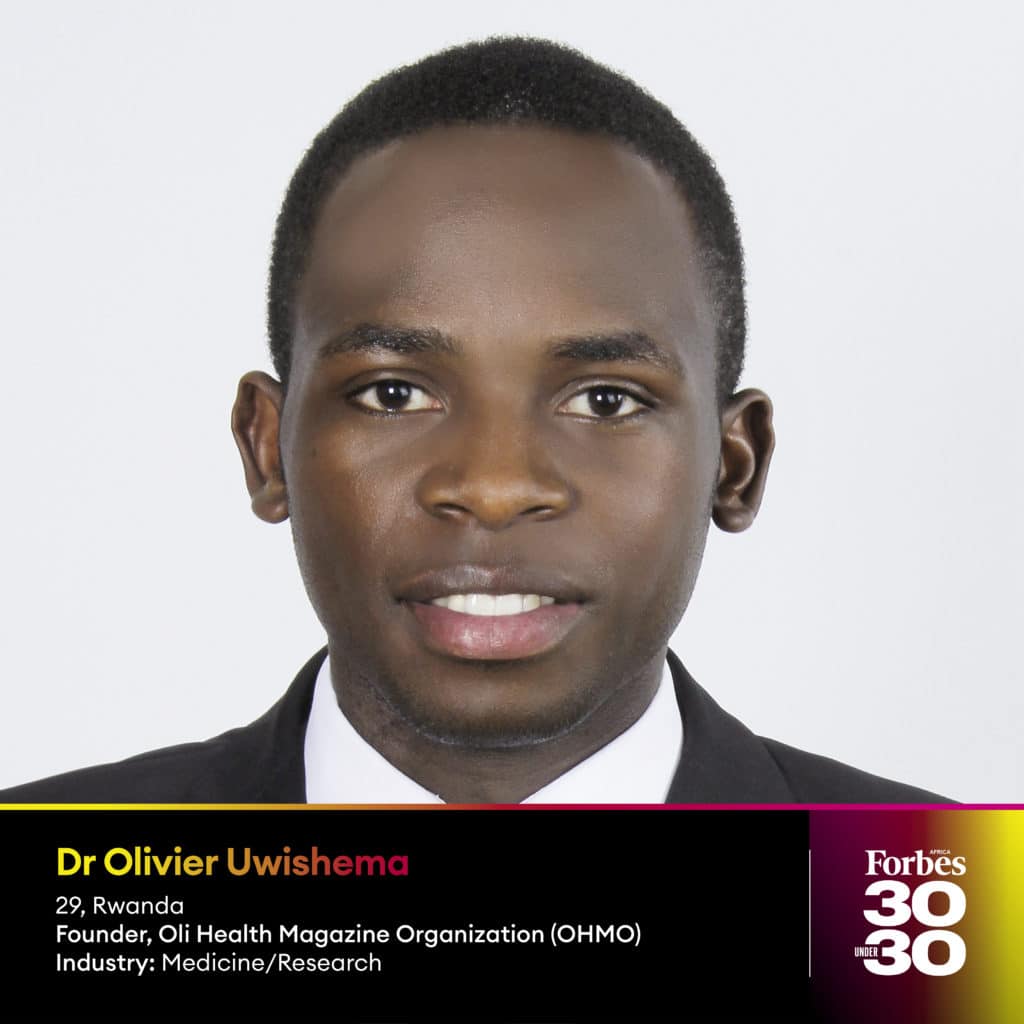 If there is anything that the global pandemic taught us, it is that information is power especially in the field of medicine.
A report by BMC Medical Education highlighted how there is an urgent need for flexible and innovative approaches to medical education in Africa, especially since the Covid-19 pandemic.
"The African continent currently experiences 25% of the global burden of disease with only 1.3% of the world's healthcare workers. The Covid-19 pandemic has caused unprecedented disruption to medical education systems, increasing the strain on already-vulnerable regions."
So, it is very impressive to read how Dr Olivier Uwishema, with his business, has trained and mentored 3,000 medical students in research from across Africa.
"Oli Health Magazine Organization is an International Scientific Research Academy and non-profit and voluntary international organization with a mission of engaging young people in professional health education and scientific research," Uwishema explains to FORBES AFRICA.
He was also the brain behind the 'Coronavirus Global Awareness Project' that brought together more than 500 medical students, medical residents, doctors and other health professionals from all over the world to make sure "no one is left on the sidelines of this coronavirus pandemic".
In August 2022, Uwishema's research paper on stroke was selected as the best published paper in Europe. In September last year, he was selected and invited to the US to present his research on brain cancer. His project received grant awards from the National Institutes of Health and Society for Neuro-Oncology.
[Pullquote]: "A mission of engaging young people in professional health education and scientific research."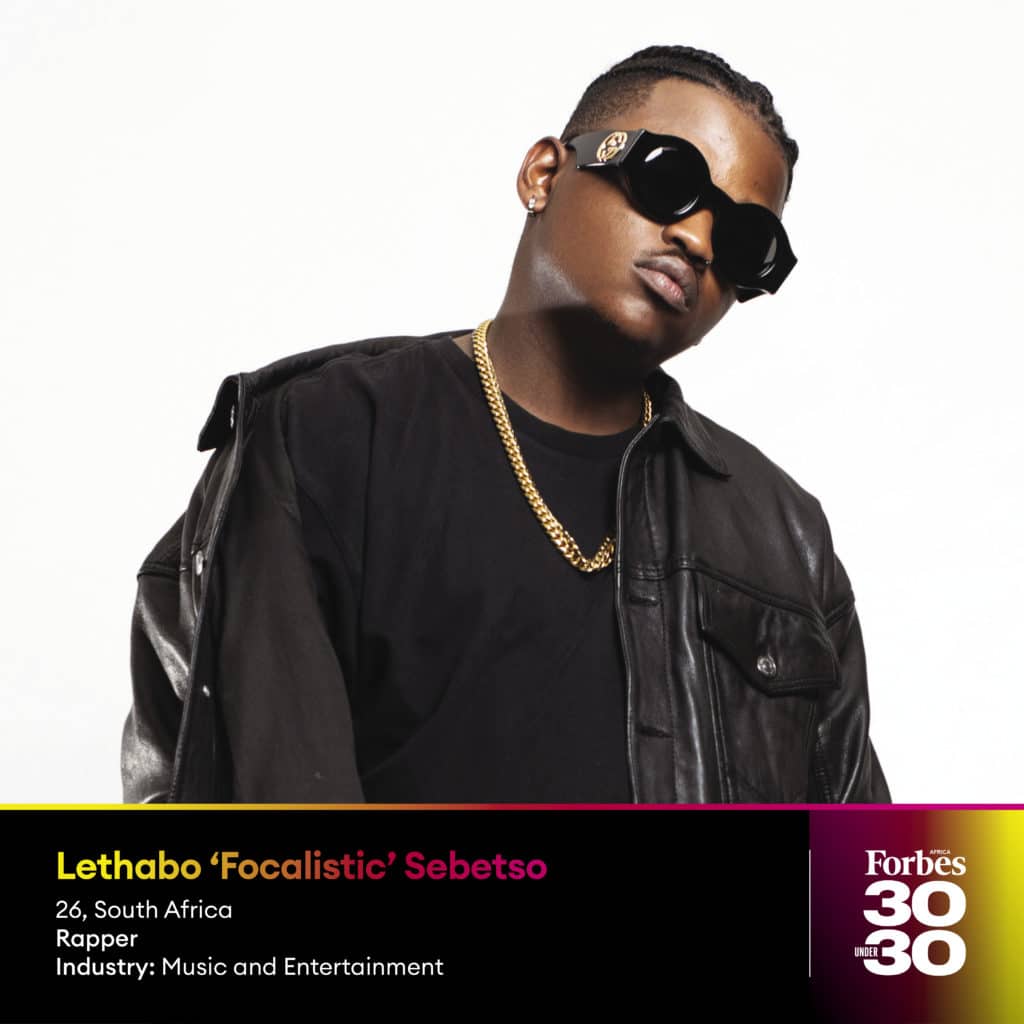 "These bru's are jealous. Here we go FORBES AFRICA interview, take one," said Lethabo Sebetso, known as Focalistic, in a 2021 interview with FORBES AFRICA.
The 26-year-old artist was born and bred in South Africa's capital city, Pretoria, in the large settlement of Ga-Rankuwa. From his repertoire, the extended play (EP) that defined his career was the one he did with Major League DJz called Ase Trap Tse ke Pina Tsa Ko Kasi (It's Not Trap It's Music From the Hood).
The music industry in Africa has continued to grow immensely globally. According to Pricewaterhouse Coopers' (PwC) annual report, Entertainment & Media Outlook 2019-2023, South Africa, revenues are set to increase at a 20.1% compound annual growth rate (CAGR) to a total of R815 million ($49.9 million) in 2023. Revenue in Nigeria is also set to rise by $17.5 million and in Kenya by $5.2 million.
"No one African country is like the other and what we have seen, for instance, is that Nigeria is fiercely proud of the music that it exports," Phiona Okumu, Head of Music for sub-Saharan Africa at Spotify, said to FORBES AFRICA in 2022.
"Afrobeats has grown significantly on Spotify. In South Africa, Amapiano started out as an underground genre where music was shared amongst artists and producers via applications such as WhatsApp. It has since become one of the most popular genres on the continent and has gained great momentum internationally."
It's a movement artistes like Sebetso are tapping into.
"I think that was one of those moments in my career," Sebetso said, "was where I knew what I wanted to do and I was confident in what I was doing and changing the game in terms of vocalists who add something to Amapiano."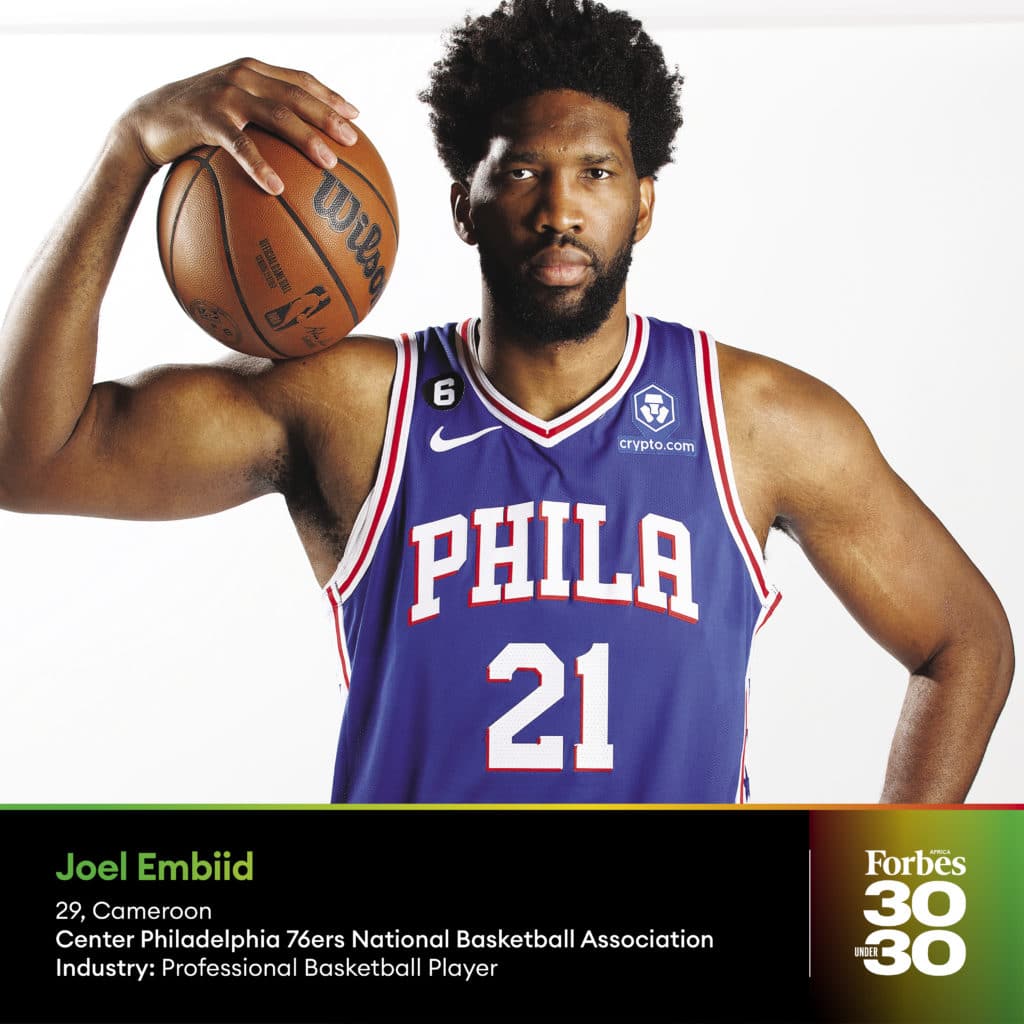 If you open any article about Joel Embiid, the context is the same: "talented, resilient, optimistic and determined star in the NBA."
Hailing from the capital of Cameroon, Yaoundé, according to SI Sport, he fell in love with basketball after watching American basketball team, The Los Angeles Lakers.
Young Embiid only touched a basketball when he was 12 years old, but he did grow up playing volleyball and soccer. As his father was a military man, according to Complex Magazine, he actually wanted Embiid to pursue a professional volleyball career in Europe.
But his career has not always been smooth sailing as he has thought about quitting basketball.
After being sidelined for two whole seasons in 2014 due to a broken foot, the break and rehab did take a toll on his psyche, Embiid told ESPN.
"You know, the two and a half years that I missed. I missed that, and I also lost my brother, so I was in such a bad place. I wanted to quit basketball. I just wanted to go home, go back home, and just leave everything behind."
But evidently not quitting proved to be the best thing for his career as the 'Sixers Phenom" continues to wow the world by scoring career highs as well as season highs.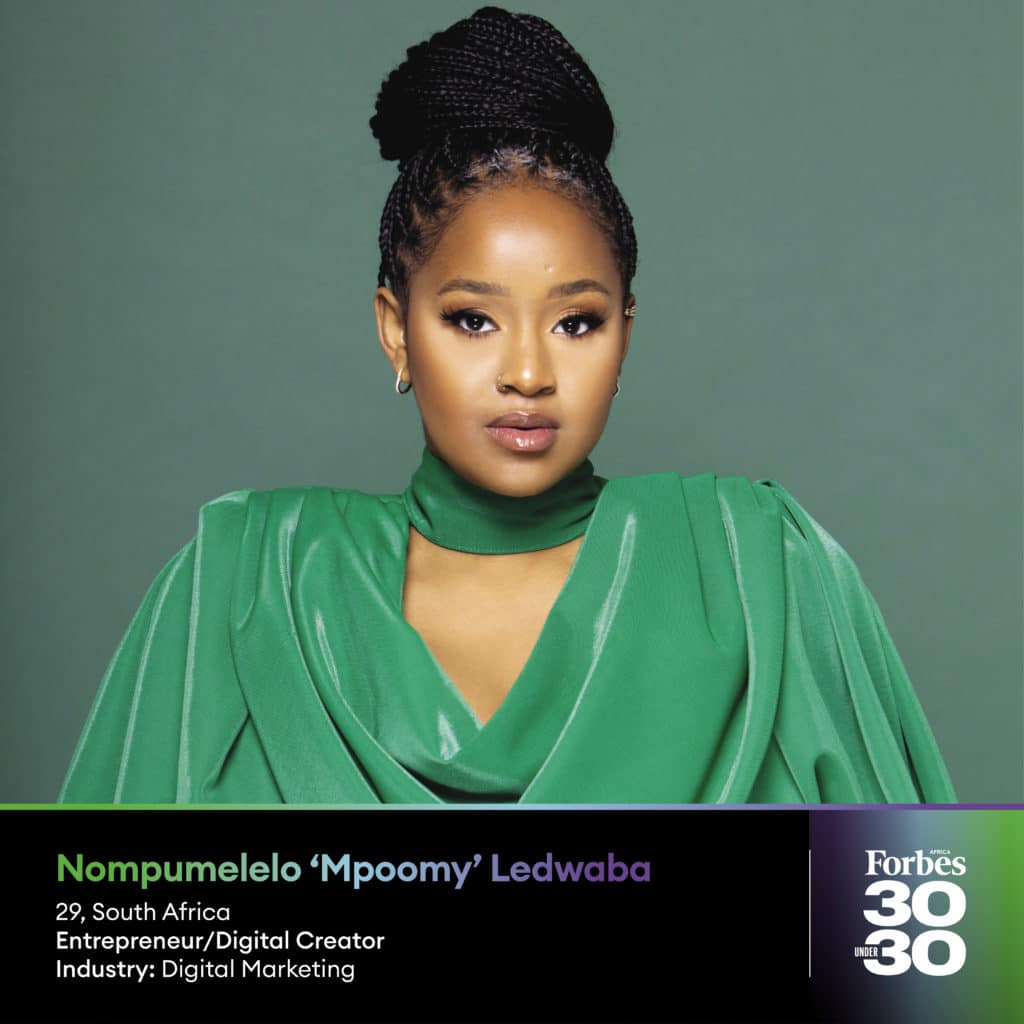 'Influencer marketing' has been on the rise for years. According to a report in Forbes last year: "This trend will only continue as influencers build up larger and larger audiences that are ripe for the picking for marketers."
South African creative Nompumelelo 'Mpoomy' Ledwaba had a "genuine dream to become a singer". Little did she know it would set her on a path to become a digital creator, and a successful one at that.
"The genuine connections that I built primarily resulted from my overarching goal," Ledwaba says. "[And that is] to add value to people's lives and it was this path that led me to becoming a household name and lead in the digital industry that has contributed to the market growth of many."
With an impressive following, she engages her fans with relatable content that has to do with her life as a mother, about fitness, about cooking, gardening and traveling. Given her formidable following, she is doing something right.
"My pages are perfectly imperfect which means that everything I post is well thought-out and is a true reflection of myself," she explains. "I love creating relatable content that resonates with my audience. I consider my brand as aspirational and therefor the content I curate always reflects such."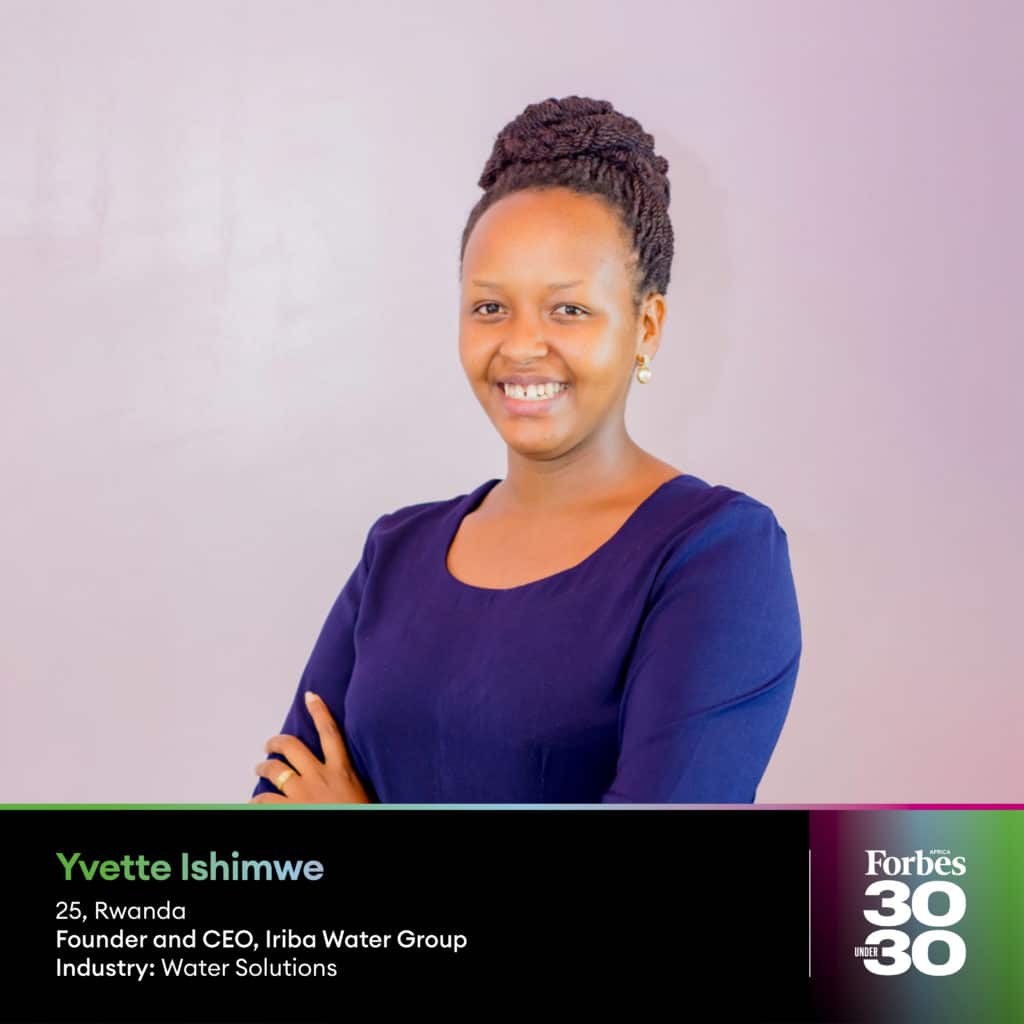 According to the World Health Organization (WHO), water scarcity affects one in three people in Africa, and the situation is deteriorating because of factors such as population growth and urbanization, but also climate change.
Yvette Ishimwe has dedicated her business to ensuring that she offers innovative drinking water solutions for vulnerable communities in Rwanda and in the Democratic Republic of the Congo.
But growing it was all about entrepreneurship.
"From a very young age, I've always had an entrepreneurial drive," Ishimwe recalls. "For example, in high school, I was active in an entrepreneurship club where we used to save a portion of our pocket money and venture into small businesses such as selling school T-shirts and snacks."
But what sparked her interest in water solutions was when she moved from the city of Kigali to a rural village in the Eastern province of Rwanda called Kayonza, an area which at the time faced serious water shortage.
With capital equivalent to $400 that she received from her mother, her solution was to fetch water from the nearby lake in a truck, bringing it in a water tank, and then employing a connected water purification system (with ultraviolet and reverse osmosis technologies) for people to buy clean water from the tank at affordable prices (four times cheaper than what was usually available).
"With this solution, I managed to supply water to my family and neighbors (150 households). I efficiently managed this solution through raising additional funding, building a strong team and involving partnerships with other stakeholders such as the local government and a water supply corporation in Rwanda."
Mutethia Mbaabu, 29, Kenya Co-founder and CEO, MarketForce Industry: E-Commerce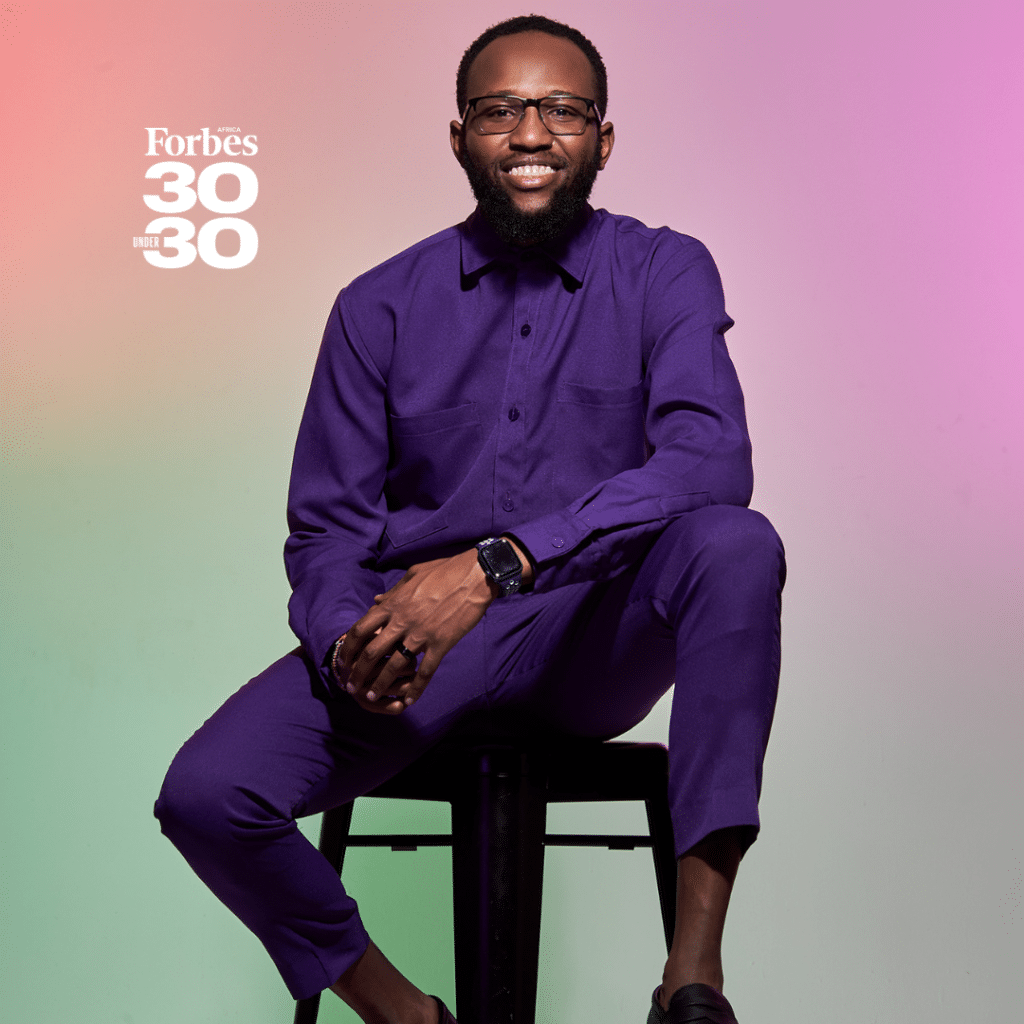 In 2008, while the world marveled over Facebook, the new fascinating platform that would change the way one approaches mass communication, Mutethia 'Tesh' Mbaabu's only thought about Facebook was: "Who built this platform and what is their background? And how can I do something similar?"
Mbaabu set out to learn everything he could about technology and building startups; he read up biographies and profiles of entrepreneurs and consumed news about top startups across the globe. A vision began to form: he wanted to build something as impactful as Facebook, but specific to Africa.
Which is what led to MarketForce, a B2B commerce platform that empowers over 200,000 neighborhood merchants across five African markets to source, order and pay for inventory, access financing and earn more by reselling financial services in their communities.
He seems to have all the support – judging by the number of people who nominated him for this list."What makes you so popular?"
"I think it's because it's because I represent a young black African entrepreneur who comes from an average family but who has been able to break into the tech ecosystem and raise funding, which is very hard. And then build a company that operates several African companies."
"Mutethia's story is testament to the importance of perseverance and resilience in the face of adversity," says 2023 30 Under 30 external judge Bright Jaja.
"It's truly inspiring to see how he has turned his setbacks into opportunities for growth and innovation. In a world where we face so many challenges, it's important to have role models who demonstrate that it's possible to make a positive difference and achieve success by pursuing one's passions."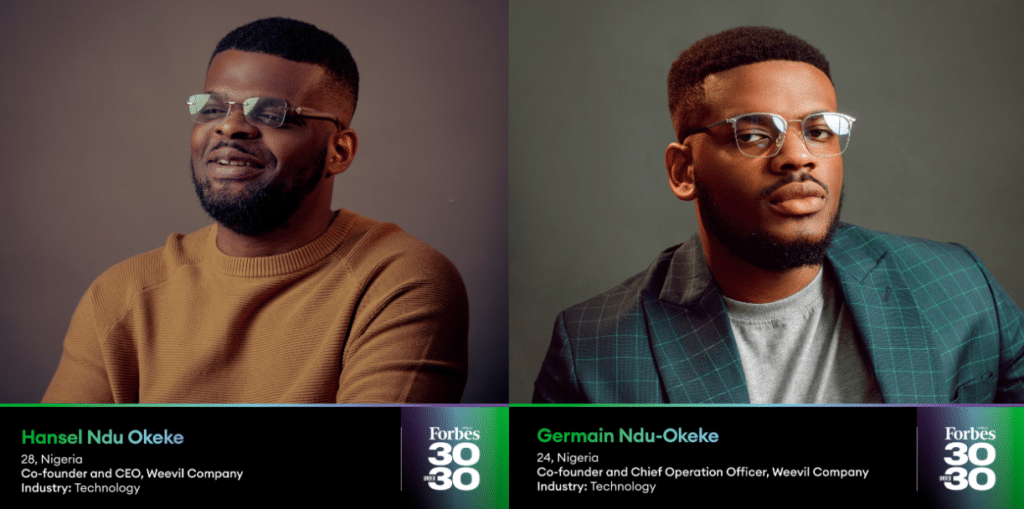 "We simply got to work with our allowances which was about ₦50,000 ($110) at the time, using up whatever we had, saving up and putting it back in the business."
It is very rare that co-founders find themselves on the FORBES AFRICA 30 Under 30 list in the same year.
And even rarer when they are brothers.
Hansel Ndu-Okeke and Germain Ndu-Okeke started Weevil as "a purposive technology consulting company".
"We did not start with any capital per se," Germain says. "We simply got to work with our allowances which was about ₦50,000 ($110) at the time, using up whatever we had, saving up and putting it back in the business."
According to CrunchBase, the Weevil Company's whole incentive is to help the world run better using technology to transform businesses, governments and industries.
"The company was born out of this desire, and my passion for solving problems using technology," Hansel adds. "It has always been fascinating to me how technology empowers individuals and
organizations to reach their highest potential, and how in the right hands, it amplifies positive impact in society."
Nwanneka Stephanie Eke, the Chief Operating Officer of Nepal Energies, says in her testimonial about the founders: "Weevil Company has illustriously demonstrated its uniqueness in the Nigerian tech space by providing solutions that make an impact on businesses and society."
"Weevil is making impressive strides in the digital space," 30 Under 30 judge Bright Jaja concurs. "And what's even more impressive is their ability to collaborate with both the private and public sectors to provide sustainable digital solutions."
"We did not realize that what we started out of simple passion to solve problems will become a full-blown business today, employing 38 people," Germain says.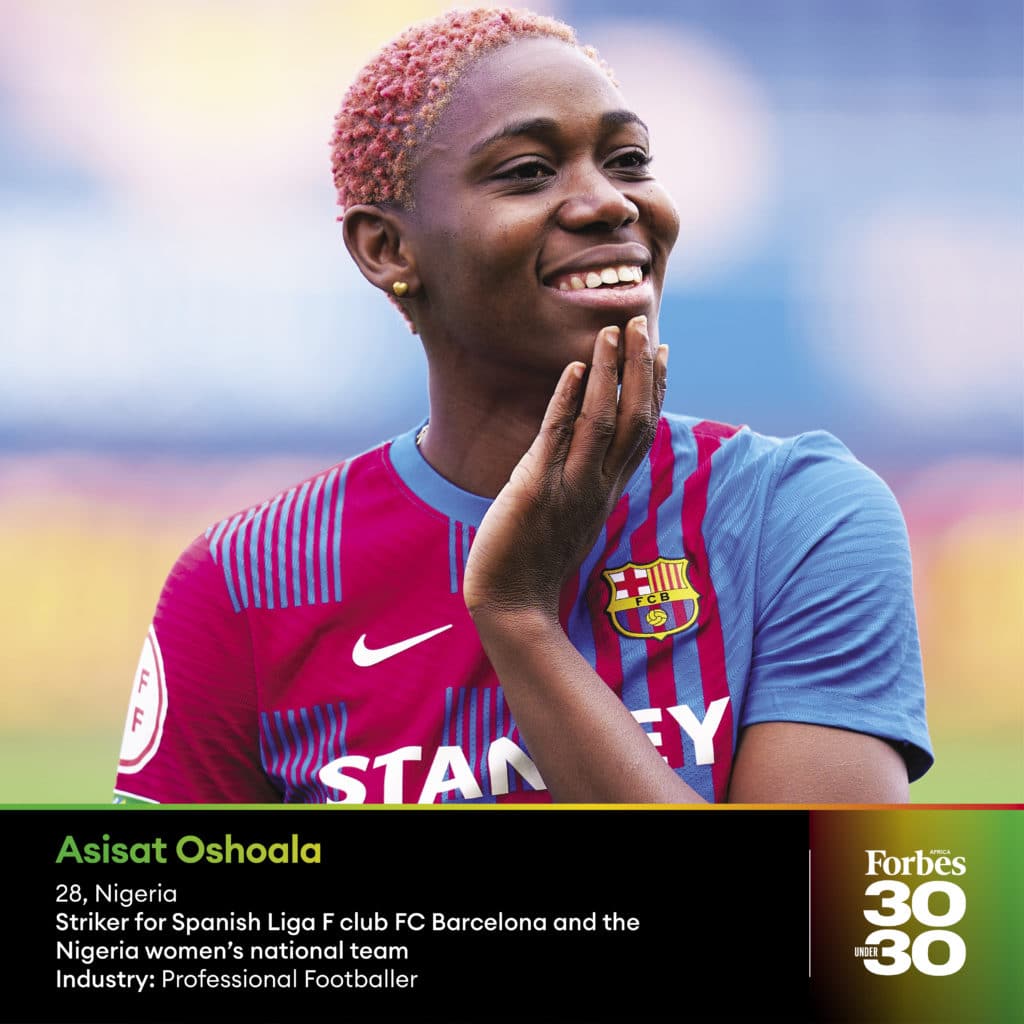 This lister has been described as one of the most exciting strikers from the African continent.
Born in the city of Ikorodu, Oshoala told CNN: "Growing up I never wore a jersey with a female player's name at the back. Now when I go home to Nigeria a lot of people have a Barcelona jersey with my name on it."
As illustrious as her career has been, between winning the BBC Women's Footballer of the Year award in 2015, being named the African Women's Footballer of the Year five times and being regarded as one of the best female footballers of our time, she always brings it back to her appreciation for Nigeria.
"No matter the height you get to in life, you have to always remember where you come from," she said in her interview with CNN. "We've always been a people who fight for everything and [are] ready to sacrifice."
Oshoala seems to be having a good year already as ESPN reports that the footballer has scored 18 goals in her last 11 matches in all competitions for Barça Femení and has 23 total goals in all competitions so far this season.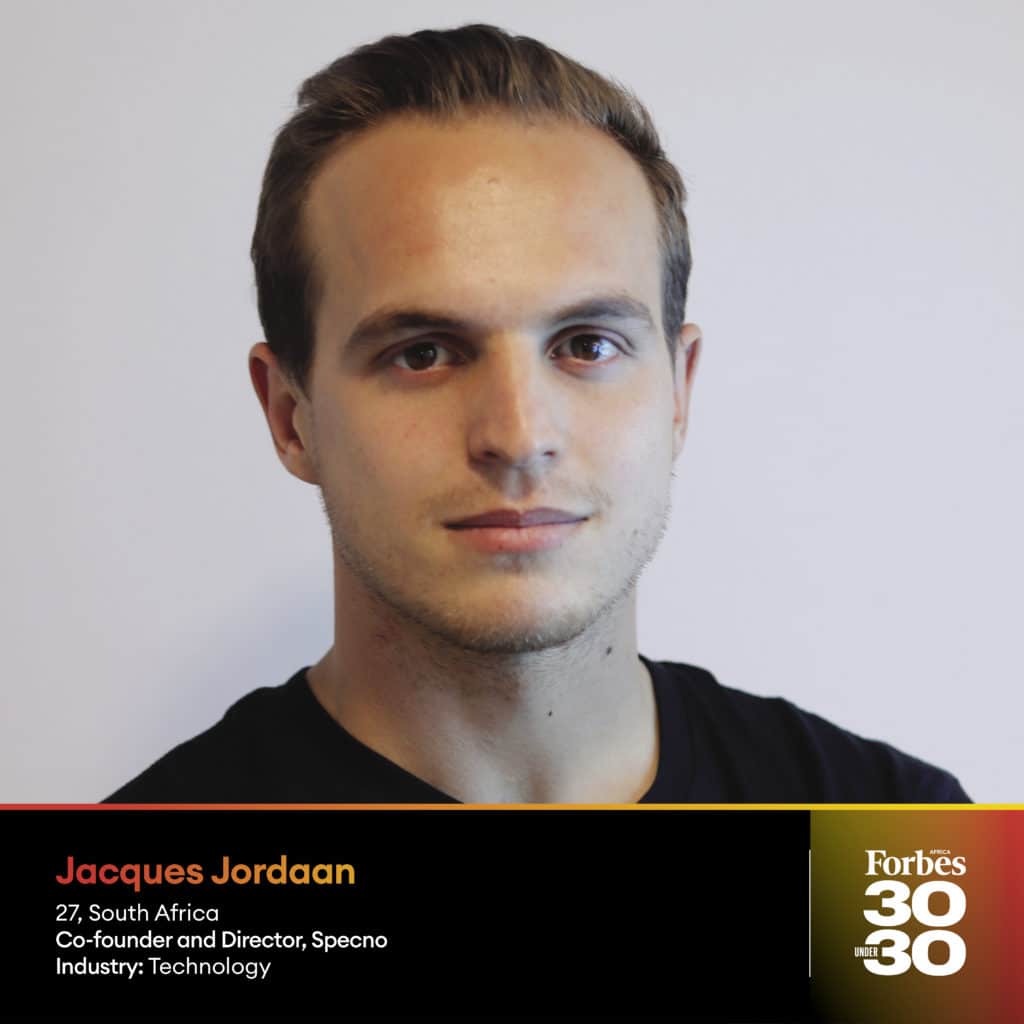 The business started when Jacques Jordaan and his prospective business partner failed 'Business Management 113' course at university.
It was in failing that they realized that they have a shared interest in several topics ranging from software development to space technology.
"By 2018, we had made a name for ourselves amongst our lecturers as great software developers, and it wasn't long before the Head of Department introduced us to a local agritech startup that needed help with their online web portal," Jordaan tells FORBES AFRICA. "This was our first client, and despite having almost no experience in product development, we were confident in our ability to get things done and deliver a top-class solution."
It was after doing work for this client that they were awarded a three-year contract and enough capital, R3.5 million ($212,952) to start a business, which they called Specno.
"We realized there was a major lack of understanding, support and guidance for people looking to build out new digital products." Jordaan explains. "We wanted to create a space where we could train the talented individuals we have in South Africa, and Africa as a whole, so that they can support businesses and startups, to build successful tech products."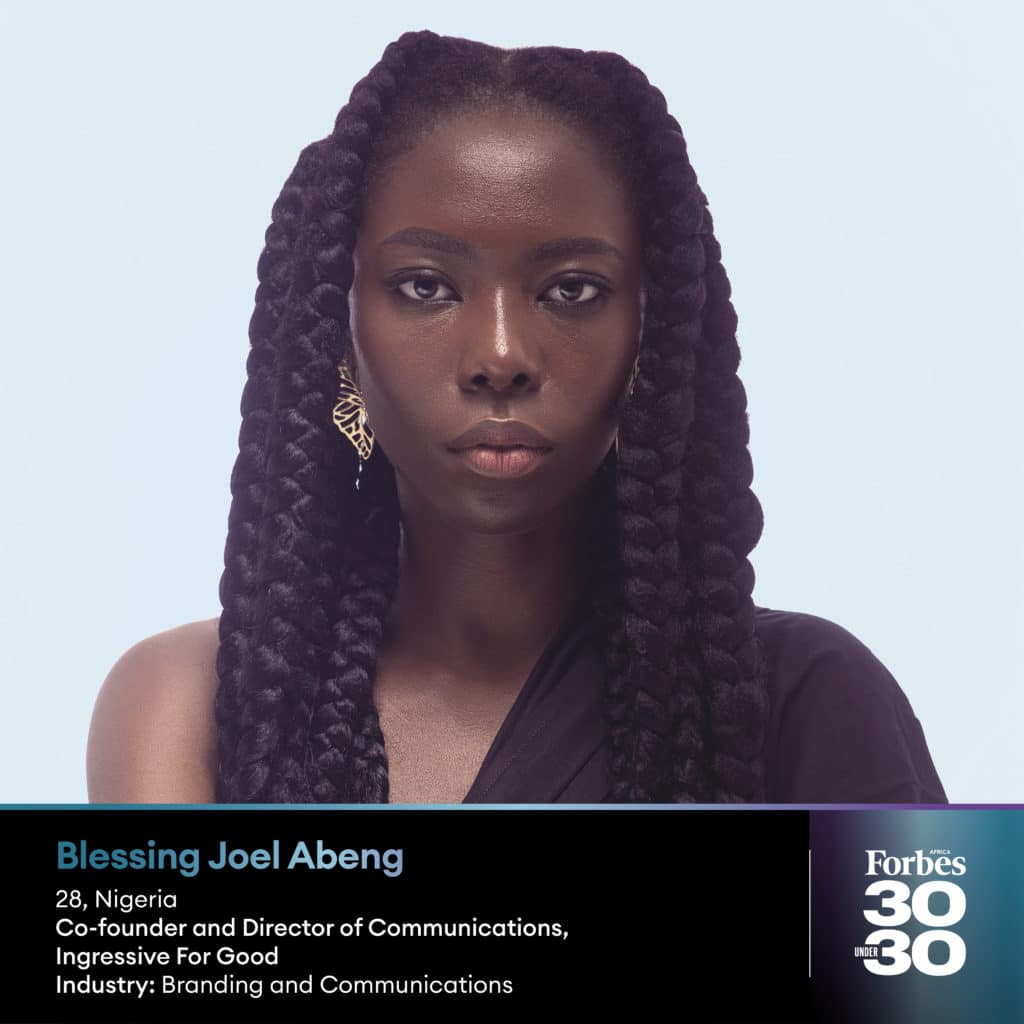 "I did not grow up thinking there was anything I could not do," Blessing Joel Abeng says to FORBES A
e aspired to become a doctor to save lives, but then realized, through her studies, that there was more than one way to do that. And this was through business writing.
"I taught myself to write business plans and proposals. I got so good people started to pay me for it. It was very unpopular, but it caught my attention."
From that to being one of the leading women in the branding and communications sector in Africa helping brands discover their unique identity so they can tell better stories.
Abeng is also the co-founder of Ingressive for Good, an edtech non-profit increasing the earning power of African youth through tech.
"In less than three years of existence, the non-profit has built a community of 250,000 people and trained 150,000 Africans in every African country, placing thousands in jobs," Abeng says. "My legacy will definitely be in the lives impacted based on the activities, communities, and organizations I have created. My mark is my contribution."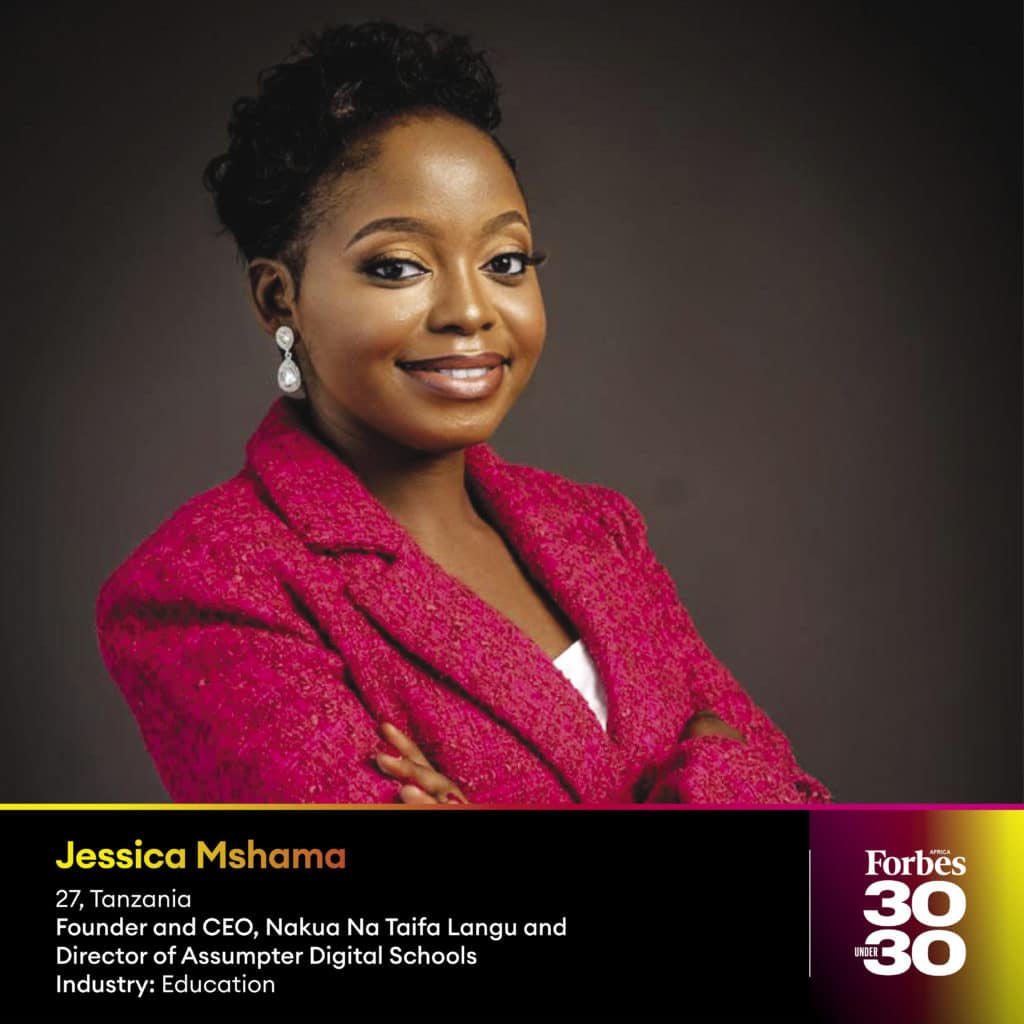 In 2020, the Covid-19 pandemic brought about widespread disruptions, including in Africa's emerging economies like Tanzania. Jessica Mshama tells FORBES AFRICA how the education system in the country was significantly impacted, despite the absence of lockdowns and curfews.
"In response to this challenge, the utilization of digital technology as a means of ensuring continued access to education was adopted in various countries globally to mitigate the impact of the pandemic on the education system," she says.
This led to her establishing Assumpter Digital School, aimed at bridging this gap as well as creating an education system able to withstand any similar external shocks in the future.
"My idea for this school was also heavily influenced by my desire to support the attainment of Sustainable Development Goal number 4 which focuses on the provision of quality education; I also wanted to support the less-privileged families in my community to access quality nursery and primary education."
To date, the organization has achieved a significant milestone by reaching over 305 students from Tanzania and other countries. They have established partnerships with prominent entities, including the Embassy of Sweden in Dar es Salaam, in conjunction with the Robotech Lab festival, to provide young girls with opportunities to learn coding and engage in technology-focused environments.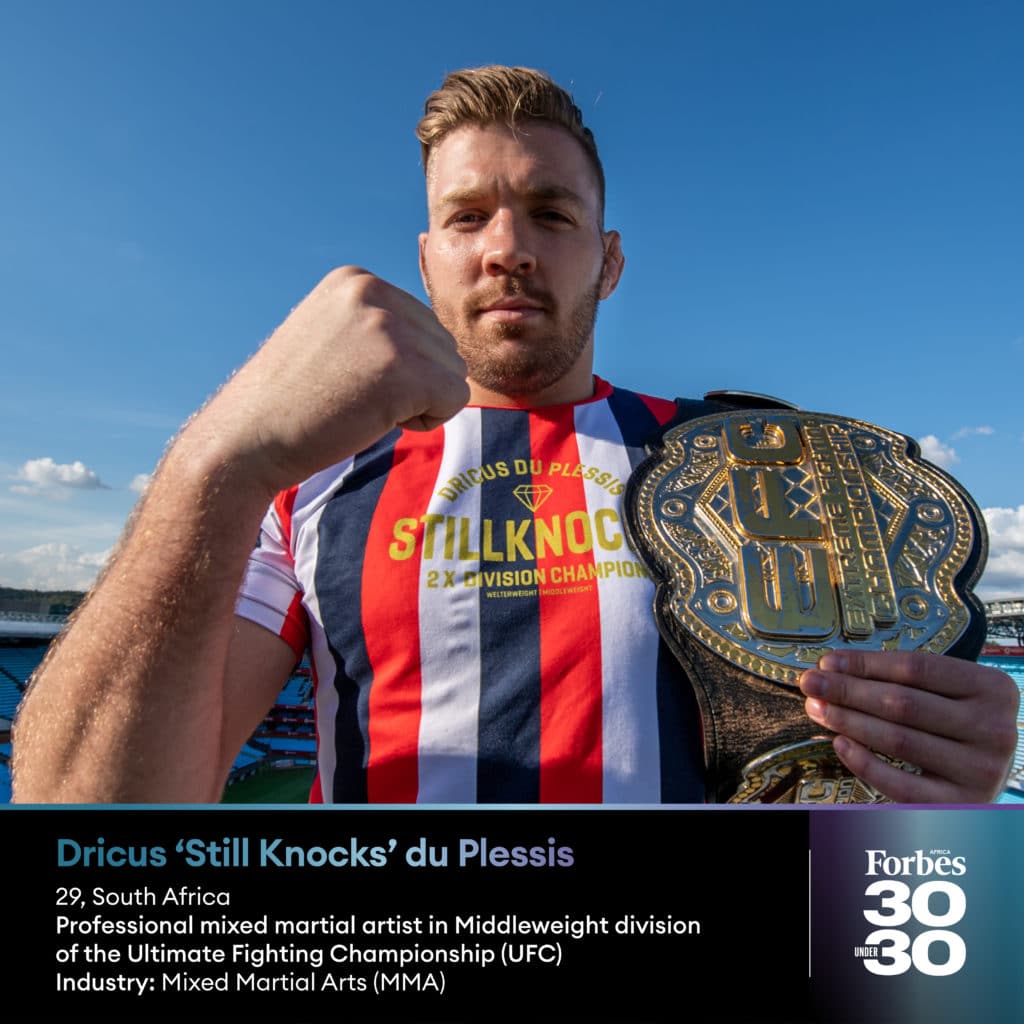 "I'm currently fight[ing] up the ranks."
"Where did you get the name 'Still Knocks'?" we ask.
"It is actually a name that came from my amateur days," Free State-born du Plessis says to FORBES AFRICA. "As an amateur, [I did] 33 fights with 30 knockouts. And my brother actually came up with the name because it's named after a sleeping tablet. You know when you take it, it will just knock you out."
And in wild brawls, knock out he does!
Recently du Plessis defeated UFC veteran American professional mixed martial artist Derek 'The One" Brunson making it the biggest honor in his career.
"Every fight is unique in that way," du Plessis says. "Because now I'm currently fight[ing] up the ranks. And I just made history by becoming the first South African ever — well, before this, it was a Top 15 and then Top 10. And now, I just beat another guy, he was ranked number five in the world.
"So that is absolutely something that it's indescribable. It's in my line of work. It's basically the highest honors I've ever had in my career."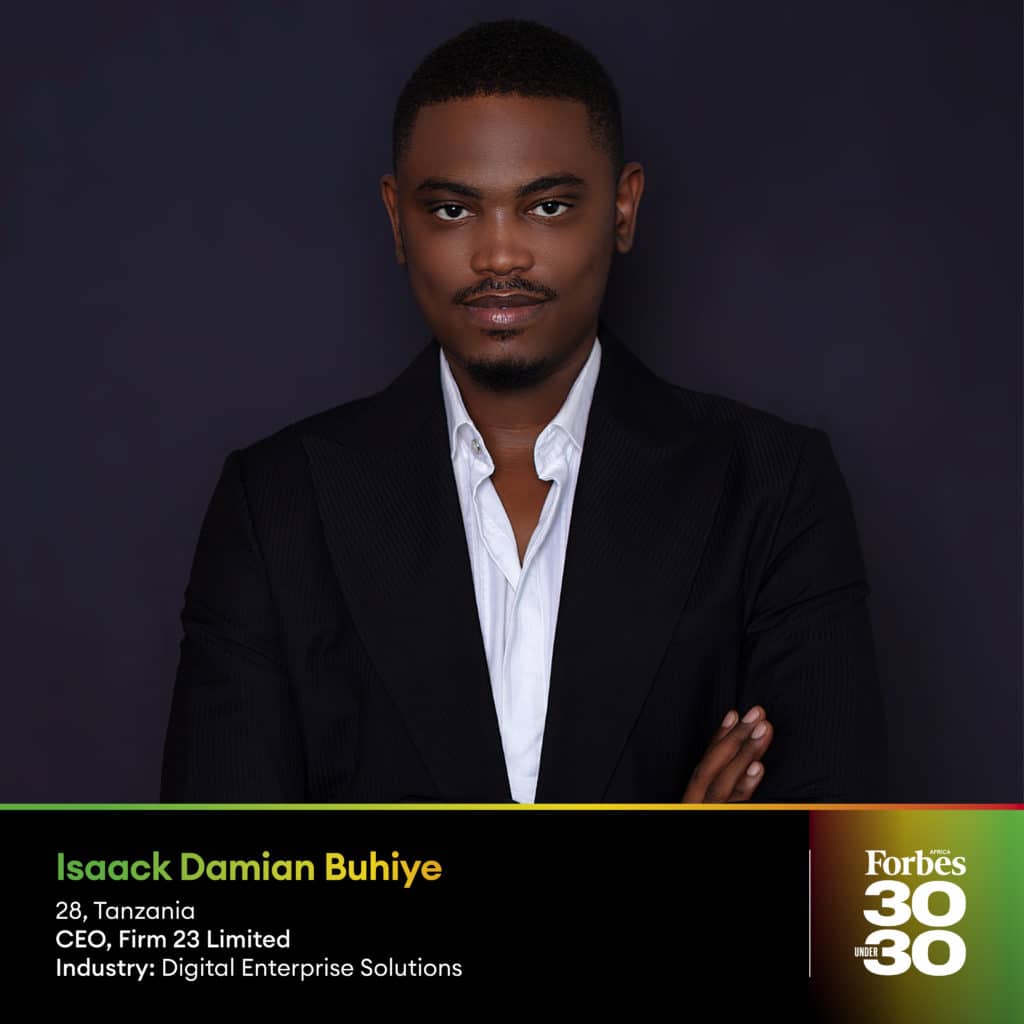 "Growing up, I was always curious about technology and fascinated with computers. My mother had a computer that I would often sneak into her room to play with," Isaack Damian Buhiye says.
Years later, Buhiye would start his business in his mom's home on his university laptop. Firm 23 was built to assist businesses in dealing with challenges in the workplace. This could be graphic design, networking or product design.
"Thinking about it, in retrospect, starting a business at the age of 21 with no job experience was a bold decision. But at the time it was driven by a deep passion to make a positive impact using technology. I saw a gap in the market for digital creativity tailored specifically to the Tanzanian market and felt a strong pull to be a part of filling that gap."
Buhiye adds that the scarcity of companies with software engineering as their core expertise was why he started the business.
"I believe that Africa has the potential to be a major player in the technology and innovation space, but that requires creativity that is tailored to our unique market and problems."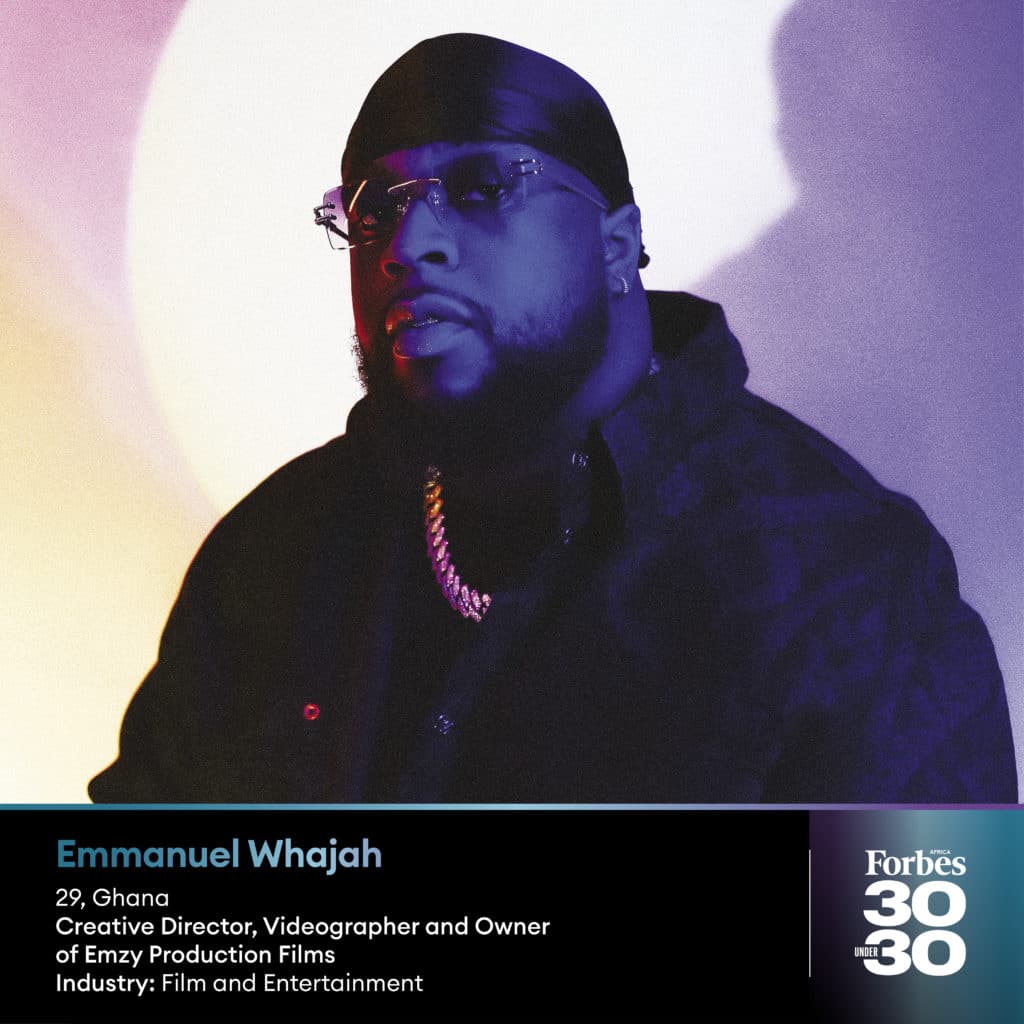 According to a report by UpLand Software, no matter what industry you work in, a company needs a creative department to develop marketing and content.
"About 60% of CEOs polled cited creativity as the most important leadership quality, compared with 52% for integrity and 35% for global thinking," the report read.
The importance of creatives to the world of work is why people like Emmanuel Whajah are important. It's why as a creative, Whajah, in his career, collaborated with Beyoncé's famous twin dancers Larry Bourgeois and Laurent Bourgeois, also known as Les Twins, and with Hennessy and the NBA.
He owes a lot of his work to the fact that he has always wanted to combine his Ghanaian roots with his upbringing in Germany.
"Because I am very tied to my African cultural background, I was given many expectations, desires and ideas by my parents. The goal with my work was to achieve and create something which combined traditional Ghanaian and Western values to break barriers," Whajah explains. "Being of Ghanaian descent yet raised in Germany and fascinated by other international cultures, the power of cultural, intellectual and professional diversity has always had a high impact on my life."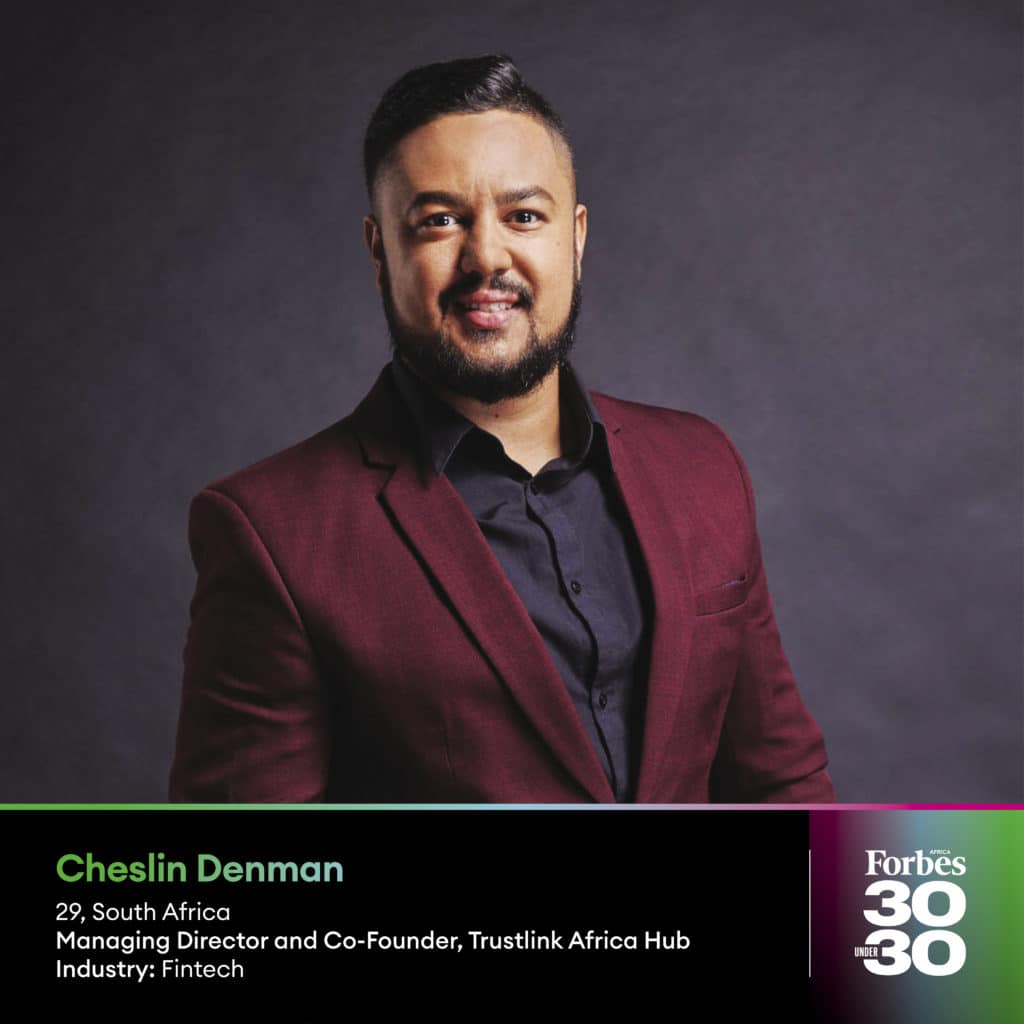 As a kid from Athlone, a predominantly colored residential area in Cape Town, South Africa, Cheslin Denman would go to all the small businesses located in the area. Like local supermarkets, hair salons, and the beauty and self-care businesses. And part of his story was traveling to all these places with his grandmother.
"As a young adult, many of these businesses and owners became a part of my life, having seen me grow," Denman explains. "When my family went through financial difficulties and never had any money at the time, they still provided their services to my grandmother, and I always wanted to pay that forward."
This is what led to the concept of Trustlink Africa, which aims to build more sustainable and bankable small and medium enterprises (SMEs).
"We are a fintech-enabled supply chain platform, helping small business owners get ready and land supply opportunities, additionally providing financial assistance and credible guidance."
The World Bank estimates that SMEs account for 90% of all businesses worldwide and 50% of employment. Formal SMEs contribute up to 40% of GDP in emerging markets (with that figure climbing considerably if you factor in the informal economy) and provide 70% of employment.
"Our goal now is to onboard 5,000 SMMEs in South Africa and ensure 50% are compliant to unlock a goal and opportunity on our platform," Denman adds.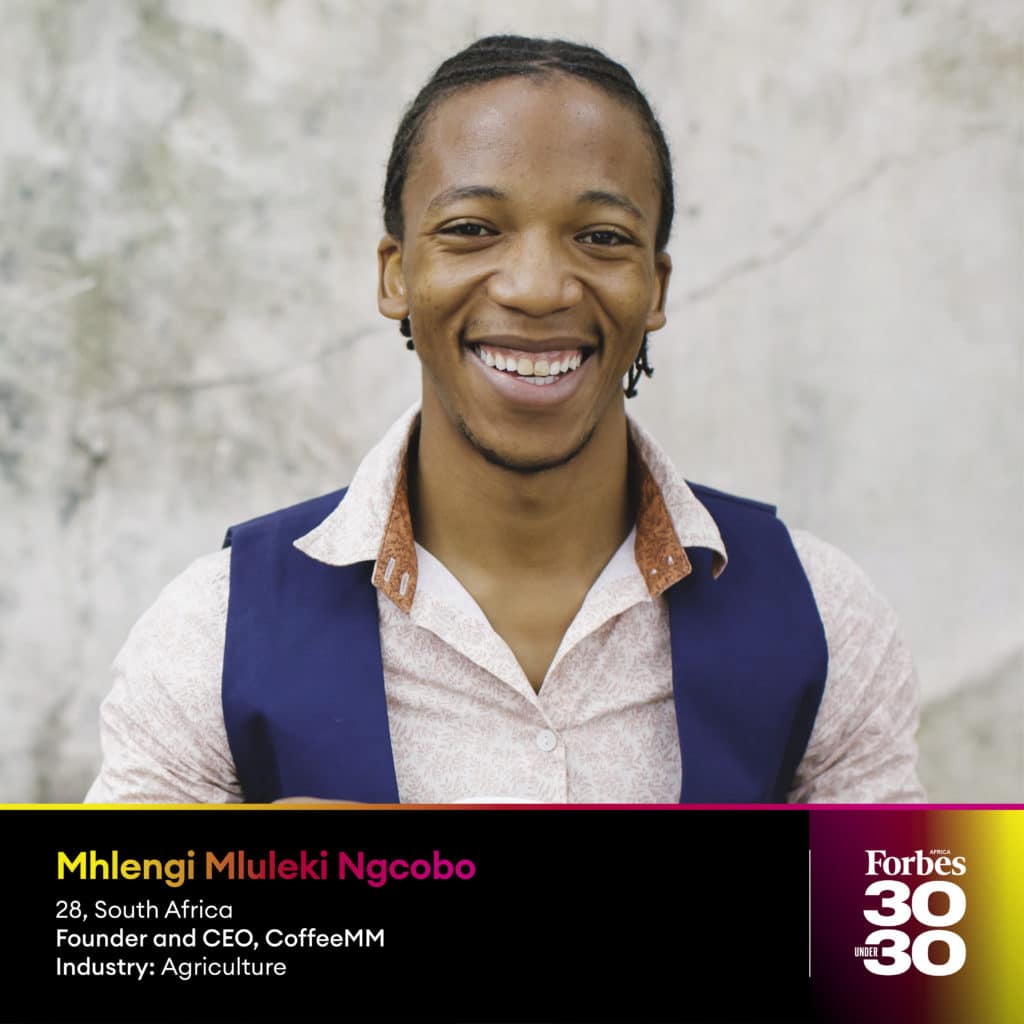 "I was 13 years old (in 2007) when I was diagnosed with hypertension triggered by the excessive consumption of caffeinated beverages," admits Mhlengi Mluleki Ngcobo.
Naturally, Ngcobo's doctor advised that he stop drinking coffee altogether. So, what does he do instead?
He starts a business centered around coffee.
The idea of CoffeeMM was driven by the need to promote good quality coffee, changing the negative perception around coffee and empowering Africa's small scale coffee farmers.
"I started by creating an efficient online platform where our customers would have an opportunity to connect with us from the comfort of their homes and this was our competitive advantage. During our first year of trading, we sold 1kg of coffee and had a turnover of R225 ($12). I knew I had to completely change my business approach the following year."
Ngcobo managed to "bounce back" by expanding his distribution channels and finding new a unique selling proposition that has been a more customer-centric approach.
"He is a very dedicated young man, a go-getter, and enthusiastic individual," says Mphumzi Mange, a business advisor at the Small Enterprise Development Agency (SEDA) in South Africa, about Ngcobo. "In everything that we have worked on together, he has given his all and more in making sure that we complete things on time."
In 2018 and 2019, CoffeeMM participated in the Decorex exhibition in Cape Town and was also nominated as a top six finalist in the Cape Town Global Student Entrepreneurship Awards.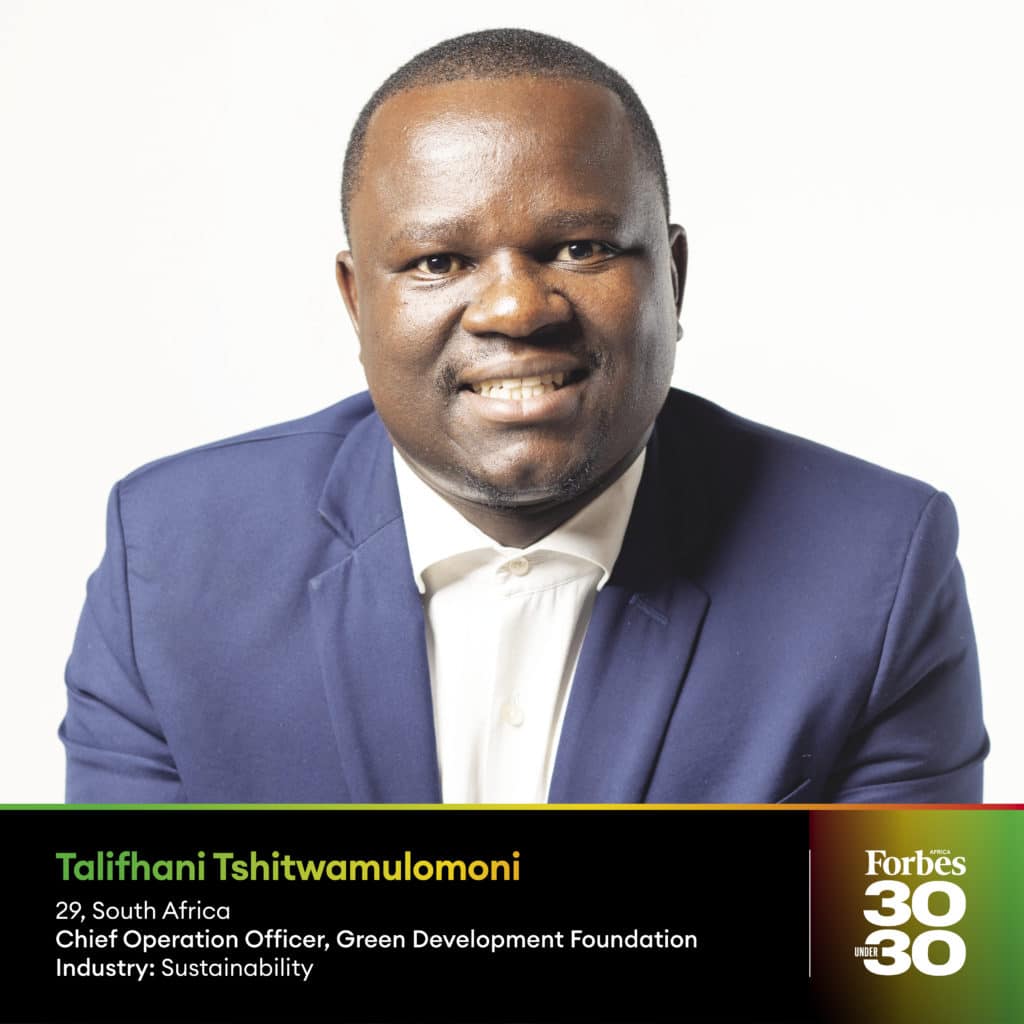 "The only way to overcome this is through registering a hybrid model that focuses on profit plus social impact in the communities."
Those that do business know about the three P's: People, Planet and Profit. But Talifhani Tshitwamulomoni has dropped two of the Ps and added his own.
For him it's about People, Plants and Partnership.
His Green Development Foundation is about uplifting communities, and preserving the environment. It seeks to support the South African government in its efforts to address various social challenges unique to the country.
"The biggest challenge in South Africa with us social entrepreneurs is that there is no legislative guideline specific to social entrepreneurs," Tshitwamulomoni explains. "This poses a lot of challenges on where to play and how to play; this makes it difficult for us to operate since people require different paperwork that we might have in a different form. So, the only way to overcome this is through registering a hybrid model that focuses on profit plus social impact in the communities."
However, Tshitwamulomoni has not allowed this to deter him as he wants to continue to address "a number of social ills in South Africa such as hunger and poverty, environmental degradation and pollution".
"We have worked with lots of youth formations and development institutions in many countries including Ethiopia, Uganda, Nigeria, Ghana, and other African counties. We have hosted international [events] and participated in many international development programs where I led different discussions for the advancement of humanity," he enthuses.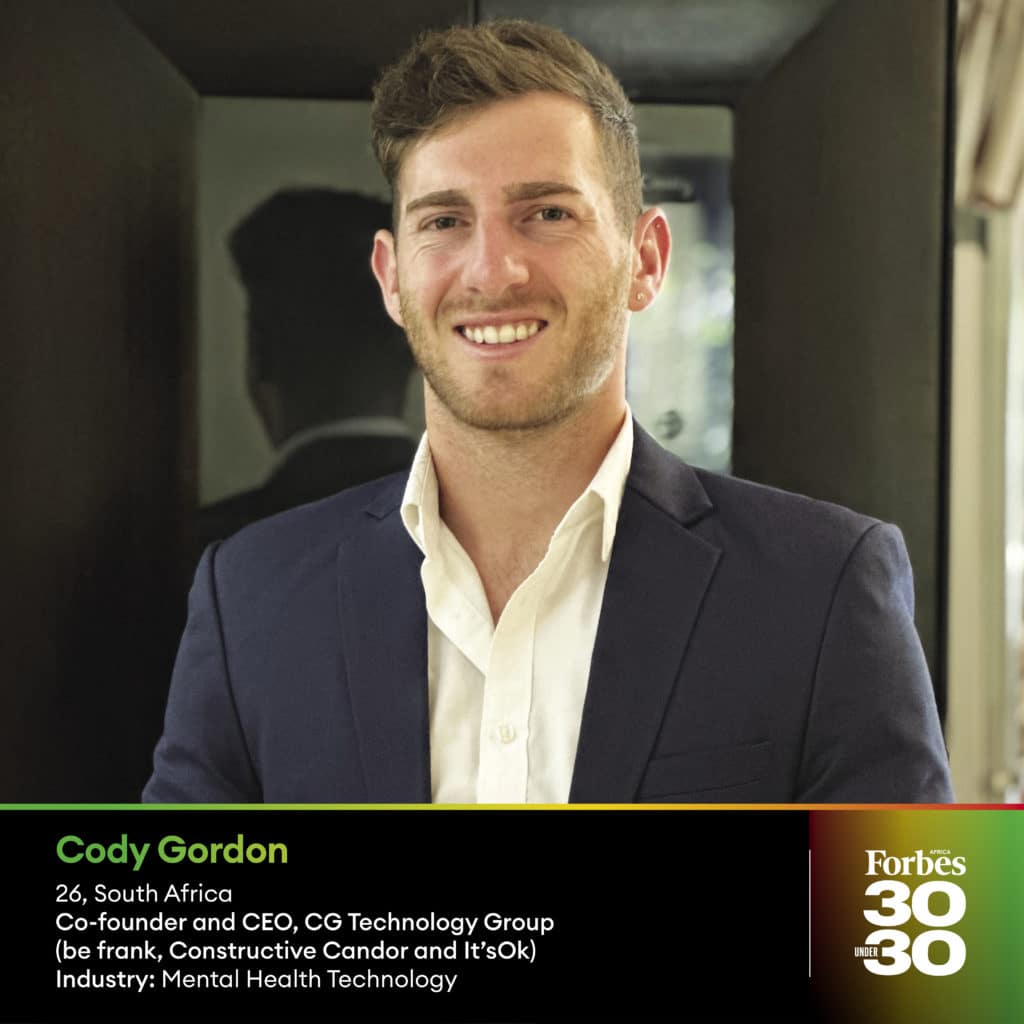 According to the Annual Mental State of the World Report from Sapien Labs, South Africa has one of the lowest mental health scores in the world.
So, when explaining why he started his company, it all boiled down to mental wellbeing for Cody Gordon.
"My business came into existence from my greatest adversity, from my trauma, from my desire to be better," Gordon says to FORBES AFRICA, "As a couple years passed on, I was struggling internally with my own mental health and trauma that I had experienced. In two years, this would prove to be a trend with the introduction of Covid and mental health struggles being experienced among the masses in schools and in businesses. I needed to find a way to heal myself."
The CG Technology Group developed two enterprise software applications – It'sOk, focusing on mental health and wellbeing in schools, and Constructive Candor, which focuses on team effectiveness and wellbeing in organizations.
"When we started, we had zero capital to build the product. There are two ways to fund a business, raise capital or get clients. We focused on financing our business through non-dilutive customer funding. This meant that what technology we chose to use would be extremely crucial to the success of our business as our runway was as long as our savings."
This did not stop Gordon and his business partner from pursuing their dream of building a business, but more than anything combating mental health issues.
"If we are fulfilled inside and experience inner peace, our daily interactions promote this way of being and we then have a chance of healing Africa and the world," Gordon adds.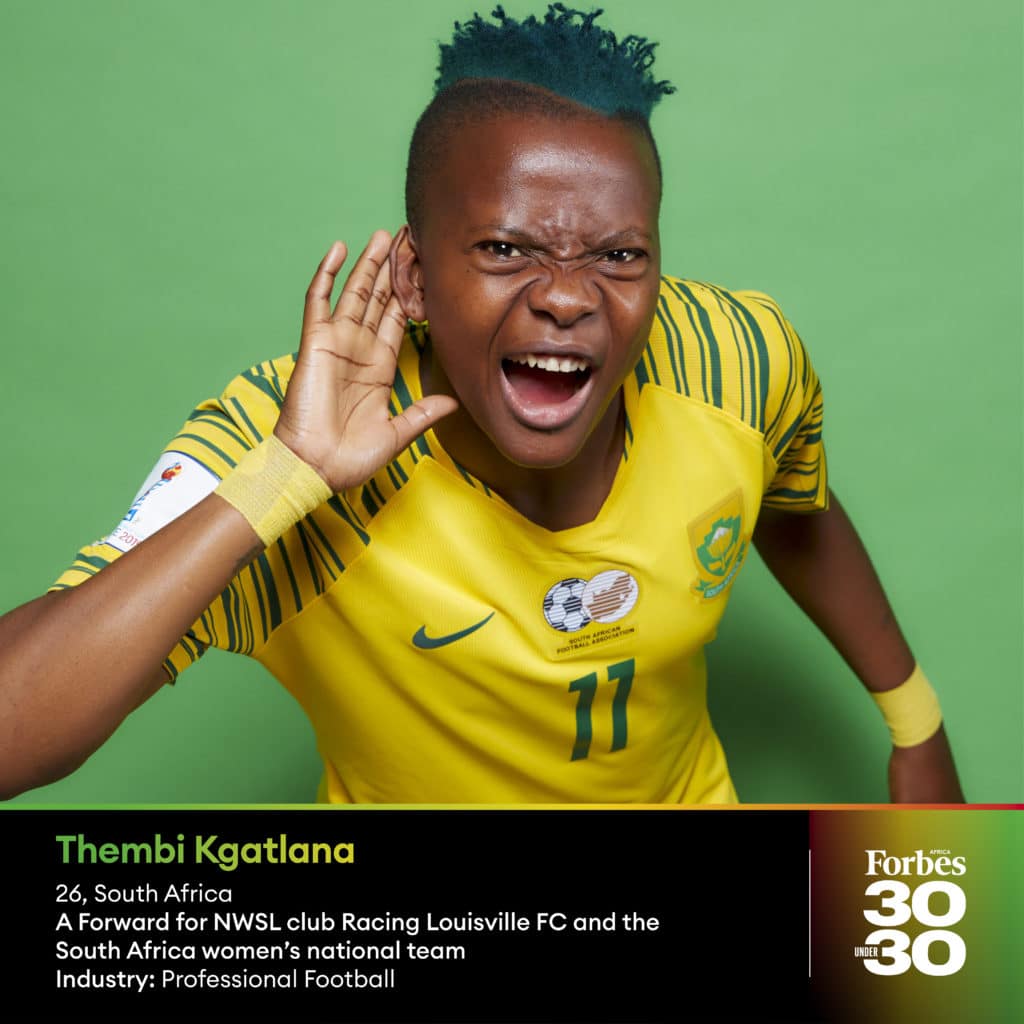 When you google Thembi Kgatlana, the first thing you notice is her Instagram name, Girls Don't Do That, on her upcoming children's book.
"In this book, I am telling the story of my humble beginnings in Mohlakeng (a township west of Johannesburg), the expectations placed on young girls in the community, and the defiant spirit of a future national treasure," Kgatlana says on Instagram.
Kgatlana is one of South Africa's most celebrated and treasured soccer players and has made 16 appearances with international team Houston.
According to Briefly, she started playing football in primary school when she was eight years old. In 2018, when she was asked to join the Houston Dash soccer team, she was brought in by Dutch head football coach Vera Pauw.
"It's an opportunity I just could not say no to," Kgatlana said to the University of Western Cape. "My goal has always been to be picked up by a professional team after the Olympics — but it didn't work out. Two years down the line here I am, signed by a big club like Houston Dash. It's time now that I reach for greener pastures."
She is on to bigger goals now.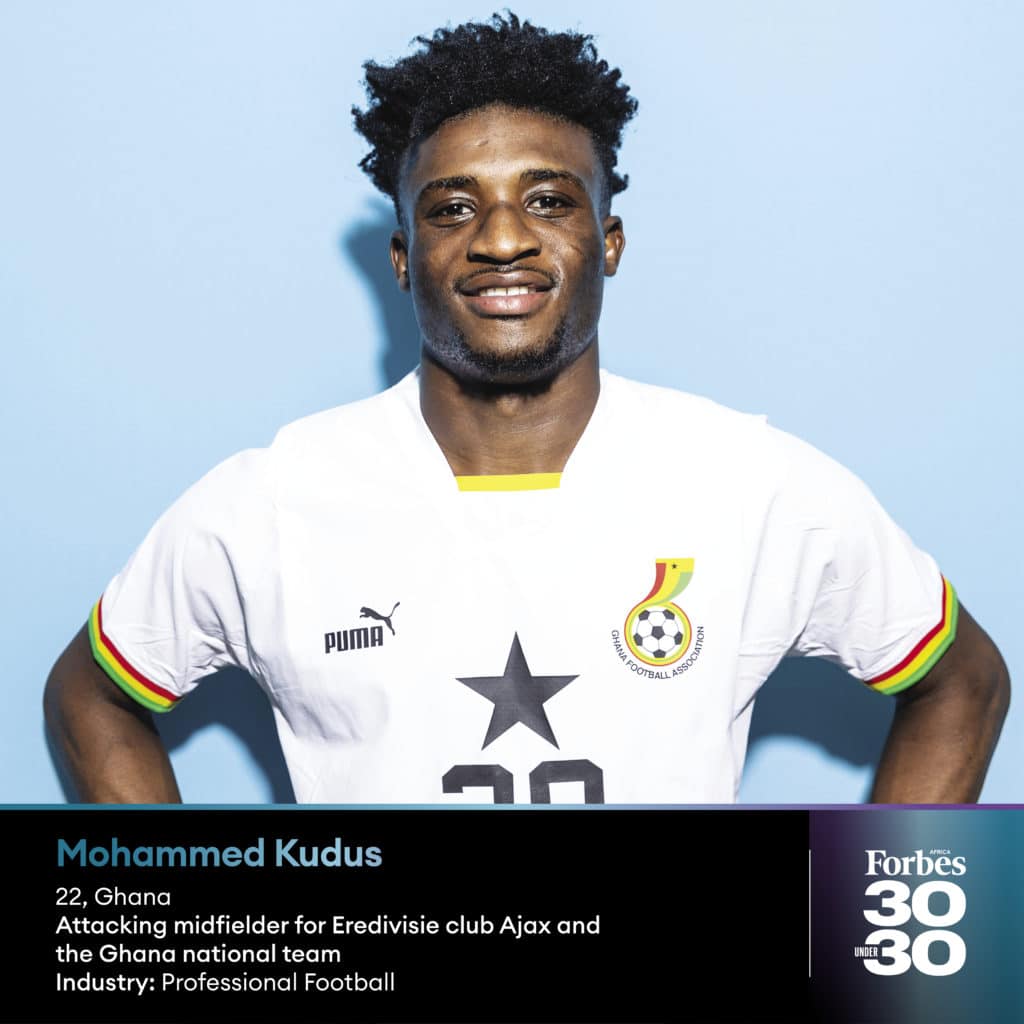 The 2022 World Cup saw one African country make it very far in the competition but Mohammed Kudus still managed to impress the world for Ghana.
The attacking midfielder scored two goals and provided an assist in three matches at the World Cup in Doha.
Accra-born Kudus' mentor, Ghana's assistant coach Mas-Ud Didi Dramani, says he has always recalled him to be self-confident, disciplined, proactive and resourceful in terms of taking responsibility.
"Identifiable role models are something that throughout history has proved to be an important thing," Dramani, also the head of Right To Dream, a football academy in Ghana, told ESPN. "So to see someone who sat at the same dining room tables and played on the same pitches going to that level of course has a tangible impact on the belief that young players have that they can go on and do the same thing."