The FORBES AFRICA 30 Under 30 class of 2022 cares about being visionaries of change and catalysts for innovation. Being on the most-anticipated list on the continent, for these young trailblazers, is not just about commerce and clout but about ensuring they represent well their countries and the diverse, heterogeneous Africa they want to serve. Celebrating its eighth edition, the list this year features the best and the brightest, but importantly, the most resilient, who have taken the time to not only shine a light on the issues plaguing Africa's growth in a pandemic era but also work towards shifting the narrative, one tiny, tenacious step at a time.
Words and Curation: Chanel Retief | Art Director: Lucy Nkosi | Additional Research & Reporting: Lillian Roberts | Photography: Ilan Godfrey for Forbes | Styling: Katlego Magano of Oak Ave; Assistant: Tumelo Nkwe | Outfits supplied by: K.Moraba&Collective; Maxhosa by Laduma; Woolworths; David Tlale; Botocy Creations; Imprint ZA; Lovisa; Donlu Amore; Black Thrash | Hair & Makeup: SnehhOnline Beauty; Thapelo Letsebe | Location: Image Lounge, Botswana and 2022 Forbes Under 30 Summit Africa
METHODOLOGY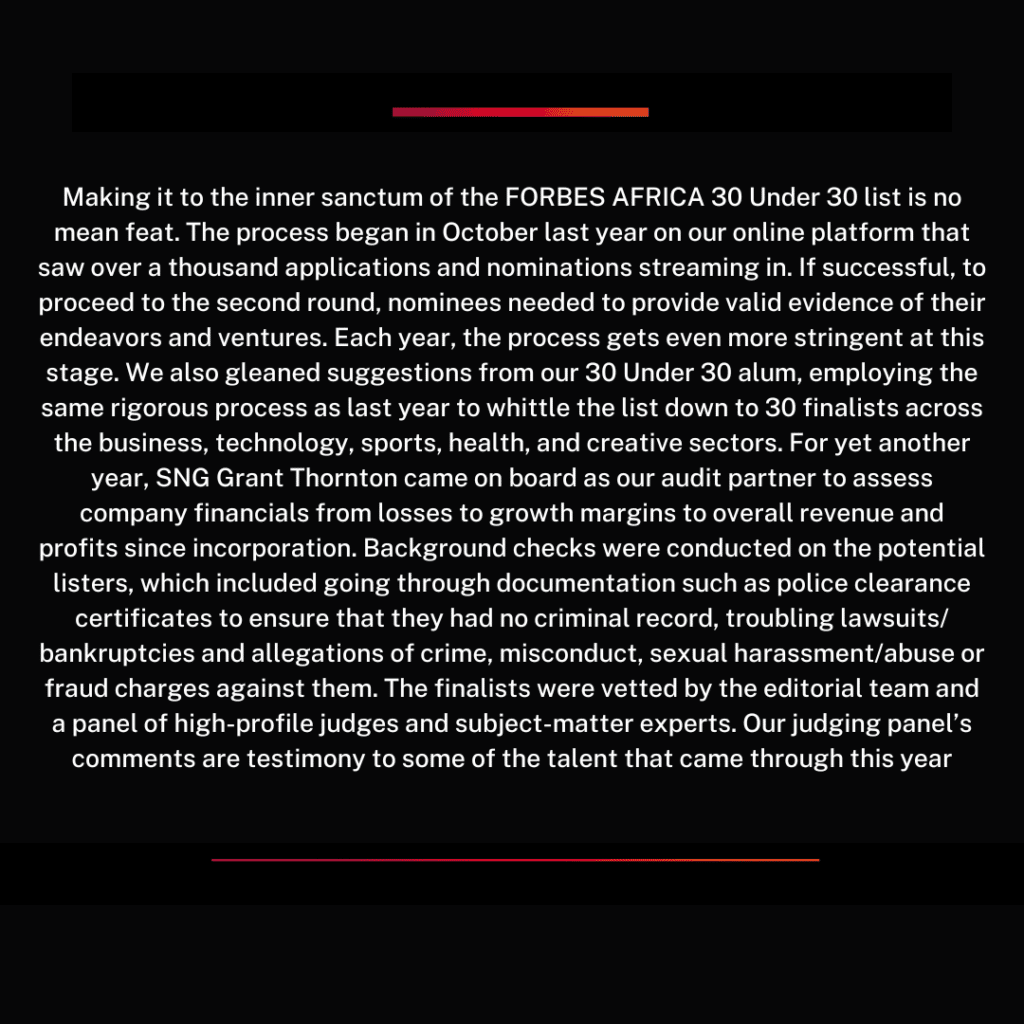 External Judges
The category experts whose role was to survey all the finalists of the 2022 30 Under 30 list; rank them and provide commentary on each candidate.  
BUSINESS AND TECHNOLOGY: Phuthi Mahanyele-Dabengwa, the South Africa CEO of Naspers "I am honored to have adjudicated the Business and [Technology] Innovation category for this year's FORBES AFRICA 30 Under 30 list. The list comprises impressive young visionaries and risk-takers who are transforming business and society. This year's cohort bears testament to the potential of Africa's young leaders who represent a continent made up of about 20% of the world's youth, according to the United Nation's population trends (2015). Celebrating innovation and excellence on our continent is important if we are to inspire and mobilize the next generation."  
CREATIVES:  
Lebohang 'Lebo M' Morake, South African singer, performer, producer and composer "It has been a privilege to have participated in this honorable and important project. I've taken the last week of our European Tour reading and re-reading details provided and juxtaposing as much as possible [of] the various talents, making it very difficult [as] an exercise as each and every one of the names provided is exceptional and deserves to be in the top 30. The KEY secret to success in global competitiveness is to be grounded in your authenticity. Embrace your African identity in excellence and quality."  
Gert-Johan Coetzee, South Africa's award-winning designer "to the stars" "I think it's quite a dynamic group and all of them are so worthy of being part of that list. It was quite a hard process judging it…That is why I really love initiatives like this because I think it really is a boost of confidence that everyone needs in their career – that pat on the back to tell them you are going in the right direction." 
HEALTH: Professor Glenda Gray, an NRF A1 rated scientist, CEO and President of the South African Medical Research Council (SAMRC), a qualified pediatrician and co-founder of the internationally-recognized Perinatal HIV Research Unit in Soweto, South Africa "The addition of a science category to the FORBES AFRICA 30 Under 30 list is a very encouraging and significant step for the science community, and could not have come at [a better] time. Since the advent of Covid-19, science has been at the forefront of the global response – once again reiterating the high social value of science in tackling global threats, including health pandemics." 
SPORTS: Carol Tshabalala, award-winning television and radio sports broadcaster ring announcer (boxing) scriptwriter, voiceover artist, and executive producer "It is a great privilege to be a part of the judging panel for some amazing African talent under the age of 30 and shortlisted by FORBES AFRICA magazine."  
AUDIT PARTNER: FORBES AFRICA partnered again with SNG Grant Thornton to vet the business and financial statements of candidates. This involved understanding the landscape, the profitability, growth and most of all, the scalability of each business. 
---
BILLIONAIRE entrepreneur Patrice Motsepe boldly said at the Forbes Under 30 Summit Africa in Gaborone, Botswana in April this year that "this is Africa's time… and it's an exceptional time". For the past seven years, FORBES AFRICA has been celebrating young leaders under the age of 30 trying to make the continent exceptional. And, this year too, it would seem the common word to describe the class of Under 30s would be 'meaning-makers': they do what they do to create a difference. Following the Covid-19 pandemic, beyond the categories of business, technology, creative and sports, this year, we also looked for visionaries in the healthcare sector.  
We added Health/Science to the mix to headline young thinkers, professionals, and entrepreneurs working tirelessly on the frontline to reinvent Africa's medical sector. The list reflects the diversity of industries and talent on this great continent of 54 countries, with nominees also applying for and shining in multiple categories at the same time.
For example, for the first time, we have under-30s who are making a mark in not only the creative industry but also the technology sector. Together, they are a stellar collection of individuals who have faced one of the most difficult times in history and refused to back down in the face of a global pandemic. If their firms, businesses and brands have grown during this period, it's down to their win-no-matter-what dictum. Africa's economic progress may sometimes be marred by coups and political unrest, staggering unemployment rates and yes, even corruption, but the one thing that has always stood by it?  
The resilience of its people and the positivity of the entrepreneurs firing up the engines of growth.  
According to a report released by the African Development Bank, Africa has one of the highest entrepreneurial rates in the world with 22% of the working-age population starting businesses. In addition to this, in a 2021 study, Emerald Insights stated that entrepreneurship has become a primary response to Africa's youth employment challenge  
"There are 300 million young people between the ages of15 and 25 on the African continent. We have to connect with them. We have to be where they are. We have to hear what they say. The future for Africa is exciting and beautiful," added Motsepe at the summit in Botswana, where for the first time, some of FORBES AFRICA's 2022 Under 30 semifinalists also gathered to meet like-minded young leaders from around the world and spark exciting conversations.  
Featuring under-30s – the youngest being our cover star – from Namibia to Nigeria and Senegal to South Africa, the following pages are an annual report card of the tenacity of Africa's youth and their grit and gumption to take the offbeat, less-traveled road to success. (The list that follows is in no particular order).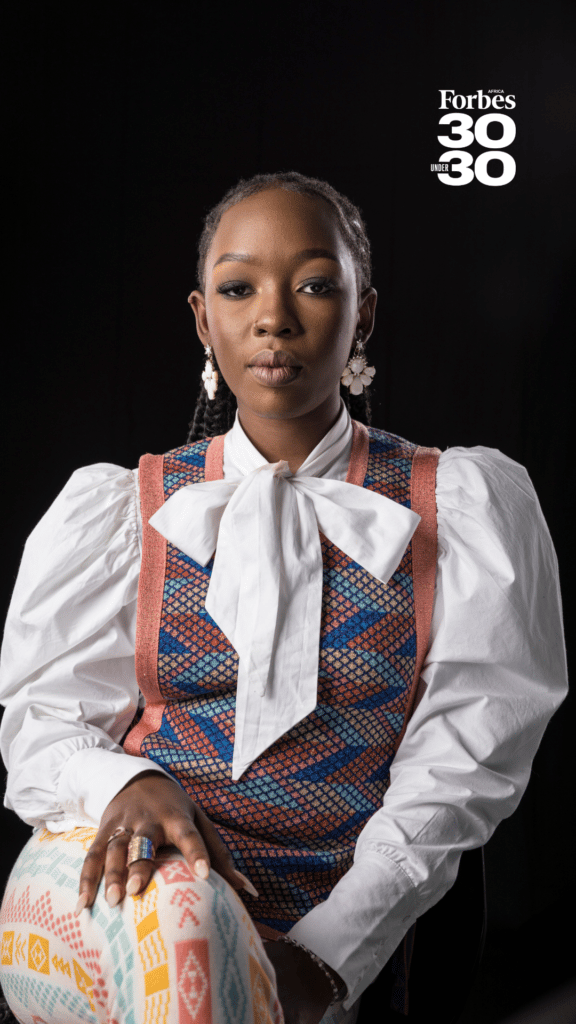 "RISKING YOUR JOB FOR 10 MINUTES OF SLEEP…THAT'S CALLED SACRIFICE…" says Majimbo, donning her iconic sunglasses. "If I get up on time then what is the snooze button for," she asks, proceeding to crunch on a crisp, perfectly-rounded potato chip.
When you think of that Kenyan accent, the 90s-themed sunglasses, the potato chip, and the hallmark giggle, Majimbo immediately has you thinking "iconic". Just ask any one of her loyal followers on Instagram.  
The Nairobi-born Majimbo, who spent her days playing chess and attending college, was not aiming to be an internet sensation with her laughter-inducing, pared-down videos when the Covid-19 pandemic hit in 2020.  
"I made these videos to make myself laugh and then one day my friend told me that I had gone viral," she tells FORBES AFRICA. The videos became a sensation and Majimbo a social media star.
Two years on, Majimbo sits with over 2.5 million followers on Instagram.  
At this year's Forbes Under 30 Summit Africa, she said: "Growing up, I always knew I would be iconic. I didn't know how I would do it, but I knew it would be done."  
Once Majimbo's videos broke the internet, she immediately informed the journalism institution she was attending and dropped out; she did not even tell her parents.  
"I think it was a relief for me because I always say this, I never like[d] school," Majimbo says. On set at the FORBES AFRICA 30 Under 30 photoshoot in Gaborone in April, Majimbo's energy was infectious. "One thing people always get wrong about me though is that I am always happy. I have bad days too guys," she laughs.  
At just 20 years old, Majimbo has already graced the covers of Teen Vogue, Verified, Harper's Bazaar and GQ South Africa. She has been featured in Maison Valentino campaigns and has won 'entertainer of the year' awards for both GQ South Africa and FORBES WOMAN AFRICA.  
Currently the young starlet is on her way "to make that Hollywood money" in her new home in Los Angeles where Majimbo's short documentary, Elsa, will premiere at the Tribeca Film Festival in June.  
"You're going to see me on the big screen," she promised at the summit. When it comes to her millions of followers, she always ensures that she is authentic and inspires them to go after their dreams.  
"Enjoy your life… it's never that deep. People will try and discourage you and you can do whatever you want," Majimbo says. "Chase that bag until it starts chasing you!" 

In an effort to not be financially excluded from university, the young BSc Applied Maths and Economics student started working at Investec Private Bank in Sandton, Johannesburg, as a client support banker, so he could pay his own tuition fees and assist his mother.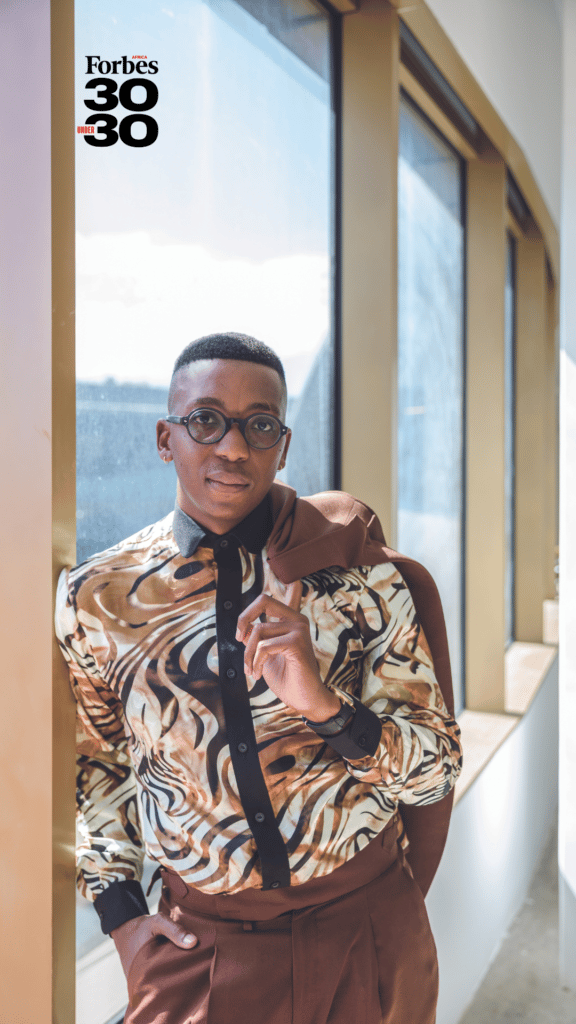 "I worked afternoon and night shifts while studying full time during the day," Nkululeko Lehapa says.  
"My biggest challenge was the fact that I could not afford formal wear (suits). I then decided to make my own formal work attire and received much attention for the quality and craftsmanship of my clothing."  
And so Busanimen Studios was born.  
The market for men's tuxedos is not one that receives the most amount of attention in the fashion sector, but according to our Under 30 adjudicator, Phuthi Mahanyele-Dabengwa, "this is an important industry".  
"Our business model was to provide a mobile service where we sold quality suits, at the best fit, at the best price and this was superefficient," Lehapa says.  
Busanimen then moved from being a mobile service to having a studio in bustling Braamfontein, Johannesburg's city center.  
"[In 2019], we made our first R1 million ($62,875) in sales in a studio with a production capacity of only three machines," Lehapa says. "This milestone validated our existence as it meant we had a well-defined business model, however, as a result of this achievement, we found ourselves starving for growth and expansion." Busanimen is also now working with the fashion school at the University of Johannesburg to assist students with work and career guidance.

Having grown up as a conservative Northern Nigerian girl, it was ingrained in Fatima Babakura that at a certain age, inevitably, she would have to finish school and then get married "to someone rich who can take care of you".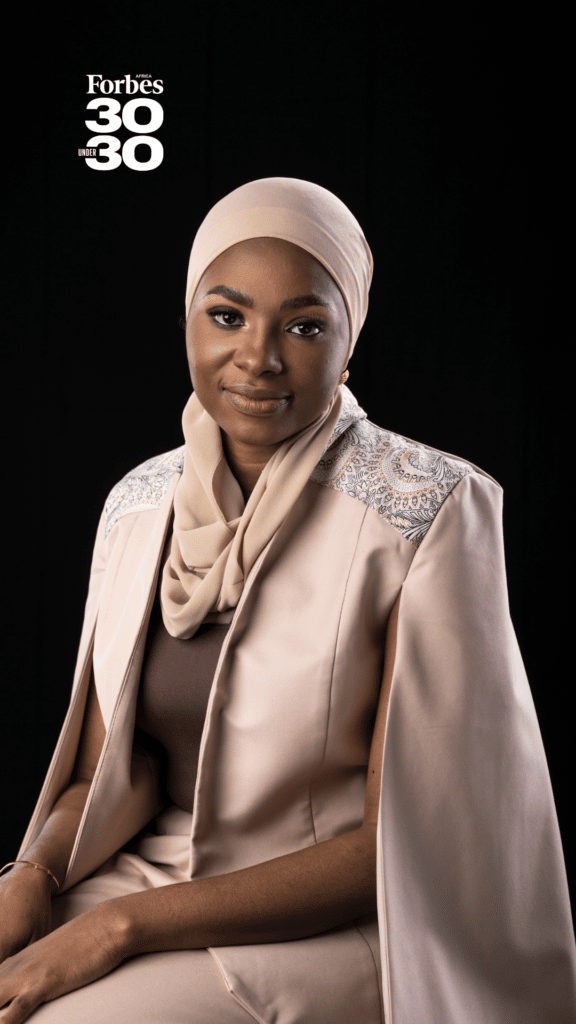 But Babakura was never going to let this happen. 
"Living in Lagos gave me a different perspective because I was living around people whose mindset was 'make your own money and then go to school so it's not like you are waiting for someone to come and take care of you'," Babakura says to FORBES AFRICA. "And because I was privileged enough to experience that, I am not your average Northern Nigerian girl." 
Babakura is the founder, chief executive officer and designer of Timabee, an accessories brand that redefines luxury in Africa and beyond. Her sharp eye for design and curiosity of imagining a product and bringing it to life gave her the drive to start Timabee. 
Babakura began the brand in her first year of university in Canada. She had designed a 'simple' handbag and given it to her close family friend as a gift. 
"I didn't even think it was that great," she laughs. "But I couldn't get it off my mind as it was very unique and I had never seen anything like it." 
Continuing on with her theme to be "curious", she set out to find a manufacturer who would make this bag. 
"Keep in mind, I was an accounting student with no business or fashion background. I did a simple Google search which led me to Alibaba where I found a company that agreed to make me a sample for $150 in December 2013." 
From the pocket money she received from her parents, 17-year-old Babakura set out to spend the $150 which she ended up losing as "I interacted with a fraudulent vendor and had no clue". 
"Losing money did not stop me, however, I was determined to find someone else to make my bag, but this time a lot more careful and I did my due diligence in researching about the company." 
One of the biggest highlights for Timabee was in 2021, as the brand was approved by award-winning artist and businesswoman, Beyoncé. 
"Last year, when Beyoncé's team compiled a list of black-owned businesses, we were honored to make the list. It just goes to show that as a small, growing brand, the work we put in every day does not go unnoticed." 
Having taken the pro-women approach when it comes to running her business, she wants to encourage many women, including those who may look like her to feel empowered to start a business. 
"Starting Timabee as a young girl, there were many mistakes I made as I did not seek out mentorship earlier on due to the fear of being rejected. I learned a lot through trial and error, many of which cost the company money and could have easily been avoided had I sought mentorship," Babakura says. "This is a major reason why I have set up Timabee global resources, a concept aimed at helping entrepreneurs in the accessory business navigate their way to global recognition and achieve success. I truly believe in paying it forward and so in the next three years, I hope to open a mentoring school specifically for high school and university students where they can have hands-on experience on the business of fashion especially as it relates to Africa. 
"Many girls from Northern Nigeria aspire to marry rich as a "career path" sadly. I believe that through my mentorship program, the right mindset will be the foundation for future success especially since I will be an example to them through my achievements as a Northern girl." 
---
---

"I HAVE ALWAYS BEEN A BIG DREAMER, A STAR IN THE MAKING, A KID FROM SOWETO WHO WAS DESTINED FOR FAME," Lasizwe Dambuza says.  
If you have ever found yourself watching prime-time South African celebrity parodies, it's probably because of this young entertainer and YouTuber. Growing up, Dambuza's mother would take him for TV auditions every week. They would drive from the township of Soweto to various locations in Johannesburg, and even Pretoria, South Africa's capital city.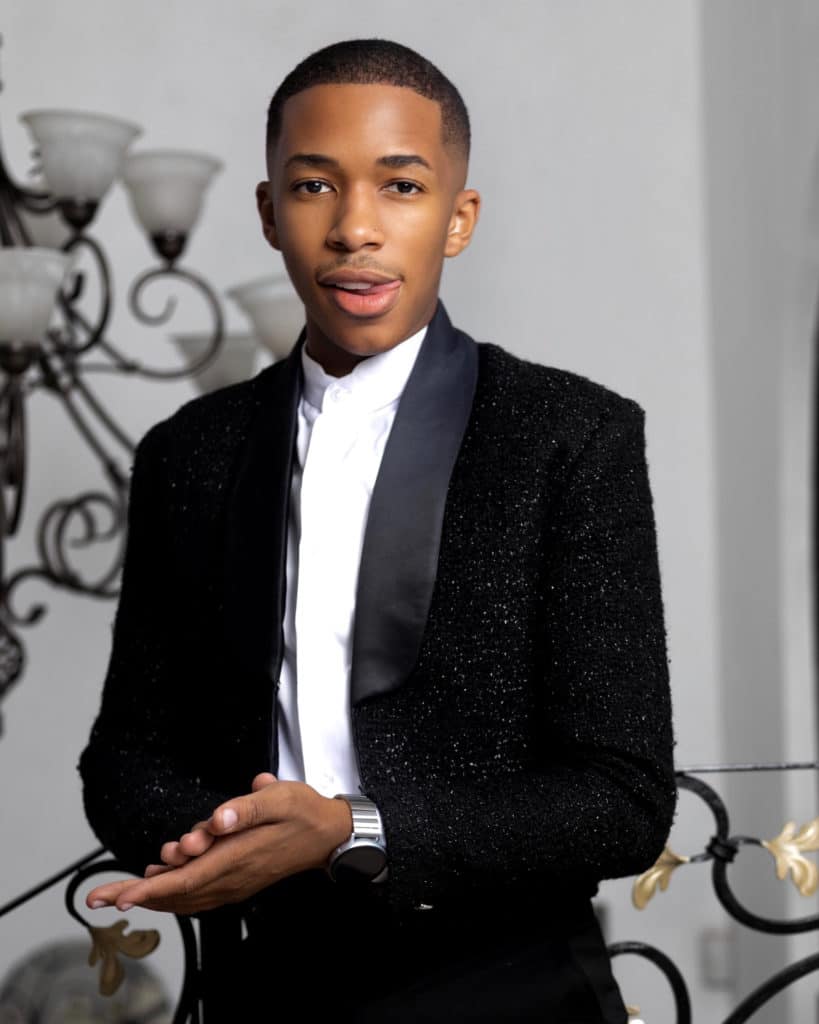 "Despite all our efforts, hopes and prayers, I would never get the roles I auditioned for," Dambuza says. 
"I come from humble beginnings and was raised in a home where we could not afford a life of luxury; everything had to be planned, and we could not simply leave home just for the fun of it.  
"I was 12 when my mother sat me down and explained that our auditions' endeavor was not yielding any results, nor was it financially sustainable."  
If only she knew. With more than a million followers on Instagram and over 750,000 subscribers on YouTube, Dambuza is today a household name in South Africa.  
"When my career kicked off 10 years ago, I did not anticipate it to be the whirlwind that I have come to experience over the years."  
In March 2021, Global Citizen reported that in response to ongoing student protests across South Africa, Dambuza launched the #R10GoesALongWay initiative to help students struggling to access funds to keep attending university.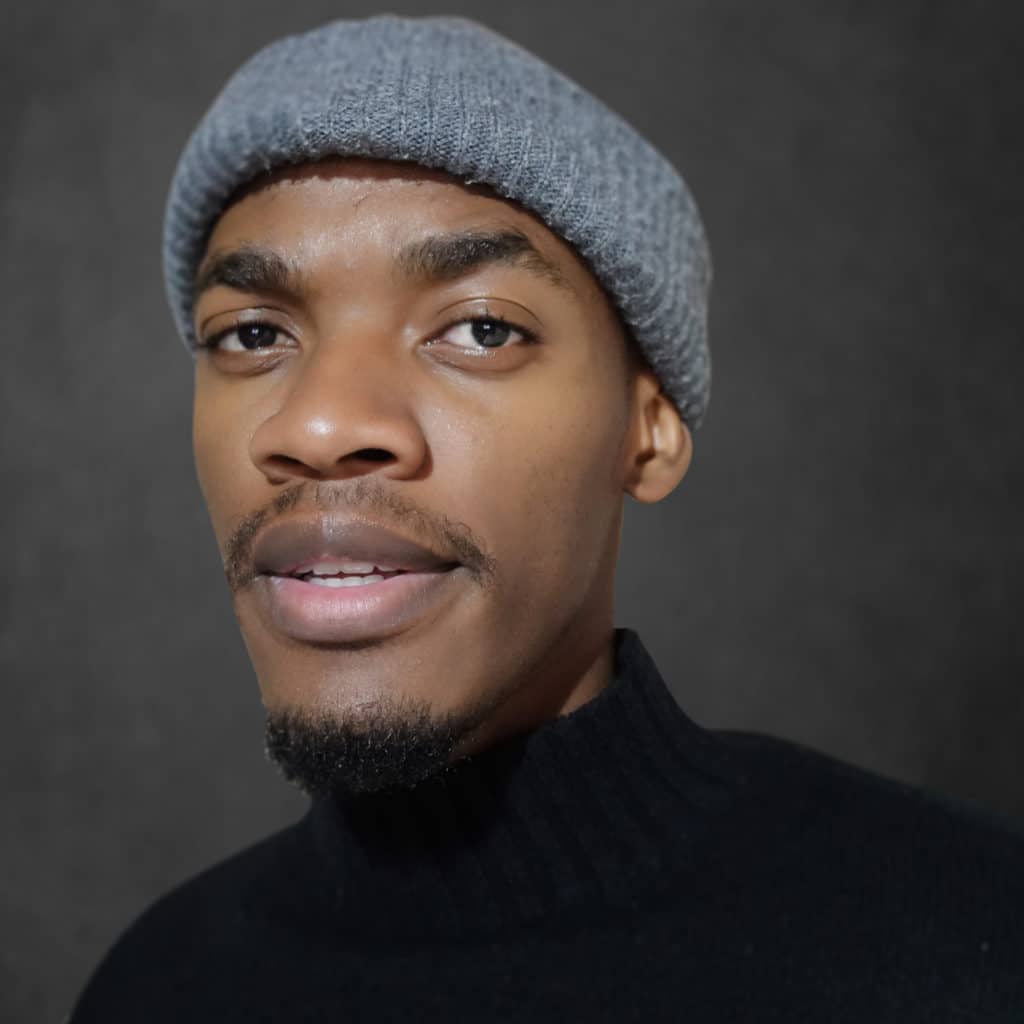 Our judge for the creative category, Lebohang "Lebo M" Morake, South African singer, performer, producer, and composer, said it best: "Animation is critical and does not get attention on the continent."  
For 28-year-old Lwazi Msipha, it is about making sure that it gets all the spotlight it deserves. As the founder of Old Fashioned Youngin, an animation company with the sole purpose of creating animation that tells our African stories unfiltered, he has created and directed a TV show for Cartoon Network, an American division of Warner Bros cable television channel.  
The show, My Cartoon Friend, is the network's first-ever 13-episode hybrid animated show, profiling the adventures and dynamics of an artist who lives with a cartoon friend in real life.  
"I created the animated show, which is still airing on Cartoon Network, with limited resources and skills. When I received the call from them, I had no prior experience in what they were asking of me, but I did not let that stop me," Msipha says.  
"It is not the 'norm' that the African talent needs to be exposed to this medium for its sustainability and capacity to keep a child's spirit and soul engaged through art the most," Morake said in his evaluation of Msipha.  
"We are excited over Lwazi's future also because we are encouraged by his sense of content and quality."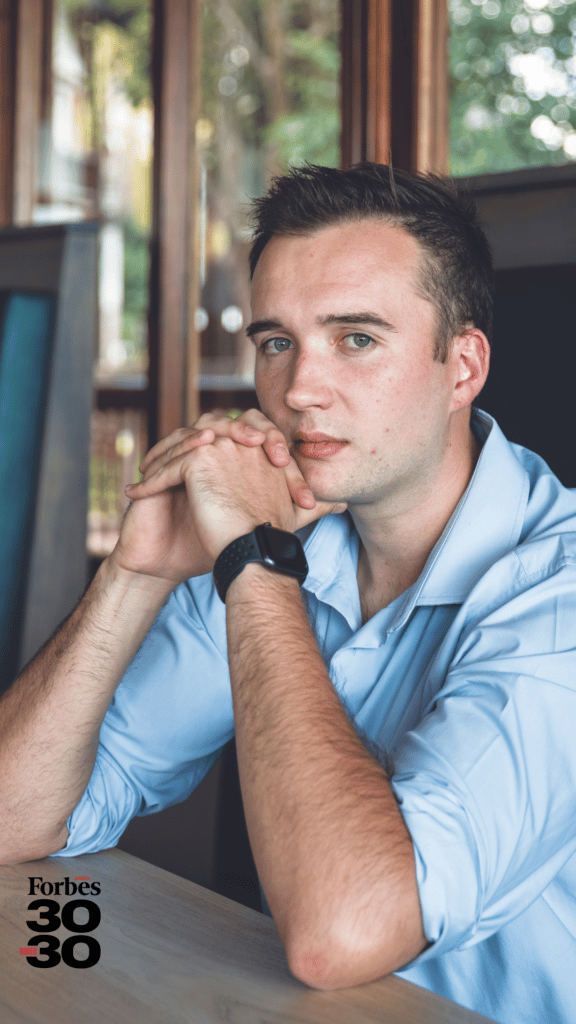 A lot of us have been through this when your phone breaks or your screen cracks, and the first thing that comes to mind is 'who can fix it, and will all my data be recovered'?  
Don't fear when Mr. Nell is near.  
When Jaen-Jacques Nell was in grade 12, his parents encouraged him to find a job, as they had been retrenched during a difficult period in South Africa.  
"I first went for an interview at South Africa's biggest retailers for a job, which offered me R21 ($1.30) per hour; while waiting [to see] if I'd be chosen to become a shelf-packer, I went into a cell phone shop by Grey Owl Centre in Centurion and also asked if there were any vacancies. The gentlemen at the store, Ali, said I could start work."  
Ali taught him to fix smartphones and tablets and they struck a deal where Nell would bring in the business using social media and Ali would offer his services. Nell says he owes a lot to Ali. "He trusted me to pay him after I got paid. Ali was my first-ever creditor, I had no money to pay him upfront for the work or parts. 
I was privileged enough to have a motorbike and promote CellMidFix (CMF), which gave me the edge. I could collect the broken devices and delivery them the same or the next day, which no one was doing. 
"Starting with zero rand, and being able to do a turnover of R10 Million ($628,000) in our last year, is extremely challenging in a growing business," Nell says. "Our humble team of four staff members has allowed us to grow, and add value to our workforce."  
"Jaen-Jacques is a true entrepreneur who has overcome obstacles of tough circumstances and seen himself through. I look forward to seeing his upward trajectory in time to come," attests FORBES AFRICA 30 Under 30 list business and tech category judge Phuthi Mahanyele-Dabengwa, the South Africa CEO of Naspers.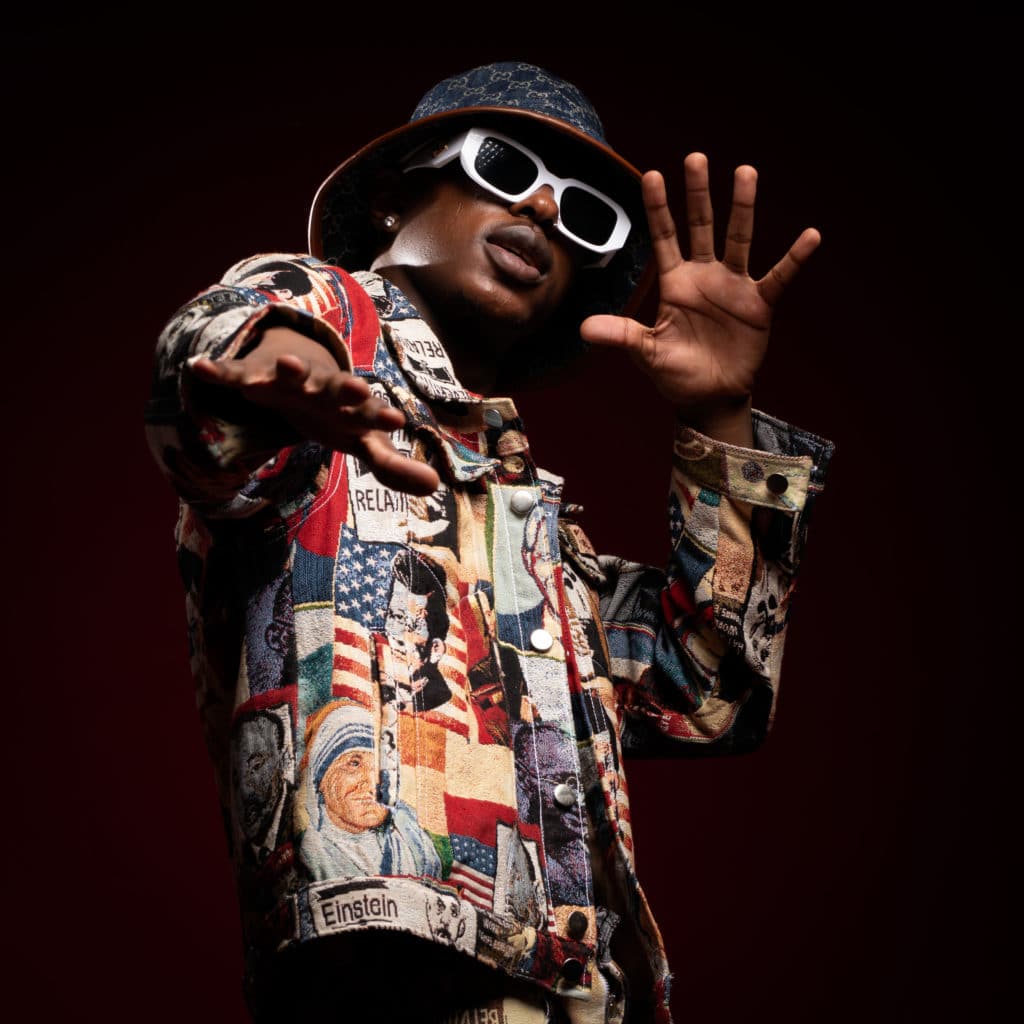 Born in Giyani and raised in Polokwane in South Africa's Limpopo province, he started his music career whilst in Grade 7, quite by chance.  
"The keyboard player at church had to leave," Musa Makamu recalls. "And I was the only one left at that period of time".  
In a 2021 interview with FORBES AFRICA, Makamu, popularly known as Musa Keys, revealed that music was not his first choice; civil engineering was. "I studied sound technology at Damelin (an Afrikaans technical school).  
"And it was slowing my growth mainly because I felt like what was being taught, I knew already. You know, if they teach me about sound recording, I already record people… So, then I dropped out and I started my career."  
His debut extended play (EP) Widlysm boasting hit song Samarian Boy is still one of his biggest productions to date, the track's success was powered by the love showered on him by the public.  
"People were like, 'yo, this is massive'. They made me love that song!" Makamu says. "My unique offering is weirdness. My music is weird in the things that are being sung and how they are sung. I'm trying to capture the whole world with a universal sound that caters for."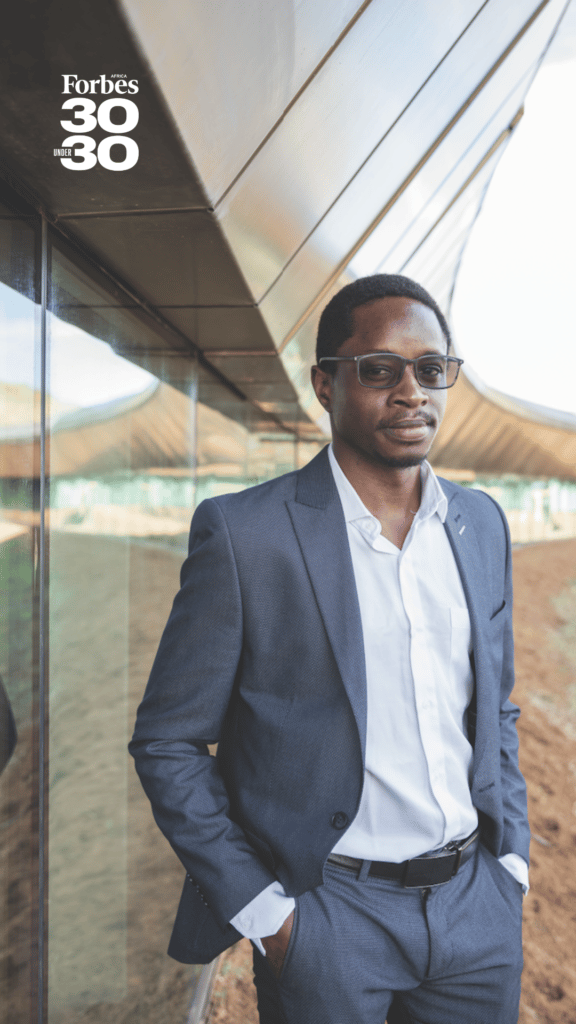 What Covid-19 exposed to many across the globe, but specifically on the African continent, is that access to affordable and reliable medication is easier said than done.  
Franck Verzefé saw this as an issue even when he was a student. He had stumbled on the work of a third-year student who was looking at different ways to differentiate between real medication and counterfeits. 
"The research was based solely on superficial characteristics like packaging font, color, density but not on the chemical concentration of its constituents," Verzefé says. "I then wondered how I could know for sure if a drug is true or falsified without comparing the different chemical components and their concentrations."  
Having enough capital, Verzefé conducted his research and experiments in the Democratic Republic of the Congo, Nigeria, Cameroon, and the Ivory Coast. He wanted to "understand how drugs are falsified from a chemical point of view and which technology would be effective and adaptable to African realities".  
"I then built a professional team and started TrueSpec-Africa. Today, it develops an artificial intelligence called RAI (Real Active Ingredient), which coupled with a spectrometry device, enables identification of the chemical composition of drugs and structuring the data obtained in less than 20 seconds,"  
Verzefé explains. Besides being a member of both the United Nations' International Telecommunication Union (ITU) and the World Health Organization's (WHO) Artificial Intelligence for Health (AI4H), Verzefé has also been ranked by the WHO among the 30 best African innovators. 
---
---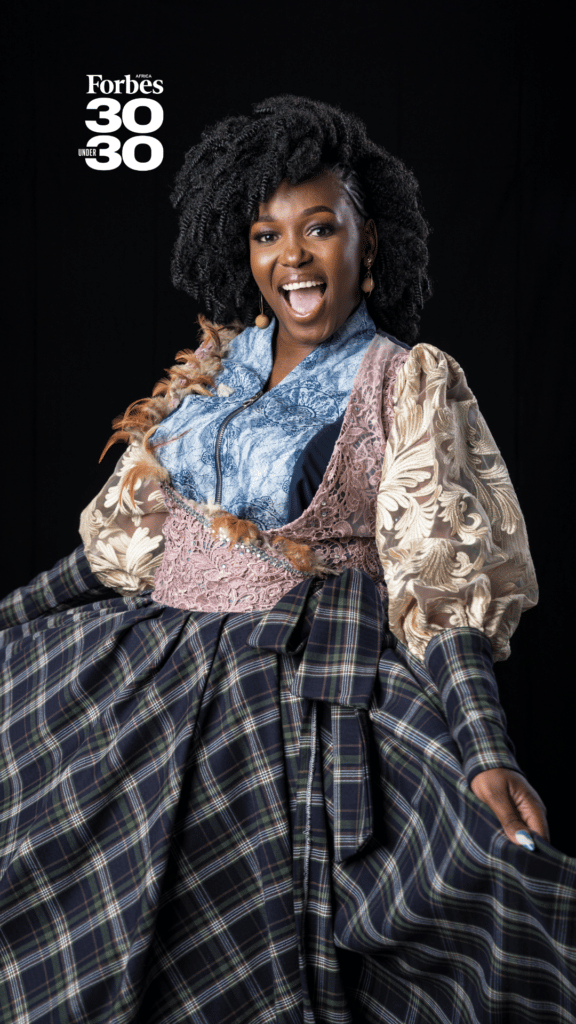 Charlot Magayi's infectious energy and laughter can fill any room she walks in just as her products can rid any home of air pollution.  
She started Mukuru Clean Stoves in 2017 in rural Kenya to enable families to fight household air pollution.  
"So far, we've distributed over 100,000 clean cook-stoves around Western Kenya," Magayi tells FORBES AFRICA.  
Like many of our Under 30 listers, this founder and CEO too had humble beginnings. Orphaned at the age of 10, Magayi grew up in Mukuru, one of the biggest slums in Nairobi, and became a mother at age 16. 
When her two-year-old daughter suffered a severe burn injury caused by a "traditional stove", Magayi was moved to provide safer cooking technologies for her community.  
"When I started the business, the plan was to distribute or manufacture cookstoves that were stable enough to limit the risk of [danger to] children under the age of 10," Magayi explains.  
"But then we saw that the greater need was to fix household air pollution and fuel consumption for households living under $2 a day. So that was the dream. That's what we're working on currently."  
Having won the Waislitz Global Citizen Award in 2019, The World Bank's inaugural SDGs, and the AWIEF Empowerment Award in 2019, Magayi has been recognized and awarded for her fight against household air pollution and global poverty and her work to empower marginalized women in Kenya. 
"She's phenomenal," says Tine Ward, Founder of The Darfur Project. "I mean, at length, to be honest, I could see Charlot running for president of Kenya or something at some point, she has that kind of gravitas. There's something about her."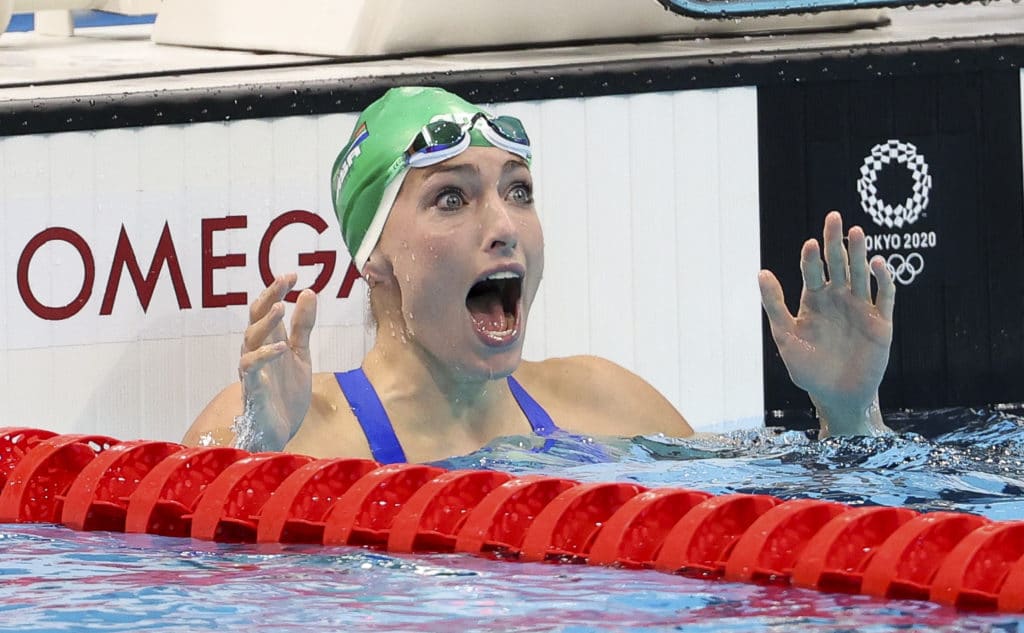 The Olympics called her the "African breaststroke queen" and the 'latest breaststroke diamond out of South Africa" when she won the gold medal and set the world record in the 200-meter breaststroke and also won the silver medal in the 100-meter breaststroke at the Olympic Games in Tokyo last year.
Schoenmaker was brought up in Roodepoort, a town in the Gauteng province of South Africa, before moving to the country's capital city, Pretoria.
At the 2022 FORBES WOMAN AFRICA Leading Women Summit in March, Schoenmaker said: "I don't know if sports was my first love all the time… But I do think you get to love the sport…When I was younger, I used to do a lot of sports so choosing swimming as the only option was not on the cards for me. But I do think when I pursued my swimming career, I fell in love with it."
And what does being on the FORBES AFRICA Under 30 class of 2022 mean to her?
"It's amazing," Schoenmaker says. "To think that you are one of the 30 from the whole of Africa to make it on there, it is an amazing achievement and such an honor. I definitely don't know how to describe the feeling, it's always difficult to say. When that moment comes, you kind of like feel shocked."

This is a story that started off with ₦50,000 ($120) in her mother's backyard in rural Ajegunle, Nigeria, and a paintbrush.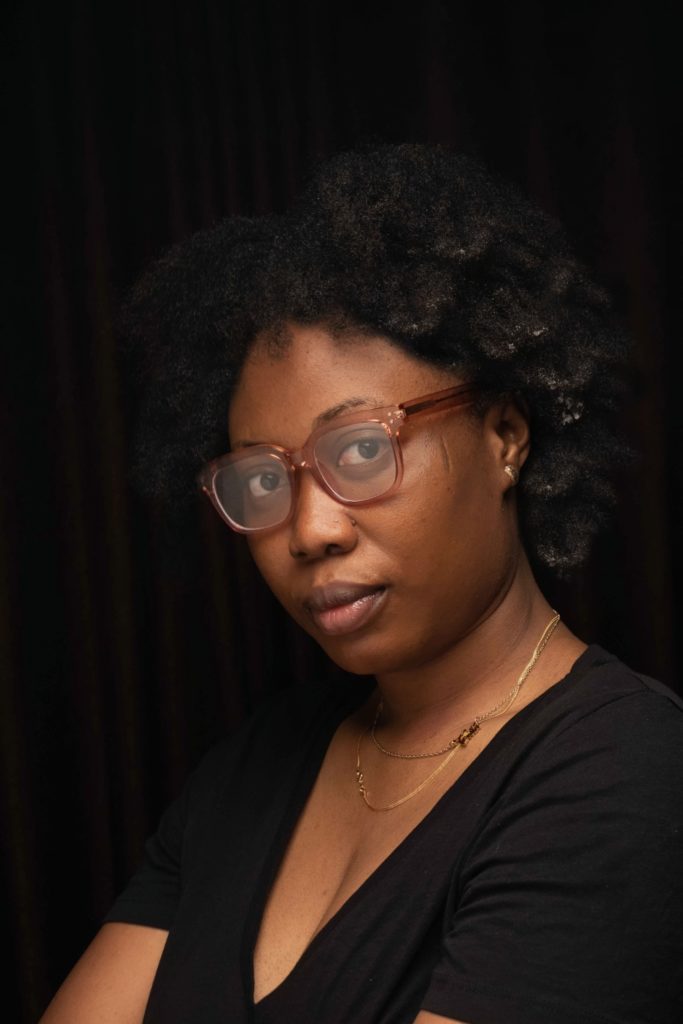 "I just completed my university education and as soon as I got back home, I applied to train under master artist, Wallace Ejoh," Tonia Nneji says. "I started out with ₦50,000 ($118.00) from my mum, which was to be repaid as soon as I sold my first painting, which I did about a month later… I could only paint in the backyard for a specific time every day to avoid disturbing other tenants and to prevent the younger kids from touching or ingesting oil paints." 
From a backyard studio to being profiled by a renowned African author, Chimamanda Ngozi Adichie for Harper's Bazaar in February 2020. In the same year, in Vogue, New York Times, Elephant Magazine, and the Los Angeles Magazine. 
"I had my first solo exhibition at Rele Gallery, Lagos in 2020 and my works are part of important collections around the world including Chimamanda Ngozi Adichie and the Louis Vuitton Foundation." 
A lot of Nneji's work derives from her personal experiences with the Nigerian healthcare system as she has been diagnosed with PCOS (polycystic ovarian syndrome). 
"I wanted my artistic practice to help educate women who suffer from the same ailment, as well as the people around them," Nneji says. "I wanted to help them understand that there is hope, no matter how bad their situations are. With my work, I am also shedding light on the failed healthcare system in Nigeria as well as the practice of extortion and arbitrary judgment that precludes access to religious spaces in Nigeria."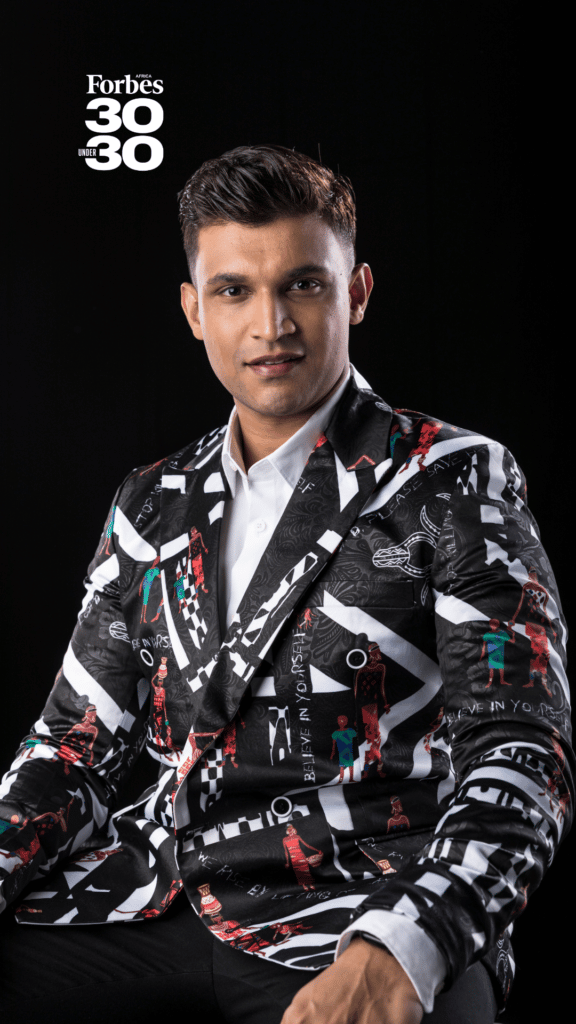 When 16-year-old Brett Lyndall Singh from Pietermaritzburg, South Africa, was unable to perform CPR on his sick grandmother, he used this traumatic experience as his calling to become a doctor. 
"It kind of cemented the idea of me making sure that I have the skills to be able to save people's lives," Singh tells FORBES AFRICA. 
The congenial doctor has a spring in his step when we meet him, as he speaks about his journey around the world in medicine and health. 
"Unfortunately, I couldn't study in South Africa due to a lack of space [in medical school]," Singh explains. "And I took a leap of faith and applied to universities around the world and got a great offer from China. And so, I moved to China when I was 17 going [on] 18 back in 2011. I then studied at Wenzhou Medical University for my bachelor of medicine and surgery. I was then able to do some internships and electives at the Royal Melbourne Hospital in Australia." 
When Covid-19 became a vast and ugly reality across the globe, Singh spent days in Covid wards in China, and says was even invited by President Xi Jinping and the Communist party to go to Beijing to volunteer during the pandemic as one of two African doctors. 
Singh is now also involved in South Africa's national response to Covid-19 and is also currently the chairperson of the Global Value Chains working group of the Department of Trade and Industry Cooperation's national healthcare master plan. 
"My job is to unlock the strategy and investment and opportunities around 'made in South Africa' medical devices and healthcare products. So, as a doctor, getting involved in research and development and in the healthcare business started with my thesis on combatting sub-Saharan Africa's malnutrition… 
"I am helping to create a device that could make a doctor's life better, and could also contribute to stimulating the economy of South Africa and Africa… And I'm trying to be the bridge to help technology transfer like what we did in our project for rapid antigen, as well as component manufacturing so that we can stimulate the economy, do more research and development and go forward." 
When Covid-19 first broke in 2020, whilst with Plame Biotech, Singh's company Alpha and Omega MedTech contributed to medical advancements in coronavirus diagnostics by way of the KOVIFAST Rapid Antigen Test, which compared to a PCR Test, only needing 15 minutes to identify a test, rather than six to 18 hours. 
Alpha and Omega MedTech was soon approved by CDC Africa's Africa Medical Supplies Platform as an official supplier of Diagnostic and Therapeutic Medical Devices. Singh's company has one of the youngest founding teams to hold a South African Health Products Regulatory Authority (SAHPRA) license. His work on diagnostics and its pairing with digital healthcare in epidemiological tracking was presented at the First International Conference on Public Health in Africa hosted by CDC Africa.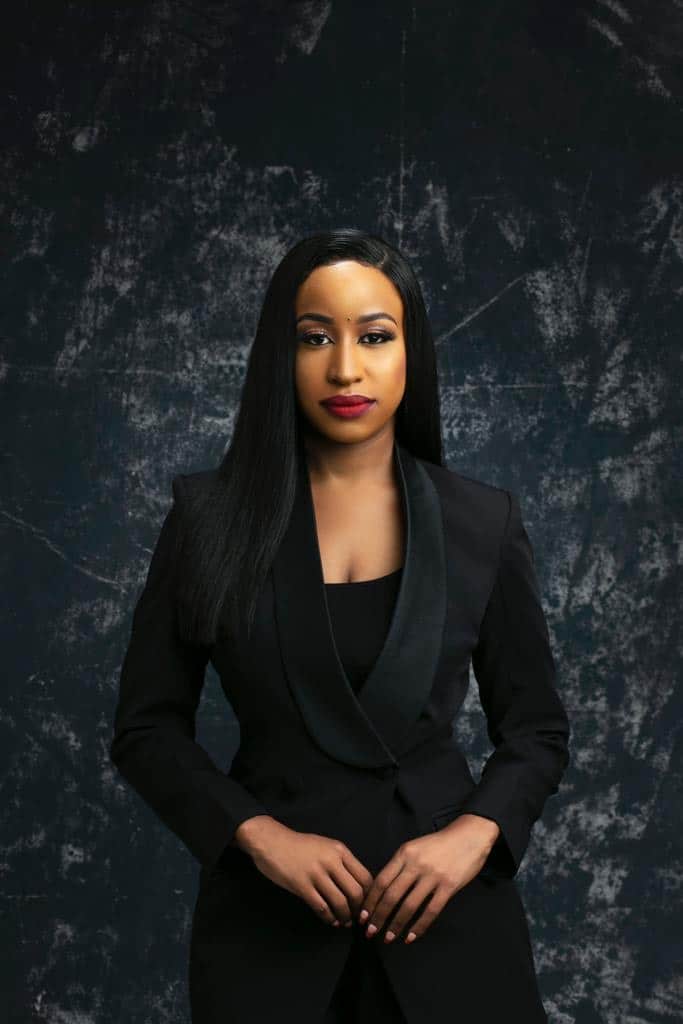 This is an industry that is not for the faint-hearted. 
And Lehlé Baldé has proven that being resilient is a key attribute when it comes to being a journalist, as the editor for a leading medium for business and economy news in Nigeria. 
Prior to being the editor of Weekender, BusinessDay's first Saturday publication for millennials, Baldé's journey into journalism and media quite happened by accident. 
"Growing up, I lived in eight countries but I describe myself as a pan-African person," Baldé says. 
And her journey in journalism began because of her grandmother. 
"My grandmother had served as a journalist and later press secretary for the post-colonial Senegalese presidential administration in the 60s. I always felt a void because I never got the chance to meet her and thought that she had passed before her time," Baldé says. "In some bizarre way, I felt that it was my calling and could not wait to start what was the beginning of what I thought would be my career in journalism." 
Besides being one of the youngest newspaper editors in Africa, Baldé has partnerships with some of the biggest names like the Bill & Melinda Gates Foundation, Ford Foundation, Nestlé, and Endeavor. She is also an Acumen West Africa fellow 2021 and International Monetary Fund (IMF) Youth Fellow 2021. The Future Awards Africa gave her the 2020 Intrapreneurship award and she was also listed on the 2020 Top 50 Women in Media in Africa and the Top 50 Young Women in Development in Africa 2020.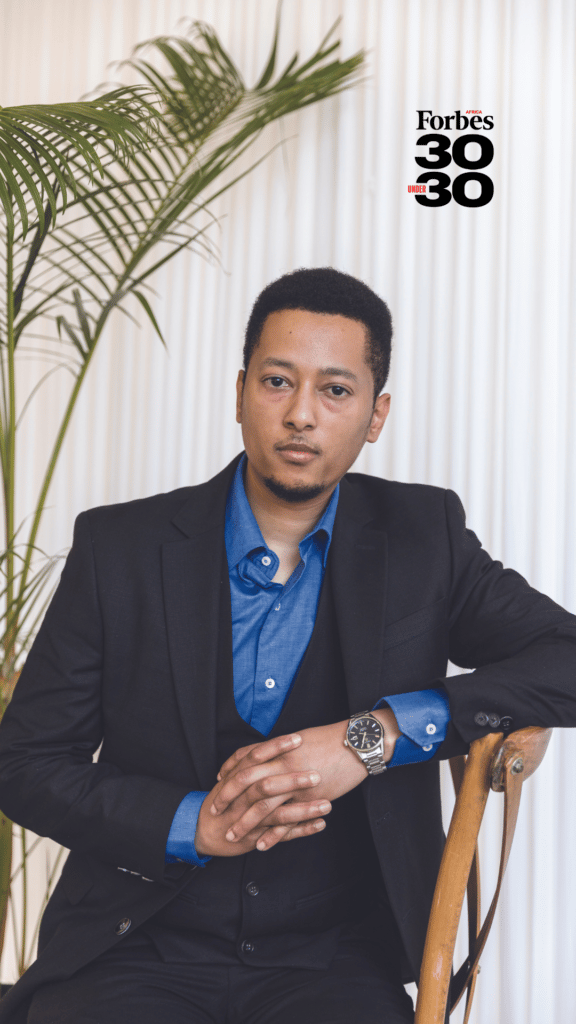 "In fighting the spread of Covid-19 and mitigating its effects, a collective brainpower of the medical health research community was required," says Under 30 Adjudicator in the Science/Health category, Professor Glenda Gray. 
Words like 'collective' and 'collaboration' are at the forefront of Sikander Kalla's mind, especially when talking about Covid-19 and mental health. This is exactly why the 29-year-old clinical psychologist founded Cohesive Collaboration. 
"This is an entity of the practice that seeks to strengthen values of sustainable collaboration, mindful cohesion, rehabilitative redress, and optimized development by promoting mental health awareness, as well as offering consulting services and wellness programs to corporate partners in an attempt to normalize mental health in South Africa," Kalla says. 
In an academic report released by the Psychological Society of South Africa, titled Mental health and Covid-19 in South Africa, it was noted that public mental health has also been negatively affected by the pandemic, and this comes against a backdrop of an ailing mental healthcare system. 
"We argue that the psychology profession, as a mental health profession and behavioral science, working as part of a multidisciplinary team, ought to play a significant role in addressing the mental health ramifications of the pandemic," the report reads. 
"The pandemic has made us realize that valuing our mental health should not be deemed a luxury, but rather a necessity that is essential to any framework of functioning that embodies values of optimized wellbeing, sustainable solutions, cohesive engagement and collaborative efforts – all of which I think are fundamental to Africa's development," Kalla says. 
Kalla currently also treats patients in the Pretoria region and assists medical students with optimizing their mental health and overall development through the consulting position he holds at University of Pretoria's Faculty of Health Sciences, whilst also sitting on the Health Sciences Health Committee as an expert in his field. Besides also having a private practice in Sandton, Kalla assists community members at Folateng Clinic. 
In a testimonial written for Kalla, Dr Zuleikha Ahmed, Senior Counselling Psychologist at the University of Pretoria, states: "Mr Kalla, at such a young age, has been quite involved in Mental Health Awareness Advocacy. He has also flourished in both the business and Entrepreneurial aspects. He has utilized innovative ways to increase the awareness on mental health in both the business and professional world."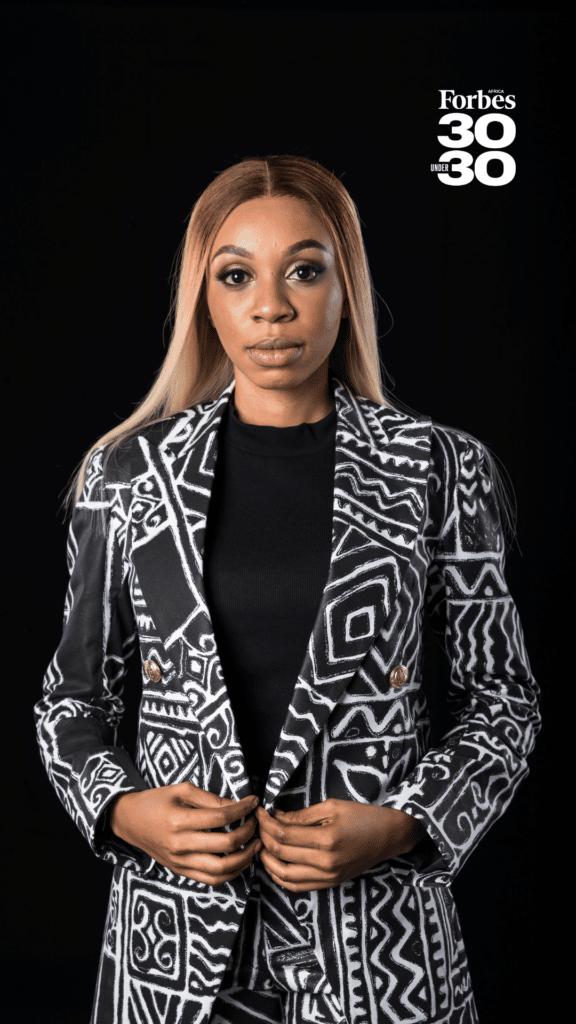 This was a company born out of a desire to tackle injustice.  
"I grew up learning that the only voice which mattered was that of the wealthy," Sandra Chukwudozie tells FORBES AFRICA. "I watched people in my country suffer inhumane treatment, because a flawed system, which should have protected their interests, was set up in a way that only benefited those at the top of management. This fueled a passion within me to want to change the status quo and break the cycle of injustice that has been ongoing for decades. In this regard, I've always viewed myself as a rebel with a cause or somewhat of a revolutionist."  
Even though Chukwudozie grew up in an "oil and gas family business", her ultimate aim was to champion the diversification of her corporation by introducing clean energy.  
Unfortunately, Chukwudozie presented the plans to her father which ended in a "bitter spat".  
"That singular moment was a defining one for me, because I knew that my journey would be lonely. I was fighting for the future, against the status quo, and against 'the system'. It was time to show how much I believed in myself and how badly I wanted this change. Failure was an option I could never accept."  
This rebel with a cause took her monthly salary of $1,200 to create Salpha Energy, a renewable energy company that focuses on solar solutions whose core focus is affordability and access to clean energy. 
"I call my team members 'alphas on the move' because we are on an aggressive mission to bring clean and affordable solar energy through the design of innovative solar products across the African continent, while at the same time growing African talent which we hope will benefit the continent as a whole."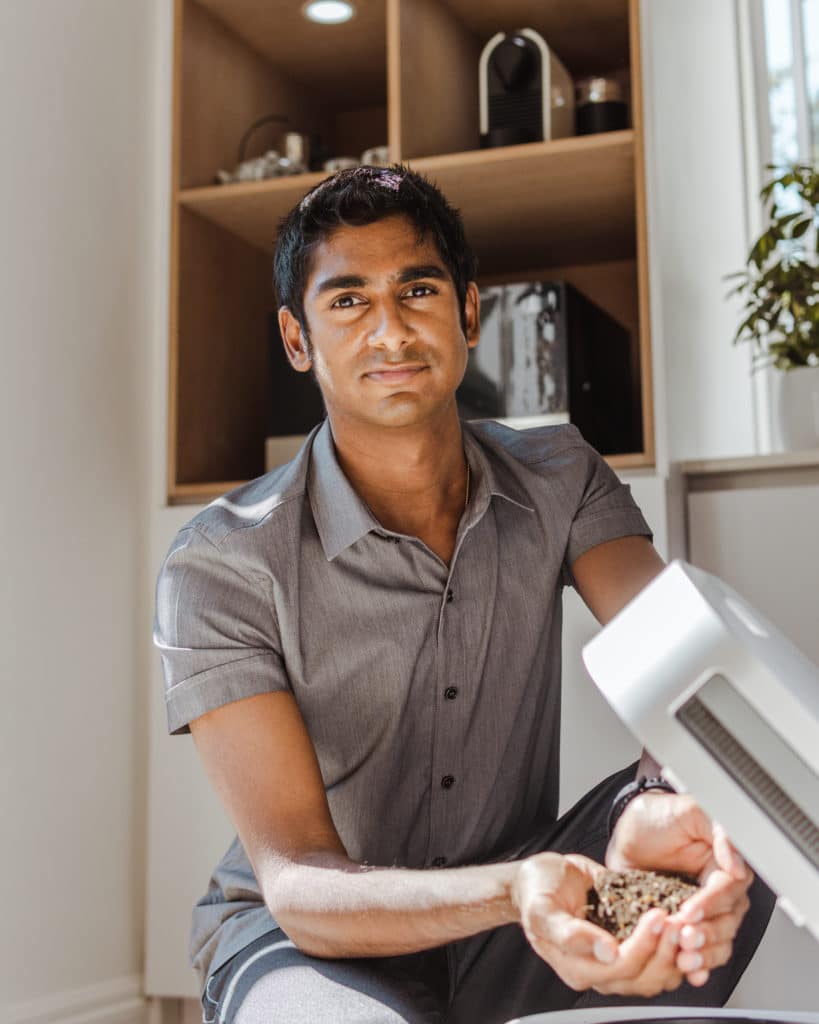 According to the World Wide Fund for Nature's 2017 report, 10 million tons of food goes to waste every year in South Africa. "Of this, fruits, vegetables, and cereals account for 70% of the wastage and loss primarily throughout the food supply chain – from farm to fork," the report further stated. Part of this problem is easily associated with water pollution.   
Rand Water, a South African water utility that supplies potable water to the Gauteng province, further said that "in South Africa, the scarce fresh water is decreasing in quality because of an increase in pollution and the destruction of river catchments, caused by urbanization, deforestation, damming of rivers, destruction of wetlands, industry, mining, agriculture, energy use, and accidental water pollution."  
In 2017, when a severe drought hit South Africa, a younger Himkaar Singh did not see a solution in sight.   
"So, I decided to leave the country to study a Master's degree in Water Management in Germany to try find a solution. By using my life savings, I lived in Germany for five months, and then Vietnam for five months, followed by five months in Jordan, to get diverse perspectives on how to address the water problem."   
It was during this time that Singh discovered that the soil's impact on the water cycle is the most significant factor out of any other related to water management. According to Singh, there was one critical aspect of soil that is particularly important; the organic matter content. The organic matter is what enables the soil to act as a sponge, holding onto water when it rains, and letting the water infiltrate into the natural groundwater system.  
"I realized that if we want to create lasting change to South Africa's water situation, we need to repair our soil's ability to hold onto the water by adding organic matter back to the soil," Singh says.   
When he came back to Johannesburg in 2019, he immediately founded The Compost Kitchen, which collects food waste from households on a weekly basis and then recycles the waste into vermicompost using thousands of earthworms. Singh's business gives the vermicompost back to the customer each month, which they can use in their vegetable garden to repair their soil, and customers pay R190 ($11.79) per month for this circular economy model.  
"Singh has used his life savings to complete the research and to develop a business that is a key sustainability-focused organization," Phuthi Mahanyele-Dabengwa said about the candidate. "He is doing so successfully which is also hugely valuable."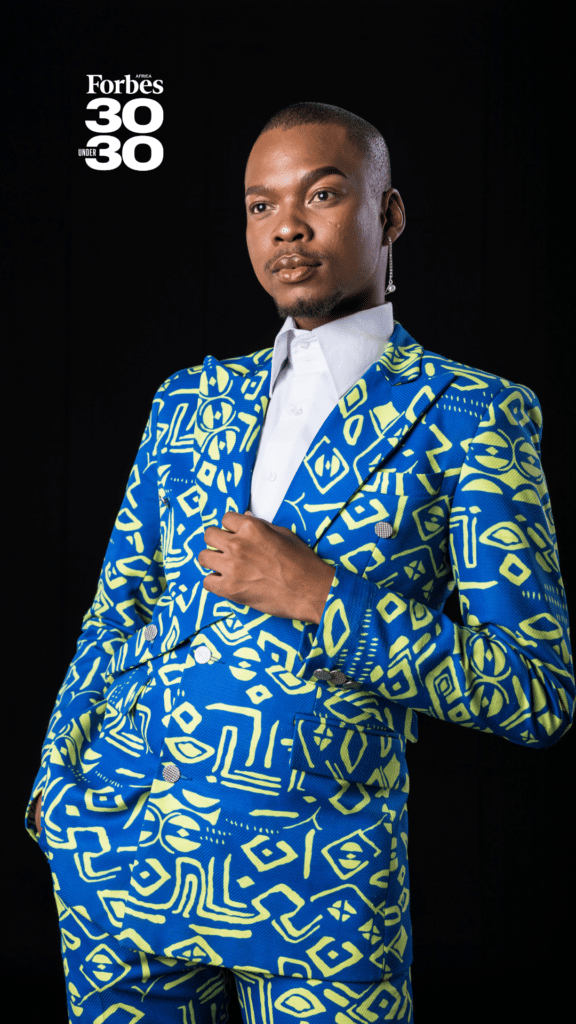 All eyes fell on Phupho Gumede as he strutted into the Image Lounge studio in Botswana "ready for his close-up". This was a true testament to the story of how a young "isiZulu queer" stylist from Durban, KwaZulu-Natal, had made it.   
"I was always the smartest in the class, the most awarded at school year-end ceremony, and an overall over-achiever," Gumede tells FORBES AFRICA. "That made me really gravitate towards a career in academia. It was until I was 11 years old, when the fashion bug bit."  
Unfortunately, having grown up in a traditional African household, it was expected after he matriculated from school he would have to go to university. And that is exactly what happened, as he studied a Bachelor of Science in Biology at the University of KwaZulu-Natal.  
"I was miserable because I couldn't have time to even dress myself up," Gumede says. "The need for fashion started suffocating me. Halfway [through] the second semester, I deregistered. I packed my bags and moved to Johannesburg without my family's knowledge and I was ready to tackle a career in fashion."  
From being an in-house stylist for Kwenta Media, he is now styling looks for the likes of GLAMOUR, GQ, Reebok, and Netflix (to name a few).    
"All the ups, the downs, the sleepless nights and 48-hour shifts I've put on to get where I am and it inspires me even more. Ten years ago, I would have never thought I would be here," Gumede says.   
---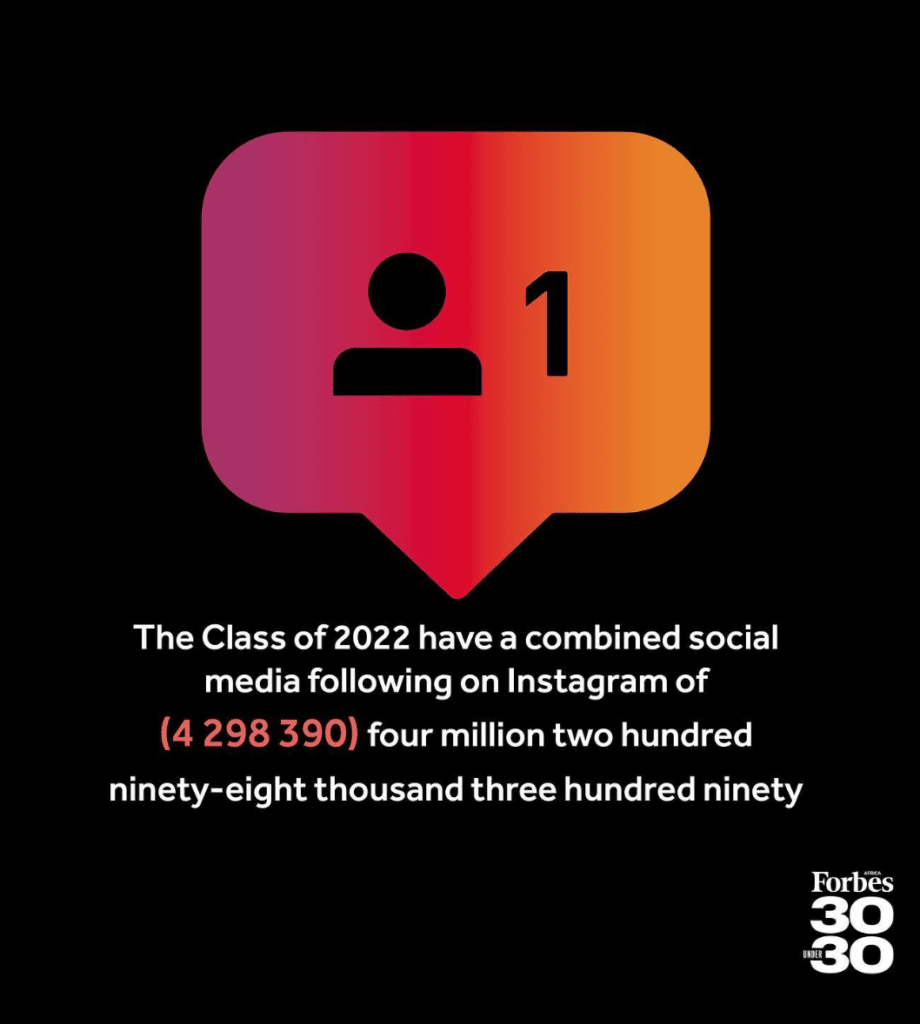 ---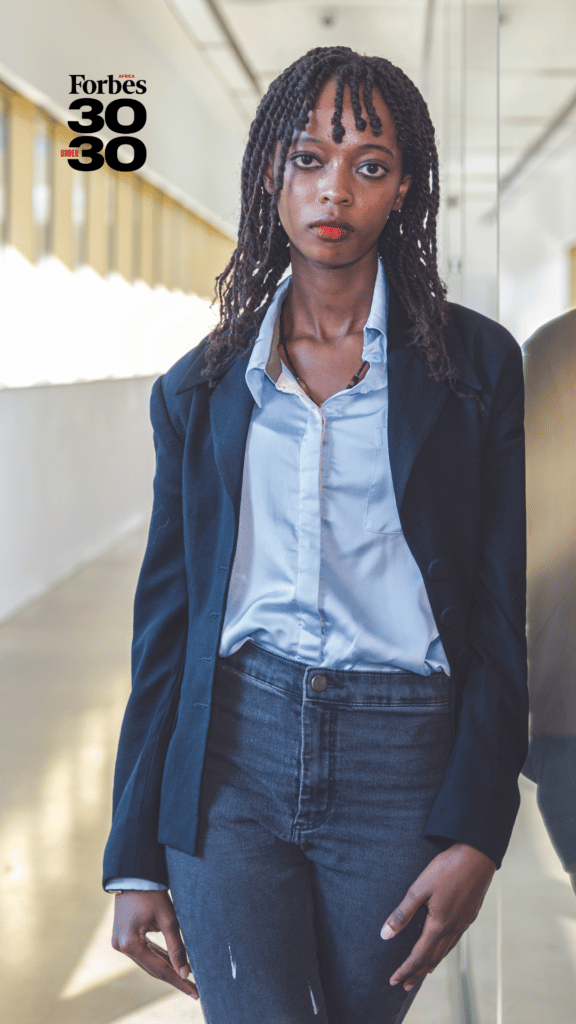 The world of sports has always been very male-dominated and this is no different in the online gaming realm of e-sports. This does not stop Sylvia Gathoni, also popularly known as QueenArrow, from literally and virtually KNOCKING OUT stereotypes.   
"I have had to deal with my hard work being looked down upon by some, as they felt that I had only achieved what I had because of my gender and not because of the concerted effort I put in to become better at the game," Gathoni says.   
Her career in professional gaming began in 2017 at the East African Gaming Convention where she participated in the Mortal Kombat XL tournament and came in fourth place.   
"I decided to continue gaming professionally because I enjoyed the rush that came with competing and the fact that I got to challenge myself to become a better competitor through an available community where I could ask questions about the game and practice with them. Since then, I have been part and parcel of the Tekken fighting game scene in Nairobi."   
In 2018, she became the first Kenyan and East African to be signed to XiT Gaming, an American e-sports club based in New Jersey, United States. Gathoni is currently part of the UYU, an American e-sports club as a Tekken player and content creator. She is also a member of the Athletes, Players and Communities Commission on the Global Esports Federation (G.E.F), representing Kenya and the African region "by offering my insights as to how the G.E.F can foster good and healthy relations with the gaming and e-sports community and ensuring that Africa's interests on the committee and federation are represented".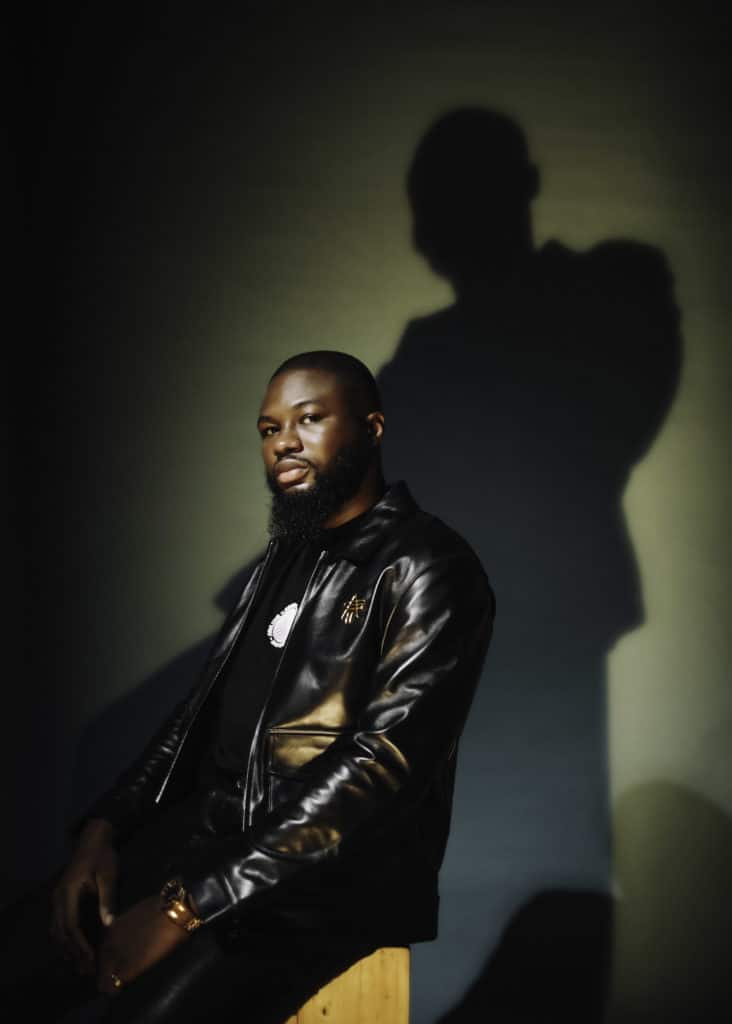 From Davido to Burna Boy, and then Bonang Matheba to Kehlani, AshLuxe has been worn by some of the biggest names in entertainment. The hands behind the sewing machine, sketch board, and business is Nigerian-born Olayinka Ashogbon, known as Yinka Ash.   
While at Caleb University in Lagos studying Biochemistry, Ashogbon says he always had a flair for fashion.   
"During my years in the university, I was recognized among my peers as well-dressed and many would often tell me to help them source clothes and shoes," Ashogbon says.   
With a small loan from his father of $2,000, in 2014, he started to buy and import discounted items he found online to resell to the already growing client base he gained on his Instagram business page.  
This has now led him to becoming a recognized brand that prides itself in its collection ranging from men's clothing to women's attire, and androgynous ready-to-wear clothing.   
"[This is] revered for incorporating multiculturalism and ethnographic references from Lagos to Johannesburg, Geneva, Paris, and Florida," Ashogbon adds. "Our pop-up stores held in London and South Africa in 2021 further the brand's exertion in seamlessly tapping into the global streetwear market. This has shaped a unique label identity."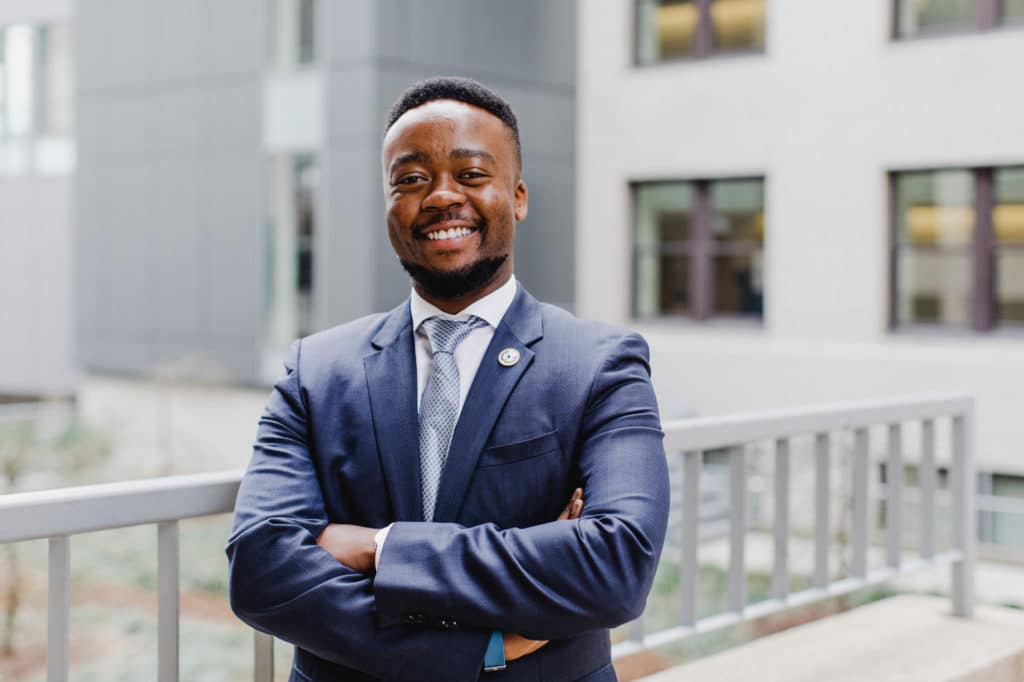 The ever-growing need for commuting services is something that needs to be prioritized in countries across Africa. Shahzeb Memon, the Global Head of Transportation As A Service at unicorn ridesharing company SWVL told FORBES AFRICA in December that: "There are millions with not enough transport opportunities available, and the transport options available for people are limited."  
At the forefront of trying to solve these issues is Velani Mboweni with his company LULA Loop, a venture-backed mobility startup (launched in 2016) that connects company commuters to private shuttles to enable sustainable and productive commuting in Africa.  
"This is a business founded with the mission to harness Africa's demographic dividend by connecting them to economic opportunity one shared ride at a time," says Mboweni.   
Since its inception, Mboweni has grown the company "six times in the past year, doubled the team size, reduced hundreds of tons of CO2 from the environment, scaled to three new cities, and quietly raised millions of dollars during the global pandemic from world-leading institutional investors". He has been recognized as a Top 200 Young South African by Mail & Guardian and a Top 30 Under 40 by Fast Company magazine.  
"He's passionate about creating a positive social impact and economic opportunities, whether through LULA or in his personal capacity," says Mboweni's co-founder Xabiso Nodada. "He will never say no to helping someone, whether he knows the person or not is irrelevant, if he can help, he will. He enjoys bringing people together, people from different walks of life, different cultures, different ages, and different backgrounds. His love for the continent and its different cultures is one of his most amazing qualities."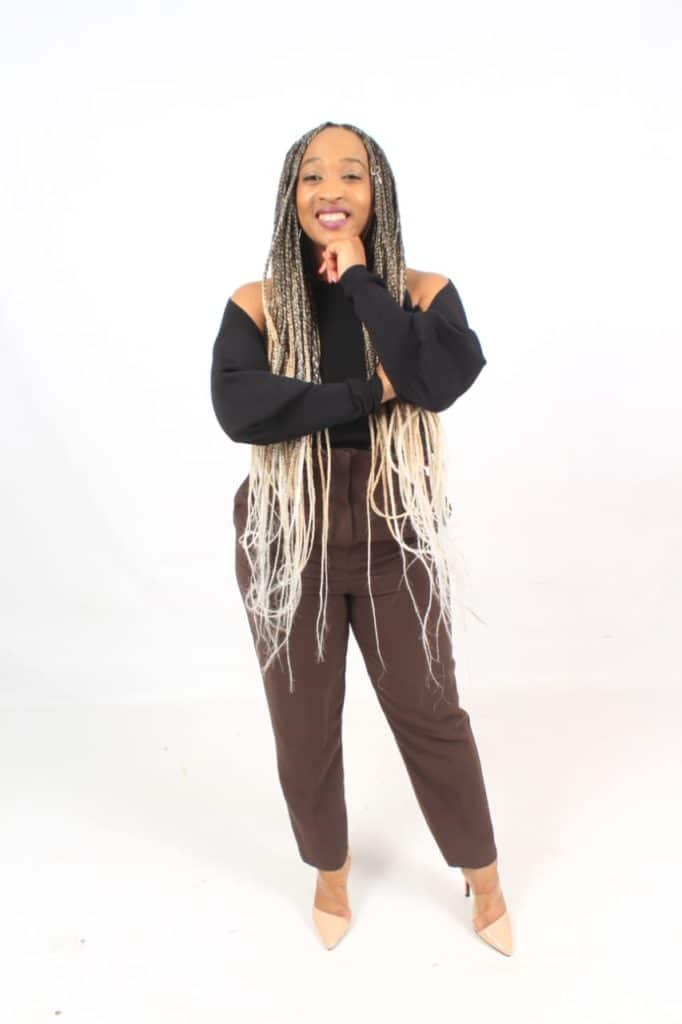 In 2008, the International Conference On Multi-National Construction Projects released a study Women In South African Construction concluding that women are underrepresented in the construction industry and that although they may face many challenges and barriers, women are competent to rightfully take up a position on-site within the industry. South African Builder further noted the Register of the Construction Industry Development Board (CIDB) states that a total of 44,100 construction enterprises of which 48% are owned by women.   
"As we are women in business, we often get discriminated against and not taken seriously, we have had to work hard to prove ourselves and to tackle this male-dominated industry," says Kekeletso Tsiloane.   
Ironically, it was their father who inspired her and her sister to start the business.   
"Our father had a construction company, he would take us to site often and without a plan, we would resort to our own comforts and for me that was on site where trenches, big machinery, and the manual labor was being done, I'd walk around and inside the trenches asking lots of question[s]."   
In the same breath, Tsiloane was always concerned about waste and in 2016 started taking interest in the green economy (recycling and upcycling). She then dove into the trenches of research and approached her family about the idea of making bricks out of plastic.   
"My family and I started prototyping the idea in my mother's yard at home," Tsiloane explains. "We bought waste from waste pickers and from landfills… We started not only the product innovation but the know-how and machinery, with my sister's salary, savings, and small profit we made from the construction projects."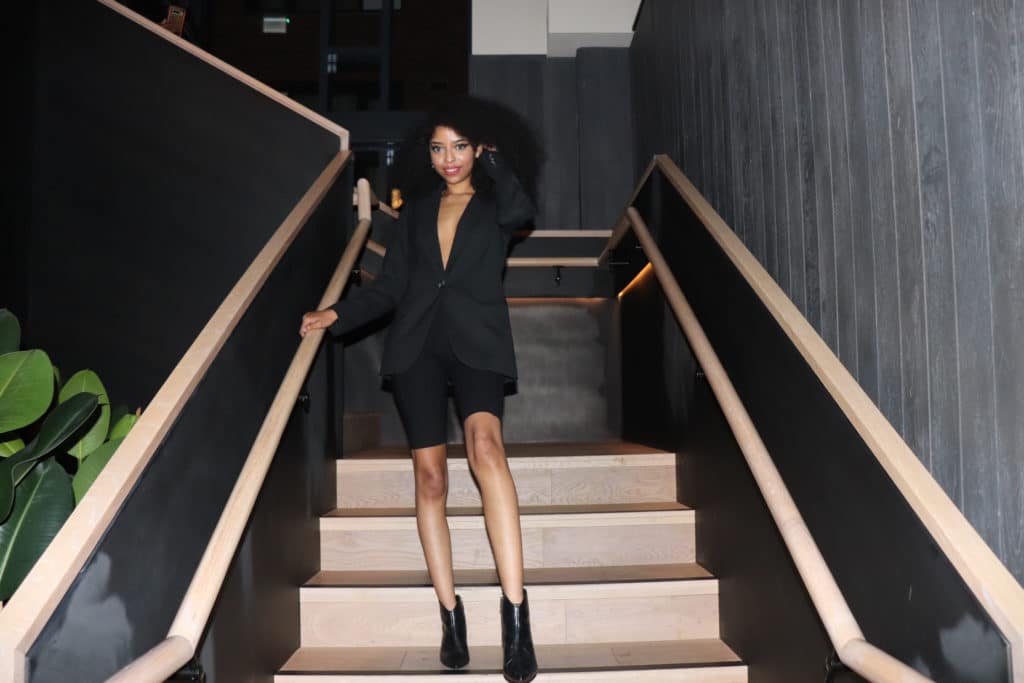 Born and raised in Malawi's capital city, Lilongwe, Mona-Lisa Das' main objective has always been to create more opportunities for African women.   
"My mother and grandmother have given me great strength as they empowered other females around them. Witnessing my mother accommodating other women who were finding their feet in Ireland in any way she could help them to assimilate, really influenced me in what I do today."  
Das moved to Ireland in early 2011 to pursue a degree in Business Management, but in 2013 co-founded a record label as head of AR and helped discover artists like Masego, a Jamaican-American musician, and many more local Irish artists. In 2018, she then launched Gxrlcode, a platform amplifying female talent worldwide. The brand has worked with high-profile brands like Heineken and PrettyLittleThing, as well as received recognition in British Vogue for empowering and supporting women worldwide.  
Daniel Da Trindade, Creative Director at the Embassy of Ireland Malawi, stated in his testimonial for Das: "She has an uncanny ability to bring the best out of Malawi as she constantly markets it to brands in Ireland. She has created a massive potential for jobs in the creative sector in Malawi and… On a personal note, I am a testament to the effect that she has on people."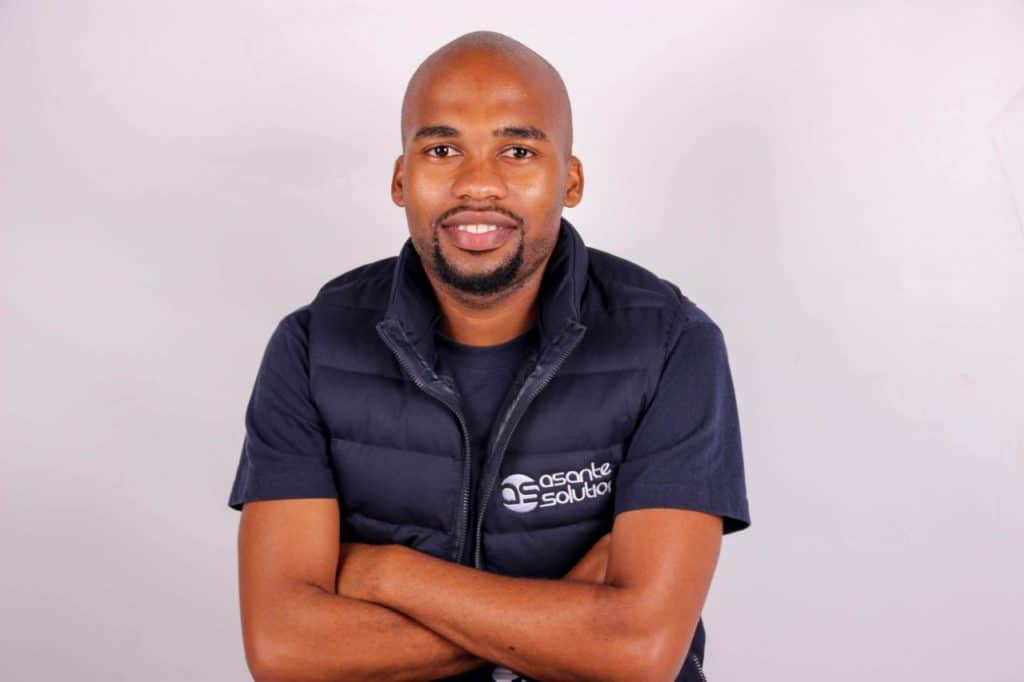 Muhle Ndwalane says he has always had leadership qualities, an innovative mindset, and business acumen. His international exposure has propelled him to great success in his journey.  
Besides highlighting the importance of frontline workers, Covid-19 did a fantastic job of showing how digital marketers are the creative backbone of corporates.   
At the helm of this trend is Ndwalane's company, Asante Solutions – a digital solutions agency that delivers digital marketing and technology-based solutions to clients. One of them, Clinalytics, a healthcare technology company that gives healthcare professionals tools that enable them to provide healthcare services, talks about how quickly Ndwalane's company adapted to creating content for the health space.   
"I was very impressed with the way Asante Solutions carried out the work, from analysis to implementation and post-production support. Their analysis was always very complete, and easily understood by users and management so different system extension options could be evaluated with all relevant information," says Founder and Managing Director at Clinalytics, Jabulani Nyembe.   
"I feel like we [Asante Solutions] are at the forefront to drive solutions to organizations so that they can grow, optimize, and create a competitive advantage based on the customers' needs while driving human experience. This will ensure that our client's future is well-shaped and propelled for future business activities," says Ndwalane.  
In her assessment of Ndwalane's business, Phuthi Mahanyele-Dabengwa notes that "Muhle is building a creative digital business that has the potential to play a key role for many corporates."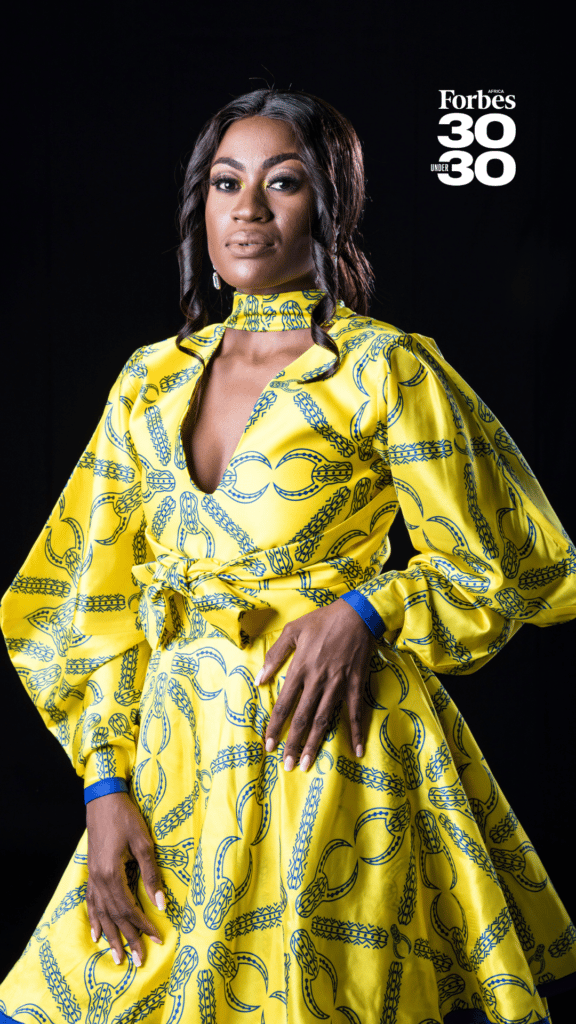 "My passion is simple, the people!" Esperance Luvindao states. "The goal is quality healthcare for all, irrespective of socioeconomic background. Covid exposed numerous loopholes within the health sector. Particularly, the public health sector."  
This was not the only time Luvindao noticed big discrepancies in healthcare. Having lost both her parents when she was six years old, she realized the disparities between healthcare afforded to those in the lowest socioeconomic groups and those in higher-income groups.  
This is how the journey for the medical doctor and health advocate began in Namibia. Luvindao is also the founder of one of Africa's first free online medical consultation platforms, One Step at a Time, and a health expert for the Office of the First Lady of Namibia, Monica Geingos.  
"I've personally seen a lot of these kinds of lists," Geingos tells FORBES AFRICA when approached by the Under 30 team for her take on Luvindao. "And a lot of the people end up on these lists and you won't find them anywhere 10 years later. I'm certain that you will find Esperance somewhere 10 years from now. And the Forbes list I think wants to have people who in the future are going to go out there and set the world on fire. And I think it's brilliant." 
For Luvindao, it has never been about the exposure or being celebrated by a newspaper that wrote that she is "a Namibian doctor awarded by the Queen for offering 44,000 online consultations or telehealth services". She says for her, it's about how this help people in areas not always helped.  
"It was an 'aha' moment," she tells FORBES AFRICA. "Because when we did the interviews later to explain how we reached so many people in the rural areas, a lot of people were like, 'oh, wow, you can do that, and why did we never think of that'.  
An enlightening moment for me was when the Minister of Health in Namibia reached out to me after this article, and said, 'I want to work with you because I think for a lot of us, we have limited healthcare access to hospitals and clinics'." 

With a passion for business growth and solutions-based interventions to the transport constraints among Small and Medium Enterprises (SMEs), in 2017, Daniel Mukisa started Ridelink, a ride-hailing service that links travelers to cars for transportation in Uganda.   
"I fully conceptualized the number one problem with why SMEs don't scale and many of them die in their infancy in developing countries [is due to transport]," Mukisa says. "Transport has been the top cause of SME failure accounting for up to 40% of all the costs in the supply chain."  
According to the Center for Strategic and International Studies (CSIS), in Africa, SMEs provide an estimated 80% of jobs across the continent, representing an important driver of economic growth.   
Sub-Saharan Africa alone has 44 million micro, small, and medium enterprises, almost all of which are micro.    
Growing up in rural Eastern Uganda, Mukisa's mother ran an agricultural produce store where the whole family was expected to participate and contribute towards the daily running.   
"I noticed that a lot of the proceeds from the store went towards transporting the produce from the store to the market. I challenged myself to come up with a solution that would curb the high transport costs that ate deep into the bottom line of our small business. Ridelink was born out of the need to solve the mismatch between the transporter and the producer and has since cut transport costs of its users by 30%."   
In a testimonial written for Mukisa, Thokoza Mjo, the head of the Anzisha Prize Fellowship, that Mukisa is a part of, stated: "Daniel has demonstrated a great ability to build a business of value that has the opportunity to make a significant contribution to youth unemployment across the continent."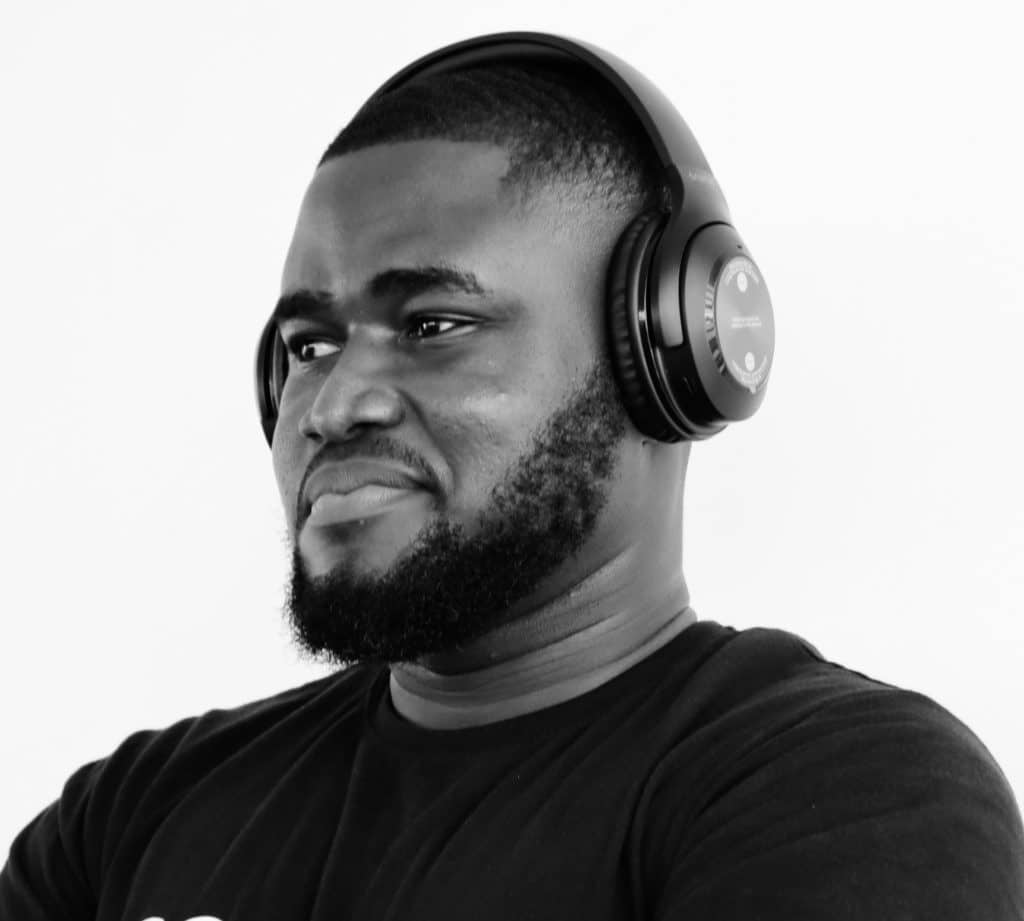 This is a candidate who got his "first taste for entrepreneurship" at the age of 15.   
"I was developing, playing, and selling video games while also working part-time with SOKO LTD, a printing and publishing company owned by my father," Walter Isoko says.   
He co-founded Flux Technology Africa in 2016, an enterprise software solutions company providing technology solutions and services for SMEs, blue-chip organizations, governments, and institutions in Africa.   
"I am responsible for the business development and overall operations in Africa. Under my leadership, Flux Technology Africa has handled major IT projects for major blue-chip firms and global brands with a capital base of over $100 million."   
A key vision for Isoko is to bridge the technology gap between Africa and the rest of the developed world as this has been a major concern for the Nigerian government and private sector in the last decade, according to Isoko. So far, the organization has trained over 10,000 youths and children from underserved areas in West Africa.  
"I am very committed to this, for me, it is a matter of vision and it is clearly in line to tackle unemployment, bridging the technology gap and poverty that have hindered the capacity of many to do work and earn an income in a continent like Africa, with millions of multitalented people and limitless opportunities. I am fixing this problem."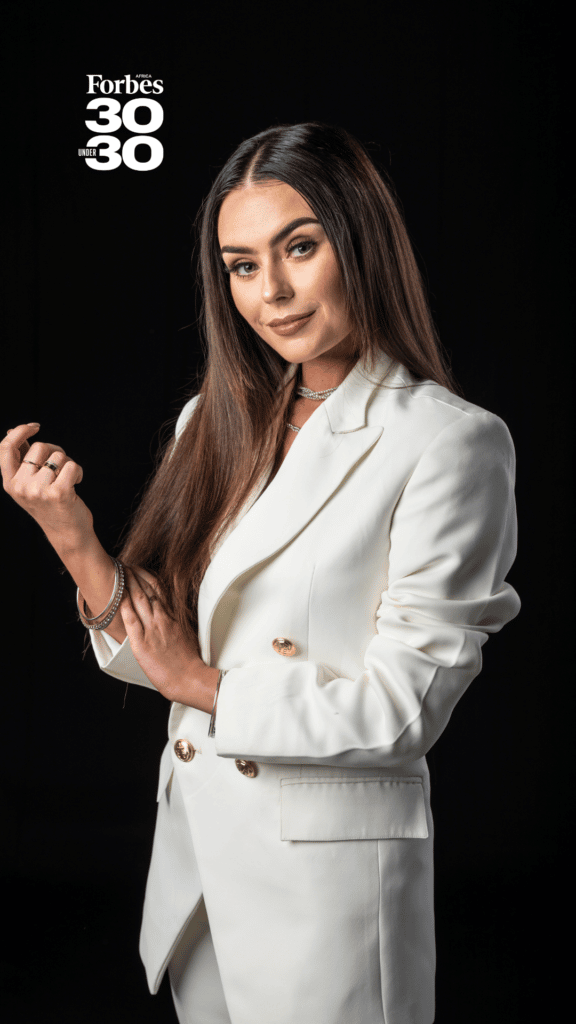 "I founded this company when I was sick," Carla Frankel says with a shaky voice when we meet in Botswana in April for the Forbes Under 30 Summit Africa. When she says that, the people around her listen, as she unravels to FORBES AFRICA the story of how she created the Top Drawer Collection, retailing personalized luxury sleepwear, in South Africa. 
"In life-altering moments, I stood at the crossroads and pushed boundaries and used negative experiences to create really great products and experiences, rather than choosing the road of defeat and victimization." 
At the age of 21, Frankel was walking around campus and suddenly felt her feet burn, which actually turned out to be Sagittal Sinus Thrombosis. 
"In other words, I had a stroke!" she recounts. Two years before that, Frankel had already been diagnosed with two autoimmune diseases; antiphospholipid syndrome (APS) as well as Lupus. During her second year at university, she had another stroke during a four-hour exam. This resulted in three weeks of hospitalization and Frankel being unable to finish her exams. 
It was during the recovery phase that she realized that the only thing in that "dark period" that lifted her spirits was the pair of matching pajamas her mom had bought for her from retail chain Woolworths. 
"We would make quite a moment of them, put on face masks, and watch our favorite movies. Those pajamas with my mom weren't just pajamas — they were a layer of comfort and safety. They were an armor of sorts to me that helped me feel beautiful and safe even while so disconnected from myself, in this foreign body that didn't feel like mine." 
Coming into this moment feels almost full circle for Frankel as she admits that she started reading FORBES AFRICA 30 Under 30 lists five years ago and had always been inspired by the stories of the founders in them. 
"I noticed that a large commonality in each person was overcoming challenges to create solutions and innovate. Most of all, I found inspiration in how most of these people made the choice to voyage forward into the path of success despite circumstances being against them. 
"A near-death experience is the reason Top Drawer Collection exists, and with every negative health experience I face, a new, even better product is born to meet the need that I would only know how to fulfill by walking through the thorns and making it to the other side." 
Within six months of starting Top Drawer, Frankel says she received orders from South African celebrities such as actor-producer Connie Ferguson and influencer Kefilwe Mabote. Corporates like Unilever were also ordering sleepwear from her. Even when Covid-19 hit, she still managed her business. 
"We have reached the market cap for the units that can be produced locally. I sell what I have, and there is a waiting list unbelievably long for those who didn't manage to secure a set on a restock day. I am very grateful for the desire for the product." Frankel says.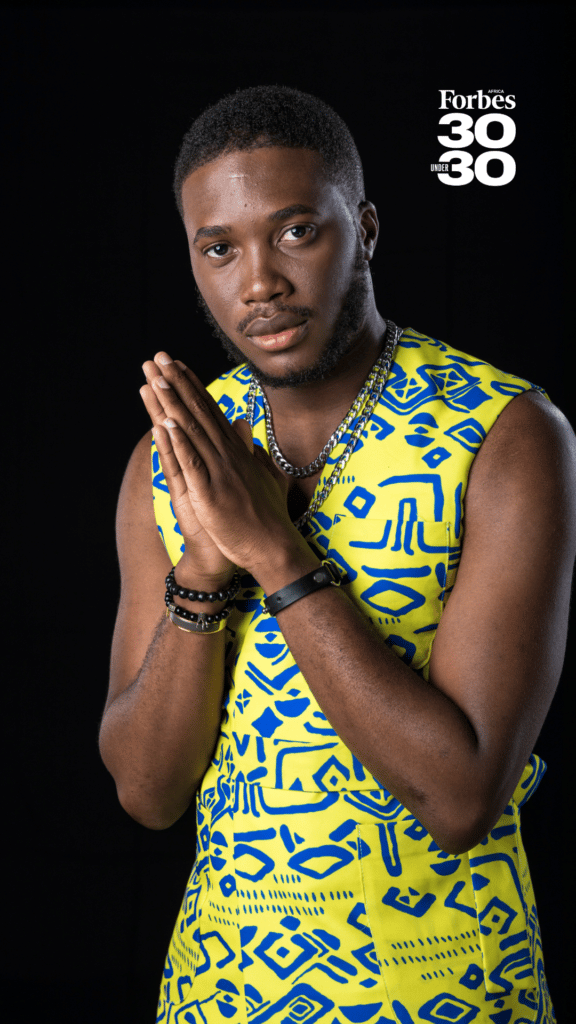 A lot of the time, the focus is always on the cover star, the subject or just the muse; never the person behind the lens. The saying 'the picture is worth a thousand words' is the perfect description for Apampa Owolabi, also known as Dammy Twitch, as he walks into the studio to meet us in Gaborone.  
His tall presence captures everyone's attention but his quiet demeanor tells us that there is definitely more to the story… more or less a thousand words.  
"In 2011, I developed an interest in photography. I currently can't decide if nature sponsored my interest or it was just an excitement to bond with the camera my uncle had gifted me as I started taking the pictures of nature," says Owolabi.  
When Owolabi was at Taidob College at the time in Nigeria, he wanted to open his own studio but didn't have the finances. Self-taught in video editing watching YouTube tutorials, Owolabi decided to use the only N50,000 ($120) saved up from his allowance and rented the equipment to book his very first photoshoot. Unfortunately, it did not go according to plan.  
"I never got paid, the client changed his mind about the video and wouldn't take my calls. I couldn't call home for more money as I couldn't justify the ask.  
So I sucked it up and lived off my friends for the next couple of weeks," Owolabi tells FORBES AFRICA.  
"This is a good place to insert an inspirational quote about tenacity but nothing about the hunger and dependency of those few weeks inspired me. I was ready to quit and just focus on school."  
But thankfully, Owolabi continued with his passion and has been the man behind the lens for some of the biggest names in entertainment like Jimmy Fallon, the Grammy Awards, Wizkid and Davido.  
"The Nigerian A-list artist Davido was performing at the Lagos City Marathon and I got a DM from his management asking me to come to take pictures and videos of him. His team had commissioned three guys for the same job and on delivery had commissioned three guys for the same job and on delivery, they loved my pictures and videos and brought me on board as a team member… This mindset got me on tour with him to about 30 countries and that was a major breakthrough in my first year of video directing."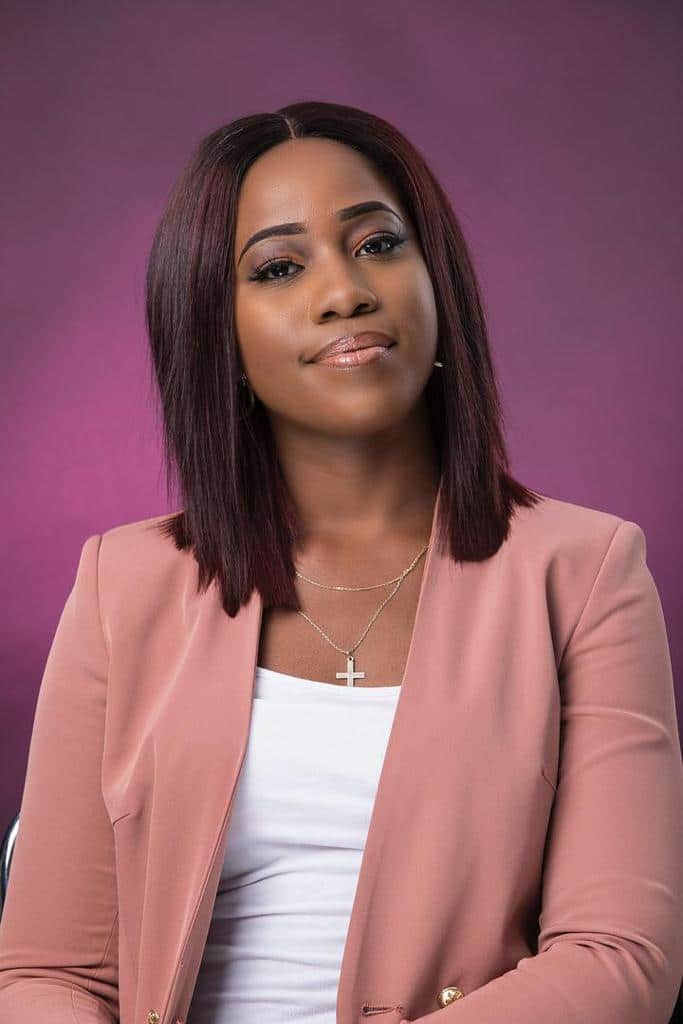 According to a study released by the African Leadership University, in 2015, Euromonitor International estimated that $1.1 billion worth of shampoos, relaxers, and hair lotions were sold in South Africa, Nigeria, and Cameroon. Furthermore, according to a 2014 Reuters report, the dry hair industry which includes weaves, extensions and wigs is also estimated at $6 billion a year.   
Part of this very lucrative market is Natasha Kasanda Chikonde, who began her business while in her fourth year of medical school in St. Petersburg, Russia.  
"After having saved for a year, in March 2015, I had about $3,000 and I took my first solo flight to China to go and purchase synthetic hair that I was going to sell on the Zambian market."   
When Chikonde arrived in China, she had bought "the worst batch of hair which never sold and no one bought". Devastated that all her savings were depleted, Chikonde went back to medical school and eventually graduated in 2016, soon thereafter, she started practicing at the University Teaching Hospital of Zambia.   
"I was not your conventional doctor because I was always told that I had the best hair in the hospital by my patients and fellow doctors. Most people asked me…'why hair', and I said 'hair is every woman's crown'. So, I wanted to empower women and make them embrace their beauty with a variety of different hairstyles."  
She began saving up her monthly salary to start Hair Kween (labeled a luxury hair brand on social media) and Chikonde has sold hair worth about ZMW1,000,000,000 ($59,000) in April 2021.  
"This made me believe that it is possible to achieve anything if you don't give up regardless of your background, social status and economic status," Chikonde says.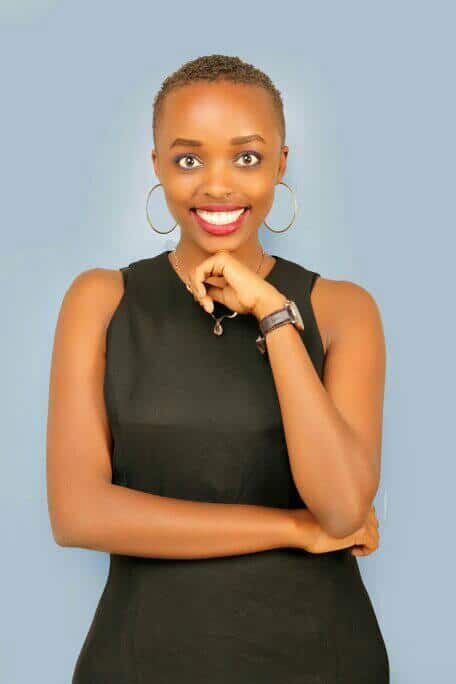 "I started the business with 3,000 Kenya Shillings that I used for the name search and domain registration," says Dr Joan Ruguru Kimani.  
In a world where parenting has been made difficult due to finances or emotional instability and now especially coupled with Covid-19, Kimani's whole aim is to bring back that positive spin on parenting. In addition to that, educating parents on children's health.  
The idea of Exciting Parenting began when she was a student in a small residence room. 
"I saw this as an opportunity to offer professional information in regards to parenting and child health. Other topics such as marriage and real estate have information sources from people who have dedicated their whole lives into doing this kind of work. I realized the field of parenting was pretty scarce," says Kimani.  
In a testimonial for Kimani, Jomo Kenyatta University Senior Lecturer, Chairman and Dean for the School of Medicine, Dr Justus Maingi Simba says: "At her age, Joan has done what most individuals would achieve in their lifetime. I am confident the opportunity presented to her by being in this class will help her make the world a better place than she found it."