What Will Decide The Kenyan Election? A Dose Of Faith, Tribe And Hard Cash
After accepting his nomination as the presidential candidate of the main opposition coalition recently, Raila Odinga likened himself to Joshua, the biblical figure who led the Jews to the Promised Land.
Odinga was appealing to people disaffected with the performance of the Jubilee government. But he was also appealing to the religious sensibilities of the Kenyan electorate where Christianity has a strong presence.
Religion is omnipresent in Kenya. The line between religion and politics is often thin. This is well illustrated by the fact that gospel music serves as an important vehicle for political mobilisation. Most of the National Super Alliance's campaign rallies feature a rendering of the popular gospel song "Mambo yabadilika" (things are a-changing).
Odinga, as well as President Uhuru Kenyatta who is seeking re-election under the Jubilee Party in the August 8 polls, have sought to endear themselves to the main religious communities. Kenyatta even had members of the Supreme Council of Kenya Muslims, the National Muslim Leaders Forum and the Jamia Mosque visit State House where they pledged their support for his re-election bid. Religion and politics are entwined, each to some extent complicit in the providential authority of the other.
Odinga and Kenyatta aren't alone. In their quest for the votes of the religious constituencies, all political aspirants have sought to present themselves as people of faith.
But other equally important dynamics shape political relationships in Kenya. Religious symbols operate cheek by jowl with what political scientist Jean Francis Bayart has referred to as the "politics of the belly". A third factor makes for an even headier mix – ethnic affiliations. Combined, these three factors distort democracy, and the way in which elections are run in the country.
Eating campaign money
On a recent visit to western Kenya during the party primaries I was struck by how voters' actively sought cash handouts from politicians. And there is no shortage of candidates ready to offer money to the electorate as an inducement to vote for them. A young man who gave me a ride on his motorcycle taxi spoke with pride about his busy schedule these days – "eating campaign money" by night and working by day.
Elderly men and women were seated along village lanes looking out for election candidates who might offer them "something small." They were open to offers from whichever politician turned up. The amounts they got ranged from around 100 shillings ($1) to 1,000 shillings ($10), often not enough even to feed a family for a day. But the money counts for a lot in the context of extreme poverty.
I also attended an election campaign rally in which a candidate presented what seemed to be a well-thought-out blueprint for the development of his local ward. At the conclusion of the presentation, one person in the audience broke the silence with a bold demand for more tangible results:
That is enough speech-making, can you now talk to us?
"Talking to us" was easily understood to mean that it was time to give cash gifts to seal the bond.
Demands like this are not unusual during election campaigns in Kenya. They have been a regular feature of elections as long as anyone can remember. One can only imagine what this year's campaign will be like on the back of a severe drought that has deepened inflation and led to economic hardships.
Building a democratic culture in the context of extreme hardships is a big challenge. As in many African countries undergoing democratic transitions amid conditions of high poverty, economic circumstances hinder or dissuade people from participation in the political process.
Politics of the belly
So what's the relationship between religion and handouts? They interact and influence each other in myriad ways. Politicians distribute goods for the bellies of their clients in return for political loyalty. In this context, democracy as a competitive process in which citizens freely elect their leaders is thrown out of the window.
The Kenyan Muslim leaders' assurances of support for Kenyatta needs to understood against this background. The leaders – hint, hint – expressed gratitude to the president for appointing the highest number of Cabinet secretaries and Principal Secretaries from the (Muslim) community.
A common pattern of religious accommodation in post-colonial East African states has been documented. Reflecting trends in Kenya, various religious groups have worked with governments and parties, irrespective of their political philosophies and ideologies.
It is also important to locate religion and politics in Africa within the broader context of ethnicity which has been sustained, and even strengthened, through the political distribution of goods and wealth.
The logic here is not based on universal ideas of human rights and citizenship but rather on networks of tribal patronage and clientelism. Politicians offer their ethnic clients certain material and symbolic gestures such as invocation of tribe, money, jobs in exchange for political support. It is an insecure means of organising support, admittedly, and one that is constantly at risk of corrupt indulgence in order to fund private benefit.
Thus Bayart's politics-of-the-belly casts a long shadow on the deployment of culture in African states. It demonstrates that religion has followed patterns established by the politics of ethnicity in which merit and common good does not matter.
The current campaign confirms these various forms of symbolic and symbiotic relationships within Kenyan politics. Religious services and rhetoric, money tokens and ethnicity are an integral part of the political system. They will likely again be the main influence in the coming election.
Kenya's political elite has historically been formed in mission schools, mostly within their ethnic groups and subject to ethnic expectations. Thus it's an elite formed by – and crippled by – ethnic pride. Religious actors have not escaped a similar elite formation. Thus Kenya's children of God are rarely Kenyans at large. – Written by Joseph Wandera, Senior Lecturer in the Department of Religious Studies, St Paul's University
This article was originally published on The Conversation

Archive Documents Reveal The US And UK's Role In The Dying Days Of Apartheid
It is a quarter of a century since the end of apartheid in South Africa. But it's easy to forget how complex, difficult and violent the birth of full democracy really was. This was particularly true in KwaZulu-Natal, where battles between the African National Congress (ANC) and the mainly Zulu Inkatha Freedom Party (IFP) claimed the lives of as many as 20,000 in the decade between 1984 and 1994.
In the three months before the first elections in April 1994 an estimated 1 000 people were killed. The British and Americans were becoming increasingly concerned. The conflict between Inkatha and the ANC was just one crisis: another was developing with far right white extremists, who were threatening to resort to violence.
The US Central Intelligence Agency (CIA) reported that there was an:
eight in 10 chance that violence will surge immediately before and during the election, when emotions are at their highest.
The agency also warned of the threat of a right wing coup, although it considered this "unlikely". (This CIA report is available in hard copy only.)
As the situation grew increasingly tense, Britain's Prime Minister John Major and the US's President Bill Clinton became personally involved. Their interventions are shown in documents just released by the UK National Archives.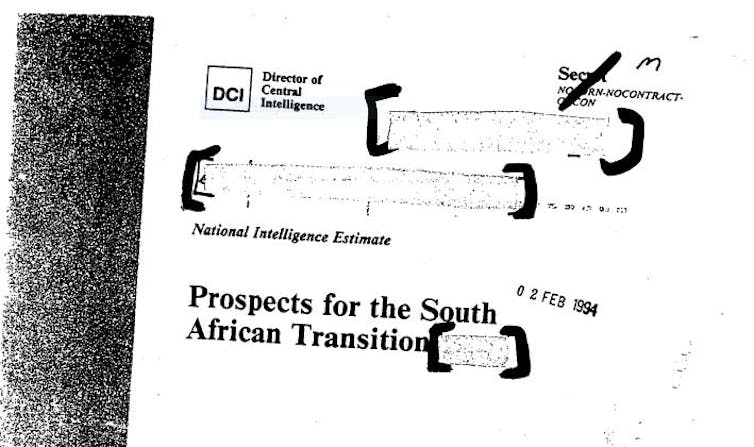 The documents reveal just what a close-run thing the first truly democratic election was, and how much time and effort Britain and the USA spent ensuring that the voting went ahead.
Desperate times
Prime Minister Major took a phone call from Nelson Mandela on 22 February, in which the ANC leader described the situation as "very difficult." Major briefed Mandela on a meeting between the British ambassador and the Inkatha leader, Mangosuthu Buthelezi. He gave Mandela a full account of the conversation, which he warmly welcomed.
On 24 February there is the first indication of a joint Anglo-American mediation effort to resolve the crisis. This arose during planning for a visit to Washington by Major three days later.
Our starting point is that the situation has now deteriorated to the point where it seems very unlikely that left to themselves the South Africans will reach an agreement that will enable to participate in the elections. The consequences are likely to be very serious.
The British suggested that Major and Clinton might "offer their joint help to the transition process".
The following day – having held discussions with Mandela, Buthelezi and President Frederik de Klerk – the British ambassador in Pretoria, Sir Anthony Reeve, was able to report that all three were prepared to go along with the Anglo-American initiative, although with some reservations. The ambassador concluded:
These responses do, I think, give us the green light to consult the Americans in detail on our thinking.
The proposal was discussed between Mandela and Buthelezi at a meeting on March 1 and both leaders agreed to "explore" the possibility of international mediation. Lord Carrington, who had negotiated the end of Rhodesia and its transition to Zimbabwe in 1980, was on a lecture tour of South Africa. He was approached by the ANC's Thabo Mbeki who asked whether he might act as one of a panel of mediators.
Others suggested were US Secretary of State Henry Kissinger and former Tanzanian head of state Julius Nyerere.
There followed intensive discussions between London and Washington, over how such mediation might work; indeed, Carrington and Kissinger travelled to South Africa. In the end a failure to agree on the terms of reference for the mediators, and South African government fears that the elections might be delayed, put paid to the plan.
It has been claimed the crisis – the most immediate was that Buthelezi was threatening to boycott the poll – was resolved by surprising last minute mediation by Kenyan Professor, John Okumu. Other Commonwealth envoys who had excellent contacts with both the ANC leadership and Buthelezi, including the late Ghanaian diplomat Moses Anafu, doubt this, arguing that forces that led Buthelezi into the election were much bigger.
Indeed, Buthelezi's brinkmanship had ensured key constitutional concessions. Okumu's intervention seems then a face-saving device for the IFP leader. A joint statement was agreed between Mandela, Buthelezi and de Klerk on 19 April, which allowed the election to take place just a week later (April 26-28).
Close-run thing
It had been a close-run thing and South Africa's first truly democratic election almost came to grief. But there were two more potential obstacles.
In the tense run-up to polling day, a report on the role of the apartheid state in stoking internal tension and violence was published. The Commission of Inquiry Regarding the Prevention of Public Violence and Intimidation, led by Justice Richard Goldstone had been established in 1991: its report was published on 21 April 1994.
Judge Goldstone's investigations revealed that sections of the South African Police had armed Inkatha, and pointed to attempts by senior police officers to subvert the work of his enquiry.
READ MORE | IN PICTURES | Chimamanda Ngozi Adichie gives Nelson Mandela public lecture
The charges were explosive and for a while the judge and his family were clearly at risk from white extremists. With de Klerk's support and the knowledge of Mandela, Goldstone, his wife and a "key witness" (a former South African police officer) asked whether they might come to Britain. John Major agreed, and they were given temporary asylum and a safe house.
The second obstacle was the South African government's clandestine chemical and biological weapons programme, known as "Project Coast."The British Foreign Secretary, Douglas Hurd, contacted Washington about the possibility of issuing a formal public protest unless President de Klerk publicly admitted his government's involvement in the use of these weapons against ANC and Namibian prisoners.
The British had apparently intervened to prevent the proliferation of these weapons to other rogue states or terrorist groups. On April 11 the US and British ambassadors delivered their protest to President de Klerk – which apparently did the trick.
There was an agreement that all the chemical and biological systems would be destroyed and one of the key South African experts, Wouter Basson, who had travelled to Libya on several occasions, was subsequently prosecuted.
Political triumph
The April 1994 election proved to be a watershed for South Africa. In technical terms, the election was a fiasco, but it was a political triumph, according to the Commonwealth's leading election official, Carl Dundass. Inkatha's surprising victory in Natal-KwaZulu strongly suggest Natal "horsetrading" involved overturning an actual ANC victory to manage anticipated post-election violence.
Despite all the violence, tension and drama the election ended apartheid and allowed Major to phone Mandela with his congratulations – a highly satisfactory conclusion to an intense period of international diplomacy.
-Sue Onslow; Reader, Institute of Commonwealth Studies, School of Advanced Study
-Martin Plaut; Senior Research Fellow, Horn of Africa and Southern Africa, Institute of Commonwealth Studies, School of Advanced Study
-The Conversation

'South Africans Love Martyrs'
The first 100 days of any presidency are often harshly scrutinized as they set the tone for what citizens expect. South Africa's Cyril Ramaphosa is under the magnifying glass as all await his next tactical move.
---
At the end of May, South Africa's sixth democratically-elected president, Cyril Ramaphosa, took an oath of office at Loftus Versfeld Stadium in Pretoria. In his speech, he touched on many issues that resonate with South Africans, including corruption, poverty, equality and youth unemployment.
These burning matters prelude what is to be expected from him in his first 100 days in office.
Ramaphosa's period at the helm of power (before the elections) has been typified by repeated calls for a 'New Dawn'. It seems the man who made it to the 2019 Time magazine list of 100 Most Influential in the world has a laundry list of issues to attend to if he is to set the tone for the rest of his presidency.
READ MORE | IN PICTURES | Looking Back At The Vibe Of The South African Elections
The challenge that has deeply affected how South Africans and investors view the country is that of corruption.
"Let us forge a compact for an efficient, capable and ethical state, a state that is free of corruption, for companies that generate social value and propel human development… We must be a society that values excellence, rewards effort and rejects mediocrity," Ramaphosa said at his inauguration on May 25.
In the first 100 days, analysts say he needs to demonstrate he is a proactive leader; one who takes decisive action to address the plight of those who live in a society as unequal as South Africa. The gaping chasm between the richest and poorest has widened since the end of apartheid 25 years ago. This information is not lost on citizens whose lived experiences and disenchantment were in evidence during the elections.
A specialist in social economic development and political commentator, Kim Heller, is of the view that Ramaphosa has some way to go to address the resolutions of his party, the African National Congress (ANC).
"There are critical social maladies that need to be treated with the urgency they deserve… One of the key things people are looking for is a decisive man and decisive leadership," she says.
Political analyst, Prince Mashele, ventures: "He is yet to act on resolutions because he is navigating complex political infighting in the ANC, which is why he can't move boldly and faster…"
Economic transformation has been seen to also imply redistribution of the means of production, which currently has been reiterated in the call for land redistribution without compensation. This is among the duties citizens and investors will keep a close eye on as it is a contentious matter.
Leading up to the elections, Ramaphosa said to apprehensive farmers, "the land reform process is something we should never fear. It is going to be done in terms of the constitution".
Heller says that, "the question of land is unresolved, despite very solid ANC resolutions from branches, and despite extensive consultation".
The president will to have to choose whether he wants to be investor-friendly or whether he wants the interests of his own political party to find expression in policy.
"The investors have become the supreme branch of the ANC. So Ramaphosa certainly, is spending a lot of time on their concerns rather than ordinary people…," Heller says.
READ MORE | Poll Position: The South African 2019 Elections
Mashele echoes: "He has been a market-friendly president. He has railed against his comrades calling for the nationalization of the [South African] Reserve Bank".
Another matter influencing investment into the country is red tape that inhibits instead of encouraging business. South Africa dropped from 34 out of 181 countries on the World Bank's Ease of Doing Business ranking in 2009 to 82 out of 192 countries last year, leaving the country trailing its African peers, including Mauritius (20), Rwanda (29) and Kenya (61).
In his address to the nation, Ramaphosa continued with the mantra thuma mina (which means 'send me') and committed to continue to build South Africa. In his rebuilding, he will have to take a closer look at the factors that infringe on those looking to conduct business while straddling the line in ensuring that (natural) resources are not further depleted while failing to trickle down to those who need it the most.
Heller is of the view that the expectations created by the president serve as a double-edged sword: "Some quarters have built him up to be the Messiah we have all been waiting for. He may have embraced that but it's actually going to damage him. Because there is no individual who can save this country without looking at doing serious things in terms of economic restructuring… Until we address structural issues in this country, shifting the economy to favor ordinary people, not markets, we actually aren't very benevolent."
Also affecting business has been the view that South Africa is amongst the most corrupt on the continent and viewed as one of the murder capitals of the world. The Zondo Commission has illustrated the stark reality of the malfeasance the president will have to address to change these perceptions and in so doing, hold high-profile individuals accountable.
READ MORE | Ticking The Right Boxes: Will The South African Elections Come Down To The Wire?
In line with building an equal society, the president made mention of the prevalence of violence against women at his inauguration.
"Let us end the dominion that men claim over women, the denial of opportunity, the abuse and the violence, the neglect, and the disregard of each person's equal rights. Let us build a truly non-racial society, one that belongs to all South Africans, and in which all South Africans belong. Let us build a society that protects and values those who are vulnerable and who for too long have been rendered marginal," Ramaphosa said.
Leading up to the resolution of the president's first 100 days in office, the public is watching with bated breath.
"I pity him. He's made big promises on housing and unemployment. Those are not going to magically change overnight. The problem with South Africa is that we love martyrs and here we have a president that we have martyred and who is actually going to fall on that. To replace one man with another, is not going to replace problematic policies, poor implementation and poor conceptualization of economic solutions. So I think in the next 100 days, I don't expect to see anything unless the fundamentals are changed," Heller says.
No doubt, it is going to take a concerted effort from all institutions, including those that have been revealed to be compromised. The first 100 days will certainly determine the rest of the president's term in office.
IN PICTURES | Looking Back At The Vibe Of The South African Elections
FORBES AFRICA's photojournalists immortalize the tension and elation of the South African elections in May that saw the African National Congress win for the sixth time since 1994.
---
In what was a landmark 25 years since the first democratic elections, South Africa registered, voted and elected the African National Congress (ANC) for the sixth time to govern the nation again for the next five years. The 2019 elections saw many surprises and plenty more political action compared to the previous polls.
In the run-up to election day, political parties (48 in all) emphasized the country's socio-economic challenges such as unemployment, education, housing and the contentious issue of land expropriation.
On May 8, the day the country cast its vote, voters woke early to congregate and line up at the 22,924 voting stations strewn across the country.
I was among them, a citizen also doubling as a photojournalist on the quest to document this historic election, my camera strapped around my neck and my constant companion.
This Wednesday morning was particularly cold but voters were in sweaters and armed with their identity books to have a say in South African politics with an 'X' mark on the ballot paper.
Mmusi Maimane, the leader of the opposition party, the Democratic Alliance (DA), was among those at the Presbyterian Church in Dobsonville, Soweto; the township where he was born.
His arrival created a frenzy as international and local media wrestled with each other for the perfect shot.
After casting his vote and walking out of the church, he addressed the public.
"On such a historic day, it is important to vote in Soweto with the people of Soweto to express hope and a future for our country. Soweto, to me, represents the home of where the struggle is and now we're entering into a new struggle for jobs for many South Africans. I remember, vividly and well, when I played in these streets and I remember too well the release of Nelson Mandela, therefore today, I urge that we come and cast our votes," Maimane said.
He spoke about the new struggle.
"To me, there could be nothing more special, nothing more historic than being able to express our future. Vote for the future of this country and for the unemployed South Africans; it's a new struggle and we are fighting for the protection of freedom and advancement of freedom."
Post the election results, Maimane was the first DA leader to not have grown more supporters, whereas the Economic Freedom Fighters (EFF), with the third highest number of votes, gained more in all South African provinces except the Northern Cape.
A few kilometers from Dobsonville is Mzimhlophe Hostel. A hostel among many others in Soweto that erupted with service delivery protests prior to the elections. On election day, it was more peaceful and locals were going about their daily lives.
In the same vicinity is a squatter camp (informal settlement) allegedly set on fire weeks before the elections.
Residents and brothers Mduduzi (32) and Kwenzi Gwala (22) came to Johannesburg looking for employment.
"This is my first time voting this year; I wish the economy could strengthen so we can move out of the squatter camps and live in houses. Our camp burned around the Easter holidays while we were at church. We used to sell African beer and our stock got burned along with the money and clothes that were inside. All we have is what we are wearing now," Kwenzi says.
About 12 kilometers away was where national president and president of the ANC Cyril Ramaphosa cast his vote in his hometown of Chiawelo, at a local primary school.
The supporters of various parties, the media and voters were out in full force to witness their president in Soweto.
"The nation and the people are energized. They can see their votes are heralding a new dawn. This is a vote that reminds me of 1994 when the people were just as excited as this because they were heralding a new period, a new future for our country," said Ramaphosa.
"Today, this is what I am picking up, our people are excited about what lies tomorrow and they want to vote for a government that is going to serve them, that is going to address their needs and aspirations. So, I am truly humbled by the turnout that I've seen here.
"There is a great vibe and it's a vibe for democracy, it's a vote also for our democratic system that we've been building over the last 25 years. So, 25 years later, we still have a nation that is breathing confidence and excitement casting their vote. Today, I will go home to sleep very peacefully like I did last night.
"This vote is about confidence, it is about the future and it is about us that are going to be elected to work a lot harder, much harder than we have in the past to realize the ideals, wishes and hopes of our people, so this, to me, is like a rocket booster for democracy and we are going to build a great country because we will be doing so standing on the shoulders of our people," Ramaphosa said.
Like the DA, the ANC lost more supporters nationally; Gauteng province was the gold prize, for the first time since 1999, the ANC had to battle to remain above 50% to secure the province.
–Motlabana Monnakgotla