Time For Action
The World Economic Forum on Africa was held in Abuja, Nigeria Africans now want to see the talk translate into deeds.
Every few minutes, they touched down at Nnamdi Azikiwe International Airport. The roads buzzed and hotel lobbies filled as the world arrived for the most important meeting in African business.
The World Economic Forum (WEF) on Africa, hosted in Abuja, was one of the largest in many years. The biggest names in world business, among 1,000 leaders, were there. They included Aliko Dangote, Pravin Gordhan, Paul Kagame, Uhuru Kenyatta, Li Keqiang and Bineta Diop.
This was a meet to check progress from the last meeting in Cape Town and work out what needs to be done ahead of the next.
Nigeria hosting the gathering reflected its success and trials. In one way it was a celebration after the country was elevated to Africa's largest economy after the rebasing of its GDP. On Nigeria's rebased GDP, a wide cross section of investors and prospective entrants confirm that investing in Nigeria has become a priority.
"There is undoubtedly huge potential in this country and the rest of Africa respectively. The real power will, however, only materialize when we get plans into motion and make things work," says Julian Roberts, the Group Chief Executive of Old Mutual.
On the other side of the coin, the country is still plagued by poor infrastructure and unrest. In Abuja there have been deadly bomb attacks and further north, the Islamist militant group Boko Haram abducted 276 schoolgirls.
It meant public offices and schools closed from May 7 to May 9. Security was beefed up as police squads threw up checkpoints. But, the world made its way to Abuja to tap into Nigeria's burgeoning market. Investors contributed $21.3 billion in foreign direct investment last year and $2.5 billion in January and February this year alone.
Expectations were high in spite of the difficulties. The forum was set to discuss innovative structural reforms and sustainable investments for creating jobs and prosperity.
"The need to create jobs is a global problem. All countries around the world are concerned about job creation. In Africa, the unemployment problem is compounded by the youthful population and pending demographic transition. Africa's population is very young…  making African leaders face special challenges," says Nigeria's president Goodluck Jonathan.
So, what has changed since the previous forum in Cape Town?
In spite of impressive growth, many African economies have yet to see broad-based prosperity. There are also issues of security, infrastructure, skills, education and health.
Africa's alarming youth unemployment story is often told in parallel with growth. The youth account for 60% of all of Africa's unemployed, according to the World Bank. Sub-Saharan Africa's unemployment rate is at 6% in comparison with the world average of 5%, according to the African Development Bank. The problem is that youth unemployment in most African countries occurs at more than twice the adult rate.
A defective educational system, lack of vocational guidance and training could be to blame.
Nigeria, West Africa's leading economy is even plagued by intermittent strikes in the classroom.
So, what will WEF achieve?
"It is not just about growth, it's about the right kind of growth and participants' focus will not be limited to growing Africa's economy, but will also highlight means of doing so in an inclusive manner," says WEF's head of Africa, Elsie Kanza.
"This meeting is creating tremendous opportunity in sub-Saharan Africa and the continent at large. These opportunities will help to break down barriers and open up new frontiers for business. The theme of this year's forum is very apt as this is what we are working tirelessly on presently. The power of these forums should not be underestimated," says Jim Ovia, the $900-million banking veteran and FORBES AFRICA cover in June last year.
Sub-Saharan Africa is expected to remain the world's second fastest growing region – a result of more efficiency in resource utilization, better governance and rising domestic demand. Challenges and opportunities shaping Africa's growth outlook are often under-estimated. These issues went under the microscope at the forum.
Nigeria's finance minister, Ngozi Okonjo-Iweala, says infrastructural and logistical challenges will continue to hamper the growth of the continent. West African leaders drew up plans to build highways to boost intra-Africa trade, as has been seen in East Africa.
Kenya has signed a $3.6 billion Mombasa-Nairobi railway deal with China. The railway will connect Kenya with the rest of the region and open up trade within East Africa.
Security in Nigeria was also on the agenda with the schoolgirl abduction in the headlines. Jonathan thanked the international community for their support on the issue but questions still hang over what the government will do.
It was announced by Okonjo-Iweala that a sum of $10 million has been approved by the state for a safe school project. A further $10 million will be provided by Nigerian business. This is seen as a move to improve security in Nigerian schools.
Lack of power in Africa poses a major threat to economic growth. Nigeria's parlous power sector and power privatization process, the biggest on the continent yet, has spurred global interest.
"We are getting somewhere and it will not be an overnight transformation. We are excited about the transformation this sector will experience and urge Nigerians to have some belief and patience in the process," says Okonjo-Iweala.
Trade between Africa and China is also expected to continue to grow.
"This is definitely the world's largest inclusive growth. Africa needs to develop its infrastructure and industries while China boasts a stronger and spare capability of investment and construction in this area. Thus, the economies of China and Africa are highly complementary and both sides' development is each other's opportunity. China and Africa shall complement each other in mutually beneficial co-operation to give a stronger impetus to each other's development," says Li Keqiang, the premier of China.
Technology can also drive the continent's economy.
"A vast number of people have been digitally empowered and are more open to economic participation. Getting this critical mass to act accordingly should be a stronger focus. Therein lies an opportunity," says Hendrik du Toit, the CEO of Investec Asset Management.
WEF also announced so-called Global Growth Companies (GGCs) in Africa. These are 16 high growth companies on the continent with innovative revenue growth and sound corporate governance. The selected companies are: Seplat Petroleum Development Company (Nigeria), Computer Warehouse Group (Nigeria), Interswitch Limited (Nigeria), Nagode Group (Nigeria), UAC of Nigeria (Nigeria), Notore Chemical Industries (Nigeria), Nation Media Group (Kenya), Bidco Oil Refineries (Kenya), GML (Mauritius), Growthpoint Properties (South Africa), KZN Oils (South Africa), Net1 UEPS Technologies (South Africa), Tekkie Town (South Africa), Capitec Bank (South Africa) Webber Wentzel (South Africa) and Simba Group (Uganda).
WEF and the Organisation for Economic Co-operation and Development set a joint task force to redesign financing for Africa and developing economies. According to Development Initiatives, an independent organization working on poverty alleviation, approximately $1.7 trillion flows from the developed to the developing world. The task force will redeploy the finance to key sectors of the economies that will benefit the most.
For now, Africa waits in anticipation to see whether the proof is in the pudding.
'It's The People-To-People Connections That Make A Lasting Impact'
Sahle-Work Zewde, Ethiopia's first female president and the only serving female head of state in Africa, tells FORBES AFRICA why more leaders should use soft power to achieve shared growth.
Sahle-Work Zewde has her name etched in political history. A veteran public official having served as an ambassador to Senegal, Djibouti, and France between 1989 and 2006, before her presidency, Zewde was Special Representative to the African Union and Head of the United Nations Office to the African Union. In an email interview, Zwede, who was also on FORBES AFRICA's list of 'Africa's 50 Most Powerful Women' for its March issue, dwells on why the 'Africa we want' will only become a reality with the positive and significant transformation of women's lives:
In your position, how are you moving to achieve more gender proportionality in Ethiopian politics?
I see my being in this position as both an opportunity and responsibility. I know that it is political will that has opened the way for me and many other women to assume positions of power and influence in the Presidency and the ministerial cabinet in Ethiopia. This stride is a major step forward for Ethiopia as a nation and also for the continent. However, things can regress and go back to how they were unless we take strategic and intentional action to build on the momentum. For me, the way forward is using my platform to empower and embolden the women coming after me. This can occur in two ways. The first is working on empowering the women who are in the workforce and especially in positions of leadership to reach their full potential and engage in activities that provide opportunities for the next generation of women leaders. The second is helping female students at both the university and high school levels to ensure that we have a steady stream of competent, educated and confident women ready to take over. As women in power, we have a responsibility to all the women that will come after us to ensure that their trajectory is easier than ours.
How must Africa change in this regard?
Although more progress has been achieved in terms of delivering on our promise to provide support towards women's education, health services, access to finance and political participation in a growing number of African countries, much more needs to be done. As a continent, we must go beyond the rhetoric and provide tangible solutions for African women in all sectors. The 'Africa we want' will only become a reality with the positive and significant transformation of women's lives and the extent of their participation in all walks of life.
What do the words 'power' and 'soft power' mean to you?
There is a clear distinction between 'power' and 'soft power'. While the first uses any means to achieve a goal, the latter relies on influence through communication, understanding and healthy discourse. Soft power does not resort to violence or coercive methods to achieve the results sought. Serving as a diplomat for a quarter century and at the United Nations for over a decade, I became very knowledgeable of the utility of soft power to reach consensus and effectuate change.
For me, the idea of soft power is what we need to promote as a continent. For decades, our continent has been ravaged by civil war, ethnic conflict and infighting.
However, Africa is now enjoying more economic growth than it has ever had. What we need now is more leaders to exercise soft power, finding what unites us to achieve a vision of shared growth. Traditional governance sees the government as the sole owner and executer of international relations. However, with our increasingly globalized world, it's the people-to-people connections that make a true and lasting impact and bond. Leaders of today have to detach from traditional views and adopt the more global perspective the times require.
– Interviewed by Renuka Methil
Ghana Hopes To Benefit From Hosting Africa's Free Trade Area Secretariat
Ghana has been chosen by the African Union (AU) to host the secretariat of the African Continental Free Trade Area. It beat other competing countries including Egypt, Eswatini, Ethiopia, Kenya, Madagascar and Senegal to win the bid.
As a free trade area, member countries have come together and agreed not to impose tariffs, quotas and other trade barriers on goods and services. The agreement is expected to enlarge markets and diversify exports, particularly manufactured goods.
According to US-based think tank the Brookings Institute, intra-African trade stands at about 14%, while the share of manufactured goods to the rest of the world stands at 18%. Trade among Asian countries is much higher – at 59% – and even higher among European countries at 69%. The hope is that the African free trade area will boost trade across the continent by 52% by 2022 .
READ MORE | IN PICTURES | Ghana Earning Its Stars And Stripes Through Tourism
The core mandate of the secretariat will be to implement the free trade agreement, which has been ratified by 25 out of 54 countries. Once all have ratified the deal, it will create the world's largest free trade area since the formation of the World Trade Organisation in 1995.
Africa's free trade area will cover a market of 1.2 billion people with a combined Gross Domestic Product (GDP) of US$2.5 trillion.
The secretariat's job will be to recruit personnel, train them, and develop organisational capability. The secretariat will also have to implement policies handed down by the governing body, keep the media informed, organise conferences and identify potential funding sources. It will also monitor and evaluate the progress of policies and programmes.
This is a first for Ghana which has not hosted a continental secretariat. The hope is that it can emulate the success of other African capitals that have befitted from hosting the AU and the United Nations.
Addis Ababa is home to the AU headquarters while Nairobi hosts two of the UN's biggest bodies. For its part, South Africa hosts the Pan-African Parliament.
The presence of the AU in Addis Ababa has been credited with an increase in property valuations as well as job creation.
In making its bid, Ghana took advantage of its strategic geographical location in West Africa. It has put a great deal of effort into making the country a gateway and a trade hub in West Africa.
Hosting the free trade area secretariat will come with costs and benefits – direct and indirect.
Why Ghana
In establishing its credentials to host the secretariat, the Ghanaian government would have set out the country's most notable achievements.
These would have included the fact that it's been an exemplary member of the AU. For example, in 2007 it was among the first countries to be reviewed by the African Peer Review Mechanism – the self-assessment mechanism used to measure good governance.
The fact that it put its hand up sent a signal to other countries that the peer review process was credible.
READ MORE | 'Stolen' Tutankhamun Bust Puts Britain's Museums And Auctioneers Back Under the Spotlight
Other factors that would have played in Ghana's favour are that the country's economy has been showing strong growth.
It is one of the fastest growing economies in the world with an averageGDP growth of about 6%. In addition, it comes second to Cape Verde in West Africa in terms of the United Nations Human Development index.
In one of the most unstable sub regions in the world, Ghana also has a tradition of relative peace and security, a key parameter for hosting a secretariat.
In addition, Ghana has had the advantage of learning about trade collaboration through its membership of the Economic Community of West African States (Ecowas).
Costs and benefits
Ghana has been part of the 15-member Ecowas since its formation in 1990. The regional body introduced a common external tariff in 2015 .
While Ghana has enjoyed benefits from the arrangement, like many other West African States, it has not been able to harness its full potential. For example, border controls remain cumbersome, delaying transits due to the numerous check points, huge unofficial payments at the borders.
The most direct cost to the country will be the $10 million pledged by President Nana Addo Dankwa Akufo-Addo to support setting up the secretariat. The AU is also expected to contribute funds and appeals have been made to international funding agencies.
Ghana's hope is that hosting the secretariat will boost the hospitality sector – and more broadly the services sector – and generate increased international exposure.
There should also be a boost for job creation as the secretariat hires staff; ranging from economists to translators, administrators and technicians.
There is no clear deadline on when the secretariat is expected to be up and running. The AU itself still has to clear a number of hurdles, including adopting a structure, staff rules and regulations, and the secretariat's budget.
Archive Documents Reveal The US And UK's Role In The Dying Days Of Apartheid
It is a quarter of a century since the end of apartheid in South Africa. But it's easy to forget how complex, difficult and violent the birth of full democracy really was. This was particularly true in KwaZulu-Natal, where battles between the African National Congress (ANC) and the mainly Zulu Inkatha Freedom Party (IFP) claimed the lives of as many as 20,000 in the decade between 1984 and 1994.
In the three months before the first elections in April 1994 an estimated 1 000 people were killed. The British and Americans were becoming increasingly concerned. The conflict between Inkatha and the ANC was just one crisis: another was developing with far right white extremists, who were threatening to resort to violence.
The US Central Intelligence Agency (CIA) reported that there was an:
eight in 10 chance that violence will surge immediately before and during the election, when emotions are at their highest.
The agency also warned of the threat of a right wing coup, although it considered this "unlikely". (This CIA report is available in hard copy only.)
As the situation grew increasingly tense, Britain's Prime Minister John Major and the US's President Bill Clinton became personally involved. Their interventions are shown in documents just released by the UK National Archives.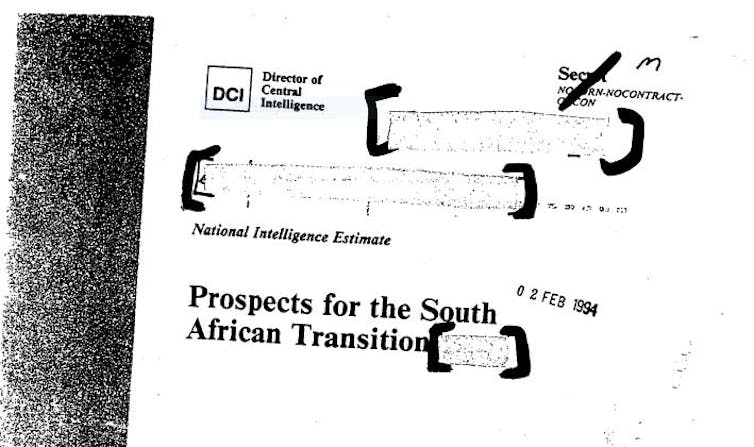 The documents reveal just what a close-run thing the first truly democratic election was, and how much time and effort Britain and the USA spent ensuring that the voting went ahead.
Desperate times
Prime Minister Major took a phone call from Nelson Mandela on 22 February, in which the ANC leader described the situation as "very difficult." Major briefed Mandela on a meeting between the British ambassador and the Inkatha leader, Mangosuthu Buthelezi. He gave Mandela a full account of the conversation, which he warmly welcomed.
On 24 February there is the first indication of a joint Anglo-American mediation effort to resolve the crisis. This arose during planning for a visit to Washington by Major three days later.
Our starting point is that the situation has now deteriorated to the point where it seems very unlikely that left to themselves the South Africans will reach an agreement that will enable to participate in the elections. The consequences are likely to be very serious.
The British suggested that Major and Clinton might "offer their joint help to the transition process".
The following day – having held discussions with Mandela, Buthelezi and President Frederik de Klerk – the British ambassador in Pretoria, Sir Anthony Reeve, was able to report that all three were prepared to go along with the Anglo-American initiative, although with some reservations. The ambassador concluded:
These responses do, I think, give us the green light to consult the Americans in detail on our thinking.
The proposal was discussed between Mandela and Buthelezi at a meeting on March 1 and both leaders agreed to "explore" the possibility of international mediation. Lord Carrington, who had negotiated the end of Rhodesia and its transition to Zimbabwe in 1980, was on a lecture tour of South Africa. He was approached by the ANC's Thabo Mbeki who asked whether he might act as one of a panel of mediators.
Others suggested were US Secretary of State Henry Kissinger and former Tanzanian head of state Julius Nyerere.
There followed intensive discussions between London and Washington, over how such mediation might work; indeed, Carrington and Kissinger travelled to South Africa. In the end a failure to agree on the terms of reference for the mediators, and South African government fears that the elections might be delayed, put paid to the plan.
It has been claimed the crisis – the most immediate was that Buthelezi was threatening to boycott the poll – was resolved by surprising last minute mediation by Kenyan Professor, John Okumu. Other Commonwealth envoys who had excellent contacts with both the ANC leadership and Buthelezi, including the late Ghanaian diplomat Moses Anafu, doubt this, arguing that forces that led Buthelezi into the election were much bigger.
Indeed, Buthelezi's brinkmanship had ensured key constitutional concessions. Okumu's intervention seems then a face-saving device for the IFP leader. A joint statement was agreed between Mandela, Buthelezi and de Klerk on 19 April, which allowed the election to take place just a week later (April 26-28).
Close-run thing
It had been a close-run thing and South Africa's first truly democratic election almost came to grief. But there were two more potential obstacles.
In the tense run-up to polling day, a report on the role of the apartheid state in stoking internal tension and violence was published. The Commission of Inquiry Regarding the Prevention of Public Violence and Intimidation, led by Justice Richard Goldstone had been established in 1991: its report was published on 21 April 1994.
Judge Goldstone's investigations revealed that sections of the South African Police had armed Inkatha, and pointed to attempts by senior police officers to subvert the work of his enquiry.
READ MORE | IN PICTURES | Chimamanda Ngozi Adichie gives Nelson Mandela public lecture
The charges were explosive and for a while the judge and his family were clearly at risk from white extremists. With de Klerk's support and the knowledge of Mandela, Goldstone, his wife and a "key witness" (a former South African police officer) asked whether they might come to Britain. John Major agreed, and they were given temporary asylum and a safe house.
The second obstacle was the South African government's clandestine chemical and biological weapons programme, known as "Project Coast."The British Foreign Secretary, Douglas Hurd, contacted Washington about the possibility of issuing a formal public protest unless President de Klerk publicly admitted his government's involvement in the use of these weapons against ANC and Namibian prisoners.
The British had apparently intervened to prevent the proliferation of these weapons to other rogue states or terrorist groups. On April 11 the US and British ambassadors delivered their protest to President de Klerk – which apparently did the trick.
There was an agreement that all the chemical and biological systems would be destroyed and one of the key South African experts, Wouter Basson, who had travelled to Libya on several occasions, was subsequently prosecuted.
Political triumph
The April 1994 election proved to be a watershed for South Africa. In technical terms, the election was a fiasco, but it was a political triumph, according to the Commonwealth's leading election official, Carl Dundass. Inkatha's surprising victory in Natal-KwaZulu strongly suggest Natal "horsetrading" involved overturning an actual ANC victory to manage anticipated post-election violence.
Despite all the violence, tension and drama the election ended apartheid and allowed Major to phone Mandela with his congratulations – a highly satisfactory conclusion to an intense period of international diplomacy.
-Sue Onslow; Reader, Institute of Commonwealth Studies, School of Advanced Study
-Martin Plaut; Senior Research Fellow, Horn of Africa and Southern Africa, Institute of Commonwealth Studies, School of Advanced Study
-The Conversation