Kenyan Approach Holds Promise for Boosting Early Childhood Education
There has been a big push by countries in sub-Saharan Africa over the past decade to improve early childhood education. This refers to pre-primary schools, which usually caters to children aged between 4 and 5.
Research has shown that participating in early childhood development and education programmes is associated with better adjustment to later schooling, as well as higher levels of academic achievement.
Kenya is among the best regional performers in terms of early childhood development enrolment, as shown in the chart below. But enrolment doesn't necessarily equate with quality.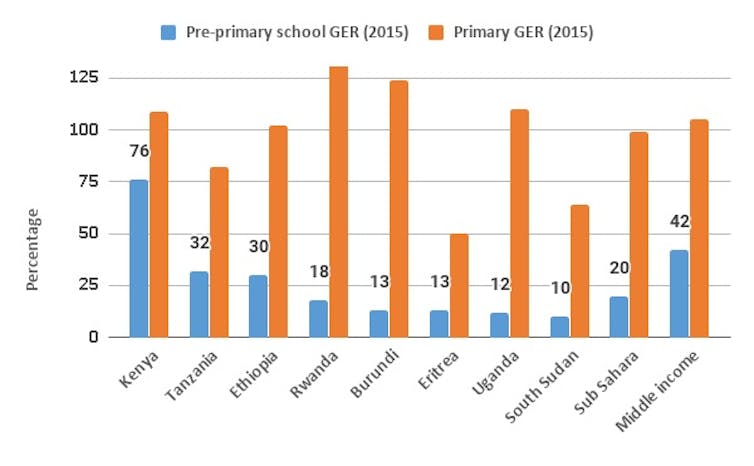 So in 2014, the Kenyan government introduced an early childhood education programme called Tayari – a Kiswahili word that means "readiness". It was piloted over four years in more than 1800 public and private early childhood development and education centres. Tayari reached slightly over 72 000 pre-primary school leaners.
Tayari's aim was to develop a cost-effective, scalable model of early childhood development and education that would prepare children cognitively, physically, socially and emotionally for primary school. The model had three interrelated components. The first was teacher training and classroom support. The second involved providing teachers and learners with appropriate instructional materials like learners' work books and teacher guides. The third centred on health and hygiene knowledge, making children aware of why hand washing and healthy foods are important.
Cost-effectiveness was determined by comparing net gain scores on learner assessment to incremental costs of implementing Tayari. This information is important to policy makers in making alternative investment decisions.
So, did it succeed? My colleagues and I at the African Population and Health Research Centre conducted an independent external evaluation to find out. We wanted to assess the programme's impact, and how cost effective it had been. Our findings were largely positive.
The learners who were exposed to Tayari were more ready to join primary grade 1 compared to those not involved in the programme. The Tayari model provides an opportunity to improve the quality of childhood learning in sub-Saharan Africa. It is flexible and can be tweaked to fit different contexts.
Measuring success
Our study involved a randomised control trial design. This means we created a natural experiment to compare scores of learners who were exposed to Tayari with those of similar learners not exposed. Using this approach, we sampled 600 pre-primary schools from the 1800 centres involved in the Tayari programme. Half of these were low-cost private early childhood development and education centres; the other half were public early childhood development and education centres.
We then compared learner assessment results from the centres that were exposed to learners of centres not exposed. We found that, on average, learners who'd been part of the Tayari programme were about three school months ahead of their peers who hadn't taken part.
Crucially, we also found that the Tayari programme was cost-effective. By spending an extra US $14 per learner over a period of two years – that is, about US $7 a year – policymakers could enhance learners' scores in early childhood development and education centres by an average of about 3 percentage points.
With a budget of US $7 million per year, the government can heavily subsidise the cost of 1 million learners in early childhood education in a way that will improve the quality and make the learners ready to join primary grade 1.
Future prospects
Our results suggest that the Tayari programme could provide a useful model for other countries in sub-Sahara Africa. The typical barriers addressed by Tayari includes inadequate provision of age-appropriate and context relevant quality teaching and learning materials; and, lack of capacity to offer classroom-based teacher coaching during instruction.
Policymakers have much to learn from the way the model was structured, and the way the overall package focused on instructional quality.
Of course, there are still gaps in our knowledge. We don't know how long Tayari's social and education benefits will persist; this will need to be the focus of future research. But, based on our study and its findings, we believe the Tayari model is suitable for scaling up by ministries of education and development partners. -The Conversation
–Moses Ngware: Senior Research Scientist, African Population and Health Research Center
Quarantine Reflections: How Businesses Must Lead From The Heart Now
Bisila Bokoko, born in the Equatorial Guinea, raised in Spain and now resident in New York as a businesswoman, communications consultant and motivational speaker, is a global citizen like no other.
Straddling these regions for her wine and sports retail businesses and a library project she is spearheading in Senegal, Bokoko has been on self-quarantine for the last four weeks in her Manhattan apartment, after a recent work trip to Spain.
Here, she sheds light on the Covid-19 crisis that she says has made her more reflective of how she needs to rethink her businesses. "It is an extremely confusing and challenging time with such a huge impact on everything," she says. "Life is never going to be the same again."
The coronavirus outbreak has changed the way we eat, shop and consume, she adds, with the most dramatic change happening in retail, because of changing values and new priorities.
"The center is going to be the human being, and the wellbeing of the human," says Bokoko. "And this will not be from an individual perspective, but in relation to each other. We have to be a more collaborative economy, because how we are, will affect everyone else. As leadership, we now need to lead from the heart."
In this FORBES AFRICA interview, Bokoko speaks to Managing Editor Renuka Methil, also about how the current crisis will throw up new opportunities for local African art and the fashion business.
As I walk through Brooklyn Bridge Park, gazing at the magnificent Manhattan skyline on the East River, at first glance it looks as crowded as it usually does. However, if you look closer, it's not your typical mixture of tourists with their cacophony of foreign languages, photographers with tripods, or teenagers on skateboards. The park is filled with lone joggers, parents in yoga pants pushing double strollers and carefully guarding kids on scooters. No one plays volleyball in the sand by the river. No one picnics in the barbecue area. Everyone keeps a friendly and polite distance, some people wear face masks. And yet, it doesn't really look like social distancing, or the lockdown that it is–ordered by the mayor and the governor of New York in an effort to contain the spread of the Coronavirus.
That peaceful picture of joggers and children playing shouldn't fool anyone. The five boroughs of New York City – Brooklyn, Queens, Manhattan, Staten Island and the Bronx — are hit hard by the rapidly spreading Coronavirus. With the death toll rising – 678 patients had died in overcrowded New York City hospitals by March 28, and the number of cases in New York state has surpassed 53,000; the five boroughs of New York have become the epicenter of the pandemic.
The healthcare system is overwhelmed. I spoke with four medical professionals in the city and they all confirm the disturbing reality that is in the news. The hospitals don't have enough protective gear, single use masks have been reused, hospitals do not have enough beds and ventilators. Medical personnel intubate patients non-stop, assisting them with breathing. The city hospitals have set up makeshift tents to triage COVID-19 patients as well as to act as morgues. The government's delayed response to the virus's spread is costing many, many lives.
One thing that is striking about New Yorkers – my home of seventeen years – is how people come together and support each other. After the terrorist attack on September 11, 2001; during the power outage in 2003, when the entire city went dark for hours; and after the devastating hurricane Sandy in 2012.
On the day when Donald Trump was elected president in 2016, New Yorkers, predominantly liberal democrats, were especially sensitive with each other, calmly sharing their sadness and expressing worry for the future of their country. Today, when schools, non-essential stores, bars and restaurants are closed, and many people are isolating and trying to follow social distancing guidelines, members of communities come together to help each other: buying food for older neighbors, helping with disinfecting door knobs and elevator buttons. Mental health professionals volunteer their services to the anxious and scared. At grocery stores and pharmacies only a few people are allowed in at a time, people are waiting outside, standing about two meters apart, and the doormen pour out hand sanitizer into people's palms.
Besides solidarity and respect, there is also fear and anxiety. Service and food industry workers are out of work, facing months of hardships. According to the New York State Labor department, during the first days of the lockdown, in some parts of the state, there was a 1,000% increase in unemployment claims as 1.7 million people called to file for benefits. Well over a million children from financially strained families relied on school lunches, and those are now provided at meal sites. But that also means the disparity in incomes in New York has been underscored by the Covid 19 impact, and the inequality between the haves and have-nots will continue to be exposed.
Forbes headquarters in New Jersey has been working remotely since the first week of March. We quickly re-organized: the entire company of 400 people has migrated into a virtual workplace, with a highly mobilized virtual newsroom. Besides holding daily meetings and video calls, our teams get together for virtual hangouts to keep each other's spirits up.
The city authorities were slow to respond to the Covid-19 spread. For weeks, when it was clear the crisis was imminent, eight million New Yorkers commuted in crowded subways, went to crowded restaurants and bars, and also traveled to and from crowded international airports, breathing in each other's air.
In the absence of the pandemic team, fired by Trump in 2018, the federal government's response was slow to respond to the disaster. The Trump administration failed to prevent this crisis underestimating the danger of Covid-19: "We have it totally under control," he said in January, when the virus was already spreading. "It's one person coming in from China, and we have it under control." The government failed to test people in a timely manner. In New York, Mayor Bill De Blasio and the governor Andew Cuomo stepped in and tried to help the hospitals secure supplies and additional testing stations. They are still trying.
Meanwhile, the city is contemplating closing parks and other public places. Maybe even prohibiting people from leaving their homes, or perhaps prohibiting them from leaving New York itself. For the next few weeks, the Big Apple will stay confined indoors. Stay home, don't spread, save lives.
–Katya Soldak, Forbes Staff, Business
Here's How Much It Could Cost If We Stop Social Distancing
Topline: This week, President Trump floated the idea of easing up on social distancing measures on the theory that the damage caused by shutting down the economy might be greater than the cost of letting the virus run its course—some models suggest, however, that reopening the economy too soon could be exponentially more expensive.
If the United States were to abandon aggressive social distancing measures after 14 days, more than 125 million people will contract the virus, some 7 million could be hospitalized, and 1.9 million people will die (accounting for other factors like infectiousness and hospitalization rates), according to a model built by the New York Times.
If social distancing goes on for two months, the model predicts that 14 million will contract the virus, with fewer than 100,000 deaths.
There's no debate that the broader economy is going to suffer even at the current rate of spread. Morgan Stanley is predicting a 30% drop in GDP next quarter. U.S. GDP is currently $21.43 trillion. A drop of 30% would mean a value-loss of more than $6.4 trillion (for context, the economic relief bill signed by President Trump this afternoon is worth about $2 trillion).
If the outbreak worsens due to relaxed social distancing measures, it's not unreasonable to anticipate even greater economic losses.
Economists can calculate the average value of one life saved using a model called the value of a statistical life. It's a fuzzy metric used by some government agencies that is based on how much a person is willing to pay to reduce the risk of death. Right now, that figure hovers around $10 million.
"If we could prevent a million deaths, at the usual way we value [them] of around $10 million each, that's $10 trillion, which is half of GDP," says James Hammitt, a professor of economics in Harvard's health policy department.
University of Chicago economists have arrived at a similar conclusion: they've found that under "moderate" social distancing measures, 1.7 million lives and at least $7.9 trillion could be saved.
Big number: The average cost of a hospital stay for a mild case of pneumonia is $9,763, according to Peterson-KFF analysis (pneumonia is commonly associated with COVID-19, the disease caused by the coronavirus). The median total cost balloons to $88,114 for the most severe cases that require more than four days of ventilator support. Seven million hospitalizations for patients with mild cases would cost more than $68 billion. If 17% of those patients required ventilator support, as was the case in one Chinese study, the cost of hospitalizations alone could add up to a staggering $161 billion, and that's before the cost of other health complications related to the virus is accounted for. 
Crucial quote: "Anything that slows the rate of the virus is the best thing you can do for the economy, even if by conventional measures it's bad for the economy," University of Chicago economist Austan Goolsbee told the New York Times.
Key background: In some ways, all of this discourse is more than a century old. A new paper released yesterday found that during the1918 flu pandemic—the closest historical analogue for the current coronavirus outbreak—cities that intervened earlier and more aggressively to slow the spread of the virus through social distancing and isolation of cases suffered no greater economic damage than those that didn't. "On the contrary," the authors write, "cities that intervened earlier and more aggressively experience a relative increase in real economic activity after the pandemic." Seattle, Oakland, Omaha, and Los Angeles, for instance, implemented stronger containment measures than Pittsburgh, Nashville, and Philadelphia and all saw a much larger surge in job growth after the crisis was over in 1920. 
Tangent: Texas Lieutenant Governor Dan Patrick suggested earlier this week that grandparents might be willing to die to preserve the economy for their grandchildren. "No one reached out to me and said, 'as a senior citizen, are you willing to take a chance on your survival in exchange for keeping the America that all America loves for your children and grandchildren?'" he said. "And if that's the exchange, I'm all in." His and Trump's comments sparked a backlash among progressives on social media on Tuesday, when the hashtag #NotDying4WallStreet trended on Twitter as users voiced their fears of the pandemic, and of the government's response to it. "I'll let Wall Street flat line before my grandma does," wrote one Twitter user. 
– Sarah Hansen, Forbes Staff