Kenyan Approach Holds Promise for Boosting Early Childhood Education
There has been a big push by countries in sub-Saharan Africa over the past decade to improve early childhood education. This refers to pre-primary schools, which usually caters to children aged between 4 and 5.
Research has shown that participating in early childhood development and education programmes is associated with better adjustment to later schooling, as well as higher levels of academic achievement.
Kenya is among the best regional performers in terms of early childhood development enrolment, as shown in the chart below. But enrolment doesn't necessarily equate with quality.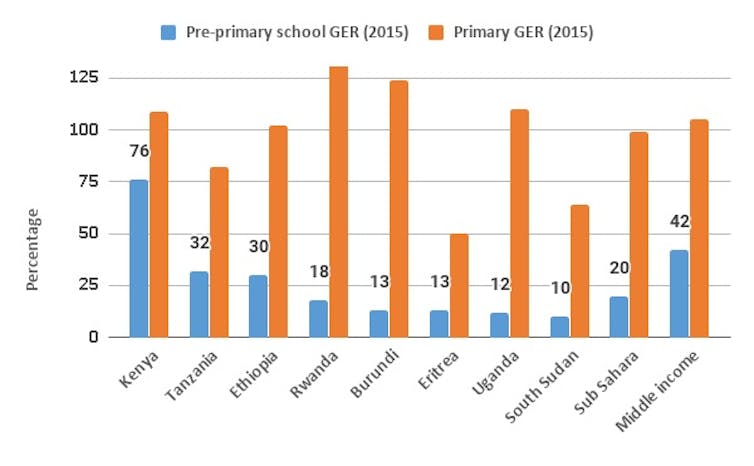 So in 2014, the Kenyan government introduced an early childhood education programme called Tayari – a Kiswahili word that means "readiness". It was piloted over four years in more than 1800 public and private early childhood development and education centres. Tayari reached slightly over 72 000 pre-primary school leaners.
Tayari's aim was to develop a cost-effective, scalable model of early childhood development and education that would prepare children cognitively, physically, socially and emotionally for primary school. The model had three interrelated components. The first was teacher training and classroom support. The second involved providing teachers and learners with appropriate instructional materials like learners' work books and teacher guides. The third centred on health and hygiene knowledge, making children aware of why hand washing and healthy foods are important.
Cost-effectiveness was determined by comparing net gain scores on learner assessment to incremental costs of implementing Tayari. This information is important to policy makers in making alternative investment decisions.
So, did it succeed? My colleagues and I at the African Population and Health Research Centre conducted an independent external evaluation to find out. We wanted to assess the programme's impact, and how cost effective it had been. Our findings were largely positive.
The learners who were exposed to Tayari were more ready to join primary grade 1 compared to those not involved in the programme. The Tayari model provides an opportunity to improve the quality of childhood learning in sub-Saharan Africa. It is flexible and can be tweaked to fit different contexts.
Measuring success
Our study involved a randomised control trial design. This means we created a natural experiment to compare scores of learners who were exposed to Tayari with those of similar learners not exposed. Using this approach, we sampled 600 pre-primary schools from the 1800 centres involved in the Tayari programme. Half of these were low-cost private early childhood development and education centres; the other half were public early childhood development and education centres.
We then compared learner assessment results from the centres that were exposed to learners of centres not exposed. We found that, on average, learners who'd been part of the Tayari programme were about three school months ahead of their peers who hadn't taken part.
Crucially, we also found that the Tayari programme was cost-effective. By spending an extra US $14 per learner over a period of two years – that is, about US $7 a year – policymakers could enhance learners' scores in early childhood development and education centres by an average of about 3 percentage points.
With a budget of US $7 million per year, the government can heavily subsidise the cost of 1 million learners in early childhood education in a way that will improve the quality and make the learners ready to join primary grade 1.
Future prospects
Our results suggest that the Tayari programme could provide a useful model for other countries in sub-Sahara Africa. The typical barriers addressed by Tayari includes inadequate provision of age-appropriate and context relevant quality teaching and learning materials; and, lack of capacity to offer classroom-based teacher coaching during instruction.
Policymakers have much to learn from the way the model was structured, and the way the overall package focused on instructional quality.
Of course, there are still gaps in our knowledge. We don't know how long Tayari's social and education benefits will persist; this will need to be the focus of future research. But, based on our study and its findings, we believe the Tayari model is suitable for scaling up by ministries of education and development partners. -The Conversation
–Moses Ngware: Senior Research Scientist, African Population and Health Research Center
OPEC And Its Allies Are Ready To Boost Production, But Here's Why An Oil Market Recovery Isn't Guaranteed
After record production cuts in April intended to prop up the market amid a demand crisis caused by the coronavirus pandemic, the world's largest oil producers are expected to ease up on the restrictions and begin to increase their output next month.
KEY FACTS
Saudi Arabia, Russia, and the other members of OPEC+ will meet Wednesday to discuss the current market situation and debate future production limits, the Wall Street Journal reported over the weekend, adding that most delegates in the organization support loosening restrictions.
As lockdown measures ease across the globe, demand for oil is slowly beginning to rise again as shipping and air travel resume. 
Oil prices are still down significantly from pre-pandemic levels, however, with the Brent international benchmark priced at about 30% of January levels. 
The International Energy Agency said Friday that while global demand for oil had recovered strongly in China and India in May, world demand is still projected to decline during the second half of the year before recovering in 2021. 
The recent spike coronavirus cases and new lockdowns are creating "more uncertainty": additional lockdowns could discourage travel and international trade, which would put more downward pressure on prices.
The risk to the oil market is "almost certainly to the downside," the IAE said. 
KEY BACKGROUND
In April, the members of the Organization of Petroleum Exporting Countries (OPEC) and its allies agreed to record oil production cuts of 9.7 million barrels a day as the coronavirus decimated global demand for crude oil. The agreement put an end to a weeks-long price war between Russia and Saudi Arabia that added even more pressure to an already-struggling market.
CRUCIAL QUOTE
"If OPEC clings to restraining production to keep up prices, I think it's suicidal," a person familiar with Saudi Arabia's thinking told the Journal. "There's going to be a scramble for market share, and the trick is how the low cost producers assert themselves without crashing the oil price."
– Sarah Hansen, Forbes Staff, Markets
Zindzi Mandela passes away, aged 59
Zindziswa 'Zindzi' Mandela has died. The 59-year-old is believed to have breathed her last in a Johannesburg hospital in the early hours of July 13, Monday, SABC is reporting.
Zindzi was the daughter of struggle icons, South Africa's former president Nelson Mandela and Winnie Madikizela-Mandela, and currently serving as South Africa's ambassador to Denmark.
In December 2014, Zindzi graced the cover of FORBES WOMAN AFRICA alongside her mother, a year after her father's death.
She lost her 13-year-old granddaughter, Zenani, in a car crash after a pre-tournament concert during the 2010 FIFA World Cup that took place in South Africa.
In 2018, her mother Winnie, passed away.
Zindzi is survived by her four children, husband and grandchildren.
.
The Test, Trial And Triumph
After 14 days in isolation as a Covid-19 patient, this FORBES AFRICA photojournalist recovered to see the world with new eyes and realize he had the gift of life.
It was around 3PM on June 24 when a nurse called to tell me that I could now officially end my 14-day self-isolation period at home. I had tested Covid-19 positive three weeks before and now was in total disbelief that I had survived this particular physical trial and mental ordeal.
Before testing positive, I was like any other ordinary South African, pursuing my work from home, and as a FORBES AFRICA photojournalist, recording the impact of the coronavirus.
I had thought my face-mask and hand-sanitizer were my armour against the virus, but I guess one can never be too careful.
The first 72 hours of knowing that I had confirmed positive for Covid-19 came with its own set of emotions and experiences. Some friends, and even family, criticized and judged me for carrying the virus, but I also came to know about the ones who cared.
A group of doctors visited me at home to check if I needed hospitalization. They were young and not cloaked head-to-toe in PPE as I had thought. One of them was wearing a camouflage top and sported a few tattoos on his left arm. After his consultation with me, he spoke excitedly about the baby he and his wife were expecting, due later in the year.
There was hope in the world.
I was confident my health was getting better until a nurse called me a few days later. She was the pin that burst my bubble, as she stated things I didn't want to hear at the time. They were facts, she clinically warned, as she sees people dying daily of the virus.
My mind raced to the previous two nights, when I experienced mild short breaths and thought how the attack could have been worse. I could have died at night all by myself, just trying to breathe. I shed tears as she spoke.
Soon after that, an old friend of mine, who had been shot (and injured) in the spine during an armed robbery attack, called. His timing was perfect. He encouraged me to live on and smile, and told me that the nurse was only doing her job, in advising me to keep to a healthy diet during this time. He brought a smile to my face.
A week later, it was my mother's birthday. Every year, I visit her with a gift and a cake. This time, all I could do was video-call her; she was both happy and sad not to be able to see me. Two days later, it was my own birthday. I felt low and lonely, but was glad to be alive as my two weeks in self-quarantine was going to be over soon.
"I asked if I would be added on as a statistic to the official recovery numbers, and she laughed."
I was reluctant to leave the house, but on June 24, the call by a lady who identified herself as "Nurse Nomsa from the Department of Health" liberated me. She was following up on my health status for the previous two weeks and I had ticked all the right boxes. I asked if I would be added on as a statistic to the official recovery numbers, and she laughed. She told me I had recovered, but should continue maintaining a healthy lifestyle.
Today, I can stand outside my home in Soweto and watch the neighbors' kids play, shout and scream, asking from their yards, "Malume (uncle), are you okay?"
With a gentle laugh and nod, I acknowledge my story of survival to them.