Kenyan Approach Holds Promise for Boosting Early Childhood Education
There has been a big push by countries in sub-Saharan Africa over the past decade to improve early childhood education. This refers to pre-primary schools, which usually caters to children aged between 4 and 5.
Research has shown that participating in early childhood development and education programmes is associated with better adjustment to later schooling, as well as higher levels of academic achievement.
Kenya is among the best regional performers in terms of early childhood development enrolment, as shown in the chart below. But enrolment doesn't necessarily equate with quality.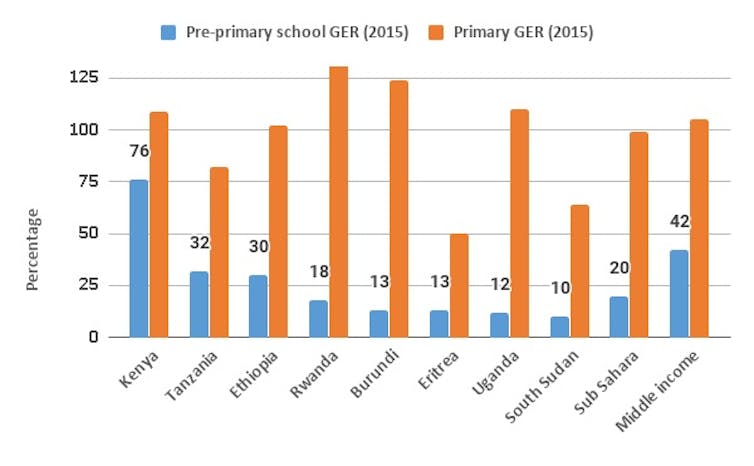 So in 2014, the Kenyan government introduced an early childhood education programme called Tayari – a Kiswahili word that means "readiness". It was piloted over four years in more than 1800 public and private early childhood development and education centres. Tayari reached slightly over 72 000 pre-primary school leaners.
Tayari's aim was to develop a cost-effective, scalable model of early childhood development and education that would prepare children cognitively, physically, socially and emotionally for primary school. The model had three interrelated components. The first was teacher training and classroom support. The second involved providing teachers and learners with appropriate instructional materials like learners' work books and teacher guides. The third centred on health and hygiene knowledge, making children aware of why hand washing and healthy foods are important.
Cost-effectiveness was determined by comparing net gain scores on learner assessment to incremental costs of implementing Tayari. This information is important to policy makers in making alternative investment decisions.
So, did it succeed? My colleagues and I at the African Population and Health Research Centre conducted an independent external evaluation to find out. We wanted to assess the programme's impact, and how cost effective it had been. Our findings were largely positive.
The learners who were exposed to Tayari were more ready to join primary grade 1 compared to those not involved in the programme. The Tayari model provides an opportunity to improve the quality of childhood learning in sub-Saharan Africa. It is flexible and can be tweaked to fit different contexts.
Measuring success
Our study involved a randomised control trial design. This means we created a natural experiment to compare scores of learners who were exposed to Tayari with those of similar learners not exposed. Using this approach, we sampled 600 pre-primary schools from the 1800 centres involved in the Tayari programme. Half of these were low-cost private early childhood development and education centres; the other half were public early childhood development and education centres.
We then compared learner assessment results from the centres that were exposed to learners of centres not exposed. We found that, on average, learners who'd been part of the Tayari programme were about three school months ahead of their peers who hadn't taken part.
Crucially, we also found that the Tayari programme was cost-effective. By spending an extra US $14 per learner over a period of two years – that is, about US $7 a year – policymakers could enhance learners' scores in early childhood development and education centres by an average of about 3 percentage points.
With a budget of US $7 million per year, the government can heavily subsidise the cost of 1 million learners in early childhood education in a way that will improve the quality and make the learners ready to join primary grade 1.
Future prospects
Our results suggest that the Tayari programme could provide a useful model for other countries in sub-Sahara Africa. The typical barriers addressed by Tayari includes inadequate provision of age-appropriate and context relevant quality teaching and learning materials; and, lack of capacity to offer classroom-based teacher coaching during instruction.
Policymakers have much to learn from the way the model was structured, and the way the overall package focused on instructional quality.
Of course, there are still gaps in our knowledge. We don't know how long Tayari's social and education benefits will persist; this will need to be the focus of future research. But, based on our study and its findings, we believe the Tayari model is suitable for scaling up by ministries of education and development partners. -The Conversation
–Moses Ngware: Senior Research Scientist, African Population and Health Research Center
The Rage And Tears That Tore A Nation
Snapshots of the outrage against foreign nationals and protests against sexual offenders in South Africa in recent weeks, captured by FORBES AFRICA photojournalist Motlabana Monnakgotla.
---
As the continent's second-biggest economy, South Africa attracts migrants from the rest of Africa. But mired in its own problems of unemployment and political instability, September saw a serious outbreak of attacks by South Africans on foreign nationals and foreign-owned businesses. And they have been ugly.
The spark that fueled the raging fire was in Pretoria, the country's capital, when a taxi driver was shot dead by a foreign national who was selling drugs to a youngster in the central business district (CBD).
The altercation caused a riot and the taxi industry brought the CBD to a standstill, blocking intersections. It did not stop there; a week later, about 60 kilometers from the capital in Malvern, a suburb east of the Johannesburg CBD, a hijacked building caught fire, leaving three dead. As emergency services were putting out the fire, the residents took advantage and looted foreign-owned shops and burned car dealerships overnight on Jules Street.
A burned shop on Jules Street is one of the many shops that were looted. Picture: Motlabana Monnakgotla

A cashier's window smashed during a looting spree in Katlehong. Picture: Motlabana Monnakgotla
The lootings extended to the CBD and other parts of Johannesburg.
To capture this embarrassing moment in South African history, I visited Katlehong, a township 35 kilometers east of Johannesburg, where the residents blocked roads leading to Sontonga Mall on a mission to loot the mall and the foreign-owned shops therein overnight.
Shop-owners and workers were shocked to wake up to no business.
Mfundo Maljingolo, a worker at Fish And Chips, was among the distressed.
"This thing started last night, people started looting and broke into the mall and did what they wanted to do. I couldn't go to work today because there's nothing to do; now, we are not going to get paid. The shop will be losing close to R10,000 ($677) today. It's messed up," said Maljingolo.
But South African businesses were affected too.
Among the shops at the mall is Webbers, a clothing and footwear store. Looters could not enter the shop and it was one of the few that escaped the vandalism.
Dineo Nyembe, the store's manager, said she was in disbelief when she saw people could not enter the mall.
A worker cleans up after a liqour store was looted by Katlehong residents overnight. Picture: Motlabana Monnakgotla

Car dealerships were among the businesses set alight on Jules Street. Picture: Motlabana Monnakgotla
"We got here this morning and the ceiling was wrecked but there was no sign that the shop was entered, everything was just as we left it. Now, we are packing stock back to the warehouse, because we don't know if they are coming back tonight," lamented Nyembe, unsure if they would make their daily target or if they would be trading again.
 Across the now-wrecked mall are small businesses that were not as fortunate as Webbers, and it was not only the shop-owners that were affected. 
Emmanuel Nhlane's home was robbed even as attackers were looting the shop outside.
"They broke into my house, I was threatened with a petrol bomb and I had to stand outside to give them a chance; they took my fridge, bed, cash and my VHS," said Nhlane.
Rubble and dust on the streets of Katlehong after a night of looting at a local mall and its foreign-owned shops. Picture: Motlabana Monnakgotla
Nhlane had rented out his yard to foreign nationals to operate a shop. He does not comprehend why his belongings were taken because he doesn't own a shop. Now, it means that the unemployed Nhlane will not be getting his monthly rental fee of R3,700 ($250).
Far away, the coastal KwaZulu-Natal province of South Africa, was also affected as trucks burned and a driver was killed because of his nationality. This was part of a logistics and transport industry national strike.
Back in Johannesburg, I visited the car dealerships that were a part of the burning spree on Jules Street.
The streets were still ashy and the air still smoky, two days after the unfortunate turn of events.
Muhamed Haffejee, one of the distraught businessmen there, said: "Currently, we are still not trading."
Cape Town, in the Western Cape province of South Africa, which hosted the World Economic Forum (WEF) on Africa from September 4 to 6, was also witness to protests by women and girls from all walks of life outside the Cape Town International Convention Centre, demanding that the leadership take action to end the spate of gender-based violence (GBV) in the country.
There were protests also outside Parliament. What set off the nationwide outcry was the shocking rape and murder of Uyinene Mrwetyana, a 19-year-old film and media student at the University of Cape Town, inside a post office by a 42-year-old employee at the post office.
According to Stats SA, there has been a drastic increase of women-based violence in South Africa. Picture: Motlabana Monnakgotla

Leader of the African National Congress Women's League, Bathabile Dlamini, was also present outside the JSE. Picture: Motlabana Monnakgotla
There was anger against the ghastly crimes and wave of GBV in the country that continues unabated. According to Stats SA, there has been a drastic increase of women-based violence in South Africa; sexual offences are up by 4.6%, from 50,108 in 2018 to 52,420 in 2019.
A week later, on a Friday, Sandton, Africa's richest square mile and one of the biggest economic hubs, was shut down by hundreds of angry women and members of advocacy groups from across Johannesburg. They congregated by the Johannesburg Stock Exchange (JSE), the cynosure of business, singing and chanting, to demand "a 2% levy on profits of all listed entities to help fund the fight against GBV and femicide".
Among the protesters was Cebi Ngqinanbi, holding a placard that read: "I'm not your punching bag."
"We came here to disrupt Sandton as the heart of Johannesburg's economic hub. We want to make everyone aware that women and children are being killed every day in South Africa and they [Sandton] continue with business as usual, sitting in their offices with air-conditioners and the stock exchange whilst people on the ground making them rich are dying. That is why we are here, to speak to those that have economic power," said Ngqinanbi.
She added that if women can be given economic power, they will be able to fend for themselves and won't fall prey to abusive men, since most women stay in abusive relationships because men are more financially stable.
Amid the chanting and singing of struggle songs, Nobuhle Ajiti addressed the crowd and shared her own haunting experience as a migrant in South Africa and survivor of GBV. She spoke in isiZulu, a South African language.
"I survived a gang rape; I was thrown out of a moving car and stabbed several times. I survived it, but am I going to survive xenophobia that is looming around in South Africa? Will I able to share my xenophobia story like I can share my GBV story?" questioned Ajiti.
Addressing the resolute women outside was the JSE CEO Nicky Newton-King who received the memorandum demanding business take their plight seriously. Picture: Motlabana Monnakgotla

Women hold up placards stating their grievences against GBV. Picture: Motlabana Monnakgotla
She said as migrants, they did not wake up in the morning and decide to come to South Africa, but because of the hardships faced in their home countries, they were forced to come to what they perceived as the city of opportunities. And as a foreign national, she had to deal with both xenophobia and GBV.
"We experience institutionalized xenophobia in hospitals; we are forced to pay huge amounts for consultation. I am raped and I need medical attention and I am told I need to pay R5,000 ($250).
"As a mere migrant, where am I going to get R5,000? I get abused at home and the police officer would ask me where I'm from because of my accent, I sound Zimbabwean. What does my nationality have to do with my husband beating me at home or with the man that just raped me?" she asked.
Addressing the resolute women outside was the JSE CEO Nicky Newton-King who received the memorandum demanding business take their plight seriously, from a civil society group representing over 70 civil society organizations and individuals.
The list of demands include that at all JSE-listed companies contribute to a fund to resource the National Strategy Plan on GBV and femicide, to be launched in November; transport for employees who work night shifts or work after hours; establish workplace mechanisms to provide support to GBV survivors as part of employee wellness, and prevention programs that help make workplaces safe spaces for all women.
Newton-King assured the protestors she would address their demands in seven days. But a lot can happen in seven days. Will there be more crimes in the meantime? How many more will be raped and killed in South Africa by then?
Nationwide outcry was setoff by shocking rape and murder of Uyinene Mrwetyana. Picture: Motlabana Monnakgotla

What set off the nationwide outcry was the shocking rape and murder of Uyinene Mrwetyana, a 19-year-old film and media student at the University of Cape Town Picture: Motlabana Monnakgotla
Roadmap For African Startups
Francois Bonnici, Head of the Schwab Foundation for Social Entrepreneurship, explains how African impact entrepreneurs will continue to rise.
---
Does impact investment favor expats over African entrepreneurs? If so, how can it be fixed?
There is a growing recognition all over the world that investment is not a fully objective process, and is biased by the homogeneity of investors, networks and distant locations.
A Village Capital Report cited that 90% of investment in digital financial services and financial inclusion in East Africa in 2015-2016 went to a small group of expatriate-founded businesses, with 80% of disclosed funds emanating from foreign investors.
READ MORE | It's Time For Africa's Gazelles To Shine
In a similar trend recognized in the US over the last decade, reports that only 3% of startup capital went to minority and women entrepreneurs has triggered the rise of new funds focused on gender and minority-lensed investing.
There has been an explosion of African startups all over the continent, and investors are missing out by looking for the same business models that work in Silicon Valley being run by people who can speak and act like them.
In South Africa, empowerment funds and alternative debt fund structures are dedicated to investing in African businesses, but local capital in other African countries may not also be labelled or considered impact investing, but they do still invest in job creation and provision of vital services.
There is still, however, a several billion-dollar financing gap of risk capital in particular, which local capital needs to play a significant part in filling. And of course, African impact entrepreneurs will continue to rise and engage investors convincingly of the growing and unique opportunities on the continent.
READ MORE | The World's Most Generous Billionaires Outside Of The US
What are the most exciting areas for impact investing and social entrepreneurship today?
After several decades of emergence, the most exciting areas are the explosion of new products, vehicles and structures along with the mainstreaming of impact investment into traditional entities like banks, asset managers and pension funds who are using the impact lens and, more importantly, starting to measure the impact.
At the same time, we're seeing an emergence of partnership models, policies and an ecosystem of support for the work of social entrepreneurs, who've been operating with insufficient capital and blockages in regulation for decades.
The 2019 OECD report on Social Impact Investment mapped the presence of 590 social impact investment policies in 45 countries over the last decade, but also raises the concern of the risk of 'impact washing' without clear definitions, data and impact measurement practices.
In Africa, we are also seeing National Advisory Boards for Impact Investing emerge in South Africa and social economy policies white papers being developed; all good news for social entrepreneurs.
READ MORE | Naomi Campbell: Africa Is One Of The Leading Continents In The World
What role does technology play in enabling impact investing and social entrepreneurship?
The role of technologies from the mobile phone to cloud services, blockchain, and artificial intelligence is vast in their application to enhancing social impact, improving the efficiency, transparency and trust as we leapfrog old infrastructures and create digital systems that people in underserved communities can now access and control.
From Sproxil (addressing pirated medicines and goods), to Zipline (drones delivering life-saving donor blood to remote areas of Rwanda) to Silulo Ulutho Technologies (digitally empowering women and youth), exciting new ways of addressing inclusion, education and health are possible, and applications are being used in many other areas such as land rights, financial literacy etc.
While we have seen a great mobile penetration, much of Africa still suffers from high data costs, and insufficient investment in education and capacity to lead in areas of the fourth industrial revolution, with the risk that these technologies could negatively impact communities and further drive inequality.
READ MORE | Why Now Is The Time To Invest In African E-commerce
Businesses At The Heart Of A Greener Future
With every day that passes by it becomes more apparent that the Earth is deteriorating and time is running out to save it. Scientists have estimated that we have less than a decade to save the planet before it is irreversibly damaged, mainly due to climate change.
Businesses claim the largest percentage of global emissions (at approximately 70% since 1988, according to The Guardian) which is an alarming statistic, especially in a time when the planet's well-being is being compromised.
Many large business corporations are hastily coming on board with operating sustainably by transforming their practices and placing business ethics at the forefront of their priorities.
READ MORE | The Most Sustainable Companies In 2019
Last week, a round table discussion was held at the Fairlawns Boutique Hotel, Sandton hosted by Environmental Resources Management (ERM) – the world's largest sustainability consulting firm. Their aim was to discuss how imperative it is for African businesses to get on board with sustainability.
"We have been talking about how to be sustainable for a long time but now it is time for us to do sustainability," says Thapelo Letete, Technical Director of ERM.
An engaging and thought-provoking panel discussion ensued with representatives from ERM and mining companies, Anglo American and Gold Fields. They emphasized the importance of sustainability being recognized by investors, especially in mining and oil companies that rely solely on Earth's natural resources.
Civil society has a colossal role to play in ensuring the sustainability of businesses. Due to the law of supply and demand in production, consumers are being urged to be mindful of their buying habits and to make sustainable decisions. These are as simple as minimizing the utilization of plastic straws by replacing them with metal or paper straws and reusable shopping bags and by recycling selected items.
READ MORE | Challenging The Gender Divide
"Research suggests that socially and environmentally responsible practices have the potential to garner more positive consumer perceptions of (businesses), as well as increases in profitability," according to an entry in Sage Journals published in May.
The advancement of science, artificial intelligence and the rapid growth of the technological industry make it an undeniable fact that the Fourth Industrial Revolution is underway. Many businesses across the globe seem to be well prepared for this change. However, businesses in Africa seem to be vulnerable.
"It is difficult to say that all businesses in Africa are prepared for it. It is not a country specific thing but it does vary across corporations. There will be businesses that are well prepared and businesses that are not so well prepared," says Keryn James, CEO of ERM.
A large part of sustainability also relies on empowerment and equality. Sub-Saharan Africa has the highest number of female-owned businesses who contribute a large amount of money towards their respective countries' GDPs. However, most of these businesses struggle with the issue of scaling.
"Women sometimes underestimate their ability and they don't necessarily have the confidence that they should have about the value that their businesses present. Women often take less risks than men," says James.
"The issue of scaling is one that we see globally. One of the issues are access to funding to support in the investment and growth of their businesses."
READ MORE | Mastercard: Diligent About Digital In Africa
Going forward, the availability of mentorship programmes and skills development opportunities for women, especially black women in business should be encouraged.
According to a study done by the UN Women's organization, an average of 3 out of 7 women score higher in performance when they are placed in senior managerial positions. Additionally, if more women work, the more countries can exponentially maximise their economic growth.
Women will be empowered when given the correct skills and opportunities to be able to run their own businesses independently which would ultimately lead to the scaling of female-owned businesses in Africa and sustainable development.
The Nedbank Capital Sustainable Business Awards aim to recognize the efforts of businesses that operate sustainably and to encourage other corporations who intend to adopt more sustainable strategies into their practices. Initiatives such as these prove that business value also depends on how sustainable they are.
It is clear that the prioritization of sustainability and accountability in businesses is the only way forward in the midst of this global crisis. With a combination of will and the rigorous work that African businesses have put into sustainability initiatives and strategies, it is easier to be optimistic about our planet's wellbeing.
-Buhle Ntusi