Tanzanian agripreneur Darpan Pindolia is trying to balance local production with global offerings. The versatile earth in East Africa is his calling card to international success in regenerative farming.
BY INAARA GANGJI
THE TERM 'REMOTE WORK' VERY WELL APPLIES TO Darpan Pindolia. His place of work is the lush green farm he has set up outside the city of Dar es Salaam, Tanzania, where he ponders under the African sun, about how he can continue to explore the natural
bounties the East African region is bestowed with for the sustenance of farmers as well as for sustainable agriculture.
Herbal plants and superfoods are his specialty. The local farmers grow each plant using organic permaculture practices and sustainable methods of generating energy. Any waste is converted to biogas and rainwater is harvested, leading to zero-waste production up until the factory level, with all value-adding done locally.
Pindolia's priority is creating a sustainable and profitable organic African brand called Dhow Nature Foods. He was raised surrounded by these green ideas as his family grew their own vegetables and made oils at home in Tanzania. Even when living in Australia later, Pindolia bought organic grains from farmers and milled the flour at home.
"Whether you are well off or not, ultimately, your appetite is very similar… food is your fuel and it's really important where it comes from and how it's grown," he says.
The 37-year-old draws on the example of the pesticides and fertilizer industry in India – where his family originally hails from.
There are no African brands – a lot of them have brands based in London that are portrayed to be African-produced, but they're not based in Africa, and they don't make a big impact and effect.
Government lobbying for their use led to many farmers not seeing profits as the soil quality declined over time. While there are no additives in local superfoods such as Moringa that Pindolia grows and are known for their health benefits, the regenerative farming methods mean the products have no negative impact, from a business perspective, on both the land and the economy. In addition, the company contributes to the local community by focusing on training, hygiene and education.
"For customers, they know where their food comes from, so that was the basic thesis of the business model. We want to be a model of what a sustainable business should look like. As the younger generation, if we don't address inequality through the capitalist model, who's going to? All businesses should have a social enterprise responsibility," says Pindolia.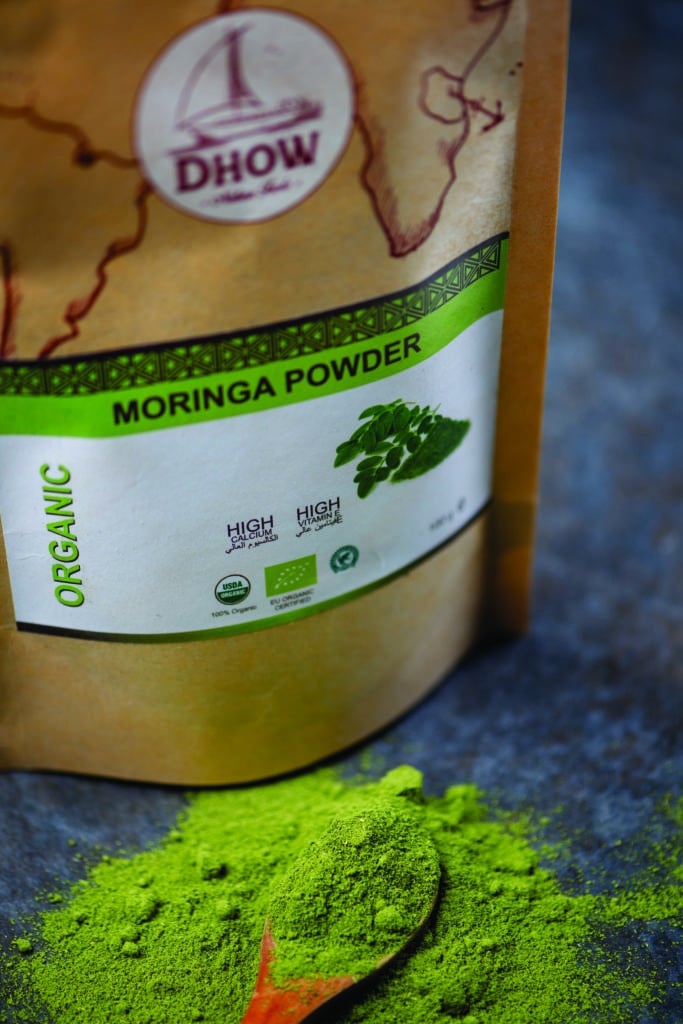 Dhow Nature's focus is as a local African brand challenging misconceptions and setting standards for what sustainability looks like in the Global South.
"This is another reason why we do things… I think there's big opportunity in that space… there are no African brands – a lot of them have brands based in London that are portrayed to be African- produced, but they're not based in Africa, and they don't make a big impact and effect," he emphasizes.
With the factory only starting production in 2017, the introduction of e-commerce last year has taken this local brand international, with new customers in the United Kingdom, Australia and across the world.
A civil engineer by profession, Pindolia found it to be a real learning curve scaling the company, from branding to distribution, despite being adequately backed by personal finances.
"Now we do bulk and branded. And we supply to some of the really well-known companies around the world as a small business."
But the real challenge, he thinks, is in the future – as a global competitor in the online space – in marketing and generating sales. And this, besides how difficult it is to ship to anywhere from Tanzania. He hopes to hire a CEO and scale even further into new markets such as Europe and China, having just launched in the United States.
"Your standards and your team, everyone has to be basically globally competitive in terms of their skill-sets, otherwise you're not going to survive. And that's probably one of the hardest challenges we face, because we're working in Tanzania, we don't have access to that global talent. So [we are] just trying to manage that balance of global talent or global expertise to achieve that skill," he adds. Despite the challenges, what keeps Pindolia going is the fact that his products ultimately help people. With over
13,000 customers across the globe, many leave heart-warming stories behind on what impact the products are having on their health. One story is of a customer who could not play his guitar anymore because of arthritis, but then after consuming giloy, or heart-leaved moonseed, one of Dhow Nature's products, his fingers are moving again.
"When we are young, we are so skeptical [of local remedies]… One of my visions is if we can actually catalogue these systematically because they work; in the long-term, it is to capture that knowledge before we lose it as a generation," says the farmer looking beyond the greens, to new horizons of agricultural thought and practice.