As companies increase their reliance on cloud providers to store vital data, a rash of AWS outages has riled clients, with some looking to hedge their bets with access to other platforms.
---
When Amazon Web Services suffered its third major outage in a matter of weeks last month – affecting millions of people, from Citi Bike riders to Disney+ viewers and Delta Airlines customers – almost none of its corporate clients expressed frustration publicly. 
But within boardrooms and corner offices, the most recent outage on December 22 was the latest reminder of the risks of relying on a single cloud vendor. "The AWS outages were a black eye for the company as more enterprises race to the cloud," says Dan Ives, an analyst at Wedbush Securities. 
AWS has long been the cloud leader, holding 41% of the global cloud infrastructure market, and generated $16 billion revenue in the third quarter of 2021. Though as a first-mover cloud vendor since it launched in 2006 – becoming essential for small and medium businesses looking to outsource their networks – AWS has been fending off tough competition from Microsoft, which Gartner says grew twice as fast as AWS in 2020 as it moved to secure large corporations. Microsoft doesn't break out its public cloud revenue, but the most recent comparable figures from Gartner show that in 2020, Azure generated $12 billion revenue from public cloud infrastructure services, compared to $26 billion by AWS. (Google Cloud trailed at $4 billion).
Now that outages have reinforced the risks of relying on one vendor, signs that corporations are increasingly turning to Microsoft are starting to emerge. Research published this month by Bank of America shows that 23% of chief information officers at 185 large companies around the world expect to spend most of their cloud budgets over the next 12 months on Microsoft Azure, compared with 11% for Amazon AWS.
---
Global Public Cloud Infrastructure Services Market Share 2017 v 2020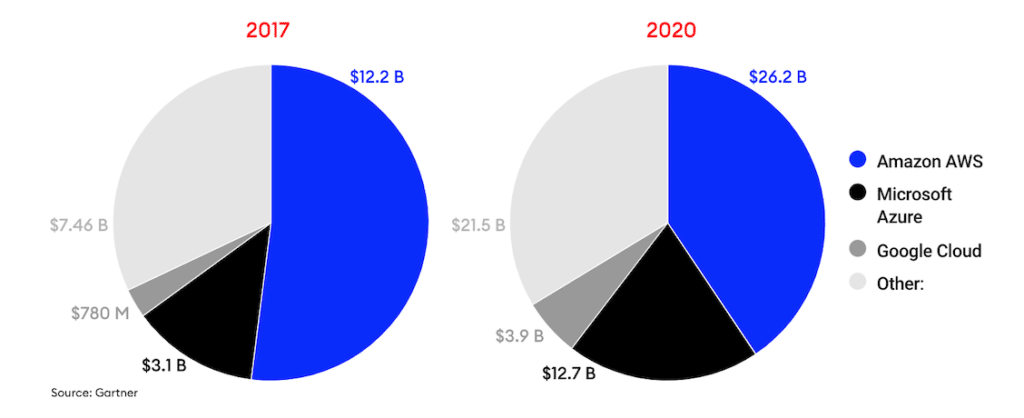 ---
A spokesperson for AWS contended that the company has a better track record of reliability than any other cloud provider. "Pioneering this level of reliability at the scale of AWS is an unprecedented engineering accomplishment," the spokesperson said in an email. "However, we understand how critical our services are for customers and their end users, and we're not satisfied unless performance is indistinguishable from perfect." 
AWS also said it believed clients should stick to multiple cloud regions within AWS, rather than entering multi-cloud agreements with other vendors to manage exposure to outages. "A multi-cloud architecture is technically complex, creates increased latency, and results in lower actual availability and resiliency than architecting for high-availability on AWS," the spokesperson said. 
Microsoft declined to comment.
Companies are typically reluctant to talk publicly about their cloud strategies and how much they spend, especially if it relates to a single vendor. Forbes asked 45 companies affected by the AWS outages – including McDonald's, Toyota and Coinbase – whether they use multiple cloud vendors or were considering doing so, and whether the recent AWS outages had prompted them to change their cloud strategy.
Ride-sharing service Lyft previously made perhaps the boldest statement against Amazon after the most recent AWS outage turned off the Citi Bike stations it operates in New York and New Jersey, saying "we're as frustrated as our riders." Lyft, which had said it planned to "build redundancy" into its system, declined to comment further, or say whether it was considering moving to another cloud vendor. When asked about whether the AWS outages had prompted a rethink of its reliance on AWS, a spokesperson for Toyota underscored the need for companies to review their strategies when the system fails, and that for larger companies, it "may mean a more complex build-out utilizing more than one cloud vendor."
American Express, another AWS customer, echoed the need for access to multiple clouds. Evan Kotsovinos, American Express' global head of infrastructure, wouldn't say whether Amex was affected by the AWS outages, but says the company has resiliency built in across its network because it has agreements with multiple vendors, in multiple regions. Amex has been building out its relationship with Oracle, for instance. "Different clouds have different strengths," says Kotsovinos. "And so if you really want to get the maximum value out of the clouds, you've got to put the right applications in the right cloud."
Others, meanwhile, affirmed their loyalty to AWS, despite the outages. Atlassian, which runs all of its products on top of AWS, told Forbes that it is not considering other cloud vendors. Atlassian CTO Sri Viswanath added that the company is unconcerned by the AWS hiccups. "Our engineering teams regularly war-games downtime scenarios," Viswanath said in a statement. "So when the AWS outage happened, we had mitigation plans in place and were able to limit the overall impact to our customers." 
1Password, a password management company valued at $6.8 billion after a funding round this month, confirmed it uses a single AWS region, but said it offsets the risks of outages by encrypting its clients' data locally. "At the end of the day, our decisions are made based on best-in-class infrastructure providers, and our choices aren't triggered by any single event," 1Password's CTO Pedro Canahuati said in a statement.
And a spokesperson for Slack said "our strategy for cloud platform partners has not changed and we look forward to continuing our work with AWS."
To be clear, Microsoft Azure and Google Cloud also encounter outages. In October, Azure customers were unable to access a suite of services for eight hours. And in November, company websites of Snap, Home Depot and Spotify and others were down after Google Cloud experienced an outage caused by a network configuration glitch. Outages also occur as a result of issues with edge cloud services, which often provide "last-mile" connections from the vendors, such as Akamai and Fastly.
And a major migration to multi-cloud environments – where large companies use more than one vendor – has been underway since 2019, a movement accelerated by the pandemic, which forced companies to outsource their networks as their employees worked from home. A survey by cloud-research firm Futuriom published in October found that 55% of large companies were currently using two or more cloud vendors, while 83% were assessing multi-cloud networking.
Amazon's efforts to keep cloud customers loyal has been increasingly suffering from the perception it may compete with them. Capital One, among AWS' largest clients, announced at the annual AWS re:Invent conference in November 2020 that it was "going all in on the cloud" by closing all of its data centers and had migrated its networks to AWS. But Capital One told Forbes it has signed agreements with other cloud vendors, which it says it leverages "for niche use cases." Given Amazon's lofty ambitions in the financial services sector, Capital One's niche agreements with other vendors are likely to grow, says Steve Mullaney, the CEO of Aviatrics, which helps companies including Capital One manage multiple cloud environments. "What's in your wallet?" Mullaney says, echoing the bank's tagline. "Well, guess what: Maybe an Amazon card."
For now, the outages are the most recent reminder for large corporations of the risk of relying on one cloud, Mullaney says. The AWS outages were "gasoline on the fire," Mullaney says. "The last remnants – the laggards – it probably accelerated those people" to go multi-cloud.