From Hollywood exports and Grammy artists to award-winning ideas that can save the world, Africa is not only diverse in its people but also in its industries and creativity. For FORBES AFRICA hundredth issue (since the magazine's inception in 2011), we decided to curate a list celebrating these very ideas, inventions, and influential role models that have spelt Africa's growth over the last decade.
By Chanel Retief and Simone Umraw
AFRICA, A CONTINENT brimming with beauty and diversity, has produced some of the finest minds and most incredible ideas, be it in business, science, art, or entertainment, thus debunking the many myths, misconceptions, and stereotypes about the continent from the Western world.
The continent boasts six of the world's fastest-growing economies. Many outside of the realm of Africa are unaware that Nollywood (Nigeria's film industry) is technically larger than Hollywood in terms of the number of films produced every year. The current OTT platforms are witness to this; as they have seen the release of several Nollywood films including the recently-released love story Namaste Wahala on Netflix.
The World Bank released a report in October 2020 stating that despite the fact that Covid-19 has disrupted many of the continent's economies, Africa could make a recovery this year due to "the diverse continent offering human and natural resources that have the potential to yield inclusive growth and wipe out poverty in the region, enabling Africans across the continent to live healthier and more prosperous lives". The list of innovations, inventions and icons (in no particular order) on the pages that follow are testament to the ingenuity of the African mind and spirit of resilience and Afro-optimism. The future is good.
METHODOLGY
FORBES AFRICA scoured the African continent, through extensive desktop research and phone and Zoom interviews, to determine those worthy for each component of this monumental list. And they include not just people, but breakthroughs, ideas, and creations instrumental in contributing to the African growth story over the last decade. Covering innovations, inventions, and icons, we defined each aspect. We see innovation as the disruption or enhancement of a pre-existing idea or concept. Inventions are ideas or concepts new or hitherto unheard of. Covering young and old, across multiple industries on the continent, the icons have considerable impact and enthral the world with their exemplary work. Within our review, we cross-checked their contribution to the African growth story, be it through their work representing Africa or through their philanthropic and societal impact. There are still countless other pioneering individuals and creations that have contributed to their industries in similar or more measurable ways, and they will no doubt continue to be featured in the pages of the issues to come. But these are the 100 that made it into our 100th edition.
INVENTIONS
The world is used to seeing Africa as a continent of need – but we are a continent of creators, innovators, entrepreneurs, teachers, and professionals. Our universities and research institutions are not ivory towers of elite knowledge. Instead, we consider real problems faced by fellow Africans. The many innovations that Africans have produced to address the problems raised by Covid-19 are just a hint of what we can do as a continent. Our young people need to know and develop their own potential as Africans to help the world solve humanity's wicked problems. It is time that we begin thinking of ourselves in the light of what we can offer the world. To do so, we need to invest in research that will build our own potential. This is no small task. But it is essential to our future,"
says Professor Mamokgethi Phakeng, Vice-Chancellor of the University of Cape Town, South Africa.
1| JAWAM WASHING MACHINE
Stephen Wamukota is greatly respected in his village in western Kenya. His foot-operated washing machine has helped curb the spread of Covid-19 in his community as it reduces the need for people to use the communal tap when washing clothes. Seeking funding to continue his production line, he hopes to expand to other communities, a goal he hopes to achieve before his 10th birthday.
2| RONA
Fake news may be a thing of the past in Kenya, as Rona, the data analytics chatbot, can help clear any fact or detail that may be fabricated or confusing. Rona is the brainchild of Brian Wambui, a 21-year-old IT student at Dedan Kimathi University in Kenya. The questions are manually typed in, a feature Wambui believes is more user-friendly than the 719 Helpline and bots that provide a limited list of questions. "I imagined it would be a great idea if they could craft their questions the same way the misinformation was being spread, that is, using their own formulated words, not selecting their question from a list of options," said Wambui to the United Nations Development Programme (UNDP).
3| RESPIRE-19
Like most African countries, Nigeria has seen a significant shortage of ventilators to treat patients with severe Covid-19 symptoms. This led to the invention of a portable automatic emergency-ventilator made from locally-sourced materials. This life-saving device, RESPIRE-19, owes its creation to Usman Dalhatu and his colleagues Aliyu Hassan and Dr. Yunusa Muhammad Garba of Nigeria.
4| WELLVIS
At some point or the other, everyone has had symptoms that could be confused with or associated with Covid-19. Issues arise, however, when an individual is uncertain that it could be Covid-19 or is not aware of the symptoms associated with the illness. This is when the Covid-19 Triage tool, Wellvis, comes in handy. Invented by Dr Wale Adeosun (above) and his team in Nigeria, it is a free online tool that allows users to do a self-assessment of their symptoms against a pre-programmed check-list of confirmed Covid-19 symptoms. This tool also offers medical advice or provides information on the nearest medical center that a user can visit for treatment.
5| KHWELA
In South Africa, the main mode of public transport is taxis and if an individual finds himself or herself in an unfamiliar area or lost, getting the right taxi can be a daunting task. To alleviate this stress and possible safety risk, Khwela was invented. Using your current and desired location, the app points out taxi ranks within walking distance, provides the closest option for hailing a taxi without going to a taxi rank, and also provides an estimate of the cost that will be incurred. It also boasts interactive features such as allowing users of the app to join chat rooms where they can speak to other commuters and an option to contact the National Taxi Alliance of South Africa to voice any possible concerns. As this app takes off, it is bringing a time-honored form of transport to the 21st century.
6| PGUARD
Enova Robotics' CEO, Anis Sahbani, calls the PGuard robot "the robotic solution to civilian protection". After the unrest in Tunisia a few years ago, citizens felt the need for personal protection; this is how PGuard, called "the world's first robot designed for private protection", came into being. The PGuard robot can survey an area using its panoramic camera which also has thermal imaging. It can transmit its GPS location and has a long WiFi range.
These robots surveyed private homes and when the Covid-19 pandemic hit, Sahbani saw the opportunity for PGuard to intervene.
"During the lockdown, security guards [were deployed] to keep people from breaking regulations; this to me, was a great problem because it then put the security guard at risk of being infected himself. This is where PGuard came in and could provide the same functions without the worry of infection," explains Sahbani to FORBES AFRICA.
Tunisians were initially fascinated by the robot as it patrolled areas that were commonly crowded but gradually, they got used to them.
"They know it is there for their safety when they hear the alarm, they know it is time for curfew and I think being screened by a robot feels safer than having it done by a human who could very well be infected," adds Sahbani.
In the meantime, other Enova robots have been helping patients in hospitals see their loved ones through its video chat feature. The lockdown has made these robots famous.
7| ALT SOAP
A youthful group of environmentalists in Madagascar are doing their bit to keep their communities safe whilst protecting the environment. To combat both the water shortage and the spread of Covid-19 infection in poorer communities gathering at communal taps, they have developed a no-rinse soap that requires no water for use. This soap has also been made from edible oils collected from local eateries.
A liter of oil can produce 20 soaps. It is also entirely safe to use as the more harmful aspects of the chemicals are removed during the production process and is then mixed with soda to produce a bar of soap. Hoping to eventually expand into the rest of Africa, this product is revolutionizing the way people think about washing their hands and sanitizing.
8| ARTIFICIAL RESPIRATOR
What do you get when a group of math, engineering, computer science and telecommunication students from Senegal come together? The answer is an artificial respirator device (not named as yet) that can be controlled remotely. This decreases the chance of infection for doctors and nurses who take care of Covid-19 patients in critical care. It can be easily mounted and set up avoiding the need for technicians to be brought in for installation. The project leaders of this invention are doctors Ibrahima Gueye, Ousmane Seydi and Ahmed Mouhamadou from the Polytechnic School of Thiès, together with Mamadou Lamine Diagne from the University of Thies in Senegal.
9| OxERA
South Africa has been one of the countries hardest hit by the Covid-19 pandemic in Africa. The second wave overwhelmed the health sector and the shortage of ventilators and breathing apparatuses became a growing concern. An amalgamation of doctors, engineers, and designers rose to the occasion as they invented a cost-effective easy to use an oxygen device, OxERA, made from an anesthetic face mask, accumulator bag, and adjustable mechanical peep.
Simply known as the Umoya project, the group of inventors at its helm has provided a solution for oxygen provision to patients with severe Covid-19 patients, who are almost entirely reliant on oxygen for the duration of their stay in hospital.
"This is unique. It takes the benefits of an oxygen mask and adds some of the components of non-invasive ventilation on to that simple oxygen mask and 'fills the gap' between the devices that we have available at the moment," Umoya leader Dr. Craig Parker told Cape Talk.
It is supposedly easy to adapt, being used in rural and urban hospital environments. Since its approval for use by the South African Health Products Regulatory Authority, the group hopes to produce 15,000 units a week and with assistance from Gabler Medical, a supplies company, this goal seems within reach.
10| MABOKO PETO HANDWASHER
This device is helping the people of the Democratic Republic of the Congo keep their hands clean using the sun. A hybrid device that uses both hydro-electrical and solar power, the Maboko Peto Handwasher is saving energy by being entirely dependent on conventional electrical sources. Fitted out with an automatic sensor for both the water and soap dispenser, the device is also able to monitor temperatures through a thermometer and has an automatic hand-dryer.
11| HACK CORONAV
When the West African-based Internet of Things CEO Joshua Opoku Agyemang saw how the Covid-19 pandemic was affecting his Ghanaian community, he felt the need to help, and this is exactly what he did. Under the umbrella term 'HACK CoronaV', he invented three different items that could be used to prevent the virus from spreading.
"Our inspiration came from the community first and the need to protect the people around us," says Agyemang to FORBES AFRICA.
Each item served a different purpose, the first was a touchless washing bucket that worked through a foot mechanism.
"What we noticed about public washing buckets that came with taps attached is that you had to use your hands to open the tap and when you finished, you would have to close it yourself. So this could also be a medium for the virus to spread, and this inspired the creation of the touchless washing bucket," explains Agyemang.
The second was a reusable face mask created using 3D-printing and from materials that were locally sourced. The final invention under 'HACK CoronaV' is an artificial intelligence home system that allows you to control appliances from your phone.
"The system we came up with helps you control your lighting system and switches, especially in public spaces to avoid these devices more than is needed, so we have created an app," says Agyemang.
These are just a few of the inventions he has begun to roll out and with more ideas in the pipeline, it will be interesting to see what Agyemang and his team come up with next.
12| CROSS-CONTAMINATION AWARENESS APP
Despite a lack of funding, teenage inventor Ezedine Kamil of Ethiopia, in the wake of Covid19, created a device that buzzes when you touch your face; to avoid spreading germs to the face and mouth and act as a reminder to avoid the possibility of cross-contamination. Having obtained the necessary patent, Kamil hopes to go into large-scale production soon with his device.
13| AWEZAMED APP
The 11 official languages in South Africa have always been a matter of pride for the country. In a rural medical setting where doctors are unable to speak some of the local languages, however, it has proven be quite the challenge when caring for patients.
Enter the AwezaMed App, developed in collaboration with the Council for Scientific and Industrial Research (CSIR). It can provide medical professionals with the technology to access any phrase in English and translate it back into any of the official languages. This has also been applied to Covid-19 and we chatted to Dr Lauren Marais, one of the scientists involved in this undertaking.
Q: What was the inspiration behind the app?
A: With there being 11 official languages in South Africa, communication barriers are par for the course, and part of the reason we as the CSIR exist is to breach these kinds of barriers, scaling them.
What tends to happen is doctors and nurses in hospitals and clinics speak English but their patient does not, and needs someone to interpret for them and that could be anyone around who speaks the language, and this is then someone with no real connection to the patient and this creates issues for both doctor and patient with a stranger involved in a very private process.
So we wanted to find a way to cross that language barrier and the issues that come with it and as soon as the Covid pandemic broke, we adapted the original model and repurposed the app for screening questions in all 11 official languages We wanted to do something for all the languages especially at a time like this, so we worked together with Aweza who built the original app and we provided the backing speech technology which allows for translation of speech in English to any South African language.
It's a very specific domain [with] very specific questions that a doctor or nurse could speak to the application but then it provided a high-quality translation for the benefit of the patient.
14| CARDIO PAD
Arthur Zhang, a Cameroonian inventor, has been busy in the past decade. His inventions have provided access to much-needed health diagnostic tools in rural Cameroon and now he is doing the same during Covid-19. We look at two of these inventions and the impact they have had. The first is Cardio Pad, a device that has transformed how heart disease has been diagnosed across sub-Saharan Africa.
This is a handheld tablet that can be used by doctors and nurses in remote areas to scan the chest of a patient and send it to a specialist for review. Since its launch in 2016, it is now available in six countries and a program has been created by Zhang to provide the Cardio Pad to smaller hospitals and clinics that cannot afford to purchase one on their own.
15| OXYNET
Arthur Zhang saw how quickly hospitals were running out of oxygen supplies and decided to lend a helping hand. He developed OXYNET, a system of generators that allowed hospitals to produce their oxygen. Each OXYNET station can be connected to electricity and can produce pure oxygen with a level of 93% from natural air. The station also comes fitted with a battery and a solar panel and is 3Genabled granting both the users and operators access to monitor it effectively and can even be monitored remotely using a mobile phone.
16| KONIKU KORE
Osh Agabi has a brain for science. Using neuron cells taken from mice stem cells, he was able to fuse them with a silicon chip and create Koniku Kore. The full application of this device still needs thorough trials and testing to be completed. Agabi has claimed that the device, when infused correctly, will allow for the carrier to even detect bombs and cancer cells. He hopes for it to eventually be able to sniff out other types of illnesses and be applied to other areas of necessity.
17| 'WORLD'S FIRST DIGITAL LASER'
Sandile Ngcobo, a scientist from South Africa, has revolutionized many different industries with one invention, and is reported "the first person in the world to create the first functional digital laser". The digital laser has several applications including uses in the health sector to the beauty industry and has been deployed for a variety of purposes since its inception.
18| MiBLACKBOX
With increasing crime, courts are overwhelmed and cases are usually thrown out over a technicality or lack of sufficient evidence. Brent Thompson saw this anomaly and decided to do something about it. MiBlackBox allows you to record videos, phone calls, and sounds at the push of a button and upload them onto a cloud server for safe-keeping. This means should anything happen to the phone or user, their information and possible evidence as to what happened to them, is kept safe, somehere in a black box.
19| FONIO-HUSKING MACHINE
Sanoussi Diakité, a Senegalese engineer, has developed a machine that is a big step in the right direction for grain harvesting and nutrition. Fonio, a grain used in cereals, takes hours to husk by hand and the arduous work impacted the quality of life of the laborers. To alleviate this, the engineer created a Fonio-husking machine that can process five kilograms of fonio in under eight minutes. The machine, which runs on gas or electricity, is also finding interest outside of Senegal and is being purchased and distributed by neighboring countries.
20| TESEEM
Teseem is an app that teaches toddlers and children numeracy and languages including Hausa, Igbo, Yoruba, and Swahili. "We really wanted a way to share African stories with more kids, and to have children learning in their own language from early on," says Nigerian inventor Elizabeth Kperrun to Mail & Guardian. The app's main purpose, however, is story-telling as an archive of African folklore tales and songs are included in local vernacular so children can learn about their culture and heritage in a format that is easy to digest and take in.
21|SIGN-IO
The invention of Kenya's Roy Allela could revolutionize how the hearing- and speech-impaired can communicate through sign language. Sign-IO is in the process of developing a glove that is connected to a mobile app. Hardware in the glove can detect hand movements, and these movements are then be translated into words by the app in real-time.It uses an internal database for translation that is based on American Sign Language. As an additional feature, it also allows for the gender and tempo of the voice used in the app to be selected by the user.
22| CIRA 02
Egypt has a new kind of nurse that could be joining frontline workers soon. Cira 02 is a robot developed by Mahmoud el-Komy, a mechatronic engineer. Created as feminine in appearance, Cira 02 serves several functions aimed at identifying and curbing the spread of Covid-19 infections. Cira 02 can take the temperature of a person standing in front of it and alert the person if the temperature is higher than normal. Cira 02 also acts as a guard with a no-entry barrier installed as a right arm. It's also able to provide verbal advice on what to do if someone tests positive and sounds an alarm and reports the infected individual to the relevant parties. Being fully autonomous and remotely controlled, Cira 02 could revolutionize the detection of the virus in the years to come.
23|FLYING DRONE TO FERRY PASSENGERS
After taking on anti-hijacking technology, Morris Mbetsa of Kenya has his sights set on the sky. He has built a human-sized drone that he hopes will one day carry African passengers by air and is continuing to work on his prototype.
"With this drone, you can easily fly from Nairobi CBD to Thika (in a Kenyan county); you, however, need to be trained first and be certified to operate this drone, before you are allowed to fly it," said Mbetsa to Face2face Africa.
24|SAPHONIAN ZERO-BLADE WIND CONVERTOR
This wind-powered energy convertor from Tunisia relies on kinetic energy to keep itself going. Based on boat sails that use the wind to push forward, the Saphonian, created by Hassine Labaied and Anis Aouini, produces energy from a sail that relies on vertical and horizontal motion. These motions provide the necessary kinetic energy to mechanical pistons and it is these pistons that convert the same energy into electricity that can be stored hydraulically.
Made from cost-effective materials that are locally-sourced, Labaied and Aouini hope to revolutionize the renewable energy market, one Saphonian at a time.
25|MAMA-OPE
Even before the Covid-19 pandemic, pneumonia was a serious condition that had taken its toll on Uganda. With the disease being responsible for the death of over 16% of all children under the age of five, Brian Turyabagye decided to do something about it.
He created a biotechnological jacket that can diagnose the illness in patients four times quicker than a doctor and has been proven to be more accurate. The information is also transmitted quicker as a Bluetooth system in the jacket transmits the information gathered from the chest scan to a smartphone app.
26|UMBIFLOW
The scariest thing for any mother-to-be is the possibility of losing her baby. In South Africa, this has become a reality for a large portion of women as 28 out of 1,000 births result in mortality. This figure, however, has decreased dramatically and continues to fall thanks to the efforts of the CSIR and South African Medical Research Council.
FORBES AFRICA spoke to Jeremy Wallis, one of the people who had a hand in creating Umbiflow, a low-cost, portable, Doppler ultrasound deviceT. "The name is a reference to what the device does, it measures the flow of blood in the umbilical artery, so this blood is pumped out of the baby's heart into the placenta where it exchanges oxygen and nutrition with the mother and this blood then flows back to the baby through the umbilical cord," says Wallis.
The stronger the flow, the healthier the condition of the baby, is what this essentially means. Usually, issues with this process that endangers the health of the baby are picked up too late as a mother-to-be is usually referred to a hospital that is a fair distance away from her local clinic.
This means that the ultrasound is done too late when the flow in the umbilical cord has already ceased or is too low for revival resulting in stillbirth. Umbiflow is a portable, easy-to-use device that can be connected to a laptop. This easy-to-use device has changed the way neonatal check-ups are done. Wallis explains: "The results have shown that using this has had a significant impact and it did have the ability to save the lives of babies in the womb thus preventing stillbirth."
By doing this, Umbiflow has ensured that countless children have survived since its creation and it continues to assist nurses, doctors, and midwives with keeping the blood flowing.
27|MEDAfRICA
Looking up symptoms on Google can be frightening. A simple earache could be associated with a stroke or chest pains could be cancer. Kenyan developers Shimba Technologies have removed the fear component and created an app that helps people diagnose their symptoms accurately.
The app also provides a directory of hospitals or medical practitioners in the immediate area should one of its users require this and also has a list of possible medications that can be taken to alleviate symptoms.
In African countries where medical professionals are in short supply, this app helps ensure no unnecessary trips are made to a doctor or hospital unless needed.
28|LifeQ
Smartwatches are a dime a dozen in this era with several different features that are supposed to give individuals a comprehensive overview of the status of their health. The accuracy of these readings though can be questionable at best and users are usually warned to take these readings with a pinch of salt.
Enter LifeQ South Africa. Using a computational systems approach that has an in-depth understanding of human physiology ingrained into the algorithms, this wearable piece of tech provides a unique and all-encompassing view of an individual's health status. With advice at the ready and possible problems easily diagnosed, LifeQ is changing the perception of wearable tech and what people should allow their watches to tell them.
29|PELEBOX
Most South Africans do not have medical aid. This means waiting in long, never-ending queues at public facilities to receive chronic medication. This process can be time-consuming for both the health-practitioner and patient and this struggle hasn't gone unnoticed.
Neo Hutiri has created a system of smart lockers for patients to pick up their chronic medication from there instead of going in to pick it up physically. This is a digital system that requires patients to use a one-time pin for access after the medication has been placed in it by a qualified health worker.
This cuts the time patients would need to spend waiting for medication and reduce interactions with healthcare workers, which during a time like this, lets them heave a sigh of relief.
30|LODOX SYSTEMS
Situated in South Africa and responsible for "the world's first and fastest full-body scanner", we speak to Lodox Systems CEO Mbuyazwe Magagula.Are there any projects Lodox Systems is working on currently as an improvement on the current scanner or are there any new projects in the pipeline, we ask."Yes, this is something we are looking at, we're embarking now on a project to improve the image quality for use in other applications such as medical research, but we are also looking to introduce artificial intelligence or machine learning on to it and we also want to see if we can come up with an entry-level machine to cut costs for our clients.The aim really with artificial technology is to make the machine learn from the database that we have, and begin to provide a diagnosis without too much reliance on the human component to using one of our devices. The AI algorithm is designed to pick up the image and be able to provide a diagnosis on what is being scanned. This is the way that radiology is going and sets the way for the future," says Magagula.
INNOVATIONS
"The African continent has the youngest population in the world. Now, this is something that is very unique and in terms of our ability to innovate and the passion and ability that we can infuse into innovations and the processes that come with everything we are trying to do as a continent. I don't think we have tapped into this very unique context adequately enough and seen it as the comparative advantage that it is when compared to the rest of the world. I think their socio-economic standpoint is also unique. You have individuals who come from urban and rural backgrounds and this places them in the perfect position to provide innovations or ideas that are ideally suited to the needs and the context of the community." 
– Thulani Dlamini, CEO of the Council for Scientific and Industrial Research (CSIR), South Africa
1|RAPID TESTING
If this pandemic has taught us anything, it's that time is of the essence. And proving this rapid point is CapeBio's Daniel Ndima and Dineo Lioma. CapeBio has created a rapid testing kit that provides Covid-19 results in 65 minutes. "The ability to obtain rapid test results allows us to gain a clearer picture of viral infections so that we can introduce interventions with greater effectiveness," Cape Bio CEO Ndima told Cape Business News.
2|PAYMENT PROCESSOR
Nigerian company, Flutterwave, is based on a financial application programming interface that makes it simpler to process payments across Africa. It is not just a useful tool for individuals, but also an enabling technology because it helps other businesses, including start-ups. And while Flutterwave is useful within countries, the unique nature of Africa makes it doubly useful across borders.  Olugbenga GB Agboola, Founder and CEO of Flutterwave, speaks to FORBES AFRICA: 
Q: What are some of the highlights and challenges Flutterwave has had as a company?
A challenge that came up during the early days of the pandemic and lockdown was navigating how to move a team of over 200 people fully remote. We had only tried remote work partially so it was a big test of how our remote policies will remain in effect after going 100% remote at such short notice. But we did, seamlessly. Our people now spend more time with family and friends, get to avoid the tedious commutes and more. For our highlight, we'd never seen how much our work impacted businesses until we launched a product to help small businesses keep the lights on during the pandemic. We received lots of testimonials on how the Flutterwave Store helped small businesses thrive at a difficult time. There was a poultry owner who sold more eggs than expected with the Flutterwave Store, a bag reseller who received 1,000 orders in three days, and a food vendor who received payments from Qatar for delivery to a friend in Nigeria.
Q: Please comment on the importance of having more innovators originate from the African continent?
Africa must continue to produce homegrown innovators. It is even more important that we create systems that back these innovators to grow, thrive, and achieve their potential. This does two things; it multiplies wealth in the continent by ensuring these innovators translate their ideas into viable economic activities, and encourages the future generation of innovators to come forward with their innovations and ideas. Africa already has an encouraging number of innovators with excellent heads on their shoulders. They need support in the form of accelerators, funding, and a robust support system that can help them achieve their goals and grow the continent
3|PENILE TRANSPLANT
In 2015, Health-e reported that the first successful penile transplant was done to a 21-year-old man at the Tygerberg Hospital in South Africa's Mother City, Cape Town. The nine-hour surgery, performed in December 2014, was led by Professor André van der Merwe, head of Stellenbosch University's Division of Urology. "There is a greater need in South Africa for this type of procedure than elsewhere in the world, as many young men lose their penises every year due to complications from ritual circumcision," Van der Merwe toldHealth-e. "For a young man of 18 or 19 years, the loss of penis can be deeply traumatic… there are even reports of suicide among these young men.
4|PLASTIC ROAD
According to the South African Road Federation, potholes cost the country's road users an estimated $3.4 billion per year in vehicle repairs and injuries. Insert Shisalanga Construction, who became "the first company in South Africa and Africa", according to Business Insider, to lay more than 400 meters of road that's partly plastic, in KwaZulu-Natal. The plastic Cliffdale road is made up of a mixture containing the equivalent of almost 40,000 milk bottles of locally-recycled plastic, CNN reported.
5|DRONE SERVICES
Cabo Verdean Erico Fortes Pinheiro, the founder of PrimeBotics, saw the pandemic as an opportunity to develop versatile drones that deliver customized technological solutions to farmers, governments, and non-governmental institutions related to agriculture in Africa and around the world.
According to the Tony Elumelu Foundation, Pinheiro and his partner refocused their business model at PrimeBotics to find new solutions to mitigate the spread of Covid-19 in Cabo Verde.
"Their idea is to use their drones to disinfect streets, deliver medical and non-medical supplies, and produce 3D-printed face shields for hospitals. With PrimeBotics's current production capacity of 20-30 face shields a day, he seeks partners to upscale his impact in Cabo Verde," said the foundation in April 2020.
6|ON-DEMAND OXYGEN
Staying on the topic of 'using the pandemic to their advantage', let's take a look at Airbank by Nigerian company Lifebank founded by Temie Giwa-Tubosun. In its mission statement, Lifebank states: "Lack of oxygen kills over a quarter of a million Nigerians each year. We are on a mission to reduce the deaths linked to limited oxygen availability by improving oxygen distribution to hospitals across Nigeria." Enter Airbank, created in 2020, an on-demand emergency medical oxygen delivery product that is the quickest, most convenient, and cost-effective way to order medical oxygen in cylinders.
7|THE BURIED DIFFUSER
Created by Chahbani Technologies, a Tusinian company, the Buried Diffuser was created in 2018 to be an underground irrigation technique that can be used for trees (fruit trees, forest trees, ornamental trees) and shrubs, vegetables in fields and greenhouses, and plants in containers, pots or boxes. According to Chahbani's website, "the Buried Diffuser is, with no doubt, the most efficient technique to bring water to the roots".
8|THE PORTABLE TOILET
Responding to poor sanitation, health conditions, as well as pollution caused by sewage, Egyptian serial entrepreneur, Dr Diana Yousef created the iThrone portable toilet. According to the African Innovation Foundation, it is a disruptive yet low-cost composite polymer membrane that essentially "shrink-wraps crap" aggressively evaporating or "flushing" away from the full water content of daily sewage output without the need for added heat, energy, or flush water. "This revolutionary portable toilet eliminates 95% of daily onsite sewage volumes, with no discharge to the environment, replacing the need for tanks, power, plumbing, or peripheral components," the foundation said.
 9|THE VERTICAL FARM
Uganda, like many countries in sub-Saharan Africa, is seeing its arable land areas shrink with each passing year. This means economic activities such as farming are becoming increasingly difficult driving up the prices of organic food products.Paul Matovu, however, has come up with a possible solution. Noting the wasted potential in city spaces, he came up with the concept of a vertical farm. Matovu has created a "farm in a box", stacked soil boxes that can be placed in any piece of vacant land that comes with their composting solution to boot.The structure allows for over 200 crops to flourish and crops can fetch the owner as much as $355 in a single production cycle. "So many young people don't know much about farming – and yet struggle to afford healthy food in the cities. We wanted to change that," he told Mail & Guardian.
 10|PIONEER FOOD DELIVERY APP
To cater to your food cravings, Anogolan tech startup created Tupuca. With over 20,000 active users, the app has grown significantly since its launch in 2015, well ahead of most food and grocery delivery services that we have today. Sensing a need, it was also the first app on the continent to expand to providing other goods such as groceries and pharmaceutical goods and it continues to grow as more people, vendors and drivers join Tupuca's revolution of the FMCG industry in Angola.
11|NON-POLLUTING PAINT
A researcher in applied mechanics, Mulalo Doyoyo has also tried his hand at painting. In 2012, after accidentally kicking a bucket of a chemical mixture by accident, he discovered Amoriguard.This was the name he gave his paint product that has been produced using industrial waste, making his paint cheaper than usual paint products and friendlier to the environment. "This paint is free from harmful and polluting substances, such as volatile organic compounds that are harmful to the environment. We focused on eliminating any chemical substance hazardous to the environment and people," said Doyoyo to City Press.
12|PLASTIC BEACHWEAR
Gina Tarboton and Loren Dyer, founders of GiLo LifeStyle in South Africa, are selling people plastic bottles to wear to the beach. The bottles in question have been converted into comfortable and breathable fabric that they use in their range of board-shorts.The bottles are sourced from pollution capitals across the world. The purpose of their pet project is their love for the planet and desperate need to do their part in saving it."We wanted to promote the idea that high-quality clothing can be ethically created. We have the hope of changing consumer mindsets and making a difference to both people and the planet by providing stylish clothing without guilt," said Tarboton to Business Insider South Africa.They have also expanded into other clothing items such as hats and synthetically made 'down' jackets.
13|THE URINE BRICK
Would you live in a home made out of urine? Suzanne Lambert, a former master's student at the University of Cape Town in South Africa would. Using an entirely natural process that mixes urine, sand, and bacteria, she has created "the world's first bio-brick".With the potential of possibly replacing its predecessor as the brick to use, Lambert's creation could very well take the 'piss' out of the construction industry.
14|3D-PRINTED BONES FOR EAR SURGERY
Professor Mashudu Tshifularo from the University of Pretoria in South Africa is the man behind the surgery that has shown that Africa is on track to join the fourth industrial revolution. He explains to FORBES AFRICA the inspiration behind using a 3D printer to reconstruct the bones needed in the middle ear.
Q: What inspired your decision to become an ear, nose, and throat specialist?
Getting into medical school was a privilege as you knew not everyone who wanted to get in would. From the first year until the completion of my degree, I was fascinated by everything I did, from all the courses I took and the different subjects, I just loved them and my thirst for knowledge was strong as I knew just being able to call myself a medical student was a privilege.
After working for three years, the more you think you know, the more you realize there is to learn. This is when I became aware of the specialized fields in medicine and asked my community and medical center about what specialty we didn't have available. We had some in every specialty except in ENT (ear, nose, and throat).
This is why I decided to become an ENT specialist. Being an ENT lets you see a wide variety of patients so the job is never boring and that is a big specialty which made it more interesting. When I got the opportunity to return to medical school to train others, I jumped at the chance to train others in my specialty because when you are alone in what you do, it's just you but when you train others, you're multiplying the value you have to others.
Q: How did you decide to use 3D-printed structures in reconstructive ear surgery?
Otosclerosis is the loss of hearing when the three bones in the middle ear seize up, almost like arthritis, and stop functioning and this is what I chose to specialize in when doing my PhD. This is when I realized the current method we are using to recreate the three small bones was very suboptimal.
They did not last long and they were not the same as the ones being removed and the sound gain for patients was anywhere between 70% – 80% and within three years or so hearing would be lost. It was also expensive as parts had to be imported and it was painful seeing a patient sitting there with the problem knowing there is nothing you can do.
That's when I spent 10 years looking for a solution to improve this process and get an alternative that is cheaper and more effective to help our people. That's when I ended up researching and trying to convince people of my point.
Four years ago, I came across the idea of 3D-printing. That's when I realized anything can be created from 3D printing, everything that could be designed, and this technology could be used to create it. I bought a small 3D-printer to use at home and created models to see if I could use the same model and put it in the ear. The more I looked at it, the more I realized that we could create all these bones and so for three years, every second week, I was in my lab trying to recreate until 2018 when I hit a turning point and realized I was onto something and it was something great.
Attending a conference and hearing my colleagues talk about what they thought was an innovation made me realize that I was truly innovating with what I had up my sleeve. This is how I decided to go ahead and chose a volunteer to perform the first surgery using 3D-printed parts.
It's only now that I begin to realize the magnitude of what I did as no one else has attempted and nobody has challenged me on my findings and I am now ready for clinical trials.
 15|ANTI-HIJACKING DEVICE
Kenyan innovator Morris Mbetsa is leading the way in anti-hijacking. Unlike the modus operandi of its competitors, Block and Track security work off an SMS system. The system lets you monitor and secure your car from a substantial distance.
Car owners install the security package in their car and after setting up the hardware, locking and tracking your car becomes readily available at the touch of a button. If your car is stolen, an SMS with a code will bring your car to a dead stop provided it is still in the range of the mobile operator.
Having invented this system at just 18 years old, in 2013, the sky's the limit for Mbetsa who is currently working on bringing the first flying taxi to Africa.
 16|DATA-FREE MESSAGING
With messaging giant WhatsApp alarming users with the changes in its privacy policy, many users across the globe, Africa included, have begun to look for alternatives. Moya Messenger could prove to be the solution for Africans as it is "the first data-free messaging service in the world".With similar features to WhatsApp messenger and other major messenger apps, the key difference is you don't get charged when texting someone on the app. An agreement with several major mobile networks has made this innovation possible and is currently available in South Africa, Nigeria, Cameroon, Zambia and Uganda.
 17|THE FIRE-PROOF SHACK
Concerned by the number of fires happening in South Africa, in the townships and rural communities, Gabriella Mogale created a fire-proof shack model. Being just a scholar at the time, she entered her concept into the Eskom Expo for young scientists and came out on top.Her concept uses insulation that acts as a protective layer between the fire and the corrugated iron used in shack structures. The insulation is made from several different products including recyclable materials and cement.
 18|BIOMEDICAL STEM TECHNOLOGY
The use of stem cells in medicine has been seen as the pinnacle of innovation. Their benefits are endless and can be used in many complex procedures including returning vision to someone and repairing the damage caused to the heart after a heart attack.The gene expression and biophysics group at the Council for Scientific and Industrial Research in South Africa has created the first induced pluripotent cells that can self-renew and opens several possibilities in various medical areas of investigation.
19|SEQUENCING COVID-19
As Covid-19 threatened the lives of many across the globe, scientists at the Noguchi Memorial Institute for Medical Research (NMIMR – College of Health Sciences) in Ghana were able to successfully sequence the genomes of the coronavirus. This allowed them to obtain important information about the genetic composition of viral strains in 15 of the confirmed cases in Ghana. This has had a worldwide impact on the current understanding of the Covid-19 virus. "And this genome sequencing provides us with another opportunity to leverage research and we are beginning to look at how we can extend that information and capability into the identification of new drugs especially from herbal origins, traditional medicine origins, into the identification of what is the epidemiology, the spread and distribution and severity of the disease. How is it in the country? We are beginning to look at how we can leverage this data," Director of the institute Abraham Anang told Africa News.
20|THE DISINFECTANT CHAMBER
Prevention tools were at the height of importance during this pandemic. So commendable that 27-year-old David Nzassi Mbompela created the Smart-Portic. In a 2020 report released by the United Nations Development Programme titled Africa Innovates, DRC-born Mbompela was celebrated for his innovation that is an all-encompassing shed for use in public places that incorporates an infrared thermometer for taking temperatures.
Furthermore, it is a hot purifier to sanitize clothes with an automatic tap for washing hands, a GSM phone to call the Covid-19 call center, ventilators, protection switches, and a thermostat all incorporated in one. The Smart-Portic is widely accepted in Brazzaville.
"I saw people leaving their homes and entering public places without temperature checks, or sanitation," Mbompela said in the report. "It is this concern that inspired me to make a 'small house' where people enter for a rapid temperature check and sanitization."
21|THE APP AIDING THE HOMELESS
Daniel Mgawi, a Namibian multidisciplinary software developer developed a 'Homeless People's Mobile Application' that is connecting homeless people to social services such as healthcare, shelter, social grants, and food, during the Covid-19 enforced constraints. "I would say the main challenge has been convincing people that this is a solution," Mgawi said, according to the UNDP. "It took me about a year to figure out that this solution would need to be refined."
22|REUSABLE FACE MASKS
Face masks have become a preventive tool against Covid-19, but also a fashion statement. Also featured in the UNDP Africa Innovates report, 27-year-old Ugandan serial social entrepreneur, Franc Kamugyisha, has already won The Earth Tech Challenge Award 2020, and the Young Sustainable Impact (YSI) Solutions for Covid-19 Award for his work. "Single-use masks in Uganda are expensive and also destroy our biodiversity," Kamugyisha said in the report. "I embarked on a journey to use my skills to develop solutions in tackling environmental issues facing Uganda. I settled on the plastic collection, which I recycled into fencing poles and building hardware – substituting timber. I launched EcoPlastile in 2018."
23| BIODEGRADABLE SEED TRAY FOR RICE FARMING
CEO of Madagascan business, FFF Sarlu, Juslain Nomenjanahary Raharinaivo's innovation is especially important on this continent, as rice is a staple for many people in Africa. The biodegradable seed tray for rice farming was created to help with the ongoing demand for increased rice production, as some African countries are unable to be self-sufficient.
24|MAJIK WATER
In a recent interview with FORBES AFRICA, Kenyan founder of Majik Water, Beth Koigi, spoke about how important it was for her to be a renowned advocate of access to clean water into communities. Her idea of turning condensation or moisture into clean drinkable water for low-income households was something that was celebrated in the 'Women in Science' feature in the February/March 2021 issue of FORBES AFRICA. "I first became aware of the water troubles some parts of Kenya had when I went to university. I visited a region that had been struggling to get access to water and this is when it hit me that water was not as accessible as I thought," Koigi said.
25|SME CARD PAYMENTS
As much as big businesses across the globe felt the burden of Covid-19, it did not look any better for small businesses. South African fintech company, YOCO, builds tools and services, such as the company's mobile point-of-sale platform and card reader, to help small businesses accept card payments. In the mission statement on their website, the company states, "We believe that by opening up more possibilities for entrepreneurs to be successful, we can help create more jobs, enable people to thrive, and help drive our economy forward."
26|3D-PRINTER FROM E-WASTE
According to the United Nations: "In 2016, 44.7 million metric tonnes of e-waste were generated, an increase of 3.3 million metric tonnes, or 8 percent, from 2014. Experts foresee e-waste increasing a further 17 percent to 52.2 million metric tonnes by 2021". Furthermore, it notes that 60-90% of the waste is being illegally traded and sent to West Africa and Asia.Togo-born Kodjo Afate Gnikou created a cheap 3D-printer using electronic waste. According to The Observer in 2013, Gnikou wanted to address the growing problem of e-waste. "I want to adapt the 3D-printer to the Togolese and, indeed, African context and to fit local needs," he said.E-agriculture platform: Togo-born Edeh Dona Etchri launched Go-Agric E-Commerce, ane-agribusiness platform, to connect people and organizations across the country's agriculture sector in 2015. The innovation here is that Etchri has taken produce-farming digital and empowered farmers with the resources to reach the client base not just in Togo but in other countries. This provides them with the information they would have struggled to get previously; simple things from weather updates to more complex aspects such as finding funding for their business ventures. This has taken farming and agriculture digital and flipped the script on how produce is sold. Reportedly, there are around 6,000 farmers across Togo using the platform.
27|COVID-19 MENTAL HEALTHCARE PLATFORM
Known as the silent pandemic, mental health issues have been on the rise since the pandemic hit. The Pocket Couch is an online platform responding to the mental challenges that Covid-19 presents. It was born out of the need to address the difficulty in finding, paying for, and accessing counseling services. "We want to create a world where everyone has a better chance of getting the help they need when they need it, wherever they may need it," the Pocket Couch website states.
28|CONTACT TRACING
This contact-tracing application, mSafari, supported by the Kenyan government, was created by Kenyan entrepreneur Ronald Osumba. This app requires public service vehicle operators and passengers to register on the platform and this helps trace back movements of people who test positive for Covid-19. "The virus doesn't move, people move," said Osumba on ReliefWeb. "The majority of people in our cities use public transport every day, so this is central to containing the spread of the virus. People have been astonished at how simple our idea is, but also how impactful it can be."
29|MONEY TRANSFER APP
Nigerian entrepreneur Chukwunonso Arinze created the Kaoshi mobile app that connects expatriate immigrants and money senders across the globe. In the Mail & Guardian, Arinze states that starting this business was built on the premise that sending money across borders is rarely a hassle-free process. "It usually involves long lines, obscene transfer fees, and lots of red tape. But it doesn't need to be this way." It boasts of being able to help users "send money to anywhere in the world quickly and without paying expensive fees".
30|E-AGRICULTURE PLATFORM
Togo-born Edeh Dona Etchri launched Go-Agric E-Commerce, an e-agribusiness platform, to connect people and organizations across the country's agriculture sector in 2015. The innovation here is that Etchri has taken produce-farming to the digital space, and empowered farmers with the resources to reach the client base not just in Togo but in other countries. This provides them with the information they would have struggled to get previously; simple things from weather updates to more complex aspects such as finding funding for their business ventures. This has taken farming and agriculture digital and flipped the script on how produce is sold. Reportedly, there are around 6,000 farmers across Togo using the platform.
ICONS
An icon is someone who has held true to realize socially positive goals against great challenges and odds, who has lived to tell the tale, who inspires others in a positive way, and who leaves behind a legacy of uplifting work.
– Tsitsi Dangarembga
1|DAVIDO
Labeled as an Afrobeats superstar by FORBES in 2020, Davido is without a doubt one of Africa's biggest musicians. The Nigerian-American artist, who also graced the FORBES AFRICA 30 Under 30 list in 2018, told us that "it was people like [Nigerian music veterans] P-Square and D'Banj" who made him believe "that all this was possible". Since his rise to fame, Davido has won multiple awards, including BET awards and MTV awards. He has also signed on several endorsements with MTN and Guinness Nigeria.
2|GERT-JOHAN COETZEE
"I am not one of those people who let challenges stop me, I tend to want to overcome them," says 33-year-old designer, Gert-Johan Coetzee. 
The South African designer, who was born in Koster in the North West province, first rose to fame when he won the High Fashion Award at the Vukani Fashion Awards 2004. This is where TV personality Sandy Ngema noticed him and from there, Coetzee dressed her for the annual Durban July that year, and then for the past two seasons of Strictly Come Dancing South Africa.
"Ten-year-old me never thought that this would be possible even though he had dreams of it especially since the label is celebrating its tenth anniversary."
Since then, Coetzee has designed pieces for some of Africa's biggest stars like Bonang Matheba and Terry Pheto to name a few. But he has also had the opportunity to design pieces for Cardi B, Kourtney Kardashian, and even Oprah Winfrey; this he says is a highlight in his 10-year career.
"I am a very positive person, my life is very colorful," he laughs in an interview with FORBES AFRICA, "This journey has been one massive jol and I have surrounded myself with amazing people."
Being labeled an icon for Coetzee is something he deems "a dream come true" especially as an African creative.
"I am so excited about this honor. The magic of me and my work is that I am African and that's what makes what I do special." Coetzee smiles, "When FORBES AFRICA gives you the stamp of approval, you know you have made it."
3|CONNIE FERGUSON

Daily mantra: "Success is a choice! Rise and grind!"
Having been in the film industry for over 30 years, award-winning South African actor Connie Ferguson is on the list for her impact as an actor, producer, and filmmaker. In 2018, she also graced the cover of FORBES WOMAN AFRICA. She talks to FORBES AFRICA about being included on the icons list.
Q: What have the highlights of your career been, both as a businesswoman and actor?

My highlights as an actor have been my time at Generations, a show that allowed me the opportunity to build my brand, my role as Mavis in Rockville, our debut show as executive producers, and my current role as Harriet Khoza in The Queen. Although the different awards received over the years are humbling and appreciated, the loyal fans and viewers that diligently follow and appreciate my work are who make it all worthwhile.
As a businesswoman, being the first SA TV personality to launch a perfume in 2008, and a body care range Connie Body Lotion and Connie Men in 2015; winning the Shoprite Supplier Of The Year Award in 2015 was the cherry on top.
Ferguson Films, a production company I own and run with my husband Shona, is also not only a highlight but the biggest blessing! We can create work for a hundred plus in a very tough economic climate. All our shows have performed exceedingly well, and we are truly grateful to the people who follow and enjoy our work. They inspire us to keep the creative juices flowing.
Q: What do you think makes an icon?

Someone that is not only aspirational but inspirational, that is memorable and leaves a mark wherever they go.
Q: What do you think of the honor?
I didn't set out to become an icon. I let my work speak for itself and endeavor to empower and touch as many lives as I can positively. The titles and accolades that come with that are a bonus!
4|Charlize Theron
Having grown up on a farm in South Africa, award-winning actor Charlize Theron makes the most of every chance to dote on her African roots. This is evident in interviews she has done with James Corden or Vanity Fair where she speaks fluent Afrikaans. Or in the work she does for her foundation, the Charlize Theron Africa Outreach Project.
Or better yet, how she continuously fights against social injustice on the continent. An example was when, just as Nigeria was celebrating its diamond jubilee in October last year, protests against police brutality erupted calling for the disbanding of the infamous police unit, the Special Anti-Robbery Squad, which had long been accused of extortion, torture, and extra-judicial killings. Theron commended the young people of Nigeria on social media: "The youth of Nigeria are standing up against the brutal, corrupt, and murderous 'Special Anti-Robbery Squad' police unit – #EndSARS. It's amazing how young people seem to be the ones always leading the charge to change the world. It's our responsibility to stand with them."
5|TSITSI DANGAREMBGA
Daily Mantra: "God is good and full of compassion."
Her book Nervous Conditions was named by the BBC in 2018 as one of the top 100 books that have shaped the world. But what shaped Tsitsi Dangarembga's 30-year career in the writing and film industry?
"I have had some success with my novels. I owe the success I have had to write my truth. Making my truth in film is a little more difficult, due to the structure of the industry which is not yet as diverse as the world of literature," says Dangarembga to FORBES AFRICA.
The Zimbabwe-born Dangarembga says that though a highlight in her career was how Nervous Conditions was received by women and also men on the continent, there were challenges.
"The main challenge I faced when I began writing was being at the forefront, having no role models, and having to clear my way as I went. There were very few support systems for black African female writers, whether this was in the area of craft, opportunities, or resources. Nor was there a great deal of interest in what we had to say," she says.
But she persevered and advocated for more, as she believes future generations need role models to look up to and act as signposts as they chart their course. She adds: "For Africa to flourish, we need role models on the continent who are successful in their own lives and in paying it forward."
6|JOHN KANI
Dr John Kani has over 56 years of experience in the film industry and in an interview with FORBES AFRICA says that his love for this continent is what has driven him to be successful.
"I will not play a particular role or be found in a particular environment that I feel would impact negatively to the dignity of the African man," Kani says. "I will not do anything I feel uncomfortable in and that doesn't celebrate the humanity of my people… I love my people, I still always say I love Africa and I love African people."
In the interview with him in Johannesburg, he also states how wonderful it was to encounter people in his career who have had the same love for Africa as him. Most notably, his late co-star in the Marvel superhero movie Black Panther, Chadwick Boseman.
Kani says he found out about an hour after the untimely passing of the award-winning actor. Boseman was diagnosed with Stage III colon cancer in 2016 and battled the disease for four years as it progressed to Stage IV, and his co-stars were unaware of his struggle.
"I met Chadwick on the set of Civil War and when we were introduced, he said to me '*Molo Baba'," Kani laughs. "I remember saying 'whoa whoa, where did that come from'…This is a man who in such a short time did over five to 10 movies while he was dying of colon cancer. Not once did he say 'I'm not feeling well'; he went through all the processes physically and intellectually engaging on set without once complaining. We never knew."
To Kani's great delight, Boseman always pushed the African point of view and this is something that Kani will always remember about him.
"I do miss him because there was a journey to be told of this young man but the ancestors needed him more and now he speaks through us," Kani says.
7|DANAI GURIRA
Also a star of Marvel's Black Panther, Danai Gurira was born in the United States but at the age of five moved to her ancestral home of Harare, Zimbabwe. In a 2019 interview with FORBES AFRICA, Gurira said that she was able to incorporate her Zimbabwean upbringing and teachings into her character Okoye in Black Panther.
"I grew up in southern Africa. I grew up around African women. So, absolutely, in all how I've been around a lot of African women. I understand a lot about who we are and what makes us tick. I also understand that there's our specificity in terms of ways that I don't think we get to often see African women portrayed," she said.
Early in her career, Gurira also taught playwriting and acting in multiple parts of Africa like Liberia, Zimbabwe and South Africa. She has also starred in multiple seasons of The Walking Dead series.
8|OMOTOLA J EKEINDE
Easily one of the biggest actors to come out of Africa, multi-award-winning Omotola J Ekeinde has appeared in over 200 movies, according to Entrepreneurs. In 2013, she was featured on Time magazine's list of the 100 most influential people in the world alongside Michelle Obama, Beyoncé, and Kate Middleton.
In a report by Nigerian newsroom, Pulse, Ekeinde commented on the fact that she would be part of the cast for Rattlesnake: The Ahanna Story, Play Network studios' remake of Amaka Igwe's 1994 crime thriller.
"It feels great being a part of this remake… There's a lot of youth and drama, culture. I like that there is a human story to it. People will be able to relate to it because they can find themselves in the story plus it's a classic and you can't go wrong with a classic," she said.
9|TENDAI 'THE BEAST' MTAWARIRA
Tendai Mtawaria, affectionately known to the world as the 'Beast', always dreamed of playing for the South African rugby team and knew from a young age, that he is a gifted player. Mtawarira met with FORBES AFRICA via Zoom to relate more about his journey to the rugby field.
Q. When would you say this dream to play for South Africa started?
Probably at the age of 16. I was playing at school and people always told me if I told the sport seriously I could play professionally. So I used to watch Super Rugby and I used to watch the Sharks on DStv and that became my go-to for inspiration.
Q. What have some of the highlights and challenges been in your career?
There have been so many highlights in my career but if I were to point out a few moments, the first one would be making my debut on the Springboks on June 14, 2008; yes I still remember the date (laughs). We were playing against Wales at Loftus Stadium. I was at the time 22 and I remember having to pinch myself. The next one would be the British and Lions tour where I made a name for myself and the rugby world became familiar with 'The Beast'.
And the first challenge that comes to mind is that I had a heart scare from 2010 to 2011. It was a condition that happened all of sudden and unexpectedly. What happened was one day after training I got rushed to the emergency room and they discovered that I had a heart murmur. Another one is when in my third year of playing for the Springboks, the minister of sport at the time decided to stop me from playing because I didn't have a South African passport. I qualified under the IRB laws that if you have been in a country for more than three years, you qualify to play for that country. It was a really tough time in my life…
Q. How did you get 'The Beast' moniker?
It's a funny story (laughs). I got it from my best friend in primary school when I was nine years old and it was because I was much bigger than my peers. They used to say I was a bit of a man child. And the reference came in from the movie X-Men.
Q. Comment on FORBES AFRICA making you an icon in its 100th issue.
It's such an honor, I am humbled to be recognized for your craft. And I am grateful to be associated with FORBES AFRICA, you guys do amazing work and to be a part of this issue is super exciting.
10|WIZKID
Another one of Nigeria's brightest and biggest stars, Wizkid, is described by Vogue as "an image-maker who speaks to millennials". The multi-award-winning Afrobeats artist won a Grammy alongside Beyonce for their song Brown Skin Girl (which came off Beyonce's visual album Black Is King).
In an interview with Evening Standard, he said he did not set out making music to become an African star but rather to be a worldwide musician.
"Music is a universal language. I always felt no soul would favor Afrobeats and not fall in love with it — only if you don't love music, and I don't know any human being that doesn't love music," he said.
11|TREVOR NOAH
In 2019, FORBES noted South African-born comedian, Trevor Noah, as amongst some of the biggest names in comedy on the 'The Highest-Earning Stand-Up Comedians' list. Always priding himself in being from this continent, in a recent interview with The Wall Street Journal, Noah told thereporter not only did he feel pressure to succeed as the host of The Daily Show from Americans but from home too.
"I remember South Africans saying to me, 'hey, man, if you fail, we all look bad. They're never going to give any African any type of big TV show again. So don't mess this up'. I even had black people in America saying, 'oh, man, don't, don't mess this up for us. You mess this up and it looks bad on everybody'," he said.
12|NASTY C
Nasty C's body of work has been shaped since the age of nine when he started rapping. In 2018, he was one of the Creatives to make the FORBES AFRICA 30 Under 30 list. His hit single, Juice Back, and the ensuing remix featuring Davido and Cassper Nyovest, made him a household name.
Recently, the star furthered his international footprint from being featured in Rhythms of Zamunda – Coming 2 America soundtrack to also performing on the Ellen DeGeneres Show in February. We asked the award-winning South African artist to comment on being labeled an icon by FORBES AFRICA.
"I'm very excited and honored to have been thought of and given such a huge opportunity. I believe that what makes an icon is one's ability to keep striving for greatness no matter the circumstances. I am overly honored, thank you FORBES AFRICA for recognizing me," he says.
13|HELLEN OBIRI
As of recently, this Kenyan middle-distance world 5,000m champion pushed her icon status to new heights when she was awarded the FORBES WOMAN AFRICA Sports Award at the 2021 Leading Women Summit. "It has been a tough year for me and everyone around the world but hopefully there is a light at the end of the tunnel," she said in her acceptance speech.
14|YVONNE CHAKA CHAKA
Daily mantra: "We are born with nothing and die with nothing so let's just enjoy the life that happens in between."
Singer, actor, philanthropist, activist, businesswoman, and humanitarian, are just some of the words associated with the Princess of Africa, Yvonne Chaka Chaka. She talks to FORBES AFRICA:
Q: How would you describe your experience in the music industry so far?
My mother wanted me to be a lawyer, I wanted to be a chartered accountant, but when I began singing, I took a step back to appreciate the platform it has given me and it has been a great platform to tell the world about my country, what inspires me, what I would like to see in others and what I can learn from others and how I can make South Africa a better place so I was quite lucky to be in this position.
The quick sales from my first single got me very popular and this included the outside of South Africa which to me was unbelievable given those times. This is how the name 'the princess of Africa' came up, because you know I started traveling to places like Kenya, Uganda, Tanzania, to name a few, for me, it was validation that Africa loved and accepted me and has laid the red carpet for me and this led to me wanting to know my continent better.
I was very happy to be known in Africa and that it opened its arms to me and I feel so happy and lucky to be a woman from Africa.
Q: Given this relationship with the continent, what does being seen as an African icon mean to you?
I don't regard myself as an icon, I just regard myself as a servant because when people open their arms for you and when people give you a platform to be able to perform, what do you do in return? So for me these people allowed me into their homes without me even asking, that's when I'm on television; when I perform at a stadium or any function, they leave what they're doing and come to support me by watching my show.
So I just think sometimes we become taken away and think we are doing our fans a favor, when no they aren't as it's their love and support that makes us who we are. So I never take anything for granted. I appreciate every single moment that I'm granted by the people who have supported me through all these years because I would not be Yvonne Chaka Chaka without the support they have given me and my music.
So I don't think I'm an icon, I just think I'm a servant and I'm asked by a higher authority to do this work and continue to serve my continent in the role that they have given me.
15|BURNA BOY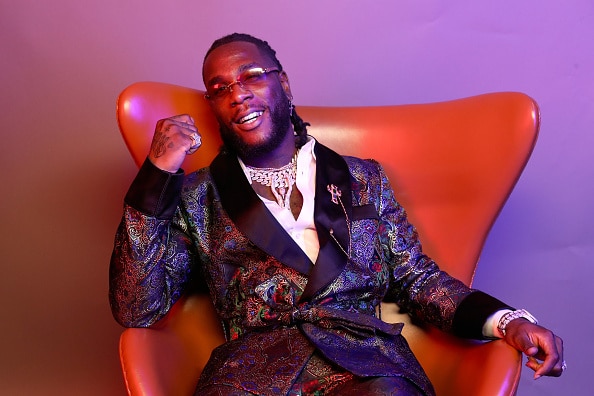 Often known as one of the biggest and most successful African artists on this continent, Burna Boy won the Best Global Music Album category at the Grammys on March 14. The Grammy nomination described Twice As Tall as "a masterclass in the vibe and hustle that have made Burna Boy an international musical force".
"Africa in the house!" an excited Burna Boy said in his acceptance speech, "This is a big win for my Africans all over the world. This should be a lesson to every African out there, no matter where you are, no matter what you plan to do you can achieve it… because you are king!"
16|DJ ZINHLE
Daily mantra: "If you can feel the effort leaving your body, something great will come from it.  It has to."
After being in the music industry for over 16 years, DJ Zinhle tells FORBES AFRICA that she is grateful for everything she has succeeded in. She highlights the importance of celebrating Africa and its icons.
"It's taken the world a long time to recognize our stories, our trails, and our triumphs and so I feel it's of great importance that we celebrate, as a way of recognition, our own stories. That to me is important for our narrative as Africans," she says.
17|RICH MNISI
Having recently released a line that both celebrates Tsonga pride but also calls out Gender-Based-Violence, Rich Mnisi as a designer has always been ground-breaking. This is something that he lives by wanting to do every day when he gets the opportunity to design.
"I am a creative person, not a business person, so the business side has always been a challenge for me," Mnisi says in an interview with FORBES AFRICA. "But 2020 has been our best year and being able to create makes me happy."
18|ARCHBISHOP DESMOND TUTU
He has been played by Forest Whitaker, he has met Prince Harry and Meghan Markle and called the late Nelson Mandela a close friend, yet anyone who has met the affable Archbishop Desmond Tutu would describe it as a privilege to have gotten an audience with him.
Desmond Tutu has become one of the pillars of Africa, known for his humanitarian work and activism.  A Nobel Peace Prize winner, having retired from public life in 2010, the archbishop continues to do good for his fellow men through his foundation. The recognition for his body of work and good deeds continues long after his retirement, as he recently received the Human Rights Global Treasure award and has an exhibition highlighting his activism set to open in October.
19|ELLEN JOHNSON SIRLEAF
As a former head of state and Nobel peace prize winner, Sirleaf has achieved more than most in her lifetime. She spoke to FORBES AFRICA on her experiences as president and what she thinks is needed to bridge the gender gap in Africa. In March, she also received the 2021 FORBES WOMAN AFRICA Lifetime Achievement Award.
Q: What was your experience like in becoming the first female head of state in Africa?
My life was forever transformed when I was given the privilege to serve the people of Liberia. It was an honor to become Africa's first democratically-elected woman president. It was a tough position to hold – not just because my success or failure would impact the prospects of women coming up behind me, but because of the immense challenges my country faced as it emerged from civil war.
When I left my inauguration after taking the oath of office, I got out of the car and walked along the streets. The crowds followed, walking with me – it was such a special moment. I knew I had the Liberian people behind me, and that gave me the strength and courage to take our country forward.
Coming into a position surrounded by men was difficult, of course. There was, and still is, a suspicion that a woman isn't up to the job, and men often doubt you. I had to overcome this by being steadfast and standing up for the things I believe in.
I had to believe in my potential and do everything I could to better the lives of other women. I wish I could have appointed an all-women cabinet, but at the time it wasn't possible. So instead, I identified areas that are normally male-dominated, such as the Ministries of Foreign Affairs, Justice, and Commerce, and broke taboos by putting women in places where they were not normally found. We got women into leadership positions at different levels, pointing the way towards equity.
Q: Given the current gender disparities prevalent in African society, what do you think is needed for this gap to be closed and for women to be seen as equals to their male counterparts?
This is not just a problem in Africa; it is a global problem. There is a lot of work still to be done. We need more women to dare to contend for the highest positions of public leadership and to bring other women along with them. When I was President of Liberia, I made a point of putting women in positions of power so that young girls can see what is possible.
There is also much to be done in terms of ensuring girls' access to education, ensuring that there is room for women in business and entrepreneurship, and improving healthcare access. Every step we take is a step towards progress, and I'm encouraged by the number of women stepping into leadership roles today.
Q: What does being an African icon mean to you?
I am humbled to be considered an African icon. I hope that it will inspire others to work towards causes they are passionate about. I hope that it will have a motivating effect for other women and young girls, encouraging their confidence to set goals and to stay on the path to achieve them.
20| CASTER SEMENYA
Despite all the hurdles that Caster Semenya met in her way, she still managed to come out on top by becoming the first person to win all three of the 400m, 800m, and 1,500m events at the South African National Championships in 2016.
She also won the bronze medal for the 1,500m race in the 2017 World Championships in London and gold in the 800m women's event.
All of these accolades were achieved while continuing to fight a ruling made by the International Association of Athletics Foundation.
Her struggle has not deterred Semenya from achieving her goals. She began a football career in 2019 and her philanthropic endeavors have included starting her foundation aimed at training young disadvantaged athletes and she has shown her support for the LGBTQIA community through her feature in the Nike campaign Nobody Wins Alone.
21|DR TEDROS GHEBREYESUS
Dr Tedros Ghebreyesus has been at the helm of the World Health Organization (WHO) since 2017, making him the first African selected for this position. In this tenure, he has advocated for global health, promoted gender equality, and overseen the response to one of the worst pandemics to hit mankind since the Spanish flu.
His humble beginnings in Ethiopia and study of community health helped him rise through the ranks in government and has seen his campaign for Director-General of WHO supported by other African government figures and heads of state.
His continuous efforts to fight the Covid-19 pandemic are on a global scale and when asked to comment on what being an African icon means to him, he simply said: "I am proud to be a son of Africa."
22|SIYA KOLISI
Being the captain of the current Rugby World Cup champion team certainly hasn't gone to Siya Kolisi's head. In his interview with FORBES AFRICA, his humble beginnings and duty to his countrymen take focus as he discusses his upbringing and being the first black captain of the Springboks.
"I had a very happy childhood but it wasn't without its challenges, I was raised by my grandmother and when she lost her job, then getting a meal a day became a challenge. But I was lucky that she was always there for me with support and love," says Kolisi.
He acknowledges that rugby was his escape from the gang violence that tends to be the norm in rural Eastern Cape, South Africa. Having won a scholarship as a result of his rugby prowess, he attributes his interest in rugby to his father and grandfather who both played the sport before him.
He also explains that rugby was something that kept him alive when he saw many of his friends who didn't play sport lose their lives to crime-related activities.
"It was a place for me to be away from everything else and when I played rugby, I felt a sense of belonging and that it was a place I could always go to. It was a place where I felt wanted and was a good place for me because it taught me accountability, respect and discipline too and it kept me away from trouble," explains Kolisi.
Being the captain of the side that won the Rugby World Championship in 2019 has seen his rise to fame; he attributes the achievement however to his team and their support of him.
"I can truly say my success as captain was only as a result of the success of my team, it was the players around me who helped me reach that achievement and we all had our role to play and that's what we did, we worked together," says Kolisi.
23|CHAD LE CLOS
South Africa's golden boy of swimming, Chad le Clos, is no stranger to being seen as a hero and icon. He is the only man to win three consecutive 200m butterfly Commonwealth titles and he currently holds the record for having the most Olympic medals won by any South African. He still managed to obtain three silver medals at the Rio Olympics.
With four Olympic medals under his belt by the age of 24 and already having opened a swimming academy to train the next generation of Olympians, what he achieves next will be nothing short of greatness.
24|SAMUEL ETO'O
Nicknamed 'little Milla' after the famous Cameroonian soccer player Roger Milla, Samuel Eto'o has lived up and bettered the accomplishments of this namesake. In his prime, Eto'o was seen as one of the best strikers in the world and is one of the greatest African players of all time.
Thanks to his skills and raw talent, he holds the record for the most number of appearances by any African player in the La Liga. He has been part of the team that won the La Liga three times and was responsible for one goal in two of these final matches.
Eto'o has also scored on his home continent as he is a gold Olympic medal holder with his national team at the 2000 Olympics. He is also the all-time leading striker in the history of the African Cup of Champions with a whopping 18 goals under his belt.
25|ROSE LEKE
Seated in a sun-soaked room in Nigeria, visiting her daughter for her 50th birthday, Rose Leke is anything but the typical grandmother. At the age of 74, she has made a significant contribution to the field of science and continues this through her academic career as an Emeritus Professor of immunology and parasitology at the University of Yaoundé I in Cameroon.
She began her career by being rejected and having to prove her worthiness to become a scientist.
"There was an examination to go to the United States of America as part of the "African scholastic program for American Universities" which allowed Africans like me to study at an American University, I was one of two women who wrote it amongst all these men and I was the only one to get through; come to the verbal interviews I didn't make it, only the men went through. The American authorities then got involved after seeing my results and a man from the United States of America embassy came looking for me to tell me that I had done well and made it and granted me a scholarship," reminisces Leke.
Since this pivotal moment, Leke has gone on to serve her community through her studies around malaria,. She sits on numerous health boards and committees across the continent and has created the Higher Institute for Growth in Health Research for Women Consortium to mentor female scientists in Cameroon. As chair of the International Regulations Emergency Committee of Polio Eradication, wild polio was eradicated across Africa in 2020, something she couldn't be happier about as to her it means "no person will be paralyzed by polio again".
Known as "ma" to her students and colleagues, Leke has no intention of stopping anytime soon and believes her main goal going forward is preparing young female scientists for the future. "I have always mentored and overseen young girls making their way into science, but now I have a structure in place and as long as I am around and the Women Consortium is around, no girl will be told 'science just isn't for her'."
26|CHIMAMANDA NGOZI ADICHIE
Known for her feminism which comes across not only in her books but in the way she speaks, Chimamanda Ngozi Adichie has brought the power of narrative to all the work she has done. The Half of a Yellow Sun author has been described by The Times Literary Supplement as "the most prominent" of a "procession of critically acclaimed young Anglophone authors [which] is succeeding in attracting a new generation of readers to African literature", particularly in her second home, the United States (her first being Nigeria).
27|BARACK OBAMA
Born to a Kenyan father, the former president of one the most powerful nations in the world proves timelessly how he wants to be part of the upliftment of Africa. Even years after leaving office.
This is evident in the work that his foundation, the Obama Foundation, seeks to do on this continent.
"The Leaders: Africa program seeks to build a growing network of innovative and ethical change-makers who will drive positive change in their communities, the continent, and the world," the mission statement reads on the website.
"True democracy is a project that is much bigger than any one of us," Obama said in a welcome video on the website. "It's bigger than any one person, any one president, any one government. It's a job for all of us."
28|ELON MUSK
At the start of 2021, the South African-born billionaire made the cover of FORBES AFRICA for the mere fact that he made history overtaking Amazon's Jeff Bezos to become the richest man on Earth.
Always known for his inter-planetary ambitions, Elon Musk's mother told FORBES AFRICA in an interview in 2020 that Musk aims to save the planet and he also loves the thought of going to Mars….
"I get very excited every step of the way. We all do. Kimbal and Tosca [Elon's siblings] and I go to the main [SpaceX] launches, we can't go to all the launches, as he has launched, how many now… 50 rockets? I'm not sure. I lose track. But we go to the main ones, and we are anxious beforehand and excited afterward and we are very proud of him and support him with all this. He just feels that we should be inter-planetary, starting with Mars. Mars seems to be the most friendly [planet], and that is what he would like to explore," Maye Musk said about her son.
29|NGOZI OKONJO-IWEALA
"I hope other women will not just emulate me but do better… people ask me how do you manage to be successful but I did not set out to be promoted. For me, success was getting out of bed and running to work," says Ngozi Okonjo-Iweala, the first woman and the first African to hold the office as the Director-General of the World Trade Organization. Okonjo-Iweala has made history, and she was FORBES AFRICA's African of the Year in 2020.
30|ELIUD KIPCHOGE
In eight years, Kenyan Olympic gold-medallist and marathon world record-holder has won 11 of his 13 marathons, plus run the only sub-two-hour marathon in history in a non-world-record-eligible event. Eliud Kipchoge is set to run at his next marathon on April 11 in Hamburg, Germany, his last 26.2-mile race before defending his Olympic title at the Tokyo Games on August 8. "In Hamburg, I am going back to the genesis of my marathon career," Kipchoge said in a release.
31|SWANKY JERRY
Also known to the world as Jeremiah Ogbodo, Swanky Jerry is a Nigerian celebrity fashion stylist who has dressed the likes of Pearl Thusi, Davido, Nyanda, Yemi Alade, Tiwa Savage, AKA, Sarkodie, and African presidents and first ladies. In 2020, he made the FORBES AFRICA 30 Under 30 list.
"We would usually have to wear the clothes of the locals of each city we visited, to blend in, and I loved it! Growing up within this lifestyle, I became more inspired by my surroundings and began to invest in Nigerian fashion magazines and people-watching at big events due to the elaborate fashion being paraded," he told FORBES AFRICA.
32|LUPITA NYONG'O
Apart from being an Oscar award-winning actor and having played multiple iconic roles that represent both being a strong black woman and an African, the Kenyan-Mexican has recently published a children's book, Sulwe.
"This book is also for people who don't know about colorism. To get to know about it. It's a mirror for dark skin girls to see themselves specifically because I didn't have that growing up," Nyong'o said in a 2019 interview with Jimmy Kimmel.
33|DJIMON HOUNSOU
The Benin-born actor emigrated to France with his brother at the age of 12. For a time, he was homeless.
"The rocky time came right after I left school. I spent a lot of time at night navigating the streets of Paris trying to find something to eat," he said in a CNN interview.
After being discovered in Paris, the award-winning actor has played multiple roles alongside some of Hollywood's elite stars like Vin Diesel and Leonardo DiCaprio.
34|WAYDE VAN NIEKERK
Even after the 400m world record holder suffered a knee injury in a charity tag rugby match in 2017, he remains adamant that he will retain his Olympic crown. South Africa's Wade van Niekerk told The Guardian that he might run the 400m faster than he did at his absolute peak.
"I think I can. I've shown a lot of positive signs in the training of being faster than before and I've matured way more mentally. But I know it's one thing doing it in training and a different thing back on the track. So it's really about getting that consistency in terms of being a competitor," he said.
35|FUNKE AKINDELE-BELLO
CNN calls her 'one of Hollywood's biggest stars". Funke Akindele-Bello rose to fame after starring in the popular United Nations Population Fund (UNFPA)-sponsored sitcom I Need to Know. 
"When I started I Need To Know, I never thought I would be this celebrated. I was 20 years old at the time," she said in the interview.
36|BONANG MATHEBA
In 2016,'The House Of BNG' CEO, Bonang Matheba graced the cover of FORBES WOMAN AFRICA, alongside three other women who were all given a headline for being the Millennials: The New Face of Entrepreneurship. And in 2020, she also made FORBES AFRICA 'Africa's 50 Most Powerful Women' list. All of this because of her work as a media personality and savvy entrepreneur.
37|GENEVIEVE NNAJI
Described as a trailblazer in Nollywood, Genevieve Nnaji's directorial debut movie, Lionheart, is the first Netflix Original from Nigeria. Unfortunately, it was the first Nigerian submission for the 2020 Oscars before it was disqualified over English dialogue.
"We did not choose who colonized us. As ever, this film and many like it are proudly Nigerian," Nnaji said in a tweet.
38|NATALIE DU TOIT
The South African Paralympian swimmer has been iconic in her country for always speaking out for being a proud African and breaking down the barriers between disabled and able-bodied sport.
In a recent interview with EWN, Du Toit said: "After Commonwealth Games, after Athens, when people started to get to know that I was a swimmer, and that, you know, I won a few awards, people started seeing my face before they saw my leg, and they've always been supportive and said 'you know we always follow you, we've seen you swim on TV'.'"
39|IDRIS ELBA
Born to Sierra Leonean and Ghanian parents, the award-winning English actor who also played Nelson Mandela in the biographical film Mandela: Long Walk to Freedom, has recently shown his support in empowering Africa by slamming Ghana over gay rights. Idris Elba, along with other celebrities like Naomi Cambell, wrote an open letter pledging solidarity for Ghana's LGBTQ+ community.
"We are in awe of your strength, your bravery, and your audacity to be true to who you are even when it is dangerous to do so. You are loved, you are important, and you deserve a safe place to gather in your shared experience," the letter read.
40|MR EAZI
Known to the world as 'Mr Eazi', Nigerian-born singer Oluwatosin Ajibade has made a name for himself as an award-winning African artist. In 2020, he made the coveted FORBES AFRICA 30 Under 30 list, in which he spoke about the side hustle while in college in Ghana that led him to a best-selling career in music and earning millions of fans along the way. "I began my career with a small cash gift from friends, which enabled me to pay for my first professional-quality video for Skin Tight," he told FORBES AFRICA, on the early days.