From conscious consumerism to empowering South African women with knowledge and skills–this is the impact that every rand has at AMAZI, the social impact organization.
The theme for International Women's Day 2023 is all about embracing equity and why equal opportunities are not enough. This theme is important in light of the ongoing gender inequality that women face worldwide. Despite significant progress, marginalized women of colour still face numerous barriers to equality and equity, including unequal pay, limited access to education and healthcare, and gender-based violence and discrimination.
Africa has the ability to create change in achieving gender equality by reimagining how businesses are built. AMAZI is a social impact brand and ecosystem created by women, for women, that works to empower economically excluded women in South Africa. Founded by Divya Vasant and Lisa Mgcotyelwa in 2018, these two social entrepreneurs have been innovating around the idea of bringing social justice through a commercial framework. Since AMAZI's infancy, the company's core mission has always been to educate women of colour in South Africa and even as the ecosystem grows, the core mission remains. This is what embracing equity looks like to us.
AMAZI's mission is to achieve economic inclusion for women of colour that need a hand up coming from previously disadvantaged backgrounds. Economic inclusion can have such a massive impact on the lives of women that were previously economically excluded as it gives them tremendous freedom. Freedom from spaces that no longer serve them, and freedom from people that no longer serve them. It gives women the ability to not only uplift themselves but their children, families and communities at large. Economic inclusion for AMAZI means giving women the education that they need to join the workforce in South Africa or start their own micro businesses to begin earning. This is vital in a country where youth between the ages of 25-35 in South Africa are unemployed.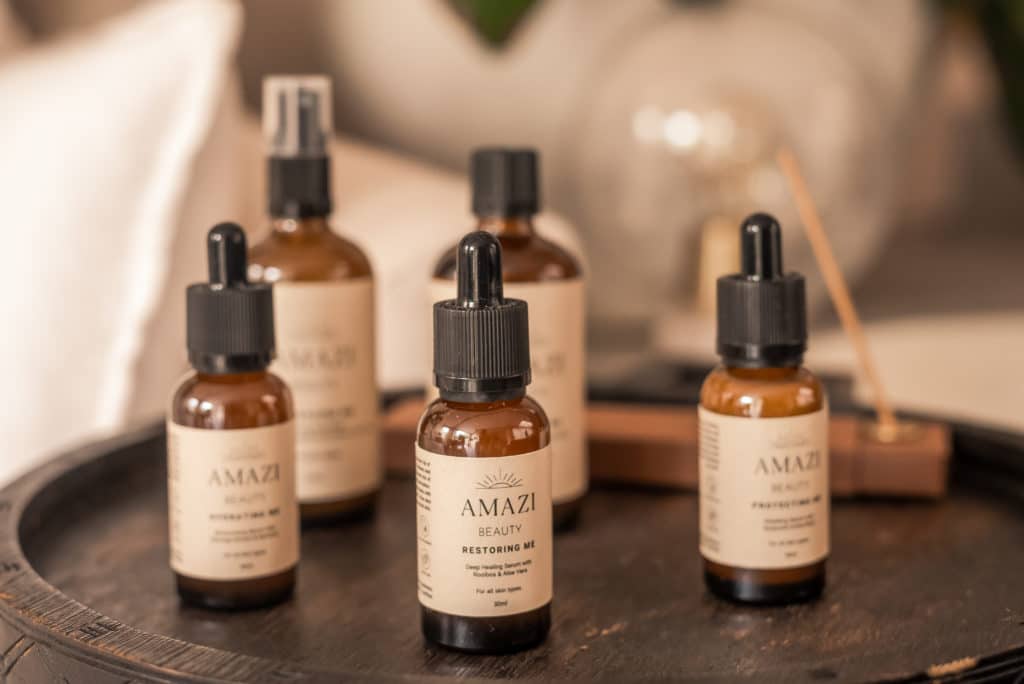 AMAZI's goal is to impact the lives of 2000 women by 2025. This year alone, 4255 women have been trained in soft skills through AMAZI. 132 Women have been technically trained in the AMAZI Academy, while 123 women were economically active in 2022. AMAZI has also aligned itself with the Sustainable Development Goals, working towards Gender Equality, Economic Growth and Decent Work for Young
Women. This is achieved through creating innovations within the AMAZI ecosystem that strive to address the SDGs.
At the core of the AMAZI ecosystem is the AMAZI Academy, where women go through the program to become technically trained to be nail technicians in the beauty industry. The program consists of soft skills, hard skills as well as mentoring and coaching. In 2023, AMAZI's goal is to educate 300 women with vocational skills. We are on a mission to empower more women, not only by educating them but also by employing them after they graduate from the Academy. The qualified technicians go through an internship at the AMAZI Beauty Bars and then have the opportunity to start working at the stores.
AMAZI's newest partnership with Woolworths enabled the brand to open up 13 Beauty Bars within Woolworths stores across the country thus far, with more to come. This has truly created impact for women by allowing AMAZI to employ 100 women in the stores, further creating work opportunities. This
partnership has allowed the brand to have a significant impact on the lives of women in our ecosystem that might have been part of the 35% unemployment rate. Consumers can walk in or book online for a quick on-the-go self-care moment while grabbing their groceries during their lunch break or on their way home from work. AMAZI essentially wanted to bring self-care services to where customers already are, and offer quality services while creating an impact. The AMAZI Beauty Bars offer nail on-the-go treatments, including express manicure-pedicures and facial threading.
Something that was mentioned in one of the panels at the Forbes Leading Women Summit was the importance of Africa offering excellence and using African ingredients to do so. The AMAZI Beauty skincare range is just that. AMAZI Beauty is our natural skincare range that is produced locally in South Africa using African-sourced active ingredients that work in harmony with your skin's natural intelligence. The African-sourced active ingredients support your skin's innate processes with 100% nutrient-rich actives like Moringa, Kalahari Melonseed, and Rooibos. When it comes to packaging, the products have been bottled sustainably in amber glass bottles to preserve the product.
AMAZI Beauty and the Beauty Bars, all contribute to the ethos of AMAZI which is our 'Rands & Change' philosophy. The impact framework that we use is simple; our customers become part of the impact ecosystem, as anyone that chooses to indulge in their self-care with AMAZI creates impact for marginalized women in South Africa. When an AMAZI Beauty product is purchased or a treatment is booked at the AMAZI Beauty Bars, every rand invested by our customers unlocks more funds and the total goes back into the AMAZI Academy to empower women through education.
Conscious consumerism is something that lives within the AMAZI ecosystem as it impacts the business's decisions from the perspective of suppliers, the products that we use at the company as well as the ingredients that we use in the products that we sell. Conscious consumerism is a movement of individuals who are mindful of the impact that their purchasing decisions have on society and the environment. Not only are our customers conscious consumers, but they are also impact investors, as AMAZI aims to empower their customers to understand how much impact their rands can have over time when investing in organizations like AMAZI that are creating much-needed change in a country that needs to empower their women.
AMAZI shows the impact that Africa can have as a continent to enable women to join the working force, become economically included and be empowered to have the freedom of choice. AMAZI is working towards gender equality by offering women the opportunity to learn and earn where consumers play a big role in making this possible. Conscious consumerism is at the heart of choosing local, women-owned and led brands like AMAZI, so let's collectively create change for women globally.
Visit the AMAZI website to learn more about the brand or shop AMAZI Beauty online and receive 15% off using the discount code #FORBES15%. Stop by the AMAZI Beauty Bars at a Woolworths near you to indulge in a treatment while you invest in the future of another woman.
DISCLAIMER: Brand Voice is a paid program. Articles appearing in this section have been commercially supported.