Elon Musk was in court in Delaware last week defending his role in Tesla's acquisition of failing solar panel installer SolarCity in 2016. That questionable decision – SolarCity was founded by his cousins; Musk was its biggest shareholder and served on the board of both companies – triggered a shareholder lawsuit. Of course, not all of Musk's misguided notions land him in Delaware Chancery Court, but many don't pan out precisely as planned. "If I wasn't optimistic I don't think I would have started an electric car company or a rocket company," he told the court.In the case of the $2.6 billion SolarCity deal, the solar roof revolution he predicted in 2016 hasn't materialized. But neither has an affordably priced Tesla, an all-electric semi, a robotaxi network or next-gen low-cost, high-capacity batteries. Ahead of a ruling in the SolarCity case, here's a roundup of some of Musk's bigger swings – and misses – from the last five years.  
$35,000 Model 3
The $35,00 price point was touted for years as the Model 3's key appeal. No longer just a auto for the rich, Telsa would finally make a mass-market car. But after Model 3 went into production it was only available at that price intermittently before being scrubbed. Currently the cheapest version starts at $40,000 and after taxes, registration and add-ons usually sells for closer to $50,000. Meanwhile, starting prices for Tesla's bigger Model S and X have risen to $85,000 and $95,000, respectively, and they really cost more than $100,000 with options, taxes and delivery charges.

Tesla Semi
Musk's ambitions go beyond passenger vehicles and in November 2017 he unveiled his futuristic electric truck, promising it would go 500 miles per charge and be available around the end of 2019. As of July 2021, Tesla hasn't announced a firm launch date or production site for the Semi and in June Jerome Guillen, the long-time head of the truck program, unexpectedly resigned.
Tesla Roadster
Unveiled in November 2017 along with the Semi, Musk said the Roadster would arrive in 2020, be the fastest production car ever made and go as far as 620 miles per charge. The anticipated tech wonder is expected to cost about $200,000 but there's no firm launch date. 
Tesla Giga Berlin
Musk wanted Tesla's first European battery CK plant to open in July 2021. While much of the physical construction is complete, the plant lacks regulatory approval to begin operations, has stoked opposition from local environmentalists and faces fines related to water and sewerage issues. The current hope is that the plant will be open by early 2022.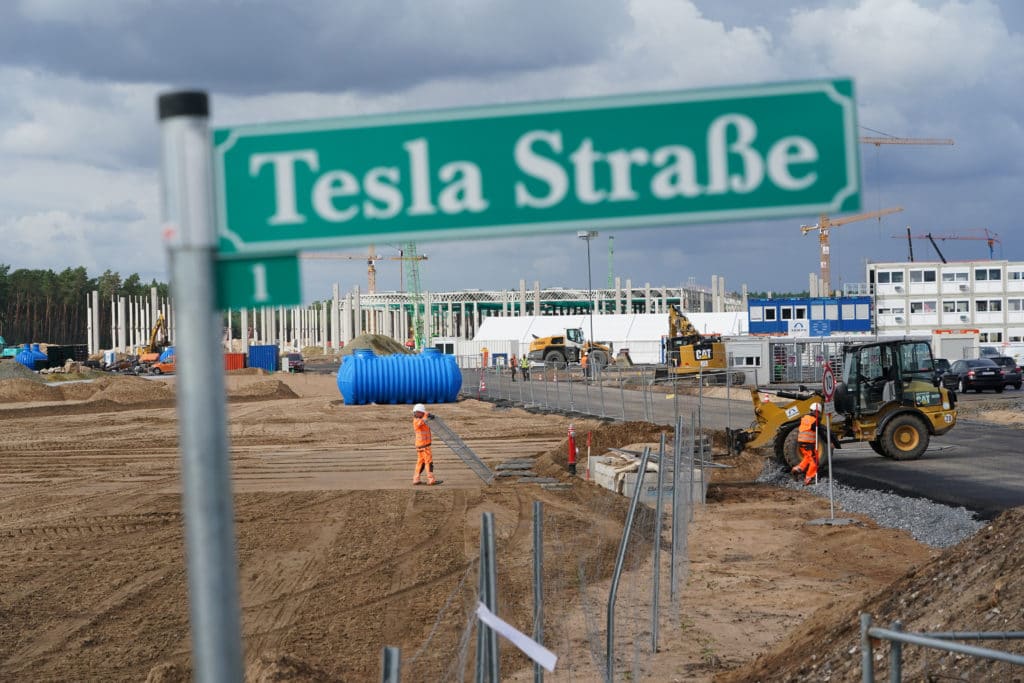 Tesla Full Self Driving 
In October 2016 Musk announced that all Teslas were being built with the necessary computing power, sensors and cameras to allow them to eventually operate autonomously. At that time, he estimated that Full Self Driving capability would arrive in two to three years. The $10,000 feature, an enhancement of the company's Autopilot system, was released in beta form in July, but after a series of horrific, fatal accidents Tesla now warns drivers that it "may do the wrong thing at the worst time" and that they need to use it with "additional caution"–suggesting that it isn't ready for primetime.
Tesla Robotaxi Network
Musk said at Tesla's Autonomy Day in October 2019 that by the end of 2020 "for sure, we will have over a million robotaxis on the road. … The fleet wakes up with an over-the-air update. That's all it takes." As a result of that capability, Tesla owners would be able to earn money from their vehicles by making them available for an autonomous, on-demand ride service the company would oversee. That hasn't happened and there's no indication that will be possible–or legal– in the near term.
Tesla Next-Generation Battery Cells
Musk touted a larger, beer-can size 4680 lithium battery cell in September 2020 that he claimed would be 56% cheaper and have five times the energy of the company's current cells. He said pilot production of small batches at a lab in Silicon Valley was underway and that the company might be able to scale up to high-volume production within a year or two. Timing for production is unclear, but delays in manufacturing the cell appear to be part of the problem with launching Tesla's Semi and Roadster. 
Tesla Solar Production And Jobs 
New York spent $950 million to build and equip a solar panel factory in Buffalo that SolarCity had big plans for. In exchange for the state's generosity, the company was to create at least 1,460 jobs there. The future looked promising after Tesla purchased SolarCity in late 2016 and in December of that year Tesla said it "entered into a long-term agreement with Panasonic to manufacture photovoltaic cells at our Gigafactory 2 in Buffalo, New York, with negotiated pricing provisions and the intent to manufacture 1 gigawatt of solar panels annually." But in the years since, output of panels at the plant has been unclear. In 2020 Tesla reported delivering just 205 megawatts of solar panels, a quarter of what SolarCity installed in 2016. Tesla has also had difficulty maintaining the required headcount at the factory. Panasonic abandoned the facility last year, further reducing employment at the facility. Tesla has been given numerous extensions by the state. As of Memorial Day, it had 1,058 employees at the plant, and has until the end of 2021 to meet the 1,460-worker target or pay a $41 million penalty.
By Alan Ohnsman, Forbes Staff